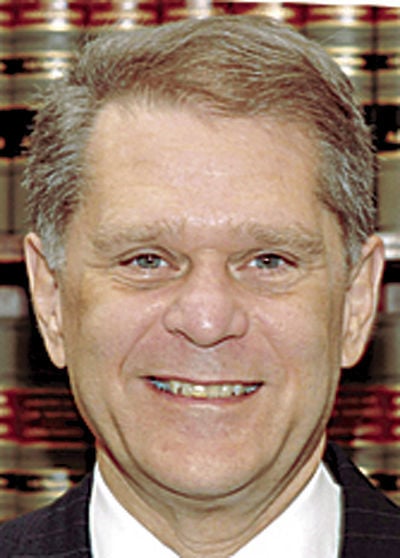 CHIPPEWA FALLS — Steve Cray enjoys the challenges he faces every day as Chippewa County judge. However, he decided when he was elected in April 2008 that he planned to only serve two terms.
On Friday, Cray filed paperwork with the state announcing he plans to retire when his term ends July 31, 2020.
"I retire with a sadness, because I've really enjoyed being a judge in Chippewa County," Cray said Friday afternoon. "But there has to be an endpoint. It's time for someone else to have the honor and privilege of serving as judge. I'm still in good health, I'm still enjoying the job, and I feel you should leave while still doing well."
Cray, 68, said he decided to announce his retirement as early as possible. When he won in April 2008, he said it took him the entire four months, including some long evenings, to close down his private practice before he began his judicial duties that August.
"I wanted it clear (candidates) weren't running against me, they were running for an open seat," Cray said. "I wanted to give everyone fair notice, if they were interested in running, they'd have time to do that."
Judge Steve Gibbs praised Cray, calling him a great mentor and knowledgeable of the law.
"He's been a great colleague and friend," Gibbs said. "He's a scholar of the law, and always used common sense when dealing with people's lives. He'll be greatly missed by all of us in Chippewa County and the 10th Judicial District."
Eau Claire County Judge Jon Theisen, who is a former Chippewa County district attorney, offered similar praise.
"The honorable Steven Cray brought a brilliant legal mind to the bench," Theisen said. "As a jurist, he combined brilliance with real-world understanding of humanness. He leaves the legal community better for his influence."
Chippewa County court commissioner David Raihle served on Cray's election committee in 2007 and 2008.
"I always found him to be a gentleman," Raihle said. "He has always been good at preparation and knowing the law, and being fair. He is exceedingly knowledgeable about civil actions. He is very good about guidance and mentoring. He would always give clear explanations to his decisions."
Raihle praised Gibbs for getting the judges involved in the Chippewa County budget process and fighting for additional funding to make necessary security upgrades throughout the second floor, where the three courtrooms are located. The county also remodeled the floor to make room for chambers for the court commissioners.
Cray said he liked that every day was different. He looked forward to performing marriages and adoptions, because they were among the happy moments in a courtroom.
"I like trials, particularly civil cases," he said. "I like the intellectual stimulation where there is no way of redoing it."
Cray said he thought that handing out lengthy sentences would weigh on him, but he came to realize that when he applied the law and followed guidelines, he was able to handle those duties.
Cray graduated from Chi Hi in 1969 and earned his law degree at UW-Madison in 1976. He worked as an assistant district attorney in Rhinelander, then in Chippewa County from 1978 to 1980, before joining the Wiley Law Firm, where he stayed until he was elected as judge in 2008.
The state created the third judicial seat in the fall of 2007, so Cray won an open seat, defeating former Chippewa Falls city attorney Julie Anderl by a margin of 53% to 47%.
Cray wouldn't rule out becoming a reserve judge upon retirement, or performing some private legal work.
"To not have an active, every day job, is kind of foreign to me," Cray said.
Get local news delivered to your inbox!
Subscribe to our Daily Headlines newsletter.