Few people can say they've been with the same company for 41 years. Rusty Cunningham's roles within Lee Enterprises have changed over the decades, but his goal has always been the same: putting out a newspaper that is trustworthy, informative and enlightening.
Next week, Cunningham will oversee his last paper as editor of the La Crosse Tribune, bidding a fond farewell to the career that introduced him to countless public figures, immersed him in all facets of the community — from covering shocking crimes to penning tributes to area students shining in the face of adversity — and led to lasting friendships.
Cunningham will officially retire from Lee Enterprises and the La Crosse Tribune Sept. 30, ready to spend more time with family and break out his beloved golf clubs. The irons and putters have been tucked away for far too long as winter turned into a spring of coronavirus-fueled chaos and led into a summer of profound events, from the modern civil rights movement to the ongoing COVID-19 pandemic and turbulent lead up to the 2020 election.
Fortunately, Cunningham handles stress with aplomb — despite the emotional, mental and physical toll that comes with reporting on brutal crimes, devastating incidents and heartbreaking losses, the steadfast journalist "never wavered" in his passion for the profession.
It was a zeal he developed early on, inspired by his parents to become the fourth consecutive generation of his family in journalism. Fresh out of college, Cunningham worked for newspapers in Binghamton, New York, and Omaha, Nebraska, before joining the Lee Enterprises family in March 1979 at the Quad-City Times in Davenport, Iowa.
"I'm so blessed that my wife, Gail, and our son, Corey, have been incredibly understanding and supportive of the long hours and interrupted dinners and weekends. Not many wives would understand a husband skipping out on dinner when her parents came to town. But when Cary Grant dies two blocks from your newspaper in Davenport, you go."
In August 1997, he advanced to editor of the La Crosse Tribune, before becoming publisher of Capital Newspapers-Portage division for the duration of 2002 and 2003. In 2004, he returned to La Crosse to serve as publisher of the Tribune, and under Cunningham's leadership, the River Valley Newspaper Group was awarded Lee Enterprises' 2011 Enterprise of the Year Award.
Five years later, Cunningham returned to the role of editor, where he has presided over the Tribune since, insisting on fairness, honesty and integrity in both the product put out under his helm and those writing the copy.
"I've been fortunate to know and work with a number of editors over the years who are woven into the fabric of the communities they serve," says Marc Chase, Midwest regional editor for Lee Enterprises. "Rusty is one of those incredibly valuable journalists. Rusty's work ethic in this field is unmatched, but his pure passion for the readers and communities of River Valley is what truly sets him apart."
Brent Smith, attorney with Johns, Flaherty & Collins law firm, has known Cunningham for two decades and praises his character and work ethic. Describing him as a kind, loyal person with a grand sense of humor, Cunningham "is the kind of guy you are proud to call a good friend," Smith says. "As an editor, I would say that he is passionate (and has been) a wonderful mentor to hundreds of young journalists throughout his career."
Cunningham, Smith adds, has molded the Tribune into "a positive force for change in our region. He has brought an emphasis on collaboration for our entire region that has made our community a better place to live."
Among Cunningham's contributions is the La Crosse Tribune Extra Effort Awards, an annual scholarship program for high school seniors who, despite grappling with immense challenges, committed to their education and settled for nothing less than success. In the first year of the program, winners were notified simply with a call, but after Cunningham came in during the second year of the awards, he insisted on more fanfare for the remarkable youth.
Every year since — though virtually this year — a reception has been held for the students, their families and their teachers. It's a great deal of work — reading through dozens of applications, contacting scholarship sponsors, hosting an event — that hasn't gone unnoticed by the winners and their supporters.
The program is something he is quite proud of, Cunningham says, and recalls one year, "A woman threw her arms around me and hugged me and said, 'You honored my son tonight, and I have to tell you no one's ever applauded for him."
In further spotlighting the area's remarkable people, Cunningham helped launch the newspaper's A+ Achievers series, and while articles on murder, lies and corruption are consistently the highest read, he dedicated print space to the triumphs, good deeds and impactful stories of community members. For Cunningham, getting to know people beyond the surface has been a career highlight.
"I've met so many terrific people and gotten to serve a wonderful community and boy, that's good fortune to be able to do that," Cunningham says. "Along the way with every role, think of the people you interview over that amount of time from all walks of life and how you become enriched by getting to tell their stories. When you think about it, isn't it an honor they trust us with that obligation?"
Maintaining that trust means digging beyond the hype for the human impact. Journalists, Cunningham says, "like covering big stories, but they like to tell the stories behind the headlines: what this means to people and how they are coping."
That touch has helped Cunningham and the papers he has presided over earn numerous accolades, including several Lee President's Awards for journalism and community spirit, the 1999 Leadership award from the La Crosse Area Chamber of Commerce for developing a youth-leadership program in the Coulee Region, the inaugural 2009 Higher Education Advocate of the Year award from the UW-L Student Association in 2009, numerous Wisconsin Newspaper Awards for general excellence and, in tandem with former Winona Daily News Editor Darrell Ehrlick, a Friend of Newspaper Award in 2011 from the Minnesota Newspaper Association for helping develop legislation to strengthen freedom of information in Minnesota.
In addition, Cunningham wrote three volumes of the "La Crosse Memories" series, chaired on Great Rivers United Way, Holmen Area Foundation and other community boards, served on the advisory panel for the journalism program at UW-Eau Claire and is a member and former chair of the WNA Foundation, as well as WNA's representative on the Wisconsin Freedom of Information Council.
Cunningham is a "very civic-minded individual" even behind the scenes, says Joe Heim, a retired political science professor at UW-L. Cunningham, he says, has been a proponent of intergovernmental cooperation in the city, a supporter of the university and a strong example for young journalists, with high ethical standards and prioritization of balanced political coverage.
"You know you're doing a good job when you get both the liberals and the conservatives fired up," Heim says.
In his editorials, however, Cunningham doesn't shy away from voicing his opinions about community matters, "clear about what he believes," Heim says. While not always the popular opinion, Cunningham has written editorials called for the resuming of daily coronavirus case updates, disclosing the safety of well water and who should foot the funding for the La Crosse Center renovations.
Whether an article or an opinion piece, Cunningham says being a "good steward" entails "covering all aspects of the community and having the community's best interests at heart, and sometimes that means pointing out a problem and something that needs to be fixed."
The newspaper industry has faced obstacles in recent years, but Heim says Cunningham has not only maintained but improved the Tribune under increasing difficult circumstances, and believes his will be "big shoes to fill."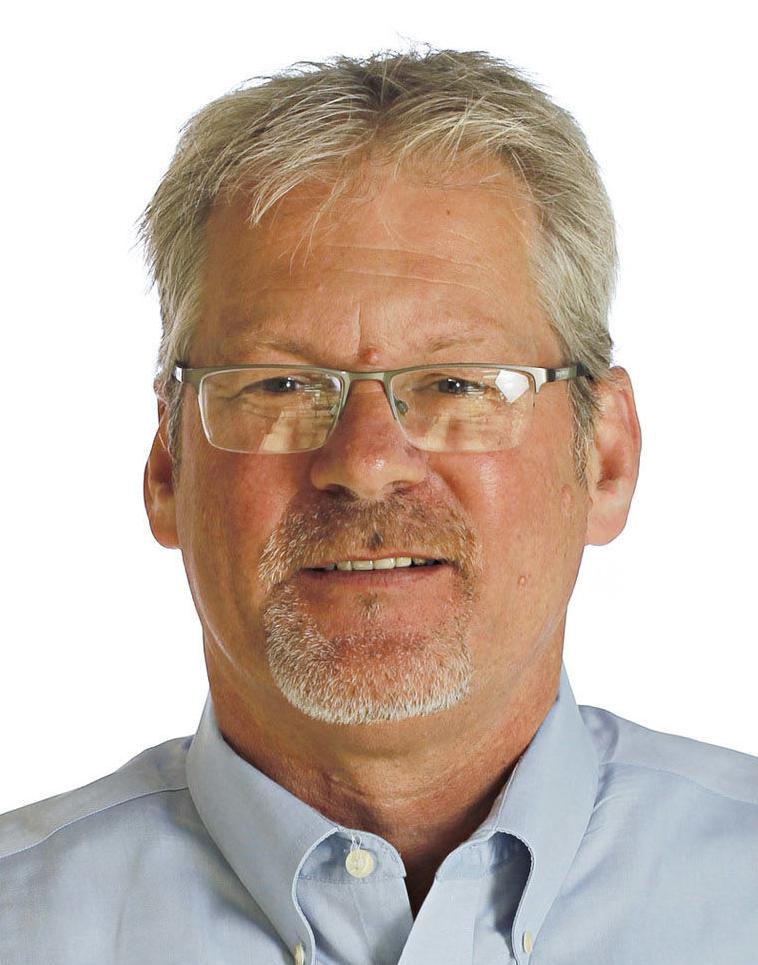 Sean Burke, publisher for the La Crosse Tribune, agrees Cunningham's loss will be felt, but is "thrilled for him in his well-deserved retirement."
"Rusty has always delivered tireless energy and passion for our newspaper and community — an exceptional advocate for the important role journalism plays in our community, an inspirational coach and mentor for young journalists, and a gentleman," Burke says. "It has truly been an honor and privilege to get to know and work with Rusty over the last year. His dedication to this community is unparalleled and the integrity with which he approaches the craft of journalism exceptional."
Adds Chase, "We look forward to keeping Rusty engaged with us as we move forward. We know he will remain engaged with his community in immeasurable ways, even in retirement."
Cunningham says he will miss "being in the know" and working with a "terrific staff" he was watched grow and succeed. He shares he has been blessed to develop so many friendships and partnerships in the community. Working for Lee Enterprises, he says, has been an honor and a privilege, and he has great faith in the Tribune's future.
Says Cunningham, "I know that we will continue to do award-winning work that makes a difference in a positive way."
"Rusty is one of those incredibly valuable journalists. Rusty's work ethic in this field is unmatched, but his pure passion for the readers and communities of River Valley is what truly sets him apart." Marc Chase, Midwest regional editor for Lee Enterprises.
 "Rusty is one of those incredibly valuable journalists. Rusty's work ethic in this field is unmatched, but his pure passion for the readers and communities of River Valley is what truly sets him apart."

Marc Chase, Midwest regional editor for Lee Enterprises.