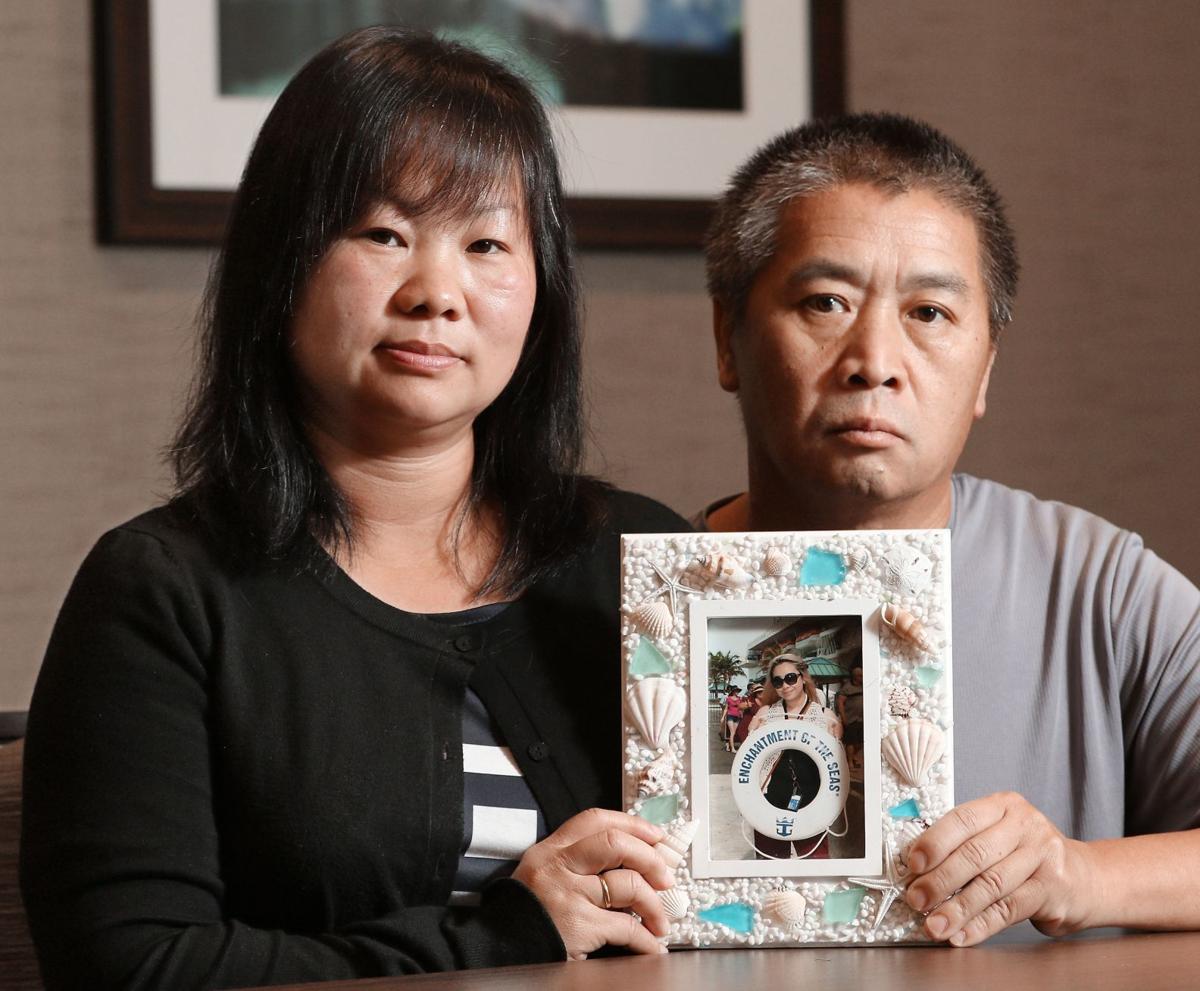 LAKE HALLIE — Teng and Mai Vang have no plans to live in their Lake Hallie home again.
The couple raised eight children there during the past two decades, and have great memories in the house. However, knowing that their 24-year-old daughter, Laile, was shot to death there by her killer, who then committed suicide at the house, is just too painful.
"If our daughter was the only person to die there, we could live there," Mai said. "But because the shooter also died in the house, I don't think it would be a good location. And also it's the anger I have for him."
Mai said being there, in that home, would be a daily reminder of what the shooter, Ritchie German, took from them. Their oldest daughter is dead. They each lost an arm from a devastating gunshot wound. And they also lost their sense of safety.
The Vangs said they plan to have the house razed and sell the land. If they are unable to sell it, they want to create some type of memorial for their daughter there.
The Vangs talked at length about their daughter and the July 28 shooting incident at a hotel where they are staying in Lake Hallie. They spoke with the assistance of a translator, Vincent Xiong, executive director of the Eau Claire Area Hmong Mutual Assistance Association, who had translated for the Vangs during their interviews with police after the shootings.
Mai is still dealing with her anger.
"We didn't deserve this," she said, adding that they had committed no crimes and hadn't done anything wrong. "For as long as I live, I would never be able to forgive him, in this lifetime or the next."
The shooting occurred Sunday, July 28, at their home at 13578 45th Ave. Police have said 10 shotgun shell casings were found at the Lake Hallie residence. Mai and Teng were each shot in an arm as they raised them in a defensive posture; each injury was severe enough that each damaged arm was later amputated. Mai's left arm now ends just above her elbow. Teng's arm was removed almost at his right shoulder.
The horrific day has left them traumatized.
"After the incident, it's pretty hard for us mentally, physically, financially," Mai said. "We struggle every day. We still struggle as we speak."
They also have to work together on the most simple tasks, such as getting dressed.
"As far as putting on clothes, we help each other, and work as one person," she said.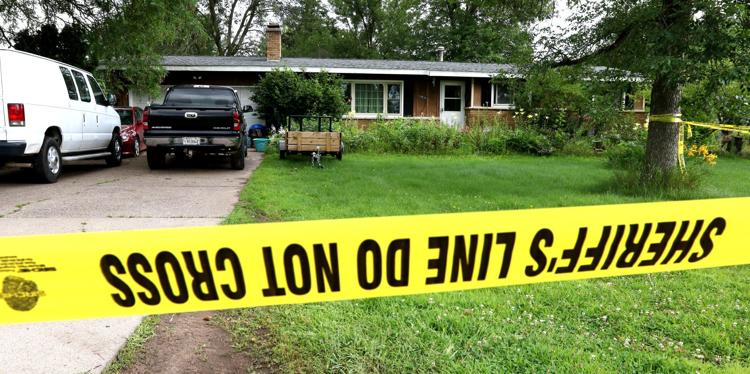 Gunshots mistaken for a gas explosion
Authorities say German likely killed three members of his own family, his mother, Bridget German, German's 32-year-old brother, Douglas A. German, and Douglas German's son, eight-year-old Calvin, in the town of Lafayette earlier in the weekend before heading to Lake Hallie.
When German pulled up to the Vangs' house at 10:20 that night, Mai and Teng were asleep. Seven people were in the home: Mai, Teng, Laile and their four youngest children. Teng was slated to have heart surgery on July 31 and he needed his rest, she explained.
They were jolted awake by gunshots.
"I heard two shots," Mai said. "It woke me up. Then I heard the third shot."
However, she didn't initially realize the noise was a gunshot.
"I thought maybe it was an explosion of the gas stove," she said. "I stepped off my bed, and grabbed my phone, under the pillow. All the lights were off in the house, but the TV was on.
"As I walked down the hall, that is when I saw the individual," she added. "I saw a glimpse of the gun, and that's when I realized there was a burglar in the house. When I saw him waving the gun, I yelled at Teng that there was a burglar in the house."
Mai said she heard the cocking of the gun and moved out of the way. A shot traveled past her, and struck Teng in the arm as he exited the bedroom.
"When he was shot, he screamed," she said. "I laid down on the floor and called the police."
However, she was pretty shook up. She thought back to hearing those first gunshots.
"I was thinking maybe the first four shots hit our children," she said. "While I was attempting to call the police, I ran into our daughter's room. But, I didn't see any of our kids, and I was afraid they were already shot."
That's when Mai also was shot in the arm.
"After I was shot, I crawled into the bedroom," she said. "I heard footsteps, pacing back and forth. All I could think about was getting help. I didn't hear any shots after that."
Mai said she finally calmed her nerves and was able to call law enforcement.
"I was basically whispering to dispatch, and the dispatcher kept asking me to speak up," she said. "But I was fearful the shooter would realize I was still alive, so I kept whispering."
Mai estimated the shootings lasted perhaps two minutes. Neither Teng nor Mai saw the shots that killed Laile and German. To their relief, one of their other children had escaped out of the back of the house, while the others hid in their rooms.
The horror wasn't over for them. They were both rushed to the hospital, but their arms were each too damaged to be saved. Mai wound up spending four days in the hospital, and Teng was there a week. The lost arms are a daily reminder of what was taken from them.
The Vangs stressed they didn't know German, they doubted if Laile knew him, and they never called him by his name during the interview, instead saying "individual" or "burglar" to describe him.
In the weeks after the investigation, police learned from combing German's cell phone data that he had placed a call to Mai's phone at 3:54 a.m. on July 18 — 10 days before the shooting occurred. However, Mai had lost that phone. They hadn't given up the cell phone number, but weren't using it, either.
"That call was made to a phone number we no longer had," she said.
The Vangs are baffled how German had obtained that number.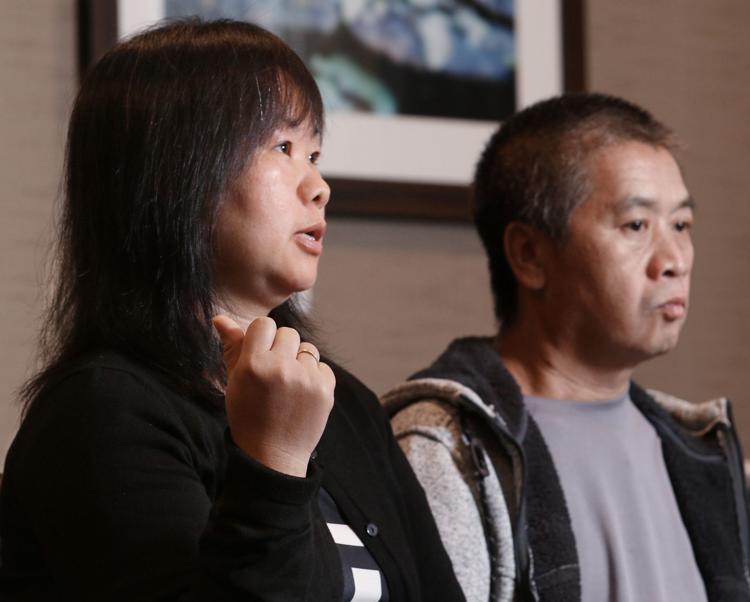 Remembering Laile
Laile was the oldest of the Vangs' eight children. Mai said she and her daughter were always close.
"We would call each other almost every day," Mai said. "Now that she's gone, no one is calling me now."
Teng sat quietly during most of the interview. He opened up when asked to describe Laile. He said Laile was always special to him because she was their first child.
"We were newly married," he explained. "She was always respectful to her peers, and had done what we asked her to do."
Laile treasured the gifts given to her, whether it was clothes or old photos, Mai said.
"Since birth, she's always been well-behaved, smart and good at school," Mai said. "She loved attending school and being involved in school activities. She's always been well-liked, and had a lot of Caucasian friends and Hmong friends."
Laile played the flute, beginning in middle school, and she was a gymnast in high school. She also played in the school band as a senior.
After graduating from Chippewa Falls High School, she attended UW-Eau Claire.
"She wanted to be a family counselor," Mai said.
However, she eventually settled on a career in photography.
"Being a photographer had always been a passion of hers," Mai said. "She was always very independent and knew what she wanted to do."
Laile dropped out of college after three years and worked a variety of jobs in western Wisconsin. She left a job in Menomonie in May and moved back into the family home.
"She made the decision to go back to school," Mai explained. "She applied for the University of Denver and was accepted, so she planned to go there this fall."
Loving family
Teng, 51, was born in Laos in 1967 and moved to the United States in July 1989, and has lived in the Chippewa Valley since his arrival in the country.
Mai is 43; she was born in 1976, but when she moved to the United States in 1992, her birth date was incorrectly entered as 1980. They didn't know each other in Laos, and Mai initially lived in North Carolina before meeting and marrying Teng.
The Vangs' boys are 23-year-old Wameng, 22-year-old Phena, 15-year-old Kue and 9-year-old Ye. Their girls are 20-year-old Alisa, 19-year-old Inzina and 12-year-old Lasamy.
Teng eventually had his heart surgery at the end of August.
For now, the family — the two adults and their youngest four children — has been living in a Lake Hallie hotel, but their insurance money to pay for their stay has run out. They aren't sure where they will go next, but they plan to stay in the Chippewa Valley.
"I don't want to add any more trauma by moving the kids outside the school district," Mai said. "They are staying here, where they have friends."
After the shooting occurred, a Gofundme online fundraiser was established by their extended family. It raised a total of $47,646.
The Vangs said they are thankful for their neighbors and friends, and thanked everyone who donated money. They also thanked the area agencies that provided emotional support.
"There's not a lot left from the GoFundMe," she said. "The rest was spent for the funeral, and there is only a couple thousand left."
Chippewa County Sheriff Jim Kowalczyk said some questions about the pair of shootings in late July will likely never be answered. While the investigation is technically still open, he isn't expecting much new data.
"We're still waiting for some feedback and documentation on cell phones," Kowalczyk said. "In reality, it will always be an ongoing case. But we haven't had any calls that would be helpful to the investigation."
German lived, at least part of the time, with his mother at a townhome at 16964 54th Ave. in the town of Lafayette.
Either late in the evening Friday, July 26, or early Saturday, July 27, Ritchie German shot and killed his mother, Bridget German, German's 32-year-old brother, Douglas A. German, and Douglas German's son, eight-year-old Calvin. Kowalczyk suspects they were likely dead on Saturday morning, when Bridget German failed to show up for work at the Family Fare grocery store, less than a mile away.
Police looked for a car that German once drove, but later learned it had been junked. They also aren't sure if he had another home besides his mom's house.
"We never did find his property," Kowalczyk said.
It is still unclear how German knew Laile Vang, who he shot and killed Sunday, July 28, before killing himself. German had apparently sent her text messages that were sexual in nature, but she replied that she didn't know who he was.
However, authorities are confident that German acted alone and there is no danger to the public.
Get local news delivered to your inbox!
Subscribe to our Daily Headlines newsletter.