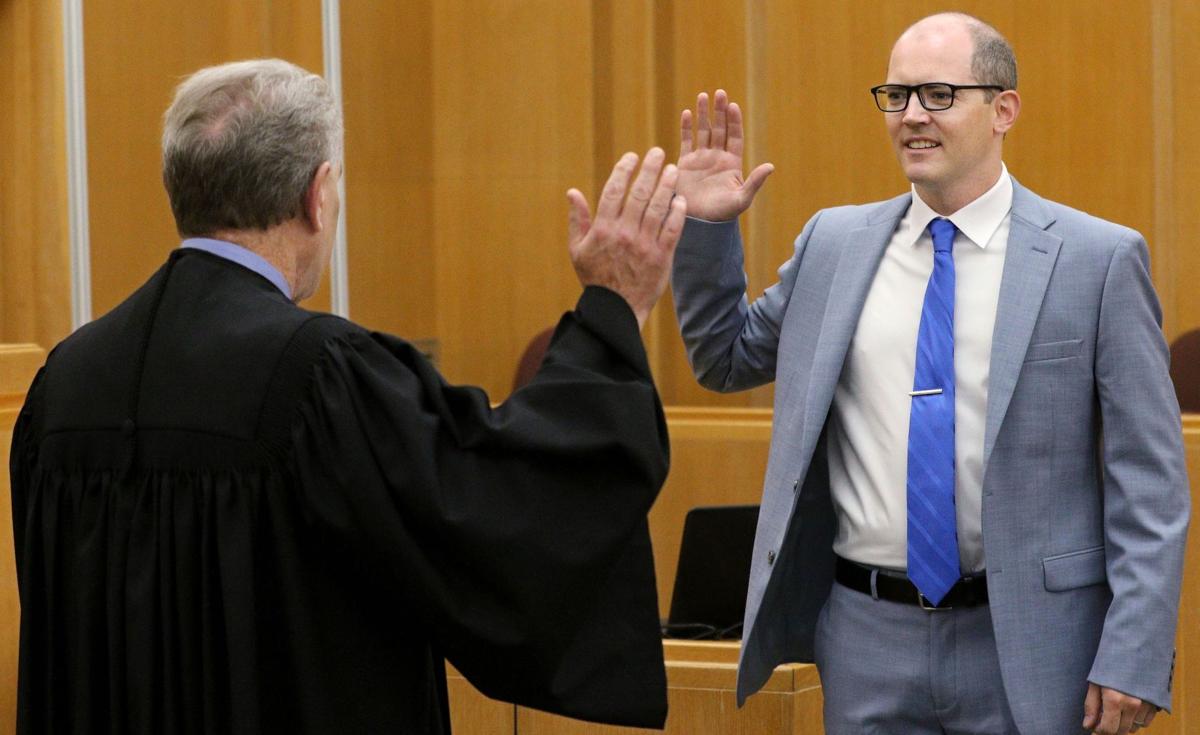 Lilly Lane, 8, and Max Lane, 6, helped their father put his judge's robe on for the first time Monday morning, as a crowd of about 30 people applauded for Chippewa County's newest circuit court judge.
Ben Lane, 38, was sworn into office by retiring Judge Steve Cray. Lane said he was humbled by the turnout of supporters, comprised mostly of courthouse employees.
"It's an honor to do this, to serve the people," Lane said. "It's a lot of responsibility, making decisions that affect people's lives. It's decisions about their kids, their money, their freedom. It's a big responsibility. I just hope I meet the expectations of the public."
Lane was elected to the bench in April, receiving about 57% of the vote to defeat Sharon McIlquham.
Lane grew up between Bloomer and Cornell and graduated from Chippewa Falls High School in 2000. He earned two undergraduate degrees from UW-Eau Claire, and his law degree from the University of Wisconsin Law School.
He interned for Wisconsin Supreme Court Judge Michael Gableman. He also worked as a special prosecutor for the state before returning to Chippewa Falls, where he joined Wiley Law firm in 2010.
Lane was appointed as one of the Chippewa County Court commissioners in May 2017, where he presides over hundreds of cases each year. He also is chairman of the Chippewa Falls Area Chamber of Commerce, is a past president of the Chippewa Valley Cultural Association-Heyde Center for the Arts, and the vice chair of the Community Foundation of Chippewa County.
Judge Steve Gibbs said he's looking forward to working alongside Lane.
"Jim (Isaacson) and I look forward to having Ben's experience and youth to help lead the courts for years to come," Gibbs said.
Cray, 68, won the open seat in April 2008 and was re-elected in 2014.
"My watch has ended," Cray told the audience at the conclusion of Monday's ceremony. "It's time for another generation to help protect and serve the people of Wisconsin."
Cray announced in November 2019 he wasn't seeking another term, and he never wavered on his plans to retire.
"I will always miss it, but I don't regret it," he said.
Cray said he intends to continue working in law, whether as a reserve judge or private cases as an attorney.
"I may have a lawsuit or two in me," Cray said. "I would like to do some mentoring of young attorneys."
Since the election in April, Lane has been working to close down his private practice and turn over his caseload to others.
"That was a little bittersweet to say goodbye to them," Lane said.
While he now is officially a judge, he will continue with his training for the next few weeks, and will start presiding over cases in late August.
A judicial seat is a six-year term. The state created the county's third judicial seat in the fall of 2007. It is a non-partisan seat. Isaacson is moving into the larger courtroom that Cray has used, and Lane will be moving into Isaacson's courtroom.
Get local news delivered to your inbox!
Subscribe to our Daily Headlines newsletter.