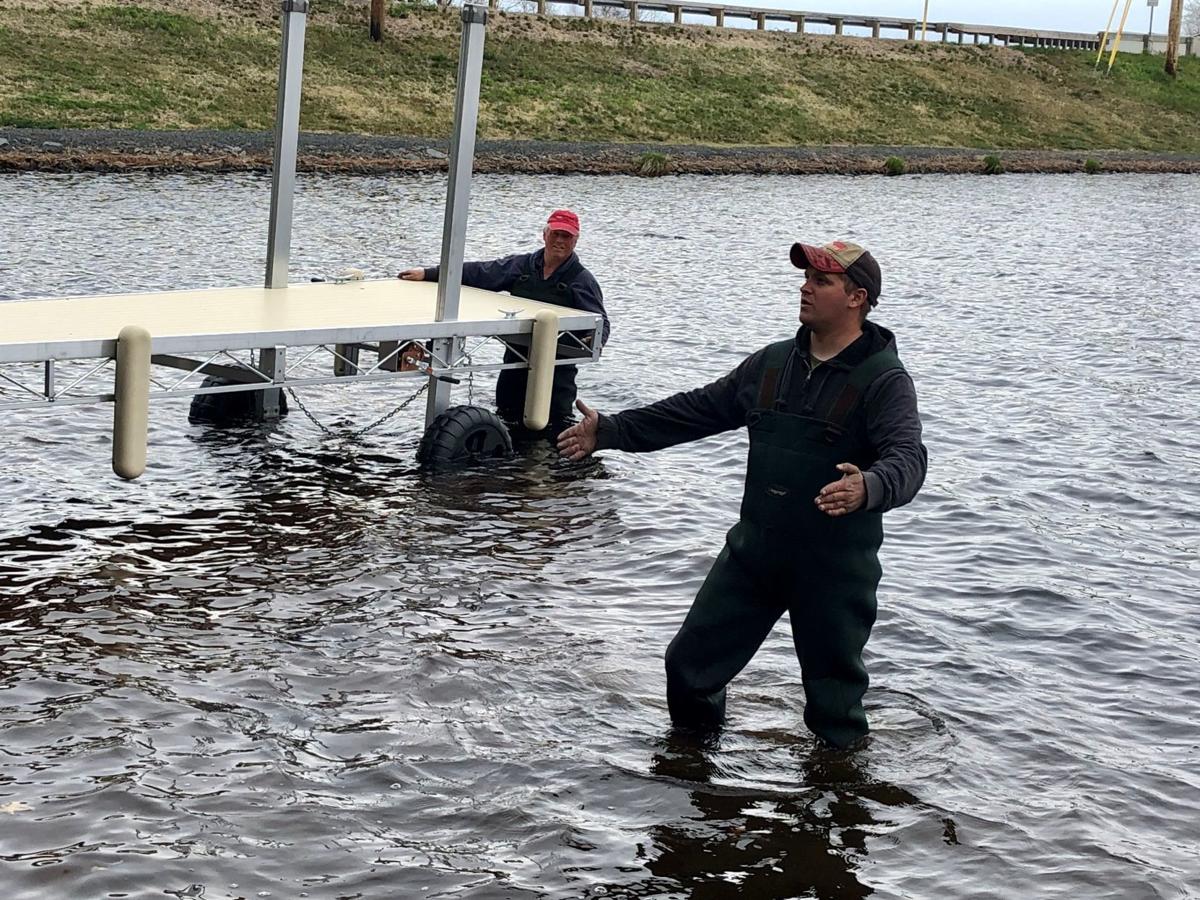 A popular local outdoor site received an upgrade for the summer season.
A new docking system was installed Wednesday at the Lafayette boat landing on Lake Wissota in the town of Lafayette.
The Lake Wissota Lions Club and town of Lafayette funded the project, which was installed to ease the pressure created at the site through heavy use in the summer months.
The dock is able to accommodate four full-size boats or pontoons.
Alan Lee, member of the Lake Wissota Lions Club, said the main reason for the new dock came through the realization that there simply wasn't enough resources available at the site to make it a user-friendly experience to fish or boat at the location.
"This area becomes very congested, so we thought with the addition of the dock it would relieve some of the pressure off of the ramps," Lee said.
Despite COVID-19 restrictions forcing the majority of area projects to be delayed, the Lions Club didn't want to become another statistic and went ahead with the project on schedule.
"It feels really good to finally see it going in," Lee said. "Now that we're coming in to the summer months, we're giving people the opportunity to go outside and enjoy themselves. This project was approved in 2019, so even with the COVID-19 restrictions we felt we needed to continue to follow through with it."
The cost of the new dock came to about $10,000 and was funded through the collaboration of the Lions Club and the town of Lafayette. The Lions Club's portion came through a few of its yearly fundraisers, including a golf outing and an ice fishing outing.
The dock was installed at the same time a new parking area was being worked on at the site. Lee said he hopes these improvements make the area a more enjoyable place to spend free time outside.
"We want to take care of this area and make it more user-friendly," Lee said. "And one of the issue that's happened here is the amount of time it takes one person to launch their boat. When they launch it, their boat stays on the ramp and then it congests that ramp. We're hoping people now will unload their boat, bring it over to the new dock system and leave them hooked up there."
The Lake Wissota Lions Club was established in 1973 and has served the Lake Wissota Area for more than 47 years. Its membership consists of more than 60 men and women from the area dedicated to serving their community.
Get local news delivered to your inbox!
Subscribe to our Daily Headlines newsletter.