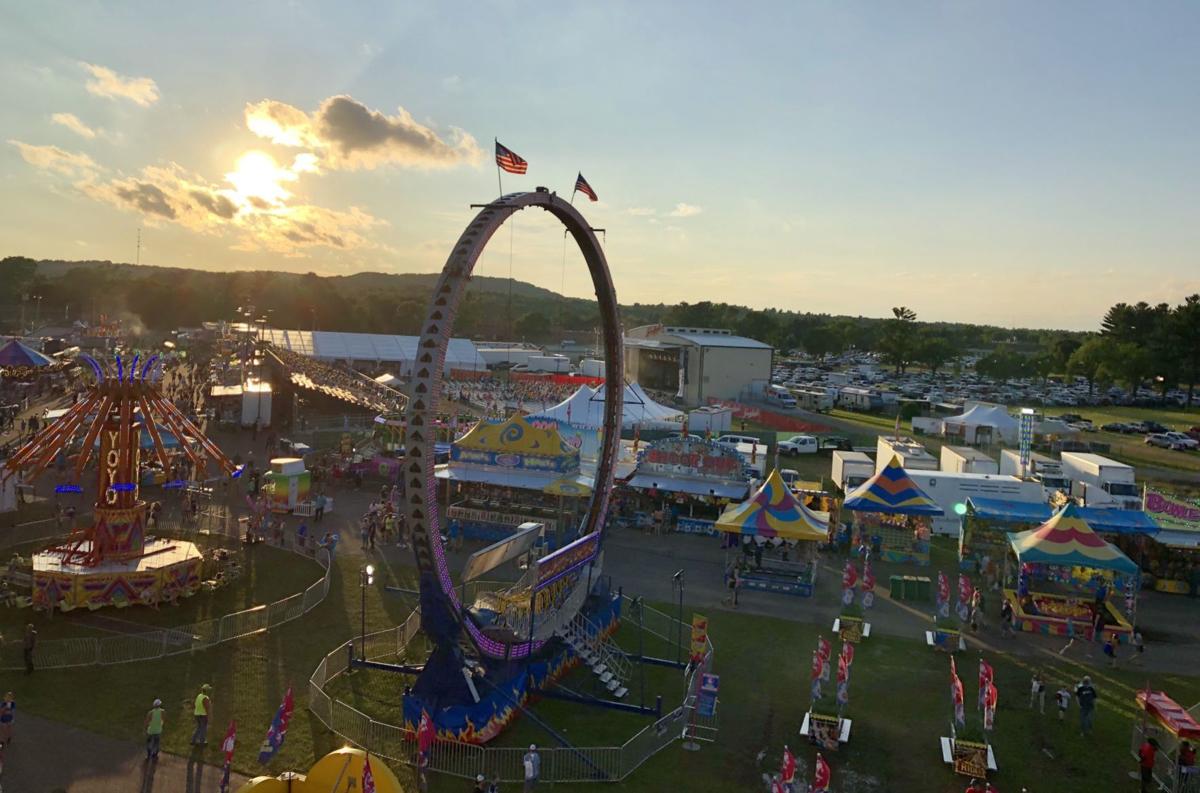 A more than century-long Chippewa Falls summer staple is the latest victim of COVID-19.
The Northern Wisconsin State Fair, a five-day event consisting of live music, carnival games, food and other attractions, announced the cancelation of the 2020 event Monday due to coronavirus concerns.
Rusty Volk, executive director of the Northern Wisconsin State Fair, said in a statement that fair organizers waited as long as they could to cancel in hopes conditions would allow the event to go on as planned, but ultimately it did not work out.
"For the first time in its nearly 123-year history, the Northern Wisconsin State Fair will not go on as planned," Volk said. "Essential to this year's preparations are the directives of county, state, national and international health agencies, and the ever-evolving COVID-19 pandemic we find ourselves in. Due to the limitations placed on large public gatherings in terms of logistics, size and first and foremost, the health and safety of our staff, volunteers, vendors, fair-goers, exhibitors and their families, we have made the very difficult decision to postpone the 2020 NWSF previously slated for July 8-12.
"We are now working harder than ever to prepare for the 2021 NWSF scheduled for July 7-11 with this year's Main Stage entertainment already locked in for the new year at the Northern Wisconsin State Fairgrounds in Chippewa Falls."
Tickets for the 2020 fair will be honored at the 2021 edition of the event, including to retained grandstand musical entertainers Trace Adkins, Hairball, LANCO, Grand Funk Railroad and Blue Oyster Cult.
During the planned week of the 2020 fair, the staff will be hosting a virtual tribute to the storied event. They plan to shine a spotlight on exhibitors, sponsors and everyone who helps make the fair a fun family event every summer.
Due to the loss in advertising revenue and planned income from the event, Volk said the fair is asking for donations to help keep the event above water.
"Each year the fair offers a plethora of family-fun activities and big-name artists known across the world," Volk said. "From agriculture, to food, carnival rides and games, educational exhibits, vendor shows, and more, the Northern Wisconsin State Fair is truly a 'Family Affair.' Like many other industries, the fair and festival industry has taken a severe financial hit because of this unprecedented pandemic."
Justin Kemper, longtime attendee of the Northern Wisconsin State Fair, said not being able to attend the fair this summer is disappointing but he saw it coming.
"It was only a matter of time," Kemper said. "Almost every other event or large gathering this summer and pretty much this year has already been canceled, so it had to happen. Of course, I'm going to miss going to the fair, but it'll be back next year and I'll be there when it does."
Get local news delivered to your inbox!
Subscribe to our Daily Headlines newsletter.