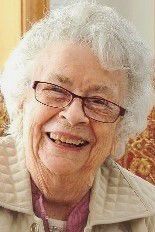 Arlene M. Dresel, 90, of Chippewa Falls died Tuesday, June 9, 2020, in Chippewa Falls, after a long battle with Alzheimer's Disease.
Arlene was born July 1, 1929, in Chippewa Falls, the daughter of Henry and Bertha (Baier) Hartman. Arlene grew up in the Town of Anson. She graduated from Chippewa Falls High School. Right out of school she worked for Chippewa Shoe Company in their office.
On July 1, 1950, she married the love of her life, Kenneth Dresel, who shared the same birth date as her. They shared 53 years of marriage.
Arlene worked part time at JCPenney's during the holiday season for a few years. Her most favorite job was being an active Avon Consultant for many, many years. Kenny and she bought Sinclair gas and car wash, where she could be found drying cars. This later became Dresel's Gas Station and Car Wash. After Kenny's death, Arlene met Bob Haverly. Together they enjoyed each other's company until his death in 2013.
Arlene was a devoted wife, mother, grandma, sister and aunt. She was an excellent cook and took pride in her gardens. She was known as grandma "Toodle-Loo" to her great-grandkids.
Arlene is survived by her daughter-in-law, Linda Dresel; grandchildren, Troy (Tricia), Jason (Heather), Trisha Dresel; great-grandchildren, Eddie, Cole, Kailey, Alexy, Sydney and Bayleigh Dresel; one sister, Joan (Al) Brown; and many nieces and nephews.
Arlene was preceded in death by her husband, Kenneth; her son, Randy; and her friend, Robert Haverly; her parents; and siblings Myron, Milton and Jerome Hartman, Lucille and Marcella Hartman, both in infancy, and Lorraine Hakes.
Private family funeral services will be Tuesday, June 16. The Rev. Josh Bourget will be officiating. Interment will be in Forest Hill Cemetery in Chippewa Falls.
Arlene's family would like to thank HSHS St. Joseph's Palliative and Hospice Care, the caregivers who attended to her with love and care. She will be deeply missed by all who knew and loved her.
If you wish to send cards of condolence please send them to Horan Funeral Home, C/O Arlene Dresel, 420 Bay Street, Chippewa Falls, WI 54729.
Horan Funeral Home in Chippewa Falls is in charge of arrangements. Family and friends may express condolences online at www.horanfuneralhome.com.
Obituaries Newsletter
Sign up to get the most recent local obituaries delivered to your inbox.