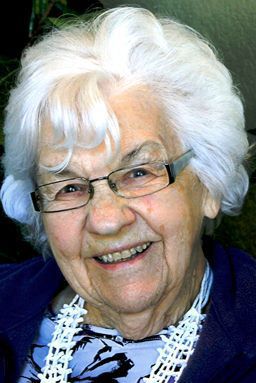 Barbara Jean, the Village Queen, ended her 95-year reign as the merry matriarch of the Cook clan, passing peacefully away Monday, Sept. 23, 2019, at the Hillcrest Classic in Altoona, where she had resided for the last six years. All those who knew her or cared for her, treasured her. The staff there was wonderful to her and is in our hearts. Thank you so much.
Barb grew up in Sheboygan, Wis., a town she never tired of promoting to one and all. She was an official ambassador for the town, such was her devotion. She attended UW in Madison, where she received a degree in bacteriology. It was there she met and fell in love with young Dr. Fred Cook, a humble man from Chippewa Falls. They married in 1945 and lived in Duluth, Minn., Chippewa and Menomonie, while Fred practiced general medicine, founding the Red Cedar clinic. The practice soon ran Fred, and in order to preserve a family life, he took up anesthesia, meaning a brief stop in Madison and then on to Green Bay, Wis., where he was the city's first anesthesiologist.
Barb had given birth to Paul, David, Steven and Julie, in a five-year span and was busy raising her brood. She still found time for tennis, golf and always gardening, as she was forever delighted by the miracle of seeds turning into flowers. She helped out in civic duties and was active in church, PEO and was a skilled cook and housekeeper. When it was time to send her offspring to school, she sent them off with her best personal advice, "If you don't know it, make it up." This actually served us well throughout our lives. She loved springing surprises on us, just to test our Adrenalin reserves. She wanted us to live clean, happy lives and to laugh. She wanted us to never be afraid to try something new.
When she and Fred retired, she took up painting and became quite accomplished in oils and acrylics. Galleries held her works, as did our homes. She enjoyed puzzles of all kinds, was an avid reader and became a notorious card shark, always finding time to sit down and laugh and talk with her grandchildren, over a game of double solitaire or rummy. She was always busy doing something and even found relaxation in ironing clothes, going so far as to press underwear. And what man doesn't enjoy a crisp crease in his whitey-tighties?
She is survived by her four children's families, Paul and Wynne Cook and Phil (Heather) and Brad (Stella), David and Margarete Cook, Sarah (Tony), Kate and Ben (Katie), Steven and Kim Cook, Dan (Heather), Emilee (Jarrod) and Tony (Maggie), and Julie and Louis Rogers and Amy (TJ), Jenny (Phil) and Brian (Becca); and the 20 great-grandchildren they collectively nurture.
Barb often professed that laughter was the best medicine. She certainly was a major supplier of it to everyone in her orbit. In looking at her life, most of all, she was HAPPY. Happy people are so needed in this life, as they improve the daily existence of everyone around them. This was a gift we all got to receive in a delightful and memorable way. We'll miss her a lot, but it is easy to carry her with us as we live out our lives. God speed, Barbara Jean. We are so blessed to have you.
Obituaries Newsletter
Sign up to get the most recent local obituaries delivered to your inbox.