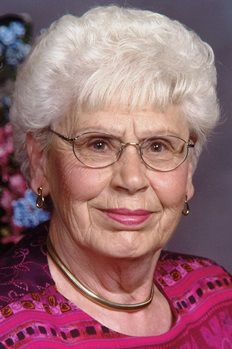 Doris Elaine Brandt, 91, of Chippewa Falls, passed away peacefully at the Marshfield Medical Center in Eau Claire, Friday, April 24, 2020.
She was born Oct. 12, 1928, near Flom, Minn., to Eddie and Anna (Swenson) Erickson. Doris attended a country school and was baptized, confirmed and married at Immanuel Lutheran, a rural church. She graduated from Twin Valley High School and continued her education at a business college in Fargo, N.D.
Doris was united in marriage to Stanley Brandt of Gonvick, Minn., in October, 1949. They lived in Pembina, N.D., until moving to LeSeuer, Minn., in 1950. In 1960, they moved to Chippewa Falls, where they lived until 1974. At that time, Stanley's job took them to St. Cloud, Minn., where he passed away in 1996. Doris moved back to Chippewa Falls, in 1999.
Doris was a longtime member of Central Lutheran Church and a member of several of their service groups, the Martha Circle, CLCW, and Titus. She enjoyed the groups and made great friends. She also volunteered for Agnes' Table, the summer lunch program, and visiting friends in nursing homes, hospitals and assisted living homes. They were very important to her.
Doris is survived by her three children, Kyle (Linda) Brandt of Chippewa Falls, Holly (Mark) Geissler of Eau Claire and Maureen (Kevin) Schrapp of Zimmerman, Minn.; grandchildren, Kristi Brandt of Chippewa Falls, Kevin Brandt of Chippewa Falls, Jessica (Troy) North of DeForest, Ashley (Chris) Riha of Farmington, Minn., Matthew (Kristen) Schrapp of Jobstown, N.J., and Jenna (Jay) Goslinga of Princeton, Minn.; five great-grandchildren, Ella Brandt, Mia and Lincoln North, Brooklyn Goslinga and Madison Riha.
She was preceded in death by her parents; and her husband, Stanley.
In lieu of flowers, memorials are preferred to Central Lutheran Church.
With respect to COVID-19 and to protect the health and safety of all, the funeral services will be private. Expressions of sympathy during this time can be left online at www.pedersonvolker.com.
Obituaries Newsletter
Sign up to get the most recent local obituaries delivered to your inbox.