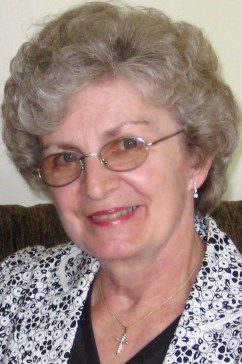 Elaine M. Zimmerman, 76, of Chippewa Falls died Saturday, Feb. 8, 2020, surrounded by her loving family.
She was born April 10, 1943, in Stanley, to Wilhelmina "Minnie" (Ramminger) and Herman Mahr. She was raised in the Boyd area on a farm. She graduated from Cadott High School in 1960.
Elaine married Donald Pizzella July 1, 1961. They resided in Roseville, Minn. They had five children together and later divorced.
She was employed at 3M in St. Paul.
On Oct. 12, 1985, Elaine married Richard Zimmerman at Zion Lutheran Church in Chippewa Falls.
You have free articles remaining.
She was employed at Lasker Jewelers in Eau Claire for 25 years, retiring in 2008.
Elaine loved cheering on her children, grandchildren and great-grandchildren in their sporting events, especially hockey and figure skating. She was instrumental in organizing the Eau Claire Figure Skating Club. She loved feeding and watching her birds in the back yard and enjoyed being outside and taking care of her yard. She also loved Polka dancing and traveled to Slovenia, on three separate occasions. She was well liked and loved by all.
Survivors include two daughters, Donna Brown of Colfax, Deanne (Michael) Shaw of Bloomington, Ill.; three sons, Donald Pizzella Jr. of Oakdale, Minn., David Pizzella of Chippewa Falls, Dennis Pizzella of Oak Grove, Minn.; two stepdaughters, Sara (Mickey) Modl of Chippewa Falls, Stacie Zimmerman of Eau Claire; a sister, Evelyn (James) Bandoli of Chippewa Falls; a sister-in-law, Janice Mahr of Hudson; special friend and dancing partner, Donald Pizzella of Savage, Minn.; 11 grandchildren; five great-grandchildren.
She was preceded in death by her parents; a brother, Kenneth Mahr; and her husband, Richard.
A funeral service will be held at 11 a.m. Thursday, Feb. 13, at Pederson-Volker Funeral Chapel, Chippewa Falls, with Pastor Philip Pitt of Our Hope Lutheran Church, officiating. Interment will be in Forest Hill Cemetery, Chippewa Falls, following the funeral service. Visitation will be held one hour prior to the service Thursday at the funeral chapel.
Pederson-Volker Funeral Chapel & Cremation Services, Chippewa Falls is serving the family. Please share your memories and condolences online at pedersonvolker.com.