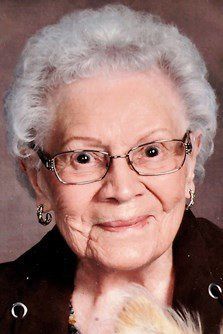 Our mother, Gerry Bejin, passed away Friday, Nov. 8, 2019. She was born Geraldine Genevieve Alexander (quite a mouthful for a little kid) Nov. 25, 1925, in Sheboygan, Wis. She would have turned 94 later this month.
Mom grew up in Rockland, Wis., a small rural community east of La Crosse and attended school in Bangor and Sparta. She moved with our grandparents, George and Jennie, to Chippewa Falls and completed her senior year at Chi-Hi. She met our father, Bruce Bejin, and they were married for 42 years prior to his passing in 1992.
Together, they raised six amazing children (if we do say so ourselves) on Lake Wissota. They are, Denise (Steve) DeLong, their daughter, Aimee (Brad) Rowe and their sons, Greysen and John Wesley; Debra Bejin, her son, Charlie Licht (Lissa Skoglund) and their sons, Wyatt and Waylon; Suzette (Dave) Joles, their daughters, Jennie (Michael) Lusky, Mollie (fiancé, Kris Nordlof), and their daughters, Breannin and Kylie and Abbie; Bruce (special friend, Betty Mense), his son, Ben and his daughters, Olivia, Lydia and Eve; and daughter, Jessica (Shane) Erickson and their children, Isaac, Stella and Hazel; Sally (Brian) Kary, their sons, Jacob and Noah; and finally but certainly not last, Valerie (Scott) Herrick, their children, Kayla (Ben) Poppe and their daughters, Kennedi, Hadley and Elaine; and Allysa Michal and her son, Easton, and Shannon (Katrina) Herrick and their daughter, Emalynn, and Adam Herrick, and his son, Braxton.
Prior to starting a family, Mom was a beautician and throughout her life always enjoyed making sure her hair was properly coiffed. After raising our family, Mom continued to be busy cooking, canning and baking. And she loved her dogs, especially Mitzy and Sammy. She had a real passion for knitting until her eyesight made that hobby too difficult. For many years after our Dad passed, she enjoyed organizing funeral lunches at Holy Ghost Church, where she was a member. Mom was also a huge Packers fan and loved professional basketball.
Our family would like to give a special thanks to Sheena's fantastic staff at Aggie's Country Living. They lovingly called Mom "Peanut" and gave her and our family amazing support. Finally, a shout out to the staff of Mayo Hospice, especially Nurse Cheryl.
Funeral services will be held at noon Wednesday, Nov. 13, at Holy Ghost Church in Chippewa Falls. Interment will be in Hope Cemetery in Chippewa Falls. Friends may call from 11 a.m. until the time of services at noon Wednesday, Nov. 13, at the church.
Horan Funeral Home in Chippewa Falls is in charge of arrangements. Family and friends may express condolences online at www.horanfuneralhome.com.
Obituaries Newsletter
Sign up to get the most recent local obituaries delivered to your inbox.