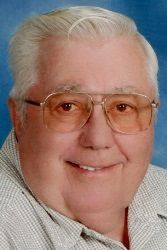 Harry J. Prince, 76, of town of Cooks Valley passed away Thursday, May 14, 2020, at home peacefully in his sleep.
He was born Sept. 5, 1943, at his home in Chippewa County, the son of Frank and Laura (Hebert) Prince. Harry attended St. John's Catholic School and graduated from Bloomer High School in 1961. On Aug. 1, 1964, Harry married Judith Zwiefelhofer at St. John the Baptist Catholic Church. They celebrated 55 joyous years of marriage together.
Many years ago, Harry began his working years at Klinger Farms. After his marriage to Judith, he worked as a leather cutter at Mason Shoe. Later he worked in the munitions division at National Presto Industries. Ultimately, he worked for 32 years as an aide at the Northern Center in Chippewa Falls, retiring in 2005.
Harry was a longtime member of the Bloomer Moose Lodge 1077. He was also a lifelong member of St. John the Baptist Catholic Church in Cooks Valley, where he served as the cemetery caretaker for over 20 years. Harry was also a member of the Bloomer Rod & Gun Club and Rural Heritage Tractor Club.
Harry is survived by his wife, Judith; two sons, Loren (Penny Wallace) Prince, Jessie (Shelli) Prince; one daughter, Lynette (Michael) Metcalf, all of Bloomer; eight grandchildren, Stephanie Prince, Logan Prince, Steven (Erin) Stoeklen, Dustin Stoeklen, Samantha (Scott Windau) Prince, Kelsey (Benjamin Blodgett) Prince, Laura (Kevin Tomlinson) Wood, Elijah Metcalf; six great-grandchildren, Shelby, Grace, Lily, Bristol, Jase and Tripp; three siblings, Donna (Eugene) Meinen, Margaret (Joseph) Schnieder, Frank "Bud" Prince, all of Bloomer; and by many nieces, nephews, cousins and friends.
He was preceded in death by his parents; and his infant sister, Cecelia.
A private memorial service for family will be held at 3 p.m. Thursday, May 21, at Thompson Funeral Home & Chippewa Valley Cremation Services in Bloomer. This service will be broadcast live on the Thompson Funeral Home Facebook page. A PUBLIC memorial visitation will begin following the service at 4 p.m. going until 7 p.m. at the funeral home. Due to current conditions, funeral home capacity is limited. Temperature checks will be performed on all those entering the facility. In addition, the family requests that children, along with anyone not feeling well, please not attend.
Thompson Funeral Home & Chippewa Valley Cremation Services in Bloomer is serving the family. Family and friends are encouraged to leave condolences online at www.thompsonfuneralhome.com.
Obituaries Newsletter
Sign up to get the most recent local obituaries delivered to your inbox.