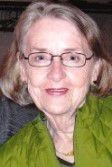 HOLCOMBE — JoAnn A. Nevin, 88, of Holcombe passed away Wednesday, Feb. 10, 2021, at Wissota Place in Chippewa Falls.
She was born Sept. 24, 1932, in Rice Lake, the daughter of Henry and Agnes Gygli. JoAnn married DeWayne Nevin, Aug. 29, 1953. They resided in Menomonie, during their early years of marriage, later moving to Waupun, Wis. From there they made their home in Lake Holcombe, creating a life they cherished on the lake.
JoAnn loved getting her hands dirty in her garden. She took great pride in her beautiful flowers and vegetables. She and DeWayne spent many winters in Florida, where she enjoyed the sunshine, rounds of golf and walking the beaches, while searching for the perfect seashells. She treasured her time with the Red Hat Ladies and was an avid Bunco fan. JoAnn was a long-time member of Our Saviors Lutheran Church in Cornell and Lake Holcombe Women's Club. She loved to volunteer, helping with countless dinners and fund raisers. She worked tirelessly sewing and quilting for church projects, even while residing at Wissota Place.
JoAnn was a beloved mother, grandmother, aunt and friend, and will be missed dearly by all who knew and loved her. She is survived by her three sons, Scott (Laura) of Greer, S.C., Brad of Holcombe, and Todd (Cindy) of Jim Falls; her grandchildren, Garret (Hannah) and Taylor Nevin, Adam, Erin and Cody Shingler; and her sister-in-law, Jean Balliette; as well as several nieces and nephews.
She was preceded in death by her parents; her husband, DeWayne; her three sisters, Jeanette Nieman, Frances Campbell and Gerri Kokesh; and her brother, Jack Gygli.
Public visitation will be held from 10 to 11 a.m. Friday, Feb. 19, at Our Savior's Lutheran Church in Cornell. Due to Covid-19 restrictions, a funeral service with family will follow. Burial will be at Bethany Cemetery in rural Cumberland.
Memorials in JoAnn's name can be directed to: Cornell Food Pantry, P.O. 253 Cornell, Wis., 54732; the Lake Holcombe Food Pantry, at 27841 Cty. Rd. M, Holcombe, Wis., 54745; or Our Saviors Lutheran Church, at 201 South 6th St., Cornell, Wis., 54732.
JoAnn's family would like to express their sincere gratitude to Wissota Place Assisted Living, for the wonderful care they provided to JoAnn during the past 4 ½ years. They also want to thank St. Joseph's Hospice, for the help and support that they extended to JoAnn and her family.
"Our loss here on earth is the Lord's gain in heaven."
Borton-Leiser Funeral Home and Cremation Service Cornell.