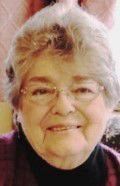 Mary E. McKenna, 81, of Chippewa Falls died Saturday, Jan. 9, 2021, at Mayo Clinic Health System in Eau Claire.
Mary was born Dec. 16, 1939, in Milwaukee, the daughter of Max and Elizabeth (Beckers) Gorski.
Mary was a member of St. Joseph's Institute, and worked/volunteered at the Chamber of Commerce, Heyde Center, History Center, Jim Falls Library, childcare, 4-H project leader, Boy Scouts, Mission Coalition, and was very active in her church. She was loyal to her family and to her values. She was steadfast in her faith, believing that God answers all of our prayers, even if his answer is sometimes "NO." As a devout Catholic, she lived a life on the road towards heaven. In her final days, she gathered with Msgr. Michael Gorman and members of her family to pray that the "welcoming committee" of saints would guide her home when she passed.
Mary is survived by one son, Lloyd (Molly) McKenna of Neenah, Wis.; three daughters, Kathryn Burger of Chippewa Falls, Ruth Hopkins of Chandler, Ariz., and Lori Zastrow of Berea, Ky; three sisters, Suzanne Poniewaz of West Allis, Wis., Barbara (Fred) Stolz of Fond du Lac, Wis., and Maxine (Karl) Polzin of Milwaukee; 20 grandchildren; and four great-grandchildren.
Mary was preceded in death by her parents; and one sister, Janice Gorzycki.
Funeral services will be held at 10:30 a.m. Thursday, Jan. 14, at St. Charles Church in Chippewa Falls. The Rev. Msgr. Michael J. Gorman will be celebrant of the funeral Mass. Entombment will be in Hope Mausoleum in Chippewa Falls.
The visitation will be held from 4 to 7 p.m. Wednesday, Jan. 13, and from 9 a.m. until 10 a.m. Thursday, at the Horan Funeral Home in Chippewa Falls. There will be a prayer service at 4 p.m. Wednesday, at the funeral home.
Family prefers memorials to the new History Center or the Christmas Village.
Per the state mandate, face masks are required for all those attending.