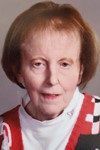 Nadine Kay (Clark) Happel passed away peacefully while surrounded by her family. Nadine received her crown of everlasting life Friday, April 2, 2021, and is now in the Kingdom of Heaven. Nadine was born April 28, 1947, in La Crosse, to Lola (McNabb) and Albert Clark. She graduated from Central High School in 1965 and furthered her college education at UW-La Crosse, where she met her husband, Douglas Happel. Doug and Nadine were married June 22, 1968, in La Crosse. Soon after their marriage, they moved to Sun Prairie, Wis., where both of their children, Mark and Susan were born. They later moved back to La Crosse in 1977, where they have resided since. Nadine enjoyed being a stay at home mom when her kids were younger. As they got older, Nadine took on a job at Shopko South in La Crosse, as a cashier and front end monitor. She also was an active member of Faith Lutheran Church in La Crosse where she taught Sunday school for several years. Most importantly, she was the extremely proud grandmother to eight grandchildren whom she adored immensely.
Nadine is survived by her husband, Doug of La Crosse; two children, Mark Happel of Verona and Susan (Jared) Johnson of Chippewa Falls; and eight grandchildren, Sean, Matthew, Michael and Justin Happel of Verona and Allison, Bradyn, Madeline, and Steven Johnson of Chippewa Falls.
She was preceded in death by her parents, Lola and Albert Clark; in-laws, Norman and Irene Happel; and brother-in-law, Master Sergeant James Staege.
A special thank you from the family goes out to all of the great nurses and doctors at Gundersen Health System, especially Dr. Aberger, Dr. Belanger, and Dr. Shakhnovich. Thanks also goes to Benedictine Nursing Home in La Crosse as well as Gundersen Hospice Services.
The funeral service will be held at 11 a.m. Wednesday, April 7, at Faith Lutheran Church, 1407 Main St., La Crosse, under the direction of Pastor Eichers and Pastor Cumming. Visitation will be held from 5 p.m. until 7 p.m. Tuesday, April 6, and also one hour prior to the funeral service at Faith Lutheran Church. Memorials may be made out in Nadine's name to either Faith Lutheran Church or to the La Crosse Public Education Foundation.
Visitation and funeral arrangements are being provided by Jandt-Fredrickson Funeral Homes and Crematory of La Crosse. Online condolences may be offered at www.jandtfredrickson.com.