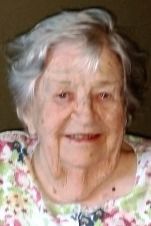 Rosemary P. Horgen, 92, Chippewa Falls passed away Monday, Sept. 23, 2019, surrounded by her family.
She was born Feb. 5, 1927, in Stanley, to Harry and Ceceila (Roethler) Rose. On July 29, 1944, she married Arthur J. Horgen at St. Ann's in Stanley.
Rosemary enjoyed many things in her life, including playing cards, hunting, fishing, crocheting, knitting and quilting.
Rosemary is survived by her nine children, Dianne (Dick) Hancock of Yorba Linda, Calif., Charlene Schram of Great Falls, Mont., Lyle Horgen of Stevensville, Mich., Bryon (Peggy) Horgen of Loveland, Colo., Allan Horgen of Wascott, Wis., Nadine (Tom) Hannahs of Chippewa Falls, Debra (Fred) Bohl of Chippewa Falls, Penny (Tim) Fransway of Elk Mound, Wis., and Cindy (Todd) Beardshear of Chippewa Falls; 19 grandchildren; 31 great-grandchildren (with one on the way); six great-great-grandchildren (with one on the way); one sister, Anna Mae Zschernitz of Chippewa Falls; and many other relatives and friends.
She was preceded in death by her husband, Arthur Horgen, Aug. 10, 1980; great-grandson, Samuel Miller in 1991; son-in-law, Doug Schram in 1999; granddaughter, Brenda Bromen in 2017; daughters-in-law, Roberta Horgen in 2018 and Klaire Horgen in 2019; parents, Harry and Ceceila; siblings, Virgil Rose, LaVerne Rose, Viola Webb, Marcella Reedy and Lillian Roberts; sister-in-law, Charlotte Garrison; and brothers-in-law, Harold and Merle Horgen.
A funeral service will be held at 10 a.m. Saturday, Sept. 28, at Faith Lutheran Church, 733 Woodward Ave., Chippewa Falls, with Pastor Dan Wonderly officiating. Interment will be in Prairie View Cemetery, Village of Lake Hallie. Visitation will be held from 4 to 7 p.m. Friday, Sept. 27, at Pederson-Volker Funeral Chapel, Chippewa Falls and beginning at 9 a.m. Saturday at church.
The family would like to thank Mayo Clinic Home Health & Hospice and Dove Healthcare-Bloomer, for their wonderful care of Rosemary.
Pederson-Volker Funeral Chapel & Cremation Services, Chippewa Falls is serving the family. Please share condolences online at www.pedersonvolker.com.
Obituaries Newsletter
Sign up to get the most recent local obituaries delivered to your inbox.