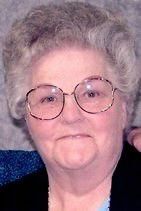 HOLCOMBE — Ruth Lucille (Hatfield) Jiskra, 92 years young, of Holcombe joined her family in heaven Saturday, July 4, 2020, at St. Joseph Hospital, Chippewa Falls.
She was born April 12, 1928, the youngest child of Arthur and Myrtle (Lee) Hatfield, in the family's home in Cornell. Ruth attended school at Cornell. She graduated with the Class of 1946. She married Victor Jiskra May 29, 1948, at the Cornell Presbyterian Church. Victor and Ruth moved to Holcombe and raised their family there. They were happily married for 65 years. After Victor's death in July of 2013, Ruth remained in the family home until September of last fall. At that time, she decided to take up residency at Cornell Health Services. She enjoyed her time there. She was very lucky at Bingo. Her children called her "The Queen of Bingo." She would reply, "I just can't help it if I'm so lucky." She had the same line whenever she would win in cards against her son, John.
Ruth will be remembered by many as being employed by the Lake Holcombe School District's School Lunch Program. Later she worked for Sharon and Tiny Albrecht at Albrecht's Cheese, just a block from her home. Ruth enjoyed visiting with customers as she cut and packaged cheese and scooped ice cream cones for many of them. Ruth's sense of humor had most customers leaving with smiles on their face and laughter in their hearts.
Ruth is survived by her four loving children, Mary (Rog) Paulsen, Carol (Ken) Severson, and John Jiskra, all of Holcombe, and Jean (Mitch) Johnson of Fargo, N.D. Grandchildren that remember her cookies and kolaches, Renee (Paul) DeLaria, Randy (Dorie) Paulsen, Gwen Severson, Cyndy Severson (Dave Boss II), Russell (Keri) Jiskra, Kayla (Ben) Ahlgren, and Craig Anderson. She was blessed with 12 great-grandchildren, four great-great-grandchildren, and sister-in-law, Ruth Hatfield; along with numerous nieces, nephews and friends.
Ruth was preceded in death by her husband, Victor; infant daughter, Sharon Kay; and her parents; her brothers, Lloyd, Dale, Roger and Lawrence (Bud); her sisters, Bernice Keiser, Arleene Jiskra and Maxine Johnson; one grandson, Ryan Paulsen.
Ruth's family is very grateful for the love and care that Irene and Nathan Knowlton gave Mom for the year previous to her taking residence at Cornell Health Services. We couldn't have done it without them. The Staff of Cornell Health Services and St. Joseph's Hospital provided our Mother with excellent care. She appreciated their kindness and efforts at making her comfortable.
A memorial service will be held at 2 p.m. Friday, July 10, at the Holcombe United Methodist Church Holcombe, with the Rev. Paul Messmer officiating.
Inurnment will be in the Cornell Cemetery.
A memorial visitation will be from 5 to 8 p.m. Thursday, July 9, and also one hour prior to the services Friday at the Holcombe United Methodist Church.
Lunch and Fellowship will be restricted due to COVID-19.
Due to the health and safety for everyone who may be attending the services, social distancing, minimal contact and face coverings are very strongly recommended.
Obituaries Newsletter
Sign up to get the most recent local obituaries delivered to your inbox.