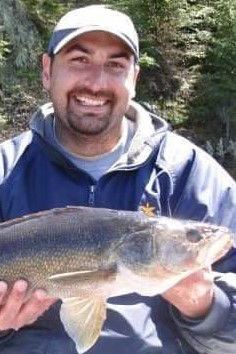 Shawn Anthony Berg, 40, of Chippewa Falls, passed away peacefully Saturday, March 21, 2020, surrounded by family at Mayo Clinic Health Systems-Eau Claire, after a hard-fought battle with Acute Lymphoblastic Leukemia. His recent pneumonia infection and acute respiratory distress syndrome (ARDS) complication left him with permanent lung damage that was too much for his weakened immune system to overcome.
Shawn, and his twin brother, Zach, were born April 14, 1979, in Chippewa Falls, to Richard and Patricia (Shepherd) Berg. Growing up Shawn lived and attended schools in Chippewa Falls; Brewer, Maine, and Sweetwater, Ala. In 1996, Shawn moved back to Chippewa Falls and graduated from McDonell Area Catholic School (MACS) with the class of 1997. Shawn continued his education and graduated from the University of Wisconsin-Stout in 2003, with a BS in engineering. He lived and worked in Savanna, Ga., out of college, but found his way back to Wisconsin, working as a quality engineer at Goodyear and Nortech. Since 2011, Shawn had been working at 3M in Menomonie, as a product and process engineer and received his Masters of Operations and Supply Chain Management in 2015, from the University of Wisconsin-Stout.
In February 2010, Shawn married Barbara Mohn and together they were blessed with three children, Collin, 9, Nolan, 6 and Emma, 5; and three pets, Rylee dog, Lucy cat, and Martin fish. Shawn's greatest joys were to spend time with his family and the great outdoors. Anyone who knew Shawn knew that he had a passion for fishing and loved to be in his boat. He also enjoyed family vacations to the cabin in Red Lake, ON, Canada, hunting, smoking meat, camping, gardening, cooking, watching the Packers, and watching his children play sports. Shawn's witty sense of humor and personality will be missed by all.
Shawn left this world cancer free, achieving remission again after his recent chemo treatments, but that wasn't even his most impressive accomplishment. God is masterful in his plan and while late in his life, Shawn found his way to Jesus. Four years ago, it was Shawn (not his catholic wife) who pushed for their children to go to catholic school, and as Shawn learned what his children were learning through school, his heart became more open to faith and in the past 12 months he managed to receive the Graces gifted to us through many Catholic sacraments; marriage, baptism, communion, confirmation, anointing, and reconciliation. It gives his wife and children great joy to have seen him grow this way and know that he'll be catching big fish in heaven and watching over them always as evident by the recent words of Shawn's five year old daughter "Why are you crying? Dad's in heaven!"
Shawn is survived by and will remain in the hearts of his wife, Barb; children, Collin, Nolan and Emma; father, Rick (Mary McCarthy) Berg (Chippewa Falls); mother, Pat Berg (Merlin) Anderson (Wheeler); twin brother, Zach (Sheilah) Berg (Chippewa Falls); sister, Clare Berg (Chippewa Falls); mother-in-law, Terry Mohn (Prairie Farm), sisters-in-law, Michelle (Chuck) Williams (Boyceville), Andrea (John) Talmage (Boyceville), Melissa (Patrick) Grube (Milwaukee); brother-in-law, Matthew Mohn (Boyceville); many aunts, uncles, cousins, nieces, and nephews, his extended 3M and MACS families, and many, many friends.
Private family services will be held. Inurnment will be in Hope Cemetery in Chippewa Falls. A celebration of life service will be held at a later date. The family requests flowers or memorials be held until the celebration of life service.
Horan Funeral Home in Chippewa Falls is in charge of arrangements. Family and friends may express condolences online at www.horanfuneralhome.com.
Obituaries Newsletter
Sign up to get the most recent local obituaries delivered to your inbox.