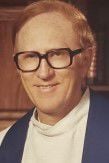 On Saturday, Jan. 9, 2021, Don went to meet his Savior Jesus Christ whom he faithfully served and loved.
Donald Curtis Thorson was born Dec. 22, 1928, in Decorah, Iowa, to Elmer Theodore Thorson and Sadie Julia Woldt Thorson. In February 1929, he was baptized in Decorah Lutheran Church. After living in Battle Creek, Mich., for a few years the family moved to Charles City, Iowa, and finally to Minneapolis, where Elmer worked in a defense plant for the World War II war effort. At Concordia Lutheran Church in Minneapolis, Don married the love of his life, Marguerite Ruth Lemoing (always Margie to him), Oct. 3, 1952.
Don graduated from Augsburg College, Minneapolis and Luther Seminary, St. Paul. He has pastored parishes of rural Stavanger and Kvernes of New Rockford, N.D.; Our Savior's of Milwaukee; Central and Christ of Chippewa Falls; Peace of St. Francis, Kan., and Trinity of Boscobel, Wis.
He was the first Assistant Presiding Pastor of the American Association of Lutheran Churches (AALC) and is listed as a Founding Father. Through the years of his ministry he also served in the Evangelical Lutheran Church, the American Lutheran Church, the Association of Free Lutheran Congregations, and also holds membership in the Lutheran Ministerium and Synod. On Feb. 17, 2020, he was honored by being made Pastor Emeritus by the AALC and Christ Lutheran Church.
During these years he served on many boards, both church and community. St. Joseph Hospital Advisory Board (20 Years), St. Joseph's building fund drive, YMCA board of directors, Kiwanis, Chippewa Clergy Assoc. (sec/treas), Lecturer at Transitus House, Counselor for AA, Planning committee for L.E. Phillips Treatment Center and Lutheran Campus Ministry among others.
As a young boy, Don would join his mother at the piano, her playing while he sang. His love of music grew and became a part of his life, enjoyment, and ministry. When gathered with the Thorson Clan at holidays, all sang while Don's Uncle Ben played the piano. In every church, choral singing was always a high point. If a church had no choir, Don would start one and be the director/singer.
Don was a great Green Bay Packers fan since the move to Wisconsin, in 1959, and his family joined in cheering with him. He loved many sports and enjoyed playing them. Some favorites were baseball, softball, football, basketball, running, with golf being the absolute favorite. Don and Fr. Mike Shelbly worked together to start a citywide church softball league.
He is preceded in death by his father, Elmer; mother, Sadie; brother, Orrin; sister, Maryon and her husband, John Westling; in-laws, John and Ruth Lemoing; brother-in-law, Bob Brace; and sister-in-law, Carole Lemoing Zinter.
He is survived by his precious wife, Marguerite; sister-in-law, Marilyn Brace; children and grandchildren; Kathryn (Daniel) Brink, Thomas, Elisabeth (Kyle) Olson; Steven (Debra) Thorson, James (Kate), Mark, Alex, and Kristina; Jeanette (Rolf) Arnquist, Jacob, Gabrielle, and Nathanael; Gregory (Rhonda) Thorson, Andrew (Diana), and Adam; great-grandchildren, Shiloh, Remy, and Zelda Thorson, Jackson, Bryant, and Alanna Olson.
The center of Don's life was his love of the Lord and His Word. His constant prayer was for the salvation of all of his children, grandchildren, great-grandchildren, nieces, and nephews.
Memorial service will be held at a later date.
Quote from Don at celebration of 50th anniversary since ordination.
"Finally, and most of all, I wish to thank the God of love who, I believe, showered such unmerited favor upon me as to call me into the ministry of the Gospel."
Memorials are appreciated and may go to the Barnabas Christian Coffeehouse, 19 W. Spring St., Chippewa Falls, Wis., 54729; or to Salesian Inspirational Books, 2 Lefevre Lane, New Rochelle, N.Y., 10801-5710.
Pederson-Volker Funeral Chapel & Cremation Services, Chippewa Falls is serving the family.