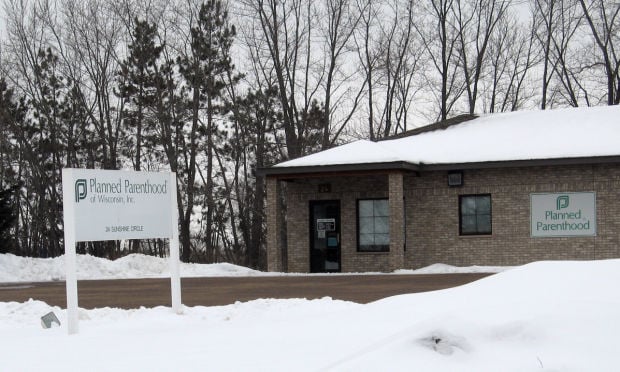 Becca Hubbard is a recent college graduate without a permanent job. She relies on Planned Parenthood in Eau Claire for reproductive services, and is thankful to have access to affordable health care.
That's why she spoke out Monday in support of the four Planned Parenthood centers that are closing within the next few months.
"I'm tired of politicians who have access to health care working to take away important health resources that people like me trust and rely on," she said. "I implore the governor and our elected leaders to stop the attack on women's health and instead work to protect and improve access to essential health care providers."
During the state's last budget cycle, the budget approved by the Wisconsin Legislature and Gov. Scott Walker included a $1 million cut in state funding to Planned Parenthood.
"Some of these state dollars went towards infrastructure costs," said Nicole Safar, director of public policy for Planned Parenthood Wisconsin. "Being a non-profit, it takes money to keep doors open, and that is the reason why we are having to close four centers — we couldn't sustain keeping doors open without that funding."
Despite a loss of state funding, these centers still receive federal grants, including Title X.
On Wednesday, Gov. Walker will unveil his budget plan for the 2013-15 cycle. Planned Parenthood Wisconsin spokeswoman Stephanie Wilson said the organization will be watching closely to see what changes he will announce.
"There are a lot of people who are relying on that," she said.
Currently, 27 Planned Parenthood centers operate in Wisconsin, offering services like cervical and breast cancer screenings, sexually transmitted infections testing and treatment, birth control counseling and options, pregnancy testing, HIV screenings, annual exams and referrals to a network of community resources.
Teri Huyck, president and CEO of Planned Parenthood Wisconsin, said the organization was left with no other choice than to close these four centers.
"Politicians may have turned their backs, but Planned Parenthood has not," he said.
The Chippewa Falls center, located at 24 Sunshine Circle off of West River Street, is open Tuesdays from 11 a.m. to 7 p.m. It will close May 17 after almost 30 years of service.
Centers in Beaver Dam, Johnson Creek and Shawano are also closing between April and July.
In some cases, patients seeking treatment from Planned Parenthood will need to travel up to an hour to reach the nearest clinic. The 426 unduplicated patients who used the Chippewa Falls location in 2012 won't have to travel as far, since Eau Claire also has a Planned Parenthood center.
Wilson doesn't anticipate Eau Claire will have problems accommodating the Chippewa Falls center patients. She said none of the center's employees will lose their jobs, since the staff also works at Eau Claire.
Eight of the nine counties with Planned Parenthood centers have no other family planning provider for lower-income people, or those without insurance, Wilson said.
"The majority of our patients are at or below the poverty line," she said.
Deb Lidbury, a nurse practitioner with Planned Parenthood, said that without these services, some women may choose to skip their annual exams.
"These continued barriers to health care will put women at unnecessary risks," she said. "I urge our communities to get involved and our elected officials to stop this senseless attack on women's health care."
Wilson said the four closures are an effort to minimize the cuts, which were implemented about a year ago.
The four centers to close do not offer abortion services. Wilson said overall, abortion comprises about three percent of Planned Parenthood's services; the other 97 percent is based on preventative care.
"They are focused on preventing unintended pregnancies and (preventing) the need for abortion," Safar added.
Federal law prevents the use of certain funds to be used for abortion, with some exclusions like incest and rape.
Planned Parenthood has three health centers in the state that provide abortion services, in Madison, Milwaukee and Appleton.