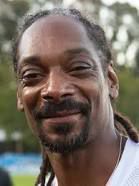 With the final slot on the 2020 Rock Fest lineup, general manager Wade Asher threw fans quite a curveball on Friday.
Asher announced that rap artist Snoop Dogg will fill the second-to-last slot on Saturday, July 18.
"Nobody saw it coming," Asher said with a laugh when discussing landing the 48-year-old singer, known for hip-hop tracks like "Gin and Juice," "Who Am I" and "Drop It Like It's Hot."
"I'm trying to always get a little outside-the-box, and get a little more entertainment for fans, so they see something they might not otherwise see," Asher said. "I've been thinking about (bringing in) Snoop the last three years. No other rock fest (across the country) has really done this."
Asher said he spoke to several long-time, diehard Rock Fest fans to get their input, and he was stunned at the near-universal support for the idea.
"It's amazing how many closet Snoop fans there are," Asher said. "Snoop crosses so many different genres. He is literally everywhere. He's doing commercials. Everyone knows his songs. He is a legend."
You have free articles remaining.
The Saturday lineup was a perfect fit for Snoop Dogg, Asher added, pointing out that headliner Limp Bizkit has a "rap-rock" sound, and there will certainly be a lot of crossover fans of both acts. Another top act that day, Hollywood Undead, also has a similar rap-rock sound, to fit in with the top billed acts.
Asher said any doubts he may have had were erased Friday morning when news was released.
"The response has been amazing," he said. "It will bring in an array of people who wouldn't otherwise attend a rock show."
Asher said ticket and campsite sales have gone quickly this year, and the three-day pit passes are already sold out. He anticipates all pit passes for Snoop Dogg also will be gone quickly.
The 27th annual music festival will return to rural Cadott July 16-18. Disturbed, who will headline on Thursday, July 16, played the festival in 2018. Slipknot, which plays Friday, July 17, last played here in 2016. Limp Bizkit, which will close out the festival on Saturday, July 18, played the festival in 2010.
Other top acts on the lineup this year include Fozzy, Chevelle, Theory of a Deadman, Staind, HELLYEAH, Papa Roach and Steel Panther.
For more information and see the lineup for each night, visit rock-fest.com.
Get local news delivered to your inbox!
Subscribe to our Daily Headlines newsletter.