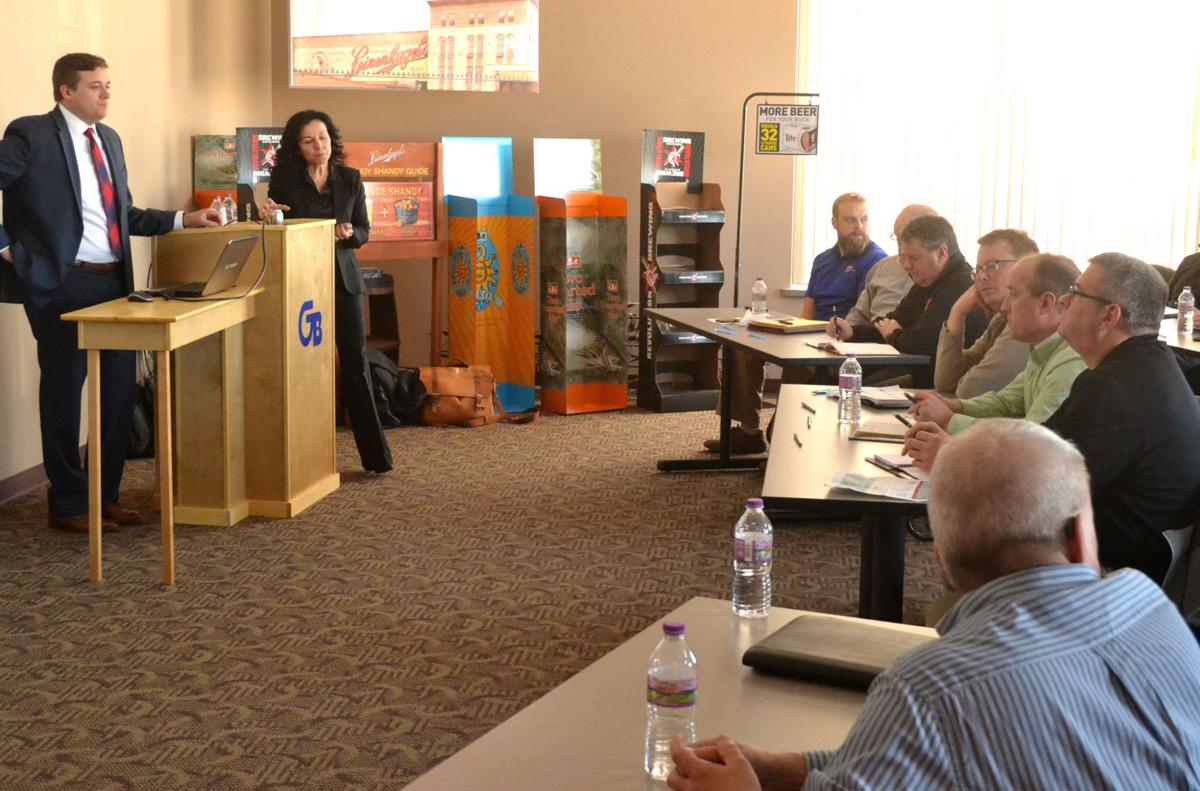 Over 19 Chippewa Valley businesses see potential in the $20 billion Foxconn Technology Group project slated to break ground on the other side of the state this spring.
Those 19 businesses – and others throughout the Chippewa Valley – may have the opportunity to partner with the Taiwanese company building an electronics manufacturing facility and campus about 30 miles south of Milwaukee in the village of Mount Pleasant.
Officials from the Wisconsin Economic Development Corporation (WEDC) and the state Department of Administration outlined the Foxconn project's current status on Friday at General Beer Northwest in Chippewa Falls.
Business owners may be able to work with Foxconn Technology Group to provide supply chain needs, said Matt Moroney, director of strategic economic initiatives for the state Department of Administration.
"They've made a commitment to state that … they're going to hire a Wisconsin company over a company outside of Wisconsin. That's their mindset," Moroney said of Foxconn officials.
Although the Foxconn campus is still in its preliminary stage – company officials are hoping for groundbreaking this spring, Moroney said – if local business owners want to get involved, they need to begin preparing now, said Charlie Walker, president of the Chippewa County Economic Development Corporation (CCEDC).
"When it does happen, it's going to happen fast, and we want to be prepared," Walker said at the meeting, gesturing toward the Fleet Farm distribution center next door in Lake Wissota Business Park. "April 13 will be one year that (Fleet Farm) broke ground, and they're already operation … But when it hits, we know from experience, it hits fast."
Walker and the state officials recommended business owners create profiles at a state supply chain website, http://www.wisupplychainmarketplace.com/, to stay on top of opportunities. Foxconn officials have "committed" to using the marketplace to find suppliers, said Jela Trask, WEDC director of business and attraction.
Over 800 Wisconsin companies have profiles on the site, said WEDC communications director Mark Maley.
Foxconn officials intend to spend $1.4 billion annually on services and products, although it's currently unclear how many of its existing suppliers outside the state the Taiwanese electronics giant will continue to use at its Wisconsin facility, Trask said.
One Chippewa Valley business said it will likely be impacted by Foxconn indirectly, but the huge project presents a different problem. "It has affected us from a business standpoint because of the stance the DOT (Department of Transportation) has taken on where they're going to put their dollars," said Sheryl Claflin, president of Chippewa Falls architectural firm CBS Squared. "With us being up here (in Chippewa Falls), they've taken dollars that normally would have been spent in our area, and re-focused them down there."
The company may have to consider adding a new office nearer to the Racine County Foxconn facility, Claflin said. The company currently has offices in Appleton, Chippewa Falls and Woodbury, Minn.
The Wisconsin Foxconn facility will be the company's first large-scale investment in the United States. The Mount Pleasant facility is expected to employ 13,000 directly and create 28,000 direct jobs, according to figures from the WEDC.
Construction is expected to be completed in 2021 or 2022; product is tentatively expected to begin shipping to the facility and assembly to begin in 2019, Moroney said.
The Associated Press contributed to this report.