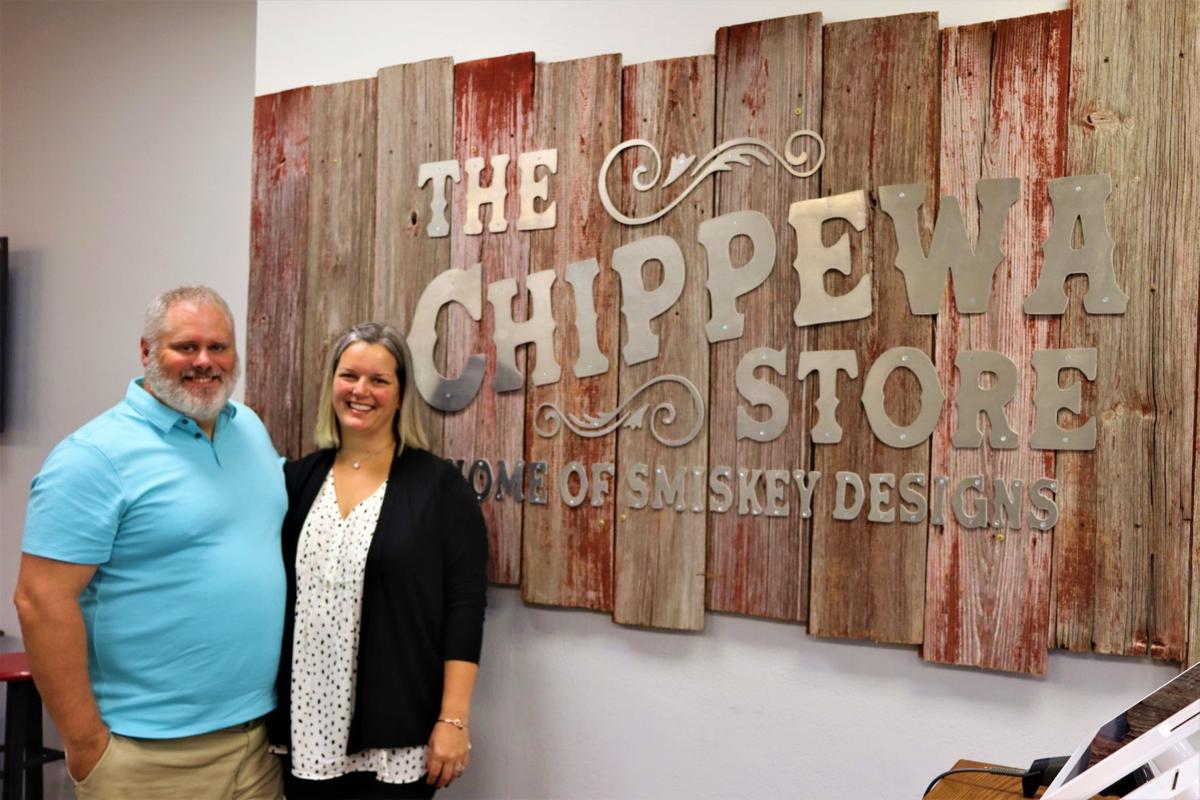 Chippewa Falls residents now have a hub for merchandise that celebrates all things local.
The Chippewa Store opened Tuesday morning in downtown Chippewa Falls. The shop at 23 W. Spring St. sells local-themed coffee mugs, T-shirts, hats, various apparel and lanyards. Business hours for The Chippewa Store are from 10 a.m. to 5 p.m. Monday through Friday and 10 a.m. to 1 p.m. on Saturday.
Cassie Smiskey, co-owner of The Chippewa Store, said she and her husband Carl decided to open their new business in order to give local residents the chance to get their hands on something local to help spread their love for their city.
"We felt like Chippewa Falls needed a place where we could have souvenirs and things which were focused on our town," Smiskey said. "Whether you're sending a Christmas gift to somebody or putting together a care package for a family member or a friend, we wanted to have a place people could go to buy a piece of the city. It's such a great place to live, and there is so much to offer so we just wanted to enhance that."
In addition to operating as a retail business, The Chippewa Store is also serving as the central hub for Smiskey Designs, a printing and apparel company Carl Smiskey has run for nearly a decade.
The origins of the new store came after earlier this year the 260-square-foot space Smiskey was using to run his company became unavailable and he then took a leap of faith and invested in the new nearly 1,600-square-foot space The Chippewa Store now calls home.
He said the new space allows him to use the main lobby area as a store and the other square footage to use to meet with potential clients and show off prospective product other businesses, schools and individual customers can utilize to bring their creative ideas to life.
"Now we can sell product and get creative," Smiskey said. "Everything we have in the store I can print, so this is just the front end to what the main business is."
COVID-19 has not had an impact on the opening process for the store, Cassie Smiskey said, as the setup of the location and remodeling was all completed by family and friends.
And while The Chippewa Store just had its opening day this week, Cassie Smiskey said the goal is to open a simultaneous online store for potential shoppers and expand their business to its potential.
She said she hopes the community embraces her and her lifelong Chippewa Falls resident husband as one of their own.
"We'd love to have everyone stop down and check us out," Smiskey said. "We'll do what we can to help them find what they're looking for."
Concerned about COVID-19?
Sign up now to get the most recent coronavirus headlines and other important local and national news sent to your email inbox daily.