CHIPPEWA FALLS — Karl Hartkemeyer went to UW-Stout to study engineering, but he learned his passion was cooking, and decided to make that his full-time career.
"I couldn't wait to get done with school so I could go cook," he said. "Once I started, I got the bug."
Hartkemeyer, 54, of Eau Claire, recently opened Karl's Bar-B-Q Express on the East Hill of Chippewa Falls, where he slow-cooks all his meats in a smoker in the rear of the building. The restaurant, at 1456 Kennedy Road, had been an Arby's restaurant for years, but when it closed this summer, Hartkemeyer jumped at the opportunity to move into the vacant space. The building shares space with a Cenex gas station.
"It's done pretty well up here," he said Monday. "If there is a challenge for us here, it's the location. We do great from the industrial park businesses here during the week. This is a hidden gem, if people can find it. If people find us, they'll be our customer."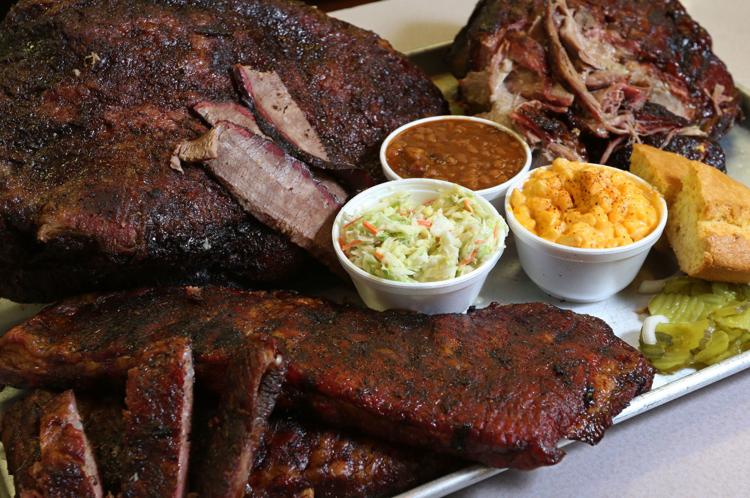 The Chippewa Falls restaurant is his second location.
"We've been at the Eagles Club (in Lake Hallie) since 2011," he said.
The 1983 Eau Claire Memorial graduate said he started cooking at age 19 at Fanny Hill and Houligans. He later owned the area Embers restaurants, which led to him opening the Bar-B-Q Express out of one of those restaurants. He decided to focus entirely on the barbecue business.
"It catches you," he said of his love for barbecue. "You're always trying to make it better, and do new stuff with it. Years of messing with it, I feel we've perfected it."
With his new large smoker, custom-built in Oklahoma and moved to the Chippewa Falls location, Hartkemeyer is supplying both locations from what he produces daily.
You have free articles remaining.
Hartkemeyer said the bulk of his business is through catering contracts, from weddings to providing food at military events to the banquets at the Eagles Club. With the proximity to the city's industrial park, he has secured several contracts for providing food at their events as well.
In a typical year, he estimates he will cook 40,000 to 45,000 pounds of chicken.
"Once we hit spring, our grills go out, and stay out, all summer," he said.
Chippewa Falls Mayor Greg Hoffman said he was thrilled that Hartkemeyer opened in the city and the building didn't stay vacant.
"I'm pleased they were able to move in and it didn't sit empty," Hoffman said. "And I'm glad to add some variety to our restaurants. He's an established businessman. He spent a lot of money to have it equipped the way he wanted it."
Jackie Boos, tourism director with the Chippewa Falls Area Chamber of Commerce, said she's known Hartkemeyer for years and was thrilled he decided to open in the city.
"I knew it was an aspiration of his to have a self-standing restaurant," Boos said. "And it's really good barbecue. The time Karl and his wife put into it — they start cooking early in the morning."
Boos said she's happy to have nationally-known chain restaurants in the city, but she said this sort of place is a nice draw.
"It's fun to say it's another family-owned restaurant," she said. "Small business owners aren't just supported by those who live here, but those that visit here."