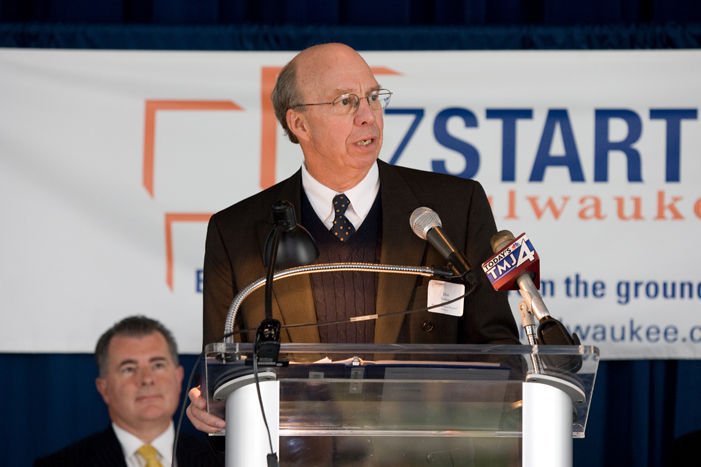 A prominent Milwaukee area businessman and Wisconsin Manufacturers & Commerce board member who criticized Mary Burke during her time at the Department of Commerce is now praising the Democratic gubernatorial candidate for her plan to boost entrepreneurship in the state.
The column laments the lack of talk on the campaign trail about how the state can reverse its dismal record on developing 21st century companies.
"Perhaps because creating a startup economy is a long-term proposition, it's hard to get the attention of politicians looking for what can help them in the next election cycle," writes Torinus, a former business editor and columnist for the Milwaukee Journal Sentinel who holds a bachelor's degree in industrial administration from Yale and a master's degree in international relations from the University of Stockholm.
Torinus notes that Burke is the daughter of "big-time entrepreneur" Dick Burke, who started Trek Bicycle from scratch and turned it into one of the most successful companies in the state.
He goes on to laud candidate Burke for her detailed list of proposals to help startups including lifting a ban on state venture investments in biotechnology firms; expansion of K-12 and university education in entrepreneurial skills; more support of organizations like BizStarts Milwaukee and the Wisconsin Women's Business Initiative Corp and improving the UW's weak performance on turning research into businesses.
"It's a long list that shows she has done her homework on this pivotal lever for prosperity," writes Torinus, who spent 20 years as CEO of Serigraphic, a West Bend manufacturer of graphic equipment with 10 plants in the U.S., Mexico, China and India and $130 million in annual sales.
Torinus doesn't offer the same praise to Gov. Scott Walker, saying that while the Republican has talked about the need to boost entrepreneurship, his actions to date "don't add up to a major commitment."
For example, Torinus calls the $30 million state venture capital fund launched under Walker a "wee step" compared to other states that have been much more aggressive in helping new companies in high-growth fields like information technology and clean energy development. He notes that states with "serious startup strategies" like Michigan, Colorado, Utah and Arizona are drawing investments up to seven times that of Wisconsin.
In fact, the $30 million fund is a drop in the bucket when it comes to helping startup businesses get off the ground. Consider that Google Capital recently invested $40 million alone in Renaissance Learning, the Wisconsin Rapids firm that has since sold for $1.1 billion.
Torinus expressed his frustration with state support for new businesses in a 2006 email thread the Walker campaign released last week trying to discredit Burke for her time as secretary of the Department of Commerce.
The "she's a disaster" comment came from Milwaukee attorney Cory Nettles, who had preceded Burke as commerce secretary. The comment was in an email to Aaron Olver, then Burke's executive assistant. The email thread included a forwarded message from Torinus who had shared his assessment of Burke following a meeting of a Milwaukee economic development group.
"She sees a continuing need to have a war chest to help individual companies for political reasons, but doesn't really believe that many of these projects are justified," Torinus wrote. "She said she is getting unending requests from companies for 'corporate welfare.' "
Torinus has declined to explain what he meant by "war chest" and has not offered any response to the email thread released by the GOP.
"I don't do gotcha politics or gotcha journalism; you can quote me on that," he wrote in an email.
But Torinus did say his column on Burke was not meant as any kind of endorsement of the Democrat, which would be news itself.
"I'm staying objective until election day. The journalist still in me," he said.