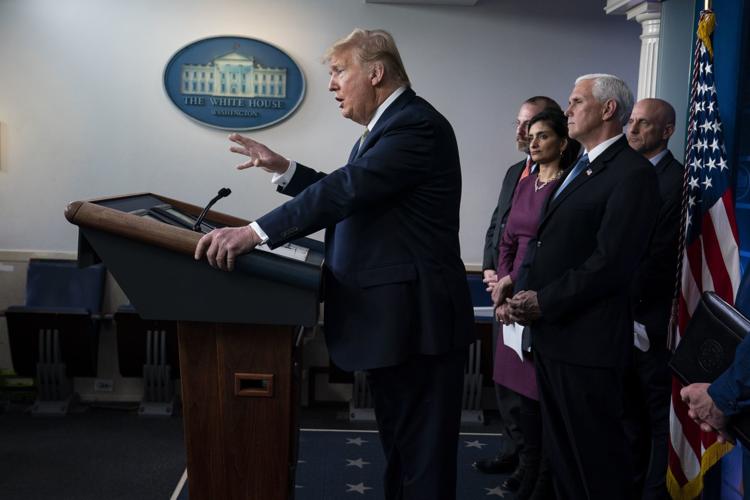 TRUMP: "I've always known this is a — this is a real — this is a pandemic. I've felt it was a pandemic long before it was called a pandemic. All you had to do is look at other countries. ... No, I've always viewed it as very serious." — briefing Tuesday.
THE FACTS: Not once did Trump describe the COVID-19 outbreak as a possible pandemic until after the WHO declared it so on March 11. On the contrary, from January until March, he repeatedly suggested the virus was under "control" and that cases were going "down, not up" and would even completely disappear with warm weather by April, often contradicting his own health experts.
Trump also has described the coronavirus as a "hoax," although he later made clear that he was referring to Democratic criticism of his handling of the outbreak.
Asked, for instance, by CNBC on Jan. 22 if there were worries about a pandemic, Trump said, "No. Not at all. And — we're — we have it totally under control. It's one person coming in from China, and we have it under control. It's going to be just fine."
In February, he asserted that coronavirus cases were going "very substantially down, not up" and told Fox Business News it will be fine because "in April, supposedly, it dies with the hotter weather. And that's a beautiful date to look forward to."
"It's going to disappear. One day — it's like a miracle — it will disappear," he added on Feb. 27.
"It's got the world aflutter, but it'll work out," Trump told a meeting of the National Association of Counties on March 3.
Two days before WHO's pandemic declaration, Trump still painted a rosy picture on the coronavirus outlook. "So last year 37,000 Americans died from the common Flu. It averages between 27,000 and 70,000 per year," he tweeted on March 9. "Nothing is shut down, life & the economy go on. At this moment there are 546 confirmed cases of CoronaVirus, with 22 deaths. Think about that!"
By last Monday, Trump was acknowledging the U.S. "may be" entering a recession and the virus could force Americans to hunker down and practice social distancing until August. More than 1 in 4 Americans are now under orders to mostly stay at home in states including California and New York, with more than 30,000 cases nationwide and over 400 deaths.