His razor-thin win means it will soon become a reality, but it will take years before a new Evers-appointed majority emerges on the UW System's Board of Regents.
GOP leaders hinted at curtailing executive branch power before Evers is sworn in, though Senate Majority Leader Scott Fitzgerald, R-Juneau, said there has been no discussion on limiting the governor's power to appoint Regents.
Over Evers' four-year term that begins Jan. 7, he will replace at least 10 of the 18 seats on the Board of Regents, but a handful of circumstances — an election win by a fellow board member, a vacancy already on the board and what happens with his own seat on the board as state superintendent of public instruction — could mean Evers may appoint an even greater number of people sympathetic to his higher education platform. It could also mean Walker may move quickly to fill those seats, one that has set a record-breaking long vacancy at nearly 11 months.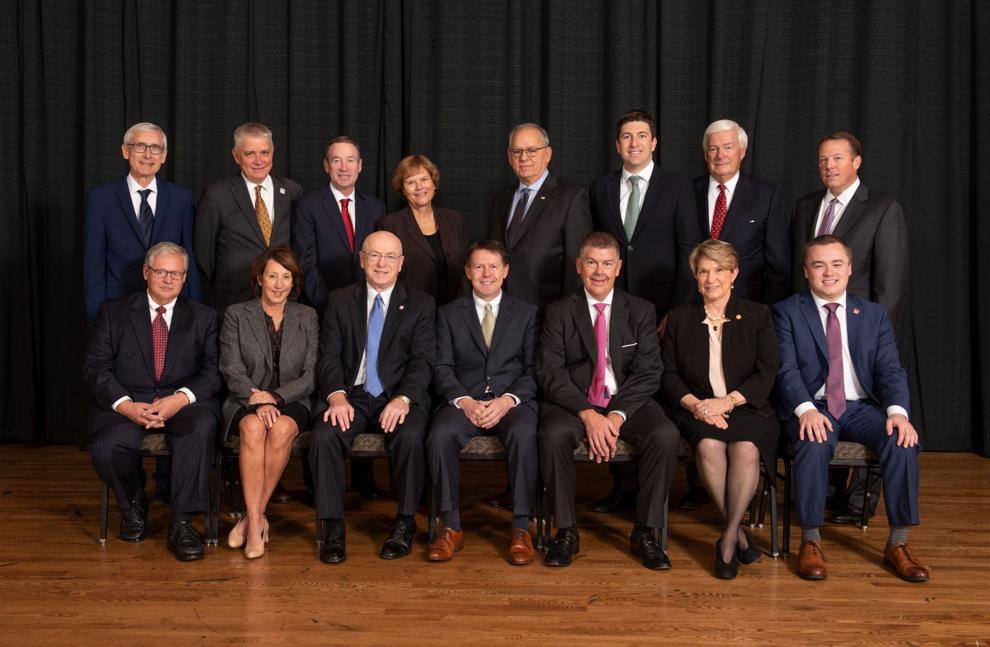 As the state's schools chief, Evers automatically holds a seat on the board. S. Mark Tyler, the Wisconsin Technical College System Board president, also serves as an "ex-officio" member of the board by the nature of his position.
But every other Regent on the 18-member board is appointed by the governor. Fourteen seats, all currently held by Walker appointees, serve staggered, seven-year terms. The two other Regents are students selected by the governor to serve two-year terms.
Over Walker's eight-year tenure, the board has passed policies pushed by Republican lawmakers that left Evers often casting the lone dissenting vote. Stripping tenure protections from state law and eliminating $250 million from the UW System in a two-year budget cycle riled university faculty. They issued a vote of "no confidence" in the Regents and UW System president Ray Cross in 2016.
Through a UW System spokesman, Cross declined an interview request to discuss what, if any, changes he foresees for the System given Evers' win.
Evers said in an interview before his election victory that resources were the largest issue facing the UW System. He said he will look to "fund the freeze," a reference to giving more state money to the UW System to offset revenue lost from in-state, undergraduate tuition rates that have been frozen for the last six years, though he didn't say how.
"Several campuses are facing layoffs and other cutbacks that are impacting the humanities," Evers said. "And that's a major concern of mine. The Wisconsin Idea is all about, yes, we want to make sure people are prepared for the workforce, but we also want to make sure they're good adults and good citizens in society and a lot of that has to do with the humanities and understanding critical thinking."
Asked if he would seek to re-write tenure protections into state law, Evers said that "somehow we need to revisit it," so people feel involved in the decision-making process.
Regent appointments
Board of Regents president John Behling said last spring in response to Evers' remarks that he shouldn't politicize the Regents' hard work.
Now, Evers will select who replaces Behling because his term expires in May. So do the terms of Regent Regina Millner and student Regent Ryan Ring.
Evers spokeswoman Britt Cudaback said he will continue serving as state superintendent until he is sworn in as governor. State law does not allow the superintendent to designate someone else within the department to serve as Regent.
It's unclear who will take Evers' seat after Jan. 7. Evers has not yet announced if he will call a special election or appoint someone to serve out his term, which ends in 2021.
Another Regent, Republican Bryan Steil, defeated Democrat Randy Bryce for U.S. House Speaker Paul Ryan's seat in the state's 1st Congressional District. Walker appointed the Janesville lawyer to the board in May 2016 for a term that expires in 2023.
Campaign spokesman Andrew Iverson confirmed Steil will step down from his position before he is sworn into Congress as early as Jan. 3.
With Steil's seat open, Walker may move to fill it with another Republican before Evers takes office. And an existing vacancy on the board may open up another possibility for a quick appointment by Walker.
Lisa Erickson, the second student Regent, was appointed to the board in May 2016 and had a term set to expire in May 2018. However, she graduated and then resigned from her seat Dec. 14, around the same time media reports indicate Walker's office sought students to apply for the seat.
Walker spokeswoman Amy Hasenberg said in August the process is ongoing.
Asked again post-election, Hasenberg offered no timeline for when the position would be filled, no confirmation on whether Walker would fill the seat before he leaves office, no explanation for why the position has been open for so long and no information on the number of applications received.
As of Friday, there had been no appointment for the student Regent seat left unfilled for 331 days, setting a record for the longest vacancy on the board, according to a UW System database of board service.