The buzz of chainsaws could be heard around Wisconsin on Thursday as residents worked to clean up from this week's damaging storms.
The National Weather Service confirmed there were 16 tornadoes spread across seven counties as storms rolled through Wisconsin on Tuesday into Wednesday.
Eight tornadoes touched down in Fond du Lac County. Green Lake, Dodge and Marquette counties each saw two. Oostburg in Sheboygan County experienced one, and one touched down north of Kiel along the Calumet-Manitowoc county line and destroyed a barn. No one was reported injured in any of the tornadoes.
Despite a day of quieter weather Wednesday, flood warnings remained in effect for the Baraboo River in Sauk County, the Wisconsin River at Portage, the La Crosse River in La Crosse County, the Rock River at Waupun, the Crawfish River at Milford and the Milwaukee River in Ozaukee County.
State emergency officials said some areas have received more than 14 inches of rain over the past two weeks. Communities across the state were still wrestling with flooded roads, downed trees and power outages Thursday evening.
Forecasts call for more thunderstorms to move into the region Friday evening into Saturday morning. Authorities are bracing for rainfall of 2 inches or more in some spots.
"We're hopeful the storms will stay down in Illinois or other areas," said Lori Getter, a spokeswoman with Wisconsin Emergency Management. "It's pretty wet, pretty bad. Today's going to be just cleanup and sandbagging efforts."
A rush to safety
As the rising Baraboo River crept toward their backyard in North Freedom Wednesday night, Howard Tarnowski and his wife were out celebrating their ninth wedding anniversary.
They decided there wasn't much they could do to prevent the inevitable, so they enjoyed the evening and awaited their fate.
Then, in the wee hours of Thursday morning, Tarnowski awoke to the sound of firefighters sandbagging his neighbor's home. A few hours later, local crews were joined by Wisconsin Army National Guard troops.
They quickly moved to Tarnowski's home and several others, building protective barriers as the water continued to rise. That's when the severity of the situation sunk in, and Tarnowski began preparing the inside of his home for the prospect of intruding floodwater.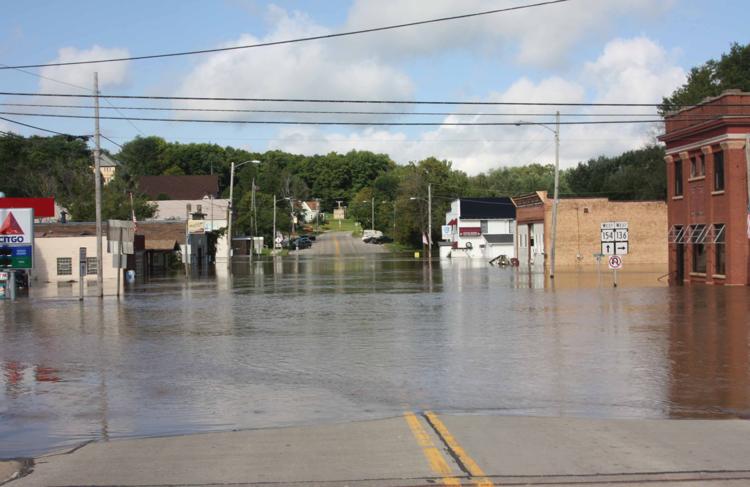 "Everybody that came out and helped was fantastic," Tarnowski said Thursday afternoon as he stood in his backyard, waiting for the river to crest. "We're going to try to hang out as long as we can, but I don't want to be swimming when I leave."
After barricading several homes, firefighters from North Freedom, Baraboo and Prairie du Sac proceeded downriver to Baraboo to help with sandbagging efforts there.
North Freedom Fire Chief Frank Anstett said first responders have been working around the clock to assist residents.
"We knew it was coming," Anstett said. "We didn't know it would come this quickly."
'Turned on the hose'
Between nine and 12 people were evacuated in nearby Rock Springs Wednesday night, Sauk County Emergency Management Director Jeff Jelinek said.
Ryan Mane and Timothy Schmidt were among them. After helping their neighbors head to higher ground, they headed to a hotel in Baraboo, returning Thursday to retrieve their three cats.
Walking back to his apartment on Broadway Street, Mane got about waist deep before officials told him to turn around. He and Schmidt said they would try to find a boat or inflatable raft and come back.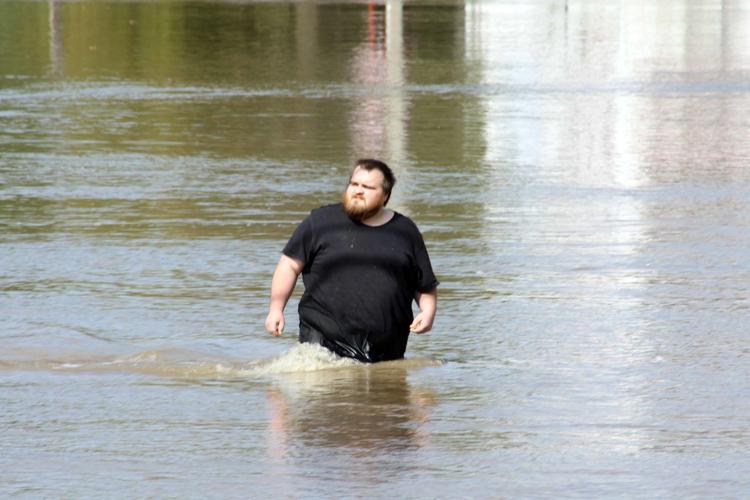 Similar stories repeated themselves all along the banks of the Baraboo River in Sauk County.
"It was like someone turned on the hose and away it came," said Carol Brylla, a Rock Springs resident who has lived in the village her whole life. "Nobody wants to see this happen."
The Baraboo River is expected to crest sometime Friday morning. Officials anticipate the water will come within 1 foot of the level it reached in 2008, when floods soaked much of southern Wisconsin.
Already Thursday, the river had reached 26.4 feet in Rock Springs, more than 2 feet below the record set in 2008, but more than 3 feet above the established "major" flood stage.
Most of downtown Rock Springs was underwater Thursday, including several businesses, apartments and Fireman's Park.
"It's just a mess. I didn't think I'd see another like it again in 10 years," said Rock Springs resident Keith Bender, whose home escaped damage.
As emergency management officials move from the response to the recovery phase, officials said it's crucial that people call their local government disaster agency or the statewide 211 help line to report damage. That will help determine how much counties get in disaster aid.
Heavy damage to west
The blast of La Farge's siren about 3:30 p.m. Thursday was no cause for alarm but rather a reason to whoop it up: The village power plant was back online for the first time since Kickapoo River floodwaters damaged it at about noon Tuesday.
The plant suffered major damage after the Kickapoo roared from its banks Monday and flooded about a third of the village — along with cities, towns and landscapes up and down the river.
Even now, the plant's equipment is able only to accept electricity the village buys from Dairyland Power Cooperative and disperse it to customers. It is unable to generate its own power, said public works director Wayne Haugrud.
La Farge's conditions mirrored those of other municipalities, although others had power, as the Kickapoo began receding from record highs Wednesday, reaching as much as 26 feet in areas where the flood stage is 13 feet.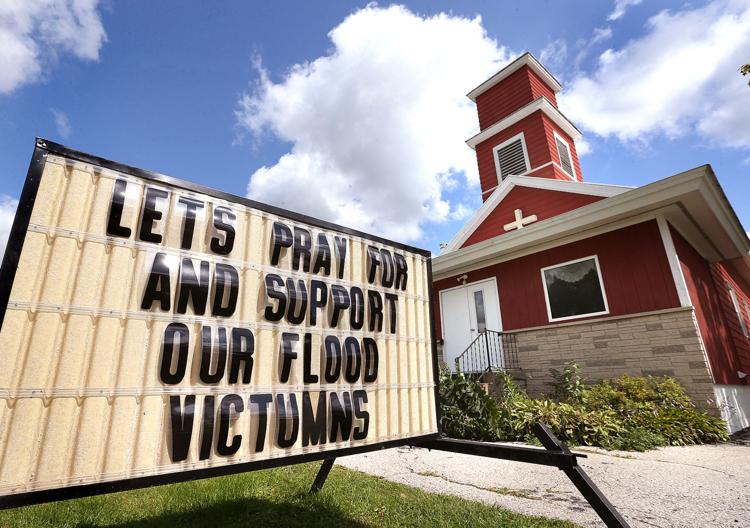 Almost 30 miles to the north, in Ontario, residents said the flooding was the worst they had seen. The area is considered a haven for canoeists but its reputation now is for the mud on the west side of Ontario, where Kickapoo tributary Brush Creek rose so high that it sent 4 to 5 feet of water into Lamb Hardwood Lumber, where co-owner Sandra Lamb worried Thursday that "it may bankrupt us."
"We don't have any insurance," she said, because no one would sell it to her and her husband, co-owner Chuck Lamb, who have owned the business for 32 years.
The plant, which kiln-dries green wood to make it suitable for flooring, molding and other specialized uses, turned out 60,000 board feet a month, she said.
The business has four kilns, with a computerized boiler that was inundated, ruining the computer, Sandra said.
Dane County dries out
Dane County was largely spared from the rain that pummeled much of western and southern Wisconsin earlier this week, but Madison is still recovering from rainfall the week of Aug. 20.
In order to manage the water level on Lake Mendota, the water flow through the Tenney dam has been increased, which is once again leading to rising water levels on the Isthmus and causing ponding on roadways and possible lane or road closures.
Some lane closures can be expected on East Washington Avenue, though officials said they hope to keep two lanes open in both directions. On North First Street, lane closures are expected, but at least one lane in each direction should stay open. North Livingston Street will be closed between East Washington Avenue and East Dayton Street.
State Journal reporter Kelly Meyerhofer, Capital Newspapers reporters Tim Damos and Erica Dynes, and La Cross Tribune reporter Mike Tighe contributed to this report.