Less than a day after UW-Madison abruptly ordered a two-week quarantine for students in Witte and Sellery residence halls, students Thursday were weighing whether to pack up and head home or hold out hope for a more normal semester while "stuck in the dorms."
Given just two hours notice to prepare for the 14-day lockdown Wednesday evening, residents of Witte and Sellery flocked to a nearby grocery store for food, frantically called their parents to decide whether to leave campus and crowded into dorm hallways while wearing masks to talk to each other about what was happening.
"Last night it was very chaotic," said Witte resident and freshman Gwyneth Gerlach, 18.
On Thursday the scene was quieter, but still stressful and emotional for some students.
Gerlach stood on the curb as she watched her friend load bags into her parent's car. They said their goodbyes. Gerlach planned to leave for her home in the Twin Cities a few hours later.
"I'm not super hopeful that we'll be moving back," Gerlach said.
Wednesday's quarantine order did not force students in residence halls to move home, but Gerlach said she didn't want to be "stuck in the dorms" for the two weeks, and maybe longer if cases don't start to drop.
Since late last week, the student positivity rate was nearly 10% in Witte and 17% in Sellery among those tested, according to UW-Madison's Thursday data briefing.
Some residence halls haven't had any positive cases, but additional dorms may be quarantined, if necessary, UW-Madison said.
Brendon Dybdahl, spokesman for University Housing, said 15 Sellery or Witte students canceled their housing contracts Thursday, meaning they can't live in a residence hall unless they apply for spring-only housing in November.
Students who stay in Witte and Sellery, two of UW-Madison's largest dorms, need to remain there until Sept. 23 to prevent spreading the virus to others, UW-Madison spokeswoman Meredith McGlone said. Students can choose to leave at any time, but if they go home they shouldn't come back until after the quarantine has lifted, she added.
"I know we're allowed to leave, so at least they're not, like, trapping us," said freshman Natalie Unger, a Witte resident.
Students were directed to wear face coverings wherever they go, never congregate together, stay inside and monitor themselves for symptoms. COVID-19 testing will be done onsite, and mental health resources are available to students who experience feelings of isolation or depression.
UW-Madison spokesman David Giroux said although "being in isolation is difficult," all Wisconsinites are being asked to follow the same isolation and quarantine procedures at home if someone in their household is exposed to COVID-19.
"We're asking students to do their part for two weeks," Giroux said.
'No good answer'
But quarantining nearly 1,000 students in Sellery and more than 1,200 in Witte is much more complicated than a single household.
Vincent Manuel, a freshman in Sellery, said the dorm rooms themselves are small and the building is crowded.
"There's so many kids in the same area and sharing bathrooms," Manuel said. "I don't know what we're supposed to do when we're so close to each other, especially with how quickly it spreads."
Manuel opted to go back to Minnesota with a friend.
Giroux said the university can't prevent students from traveling, but "public health officials cautioned against it strongly."
Janel Heinrich, director of Public Health Madison & Dane County, said lots of people in congregated living, such as dorms, will hasten the spread. But when students return home they risk spreading it to their communities there.
"There is no good answer to this," Heinrich said.
Students were frustrated with both their peers and the university for putting them in this predicament.
"I think there's equal blame," Unger said. "The university, they told us not to party and people still did. But then also, realistically, were they expecting anything else?"
Still deciding
Many Witte and Sellery residents were still on campus Thursday, but said they were considering leaving.
Bryan Fisher, 19, a Witte resident, said he felt "frustrated and overwhelmed" because he lives in Cincinnati and wasn't sure if he would want to go home — and if he did whether he could.
Anshul Bisht, an international student from India who lives in Sellery, said he was set on staying because even if he made the trek home the time difference of 11 hours would mess up his schedule.
Kyra Flynn and Sierra Sorenson, both Witte residents, said they were going to wait and see how quarantine goes before deciding.
Flynn said she feels like she's "gonna go insane" being stuck inside. Sorenson said she was worried about her mental health because she's a very social person.
"If I get sick of this I might end up leaving," Sorenson said.
'A little unclear'
As of Thursday evening, students were confused about what quarantine would look like and how it would be enforced.
Students didn't know if they were supposed to stay in their rooms or if they could move about the dorm.
They also weren't sure how the university planned to keep them inside. Sorenson joked that she could have just walked to State Street for lunch instead of waiting in line outside for dorm food.
"The instructions are a little unclear of what we're supposed to be doing," Unger said.
Thursday evening the university changed its original quarantine rules so that Witte and Sellery residents can leave their dorms to get carry-out from Gordon Avenue Market, McGlone said. Other residents will not be allowed to use that dining hall.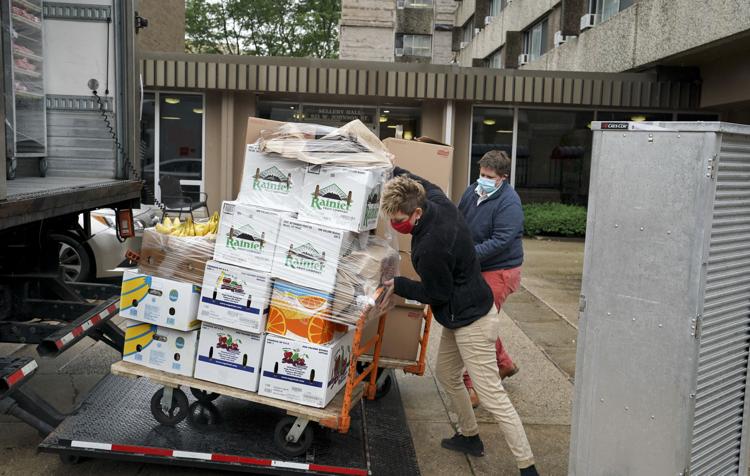 Giroux said students are not allowed to go to different floors, and should try to stay in their rooms. He said housing staff will be in charge of enforcement, and if an incident escalates to harassment or criminal behavior, UW-Madison police may respond.
A first violation could result in cancellation of a student's housing contract, and a second could result in removal from the dorms, Giroux said. Security cameras may be used to investigate violations.
Flynn said she was told the House Fellows — older students who oversee floors — could also leave Witte and Sellery if they choose, making it unclear who would monitor those floors. UW-Madison did not confirm whether House Fellows were given the option to leave quarantine.
Stephanie Addison, a mother who was picking up her daughter from Witte, watched with concern as 50 students bunched together picking up their lunch outside of Witte Thursday afternoon. Not many observed the recommended six feet separation to stem the spread of coronavirus. Most of the students were wearing masks, but a few took them off at times.
"This right here is congregating. … These kids should be six feet apart," Addison said. "Luckily my child is upstairs packing and coming home because this is definitely not how you prevent the spread of anything."
A few minutes later students had stretched out into a longer line with more distance between them. But Addison said she was afraid there wouldn't be clear guidance for the students who remained on campus.
"You can't just say, 'You guys are under lock down, and you have to fend for yourselves. You're on your own. Figure it out,'" she said. "Somebody needs to be here helping them deal with this."
State Journal reporter Anna Walters contributed to this report.
Be the first to know
Get local news delivered to your inbox!