Heavy rain and possible thunderstorms will deliver at least an inch of rain from Wednesday night through Thursday night, but the area will continue to dodge accumulating snow that hit and will hit again to the north, according to forecasters.
A record-setting October snowstorm dumped heavy snow in Minnesota, parts of northern Wisconsin and the eastern Dakotas on Tuesday, the Associated Press reported.
It was the heaviest snow this early in October for many Minnesota locations and some in northwestern Wisconsin, with some southern Twin Cities suburbs getting around 9 inches of snow and the western Minnesota town of Sedan 10.8 inches.
An American Eagle flight from Chicago skidded off the runway and got stuck in the snow while trying to land at Central Wisconsin Airport in Mosinee on Tuesday night. No one was injured, but snowy road conditions and speed were blamed in a crash that killed one person in the Dunn County village of Wheeler on Tuesday afternoon.
Officially, the Minneapolis/St. Paul International Airport reported 7.9 inches of snow, the earliest in the season that the Twin Cities have measured 4 inches of more. The airport fell just shy of its all-time snowiest October day of 8.2 inches on Halloween 1991, AccuWeather reported.
Rain, snow and a wintry mix will be part of a new storm headed for the region late this week, with a swath of more than 6 inches of snow likely across the northern Rockies, as well as in a corridor from the Dakotas into northern Minnesota, AccuWeather said.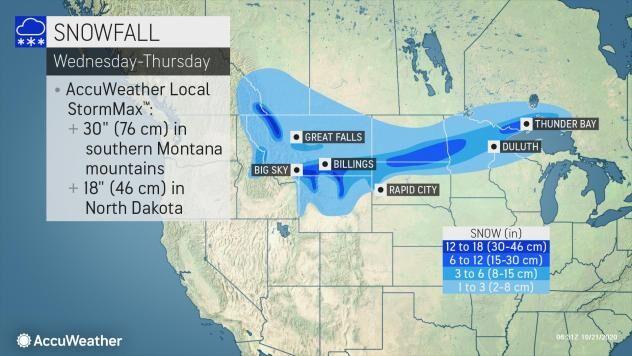 "This next system will be the type of storm that we often see in autumn and spring. There will be a surge of warm, moist air northward into the central Plains and Midwest and a press of cold air across the northern Plains," said AccuWeather Senior Meteorologist Mike Doll. "There will be a risk for gusty thunderstorms in the warm portion of the storm and heavy snow in the cold portion, with a chilly, soaking rain in between."
Madison has not received any measurable snow this snow season (since July 1). The earliest snow of an inch or more was the 3 inches that fell on Oct. 10, 1990. Any October snow defies the norm, as only one in 10 Octobers has a day with more than 1 inch of snowfall.
In Madison on Wednesday, look for mostly cloudy skies, a high near 50 and west winds at 5 to 10 miles per hour, the National Weather Service said.
Chances for showers and thunderstorms are 90% Wednesday night, 100% Thursday and 80% Thursday night, with possible totals of a quarter- to half-inch Wednesday night and Thursday, and a half to three-quarters of an inch Thursday night. Lows around 41 and 42 will sandwich a high near 63.
The Weather Service said there's a 30% chance for showers Friday before 1 p.m., a 20% chance for rain and snow showers early Sunday morning, a 70% chance for showers mainly after 1 p.m. Sunday, a 50% chance for showers Sunday night, a 20% chance for showers Monday, a 20% chance for rain and snow showers Monday night, and a 30% chance for rain and snow showers Tuesday.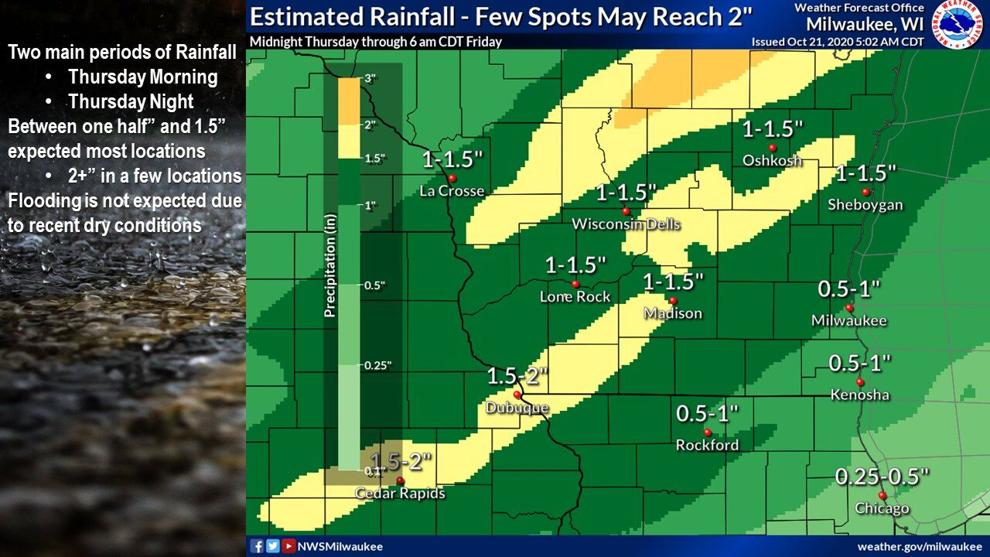 Skies over Madison should be mostly cloudy Friday, mostly sunny Saturday, cloudy Sunday, mostly cloudy Monday, and partly sunny Tuesday, with highs near 47, 45, 46, 44 and 41, and lows Friday night through Monday night around 30, 34, 36 and 30.
27 Storm Track meteorologist Max Tsaparis forecasts showers developing by late-evening Wednesday, scattered showers and thundershowers Thursday and redeveloping Thursday night, scattered showers Friday morning, a possible rain mix Sunday, and a possible light rain and snow mix Sunday night and again Monday.
Tsaparis said highs for Madison Wednesday through Tuesday should be near 51, 65, 51, 44, 43, 40 and 38, and overnight lows around 42, 51, 30, 33, 32 and 24.
Tuesday's high in Madison was 47 at 3:02 p.m., 10 degrees below the normal high and 35 degrees below the record high of 82 for Oct. 20, set in 1953.
Tuesday's low in Madison was 27 at 12:11 a.m., 11 degrees below the normal low and 7 degrees above the record low of 20 for Oct. 20, set in 1952.
Officially, 0.13 inches of precipitation was recorded at the Dane County Regional Airport on Tuesday, boosting Madison's October total to 0.55 inches, 0.98 inches below normal. For meteorological fall (September through November), Madison now has received 3.96 inches of precipitation (rain plus snow converted to liquid), 0.7 inches below normal. For the year, Madison has received 33.11 inches of precipitation, 3.63 inches above normal.
Madison's record precipitation for Oct. 20 is 1.65 inches in 1934.
---
Photos: Record-setting October snowstorm pummels Minnesota, northern Wisconsin