Alongside the Wisconsin Supreme Court election, voters on April 4 will decide whether to approve a measure to give judges more options for keeping people arrested for violent crimes in custody pending trial.
The proposed constitutional change, which passed the Legislature in two consecutive sessions as a single measure, will be presented to voters as two questions because they concern related but separate issues: one involves the conditions under which a person may be released from custody, while the second expands the criteria judges may use in setting cash bail.
Both questions will appear on the ballot alongside another, unrelated, statewide question — this one purely advisory — asking voters whether people receiving taxpayer-funded benefits should have to work or search for work as a condition of getting aid.
Voters will also be asked to weigh in on a number of county, municipal and school referendums, depending on where they live.
Here's what you need to know about each of the statewide questions.
Republican legislators, with some Democratic support, approved the bail changes over the past two legislative sessions. The last step before the Constitution can be amended is voter approval.
Although the measure was passed as a single resolution, it will go before voters as two questions. That's because the state Constitution requires any change to the state's charter be done through a separate amendment, even though the changes are to two adjoining sentences in the same paragraph of Article I section 8 of the Constitution.
Each of the questions describe the proposed new language but don't say what the current wording is, which makes it hard to know precisely what is being changed.
Currently, defendants may be eligible for release under conditions aimed at protecting the public from "serious bodily harm." The first question would change that standard to just "serious harm."
Also currently, judges may only require cash bail if "there is a reasonable basis to believe that the conditions are necessary to assure appearance in court," not to keep defendants from engaging in potential future criminal activity.
The second question would dramatically expand that authority, allowing a judge to impose cash bail on someone accused of a violent crime "based on the totality of the circumstances, including the accused's previous convictions for a violent crime, the probability that the accused will fail to appear, the need to protect the community from serious harm and prevent witness intimidation, and potential affirmative defenses."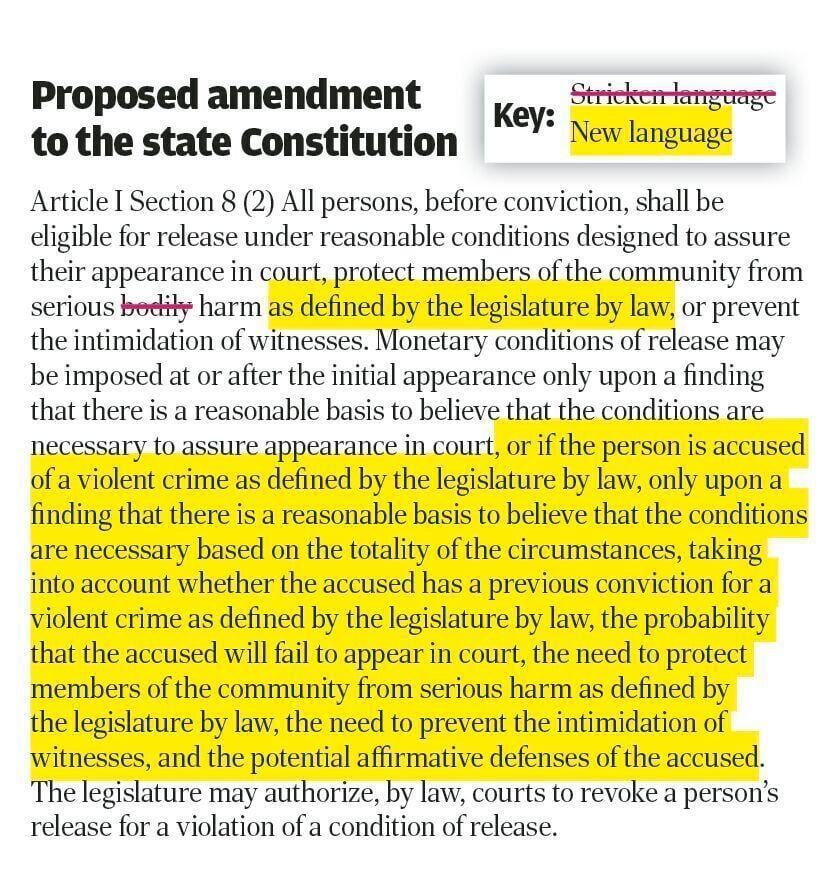 Both Wisconsin Supreme Court candidates on the ballot said they support the changes. Republican leaders also support the proposal.
Democrats, however, have been more divided on the issue. While some support providing judges more options for setting cash bail, others say the proposed change will increase disparities that already exist in the criminal justice system, with wealthy defendants able to pay their way out of jail while poorer defendants remain behind bars. Some also suggest the change could lead to violations of the Eighth Amendment to the U.S. Constitution, which prohibits excessive bail.
The amendment wouldn't have much practical effect, Marquette Law School criminal law professor Michael O'Hear said.
For one thing, violent crime already constitutes a small percentage of criminal cases, O'Hear said. Additionally, factors that make a defendant a public safety risk tend to be the same kinds of factors judges consider when determining whether a defendant is a flight risk, he said.
But even the small number of cases affected by the bail changes could worsen jail crowding, he said, because some defendants would be unable to pay significantly higher bail amounts under the new system. Keeping people in jail longer before trial could also raise constitutional issues, he said.
Apart from the proposed constitutional change, Republican legislators with some Democratic support advanced a measure to define "violent crime" and "serious harm" in anticipation of the amendment's passage. That's because there's no consistent definition of the terms in state law, which bill proponents say could result in judges interpreting the terms differently if the amendment is adopted but the bill isn't.
One workforce question
Unlike the proposed Constitutional amendment, this question is not binding. Legislators may use voters' response to advance their political aims, but the vote itself will not change anything.
State law already requires those receiving unemployment benefits to conduct at least four work-search actions each week in order to receive benefits.
Wisconsin Works, the state's primary Temporary Assistance for Needy Families program, also requires participants to work or take part in "activities to help you get ready to work."
At the request of Wisconsin Republicans, former President Donald Trump's administration in 2018 signed off on a requirement for Medicaid recipients in Wisconsin to spend 80 hours a month working, in job training, engaging in community service or participating in a work program. But that requirement was rolled back by President Joe Biden's administration in 2021.
Evers last year also vetoed several GOP proposals that would have reduced benefit programs in Wisconsin — proposals that Republicans said would have helped put more Wisconsinites back into the workforce as employers statewide deal with labor shortages.
Democrats criticized the measure as a conservative get-out-the-vote effort. They sought to replace it with a nonbinding abortion question, but Republicans struck down that effort.
Inside the 2023 Wisconsin Supreme Court election
The 2023 Wisconsin Supreme Court election could hardly be more important for partisans on both sides of the aisle. Here's what you need to know about the race.