SPRING GREEN — Students studied photographs of nature, teasing out the ribbing of leaves and lines of birch bark that form patterns they transferred onto tracing paper in the sun-soaked classroom. Their backs hunched over their wooden desks, only the occasional whir of the pencil sharpener seemed to draw their gaze away from their work.
The "nature pattern" exercise dates back decades, one of many that sets the school of architecture founded by Frank Lloyd Wright apart from more conventional classes.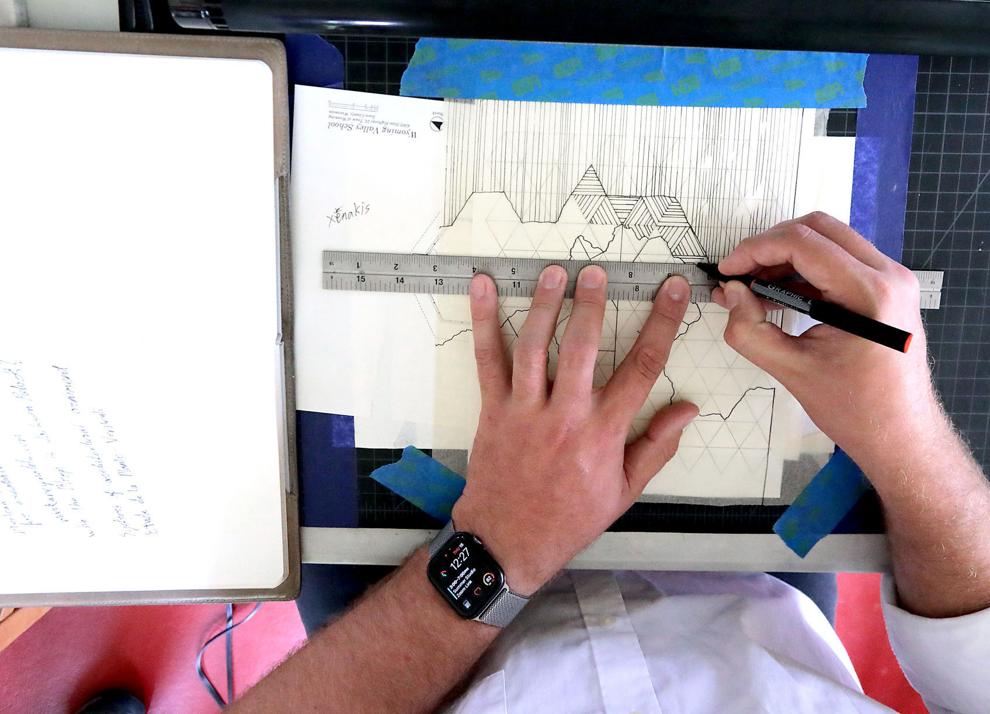 But that nearly nine-decade-long tradition was tested last year when a lack of agreement between the school's governing board and the Frank Lloyd Wright Foundation forced the school to leave Taliesin, threatening its future.
The foundation maintains control of Wright's former residences-turned-campuses — Taliesin in Spring Green and Taliesin West in Scottsdale, Arizona. Students in the three-year master's program have split their time at both locations, with winters in the desert and summers in Wright's birthplace of southwest Wisconsin.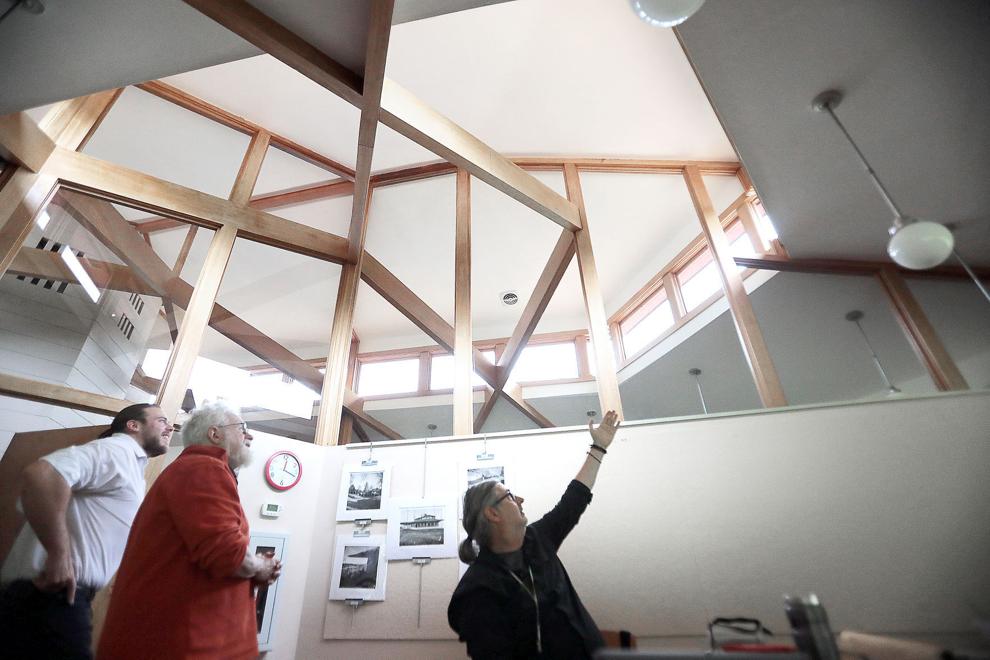 In the wake of the messy divorce, school officials found a way to keep the school alive, renaming it "The School of Architecture" and identifying other spaces in Arizona for students to study. But finding a new Wisconsin home for the school remains a work in progress.
Staff rented a space for their summer immersion program just a few miles away from Taliesin at the Wyoming Valley School, another building designed by Wright named after the Iowa County valley where it's situated.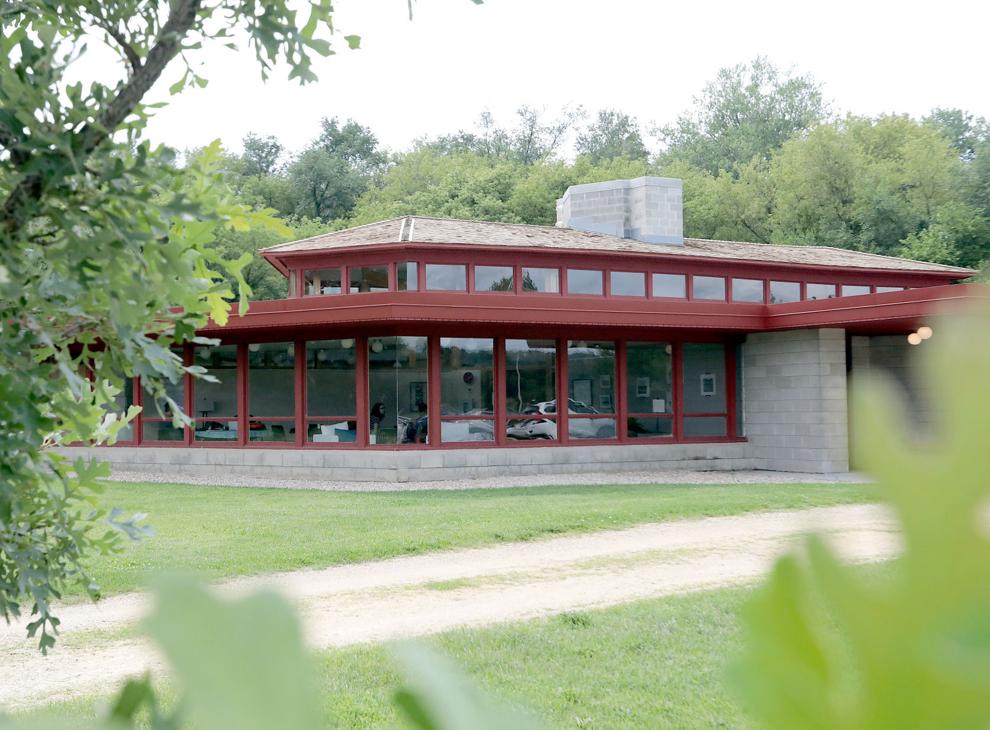 It's not ideal, students admitted. There's no place on site for them to sleep like there is at Taliesin, so they lodged in a nearby hotel. But they got to tour several of Wright's buildings and engage in the architect's organic approach. The week they spent there in the middle of July marked the school's first time back in Spring Green since 2019.
"It kind of feels like coming home," said third-year student Richard Sanchez.
Traditions of Taliesin
Wright's dream was to not only build buildings but to build architects. Before dying in 1959, he laid out in his will a vision for a community living, working and learning together on the land.
The school's radical teaching approach encourages experimentation and steeps students in "learning by doing."
For example, students in the third year of the master's program design and construct their own shelter for living in the desert. One recent student used rammed earth — a mixture of soil, sand and minimal amounts of cement — to create a shelter with a slanted wall that one expert she consulted with said would be difficult to accomplish. But the student was able to do it, new school dean Stephanie Lin said.
The school also emphasizes a communal experience as a way of life. Students maintain a vegetable garden, take turns on kitchen duty and share most of their meals with teachers and guests.
There's something "very humanizing" about eating with faculty for lunch and dinner after spending all day learning from them, Sanchez said.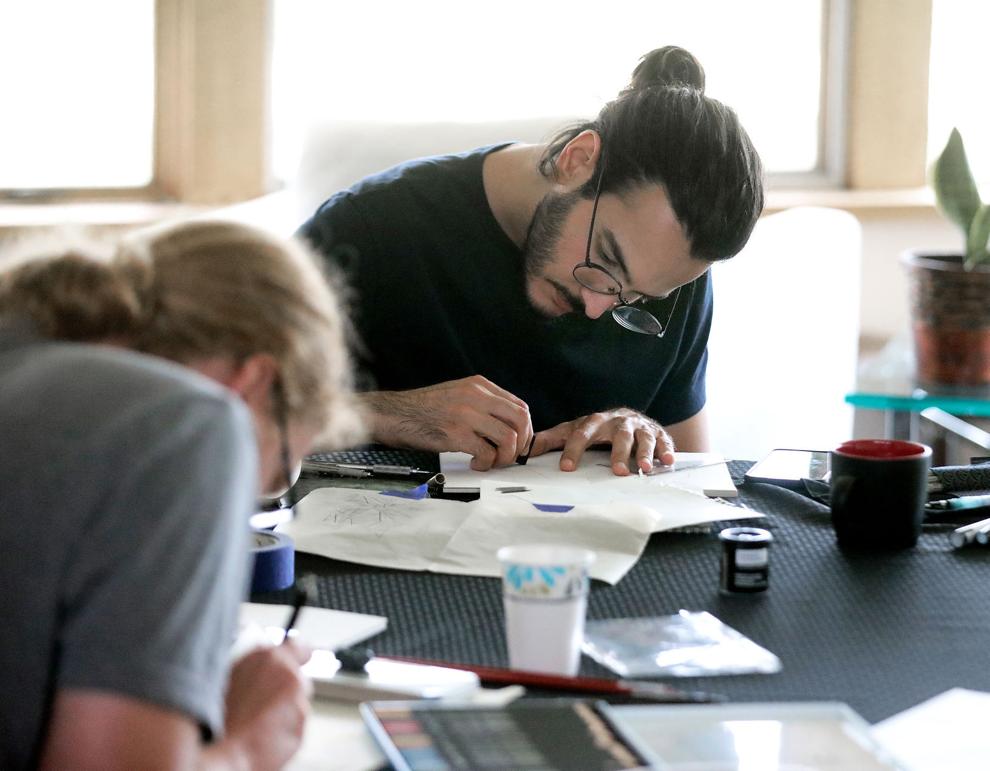 'Young energy'
Last year's split wasn't the first time that the school's survival had been under threat.
In the early 2000s, the position of school dean was left open for a while and two of the foundation's CEOs quit after a report called for $100 million for future development and another $100 million for preservation of the historic campuses. Most of the faculty left and enrollment dropped from 22 students to five. The Higher Learning Commission, which accredits universities and colleges, put the school on probation.
The institution's future was also up in the air after it lost accreditation in 2014. The Higher Learning Commission decided it would no longer recognize schools that are part of larger institutions with missions beyond education.
The school successfully raised $2 million that went toward incorporating the institution into a financially independent subsidiary. The move saved it from being shut down.
Joel Marcus, a former longtime Spring Green Village Board member and owner of Nina's Department and Variety Store, said the school has an "immense impact" on the community in supporting local businesses, infusing the area with an artistic culture and offering design ideas to revitalize Downtown.
"Just that energy of being sort of like a college town — that young energy contributes so much," he said.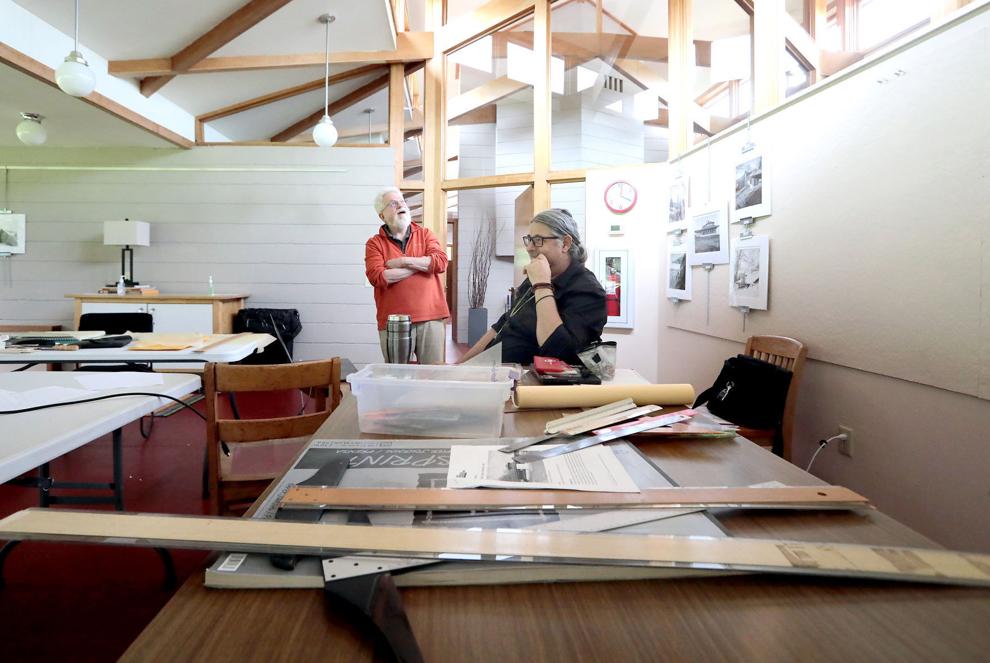 The separation
School officials allowed the Wisconsin State Journal to observe part of the summer program but declined to talk about last year's split.
The foundation didn't return several requests for comment but said in a statement last year that the school did not have a sustainable business model. Foundation officials told Architectural Digest that the two organizations were competing for resources and had conflicting worldviews that couldn't be reconciled.
Victor Sidy, a former school dean not bound by the non-disparagement agreement, told the magazine that the heart of the disagreement was that the school is focused on teaching Wright's philosophy to future generations while the foundation is more interested in "tourism and workshops."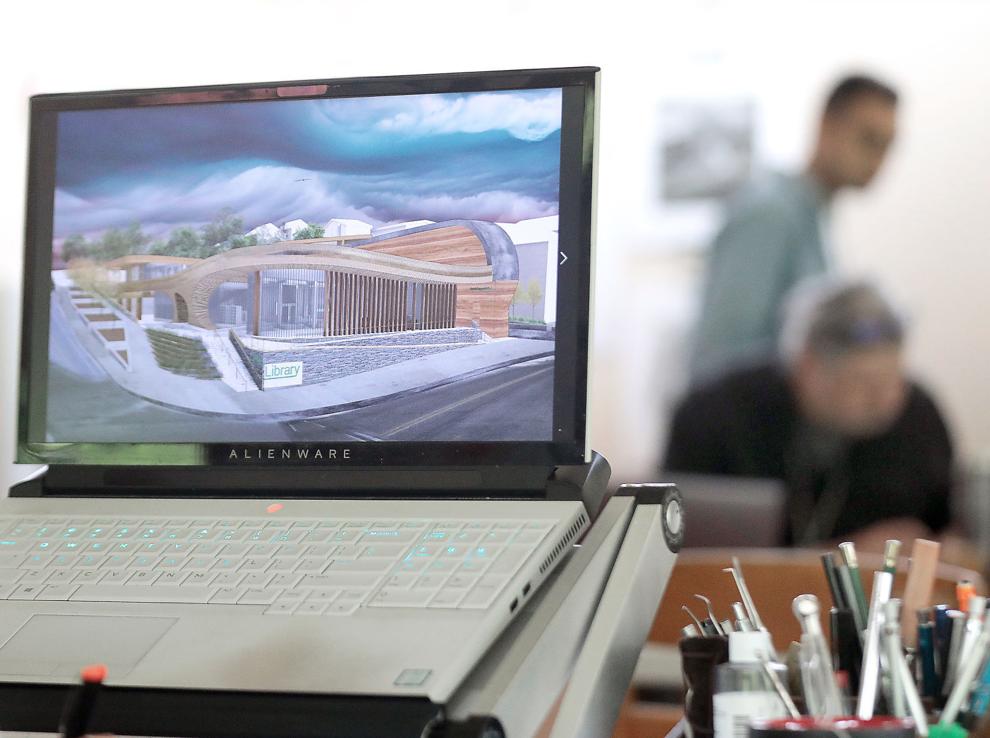 In the midst of the split, Sanchez, then in his first year of the program, applied and was admitted to another architecture program. But he and about 80% of the two dozen students enrolled at the time stuck with the school and organized a petition opposing the school's shuttering.
"We were stunned at first," he said of last year's abrupt closure. "That lasted about 10 minutes until we decided to find a way to keep the school going."
When classes begin in Arizona this fall, there will be 10 or 11 students, school president Christopher Lasch said. The hope is to grow enrollment as the pandemic fades.
Where will students study next spring, the season that normally brings them back to Taliesin?
Students said they're hopeful they may eventually return to the building.
"We'll figure something out," Lasch said.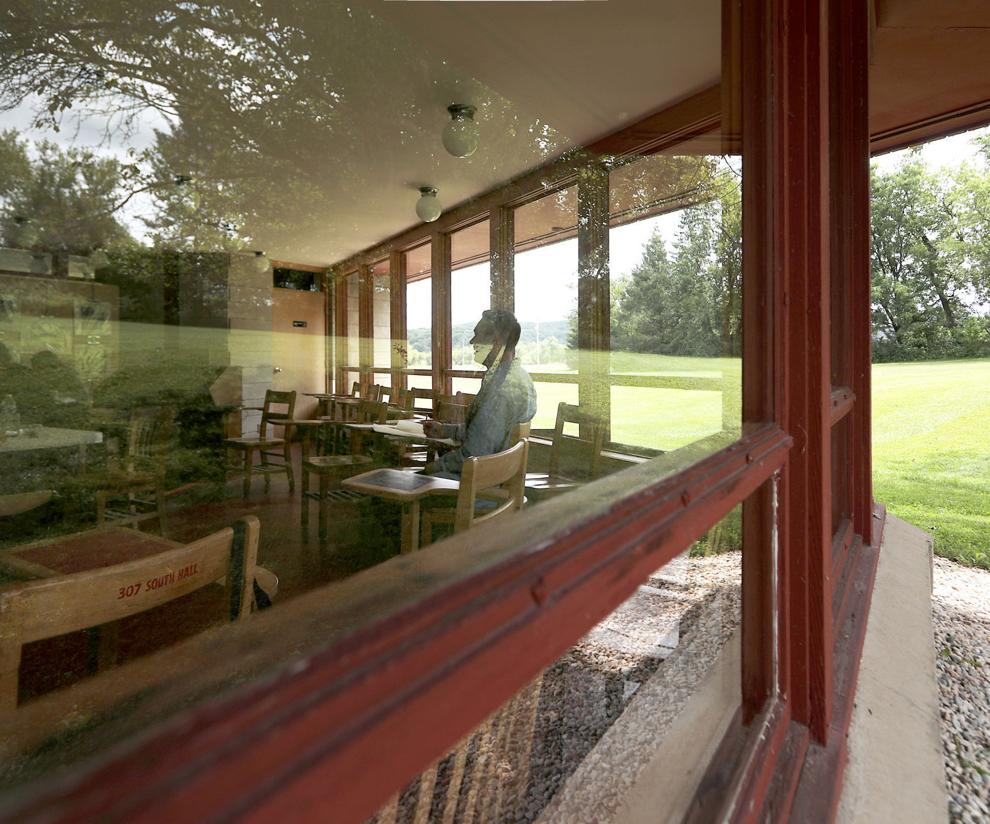 A legacy lives on
By late afternoon, pencils were down.
The seven students participating in the summer immersion program pinned their patterns to the wall for the class to critique. Instructor Aris Georges, who earned his degree from the school and has been teaching there on and off for the past 15 years, jokingly likened it to a "long-range firing squad."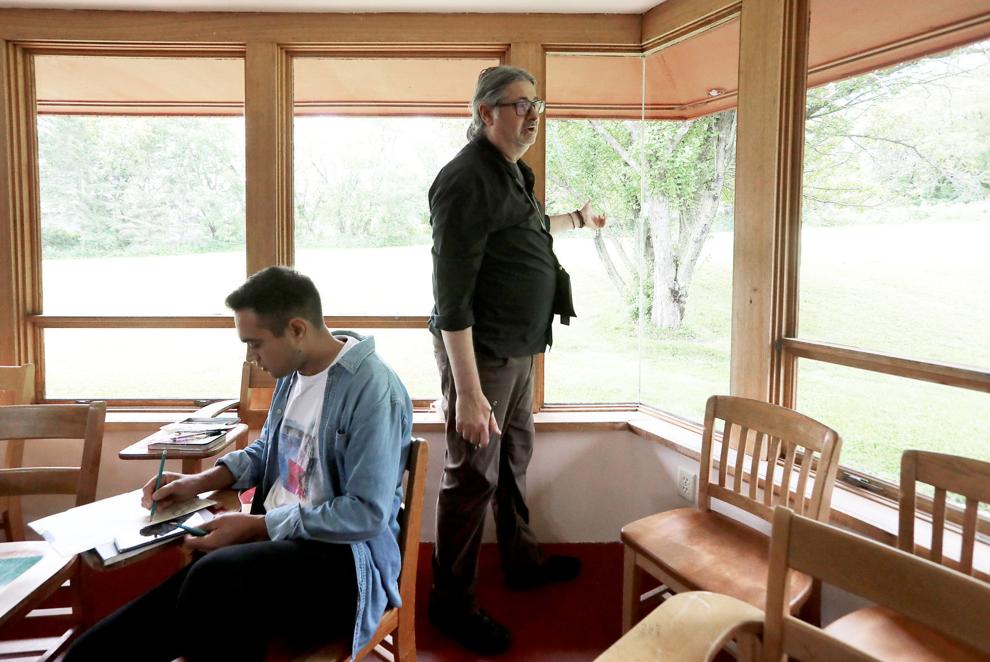 Archie Kinney's interpretation of calcium carbonate crystals drew high praise. Students offered suggestions to Christopher Dela Pole, who struggled with how to advance his design of a chestnut tree. Georges encouraged everyone to continue working on their patterns, reminding them that what they accomplished that day would have normally unfolded over a 14-week semester.
After class, students and staff hopped in their cars, winding down the country roads through rolling green hills and past cow pastures. The scent of wet earth floated through the air, a remnant of rain showers earlier in the day.
They arrived in the nearby village of Mazomanie, where about 100 community members had set up lawn chairs and laid out picnic blankets for an evening of live music and fellowship. A dedication ceremony recognized the new Performing Arts Pavilion, which students designed during a summer immersion program a few years ago.
The school's future is still uncertain, but those gathered on that summer night felt sure that Wright's legacy will find a way to live on.
Photos: Warehouse designed by Frank Lloyd Wright