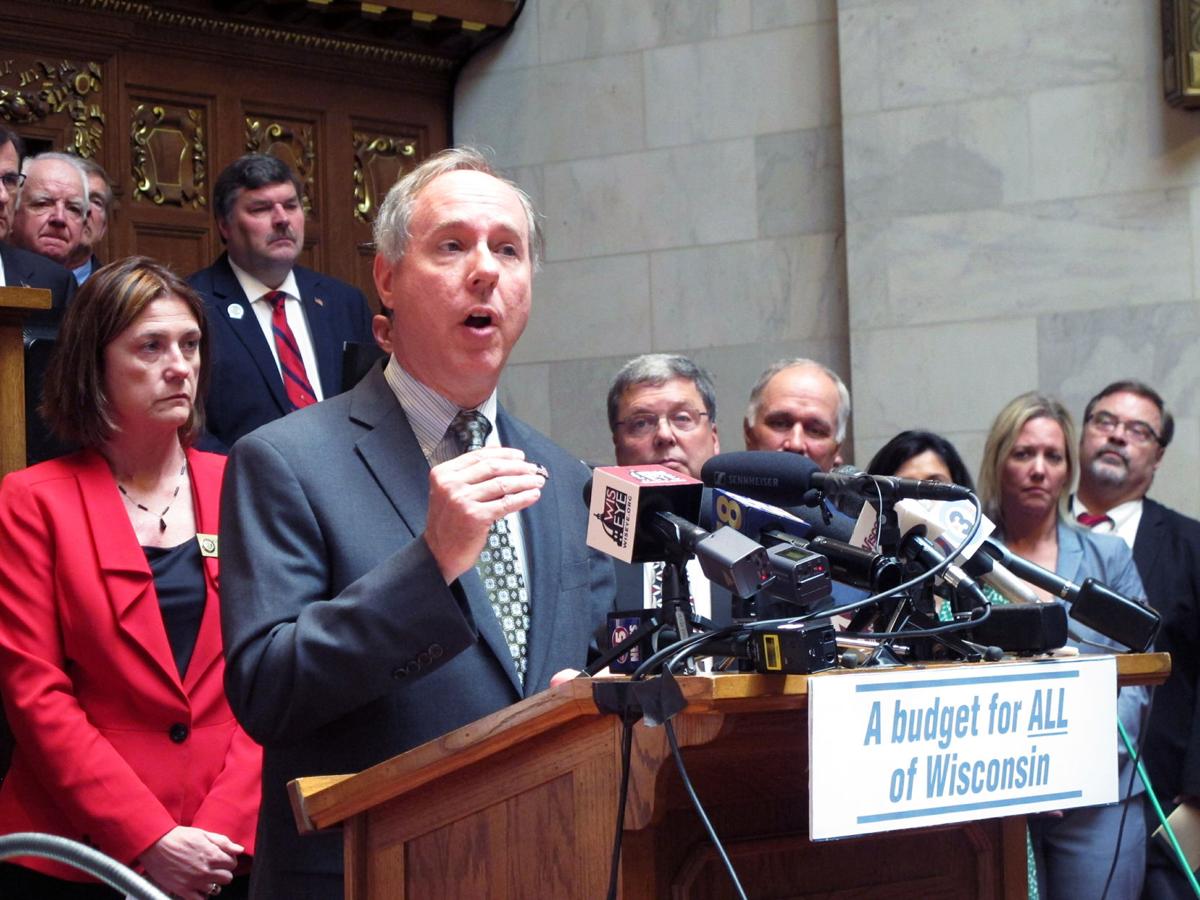 Republican lawmakers are set to wage another high-profile political battle with Gov. Tony Evers on Thursday when the Assembly tries to override three of the governor's budget vetoes, the first time the Legislature has sought to roll back a veto in nearly 10 years.
The partisan wrangling comes on the heels of the Republican-controlled Senate's own partisan clash with Evers. On Tuesday, the chamber fired the governor's agriculture secretary, Brad Pfaff, the first time the Senate has axed a cabinet secretary in decades.
The power plays by the Senate and Assembly are the latest in a string of actions Republican lawmakers have taken to curtail the power of the Democratic governor.
In another affront to Evers, Republicans in the Assembly and Senate are slated to reject Evers' call for them to pass gun-control legislation in special session. Republican lawmakers plan to gavel in the session, as required by law, and gavel out without passing any legislation.
Evers called for the session to vote on bills that would require universal background checks for all firearm purchases in Wisconsin and implement so-called red-flag laws, under which people deemed to be threats by a court must surrender their firearms.
The last time a veto override attempt was successful was in the 1985 legislative session under Democratic Gov. Tony Earl.
Assembly Republicans on Thursday will attempt to override three of Evers' vetoes from the state budget he signed into law in July. The attempt is almost certain to fail because Republicans are unlikely to cobble together any Democratic support to get the necessary two-thirds vote in either the Assembly or the Senate.
Assembly Minority Leader Gordon Hintz, D-Oshkosh, said Tuesday no Democrats would join Republicans in the effort.
The first override seeks to role back a veto that directed $15 million originally allocated for a northern Wisconsin regional crisis center to expand the Mendota Juvenile Treatment Center. The state plans to quadruple the size of the center, on Madison's North Side, as part of plans to replace the embattled Lincoln Hills youth prison in northern Wisconsin.
The second budget veto blocked $5 million in annual funding for Medicaid reimbursement rate increases for physicians and behavioral health providers.
The third veto relaxed restrictions on how the Department of Health Services can spend $500,000 annually to bolster health care providers in the state, essentially scrapping the Legislature's grant program to help train social workers, counselors, marriage and family therapists, or psychologists.
Republicans framed the veto overrides as righting a wrong that Evers committed.
"Bringing these three mental health items to the floor for a vote is our chance to correct a mistake that will have serious consequences for Wisconsinites across our state," Assembly Majority Leader Jim Steineke, R-Kaukauna, said in a statement.
Contraception bill
The Assembly is set to pass a Republican-authored bill that would allow pharmacists to prescribe certain hormonal contraceptives without the involvement of a doctor.
The bill, authored by Rep. Joel Kitchens, R-Sturgeon Bay, would allow women 18 or older to obtain both hormonal contraceptive patches and common birth control pills through a pharmacist's prescription. Under current law, women in most circumstances need to obtain a prescription for such medication through a physician or advanced nurse.
Kitchens said the bill intends to reduce unplanned pregnancies and their long-term costs for both baby and mother.
The bill has already irked anti-abortion advocates, who believe certain birth control medications are morally unacceptable because they amount to chemical abortion.
"We believe life begins at conception," said Matt Sande, legislative director for Pro-Life Wisconsin. "If they push forward this bill, they're voting against their pro-life constituency, their pro-life base."
But abortion rights groups, such as the Guttmacher Institute, argue the conflation of birth control and abortion is both outdated and wrong.
Kitchens said arguments against hormonal contraception are not based in science, and said Wisconsin Republicans, who earlier this year passed a slate of anti-abortion legislation that Evers vetoed, remain committed to an anti-abortion agenda.
"I think our party is very strongly pro-life, but I just do not believe that most Republicans believe this violates that commitment," Kitchens said. "They do not equate birth control with abortion."
Be the first to know
Get local news delivered to your inbox!