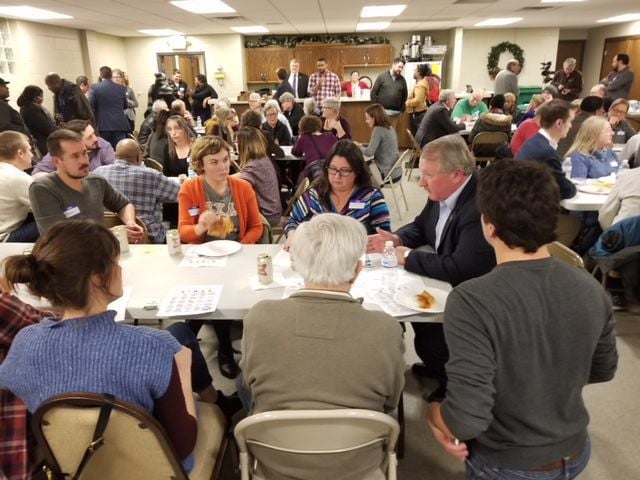 A liberal group whose members include supporters of Wisconsin's 2016 presidential primary winner, Vermont Sen. Bernie Sanders, has winnowed its picks of Democratic gubernatorial candidates to four, based on an online vote.
Those candidates are former Wisconsin Democracy Campaign executive director Mike McCabe, state firefighter union president Mahlon Mitchell, former Madison state Rep. Kelda Roys and state Sen. Kathleen Vinehout, of Alma.
The group declined to release vote totals, but said those candidates were collectively the top choice of 69 percent of participants.
Nearly 4,000 Wisconsin residents participated in the online vote, which required them to pledge some kind of action to support a Democratic gubernatorial candidate.
The results are not a scientific poll of the broader Democratic electorate, but similar to a straw poll at the state party convention earlier this month — in which Roys won and Mitchell placed second — they provide another organizational test for the campaigns that might signal to voters which candidate is building support among grassroots activists.
"Whether it's the straw poll at the convention or this poll of progressive activists, those are the kinds of signals the voters might pay attention to if it raises the profile of a particular candidate," said Charles Franklin, director of the Marquette Law School Poll, which will release its first poll of the race since early March later this month.
You have free articles remaining.
The lengthy winnowing process was devised by Wisconsin's Choice, a coalition of the Sanders-affiliated Our Wisconsin Revolution and the Working Families Party.
The group has held 10 candidate forums since late last year and during the voting process last week it organized about 50 house parties around the state. The four top candidates are eligible to attend future forums and house parties organized by Wisconsin's Choice.
State Superintendent of Public Instruction Tony Evers and Madison Mayor Paul Soglin, who had the most support in the last Marquette poll, didn't make the cut.
Also falling short were former party chairman Matt Flynn, who had the most cash on hand at the end of 2017, and Milwaukee businessman Andy Gronik and state Rep. Dana Wachs, D-Eau Claire, who contributed six-figure sums to their campaigns last year.
The group previously pared the field to nine candidates, eliminating latecomer Josh Pade.
All 10 candidates will appear on the Aug. 14 primary ballot.
The group will hold another vote next month in which a candidate will need a majority of the vote to receive its endorsement.
Last week the Wisconsin Broadcasters Association canceled its announced late July primary debate after facing criticism for a format that would have allowed only four candidates based on the Marquette poll.