Madison police announced Friday they have not been able to corroborate allegations made by a biracial Monona woman that she was burned by four white men in Downtown Madison in June in what was initially reported as a hate crime and garnered national and international attention.
Althea Bernstein, 18, told police someone sprayed lighter fluid on her and set her on fire in the early morning hours of June 24 after one of the men yelled a racial epithet.
But on Friday, the police department said it was closing the case because "after an exhaustive probe, detectives were unable to corroborate or locate evidence consistent with what was reported."
The case was also investigated by the FBI and the Civil Rights Division of the U.S. Department of Justice, and in its own statement Friday, the U.S. Attorney's Office for the Western District of Wisconsin said "after reviewing all available evidence, authorities could not establish that the attack, as alleged by the complainant, had occurred."
Bernstein's family said in a statement they appreciated "the detailed investigative efforts by all involved in this case," asked for privacy and said they would not be granting interviews.
"Althea's injuries are healing and the support of our community has been invaluable in that regard," they said.
Bernstein was interviewed on "Good Morning America" two days after she reported the incident, and Meghan Markle and Prince Harry of the British royal family reached out to her as well. Madison and Dane County officials had also condemned the alleged attack, with Mayor Satya Rhodes-Conway calling it "a horrifying and absolutely unacceptable crime that ... may have been a premeditated crime targeted toward people of color."
Madison Area Crime Stoppers and the California-based Mizel Family Foundation and Center for Combating Antisemitism had offered a combined $10,000 reward for information leading to the arrest and conviction of the perpetrators.
But there have been questions about the veracity of the woman's report because, unlike in other crimes that occur Downtown, police never released surveillance camera images of the incident or possible suspects in an attempt to find the perpetrators. Very little of the public parts of Downtown are hidden from the views provided by dozens of city-owned cameras and other private surveillance cameras to which police have access.
No charges
Despite the investigation's findings, acting Madison Police Chief Vic Wahl said his department is not recommending Bernstein be charged with obstructing an officer, which can apply in cases in which a person makes a false police report. A representative of the U.S. Attorney's Office was not available for comment, but Wahl said he doubted it would pursue charges against Bernstein, either.
Wahl said there is a difference between actively trying to deceive law enforcement and law enforcement not being able to corroborate a report of a crime, and he said Bernstein and her family have been cooperative throughout the investigation.
"We were unable to corroborate (Bernstein's story), but we are not speculating on what did and did not happen," he said. He also confirmed that Bernstein's injuries were consistent with being burned, and said she has offered no "alternative explanation" for what happened to her.
Police noted that Bernstein has been consistent in her description of the attack to friends and family, her phone's GPS locations matched up with what she reported to police and her phone messages did not indicate an intent to deceive law enforcement or the public.
'Frat boys'
Bernstein told police she was driving her brother's 2007 Hyundai Elantra through Downtown following a date when she stopped at a stoplight, possibly on West Gorham Street at State Street, at around 1 a.m. June 24 and was approached by four white men, one of whom yelled a racial epithet.
One of the men squirted her with lighter fluid through her open driver's side window and then threw a lit lighter or match at her, she said, setting her face and neck on fire before she patted out the flames. Her family later released photos of her showing burns to her face.
She described the men as looking like "frat boys" — two of whom were wearing "floral shirts" and blue jeans and two of whom were in all black and wearing masks. The man who allegedly sprayed her was wearing a "salmon-colored" floral shirt, she told police.
No camera evidence
An exhaustive search of video from city- and privately owned surveillance cameras, however, turned up no evidence of the attack, and the investigation identified a number of inconsistencies in Bernstein's story.
A surveillance camera at West Gorham and State, for example, captured images of the Elantra at 12:44 a.m. but nothing to substantiate the alleged attack.
Surveillance cameras did not capture Bernstein's vehicle at two intersections: University Avenue at North Bassett Street, and University Avenue at North Lake Street. The cameras at the first intersection skipped recording when Bernstein drove through and were positioned away from the street at the second intersection.
But a detective said Bernstein likely had not been stopped at red lights at these two intersections because "the vehicle was almost continuously captured on video as it traveled through the Downtown entertainment zone, without stopping."
A review of 17 city cameras in the Downtown area from 12:15 a.m. to 1:15 a.m. found no groups of white males matching Bernstein's descriptions.
Police also did not find any fire damage in the Elantra, according to police reports, and a dog trained to sniff out accelerants did not find evidence of them in the car.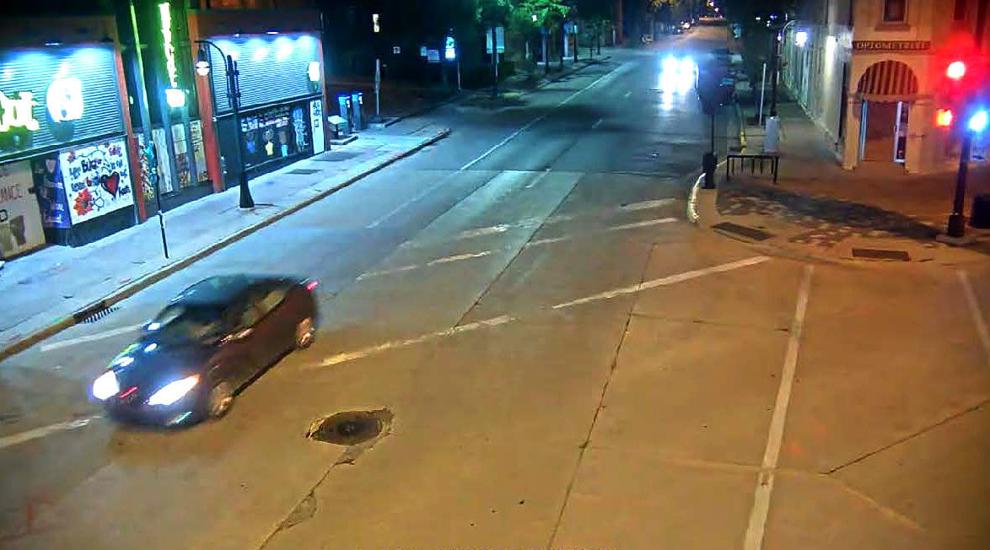 Other factors
A forensic analysis of the shirt she was wearing at the time of the attack did turn up evidence of a "medium petroleum distillate," such as charcoal lighter fluid, according to the police investigation. But no such evidence was found on the shorts she was wearing at the time, nor on swabs taken of the vehicle.
The police investigation also found evidence that Bernstein had her window rolled up at the time of the alleged attack and hadn't stopped at stoplights where it might have occurred. It also determined she had been driving in a different lane than she told police and was uncertain about where exactly the incident occurred.
Investigators told the Bernstein family's attorney that "the attack, as Bernstein had described it, had not occurred," according to police reports, but also told her that there was "no evidence that Bernstein had colluded with anyone to make a false report or that there was any mal-intent or pre-planning that occurred in regards to Bernstein's statement to police."
No tie to protests
The alleged attack on Bernstein happened on the same night police were dealing with violent Black Lives Matter protests in the Downtown in which protesters tore down two statues on Capitol Square, including one of a Union Civil War soldier and abolitionist, and threw a Molotov cocktail through a window of the City-County Building, starting a small fire.
Bernstein told police she was attacked around 1 a.m., or about 20 minutes after the City-County Building was firebombed, but Wahl said it was "pretty clear" from the investigation that Bernstein was neither a perpetrator nor a victim in the attack on the building.
The timeline released by police tracks Bernstein's movements and her vehicle for about two and a half hours beginning around 12:15 a.m. and ending with what appears to be a redacted photo of Bernstein in a hospital gown around 3 a.m. at the UW Hospital emergency room on the Near West Side.
According to the timeline and electronic messages reviewed by police, Bernstein first mentions the alleged attack while at home in Monona at 1:24 a.m.
"Some (expletive) up (expletive) just happened," she writes in a text to Nick Livingston, whom Bernstein had been on the date with earlier in the evening. "Someone on state street tried to set me on fire ... yelled the n word and threw beer and a lighter at me ... its still burning my skin ... it was a group of white guys."
A little more than half an hour later, surveillance images and her phone place her at UW Hospital.
Michael Johnson, president and CEO of the Boys & Girls Club of Dane County, had acted as the family's spokesman in the days after the alleged incident. He said Friday that Wahl and Rhodes-Conway briefed him and other community leaders about the closing of the Bernstein case Friday morning.
"I appreciate the time federal authorities and local law enforcement officials put into this case. In the meantime, we will continue to provide support to Althea and hope and pray for her healing and well-being," Johnson said in a statement.



Surveillance images of Althea Bernstein's car in the early morning hours of June 24