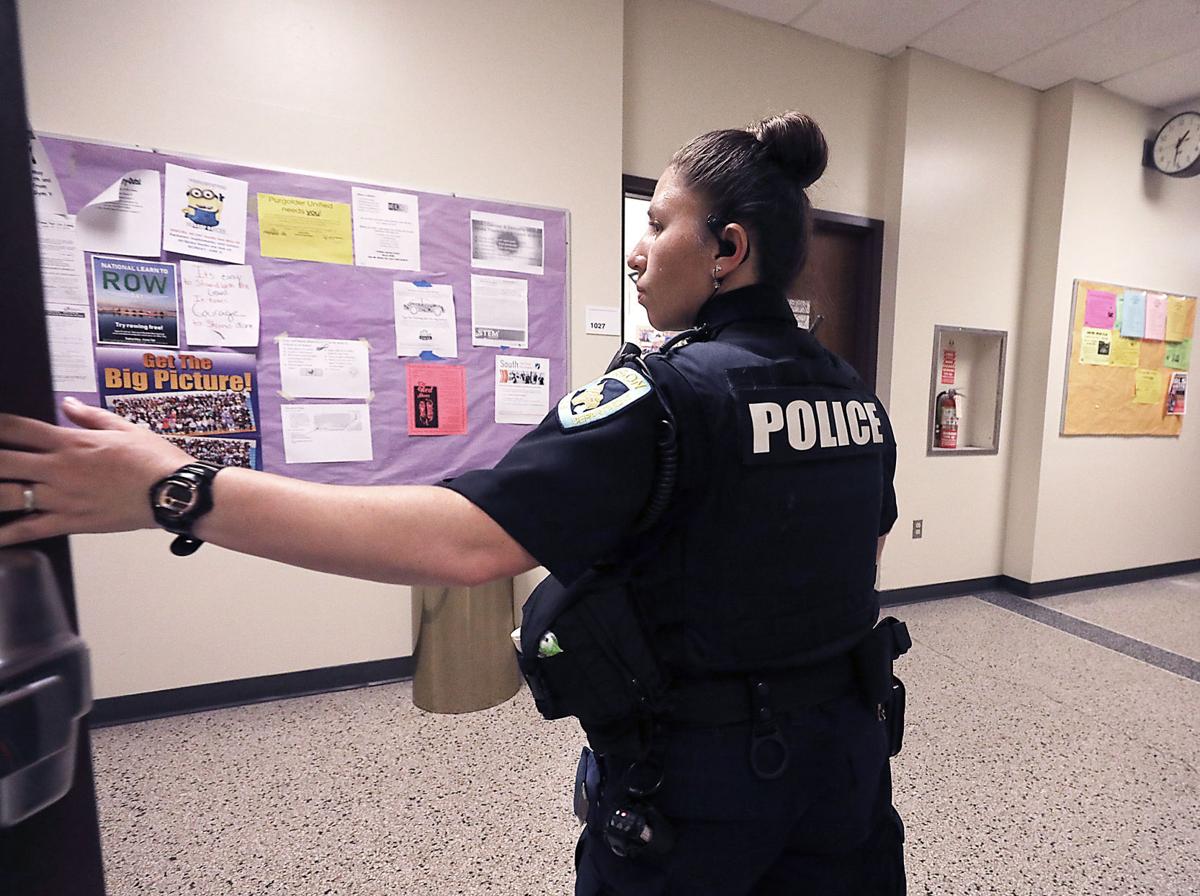 The Madison School Board will decide next week whether to cancel a contract to station police officers inside its four main high schools.
The district announced Wednesday the board will hold a special meeting on Monday to vote on canceling a contract with the Madison Police Department for the school resource officers, or SROs.
"As leaders in education, we recognize that now is the time to intensify our commitment to dismantling systemic racism by addressing inequities that only serve as mechanisms of division, and this decision is a significant step," School Board President Gloria Reyes said in a statement.
While demands to remove SROs have been ongoing for years, support for the action intensified after the death of George Floyd in Minneapolis police custody and the subsequent demonstrations against police brutality and racism that have swept across the country in the past month.
Previous backers of SROs — including Madison Teachers Inc. and Reyes, a former Madison police officer — have recently changed their stance on the issue. MTI said it supported removing police provided the district increases counselors, social workers, nurses and psychologists in the high schools.
The outcome of Monday's vote is likely to result in ending the contract as a majority of School Board members have previously said they want to stop the SRO program.
The Madison City Council also will need to vote to end the contract.
Mayor Satya Rhodes-Conway said during a news conference Wednesday that a resolution will be introduced Thursday to cancel the contract before the fall semester. It will be sponsored by Rhodes-Conway and 10 council members.
"Today, Madison city and school district leaders agreed to end the contract for school resource officers, known as SROs, calling for a new approach to managing conflicts in our schools and supporting student needs," Rhodes-Conway said.
It's unclear what mechanism will allow the relationship to be severed before the fall. A city attorney previously said under the terms of the contract, the earliest it could end would be after the 2020-21 school year.
When asked how SROs could be pulled before next year, district spokesperson Tim LeMonds said if the board votes "to terminate the contract immediately, they will be discussing options on how that can be accomplished."
Last summer, the School Board narrowly voted to extend the decades-long program between the district and police when it approved a new three-year contract, which included several changes to the responsibilities and training of SROs after more than a year of studying the contentious program.
For years, local activists have demanded the board immediately remove police from schools, arguing the officers' presence is mentally and emotionally harmful for students of color, and Black students are disproportionately cited and arrested in school.
Supporters of police in school, which included Reyes until recently, have argued the officers act more in a relationship-building role than a law-enforcement capacity, and they can deescalate situations better than outside officers coming into schools who don't know students on personal levels.
In the statement, the Madison School District said work would continue on an approach to school safety "that includes the area of prevention, mitigation, response and recovery, maintains collaboration with multiple entities, is based on research and best practices, adheres to state statute and (board) policies and is guided by data."
Be the first to know
Get local news delivered to your inbox!