A historic house would be remodeled or replaced by a new, four-season facility or two smaller shelters in three plans being considered for the city of Monona property formerly known as the San Damiano Friary.
City officials are inviting the public, including Dane County residents who don't live in Monona but might use the park, to take a survey about the concept plans for the site's nearly 10, mostly wooded acres on Lake Monona just south of Monona Drive and Buckeye Road.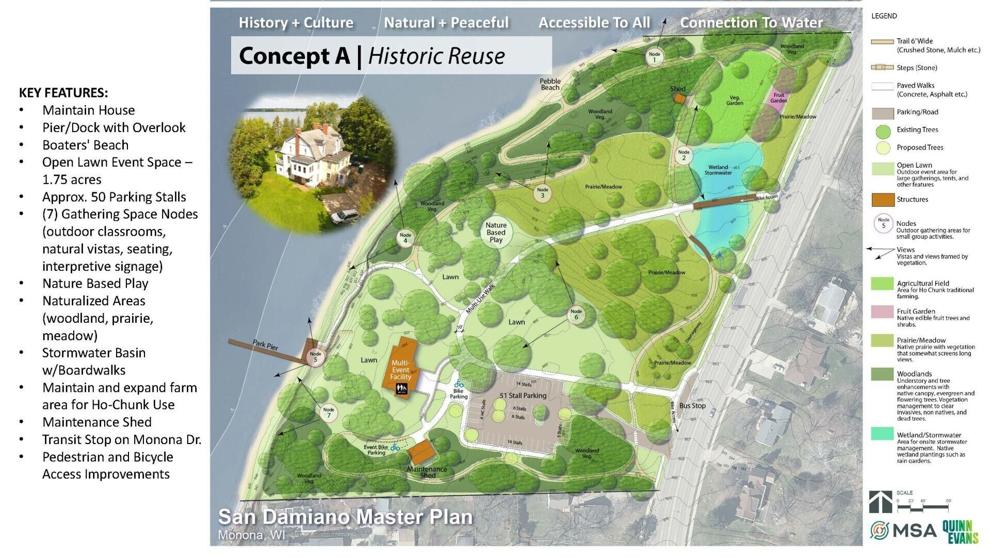 "This is really a regional destination," said Andrew Kitslaar, president of Friends of San Damiano and co-chair of the city's San Damiano Project Steering Committee. "We definitely want the input of the broader Dane County, East Side Madison region."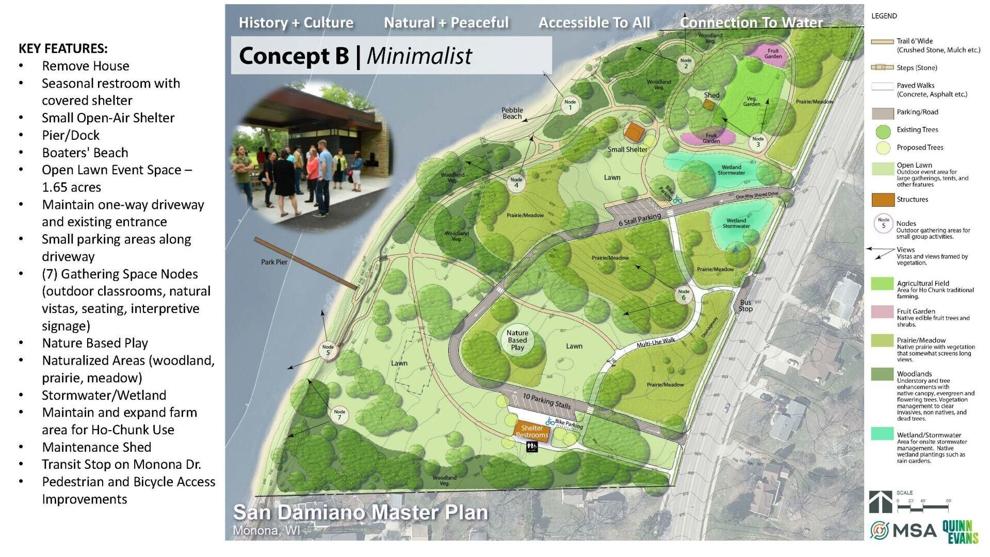 Another concept features a new facility aligned to face the state Capitol across the lake, along with a nearby amphitheater. The third, "minimalist" concept includes a seasonal restroom with covered shelter and a small, open-air shelter. The costs of the structures are undetermined in both plans, which would remove the Allis house.
All three concepts include nearly two acres of open-lawn event space, trails and paved walkways, natural areas, play areas, a boaters' beach, a bus stop and an area for traditional farming by the Ho-Chunk Nation. Parking ranges from 16 to 51 stalls, and each plan includes a dock or fishing pier.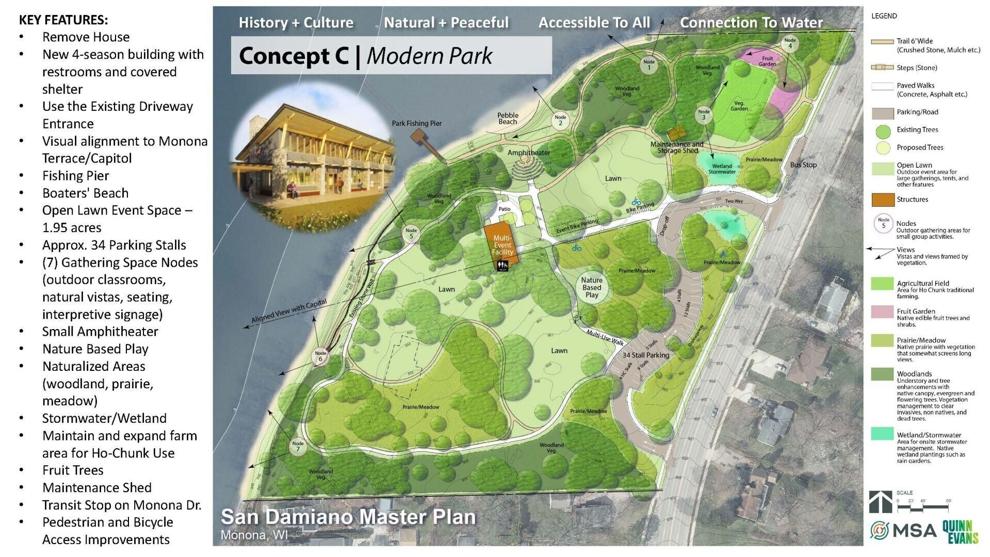 The goal isn't necessarily to adopt one of the three plans as designed, but to pick elements among them for a final plan, said Mayor Mary O'Connor, the other co-chair of the steering committee. "The final will probably be sort of an amalgam of all of them, I would think," O'Connor said.
MSA and the steering committee will use feedback from the survey and from focus groups — which have included schools, businesses, nonprofits, accessibility advocates and the Ho-Chunk Nation — to compile a single plan, expected to be presented at a public meeting by late summer, Kitslaar said. That plan will be refined this fall.
Income sought
O'Connor and Kitslaar said a restored Allis house or a new, four-season facility would be best positioned to make money for the site. The buildings could be used by school or community groups and for events such as smaller weddings, they said.
"We do need some kind of a year-round facility because we're going to need to generate income," O'Connor said.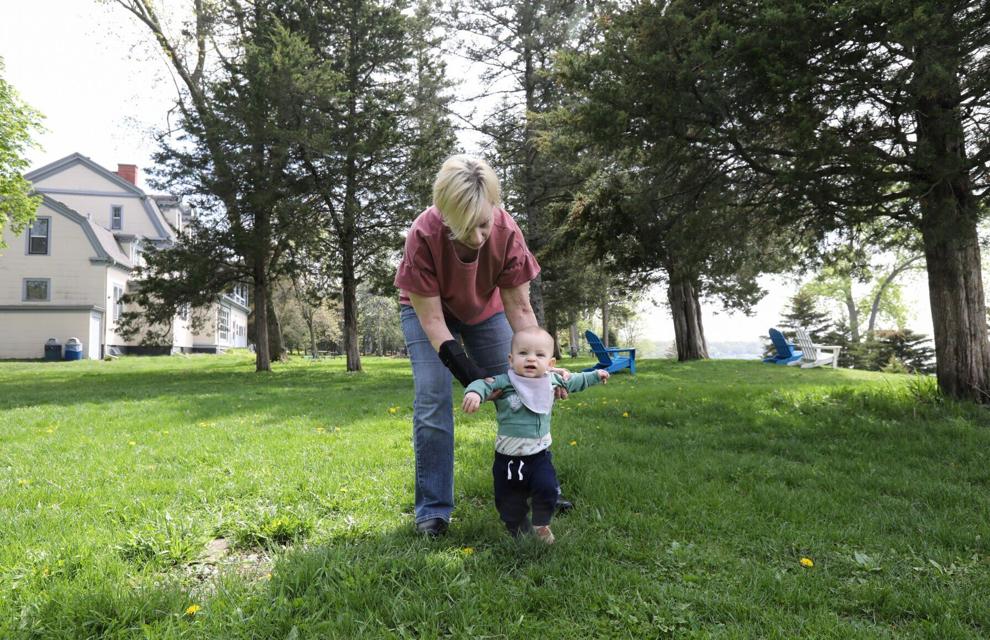 Kitslaar said the Friends group, which plans to raise money for site development, has heard from potential donors interested in both types of facilities.
The steering committee on May 16 is expected to discuss plans for site facilities, including potential uses of the Allis house, Kitslaar said. For now, the house is closed.
The abbey applied for a permit in late 2019 to demolish the home, but withdrew the request in late January 2020 after the city's Landmarks Commission delayed action on it.
The city is paying off the $8.6 million land purchase — which O'Connor said amounts this year to $93 in taxes for the average-value Monona home — with the goal of obtaining half of that through grants and fundraising. Dane County has contributed $2 million, and the state Department of Natural Resources' Knowles-Nelson Stewardship program has awarded $250,000.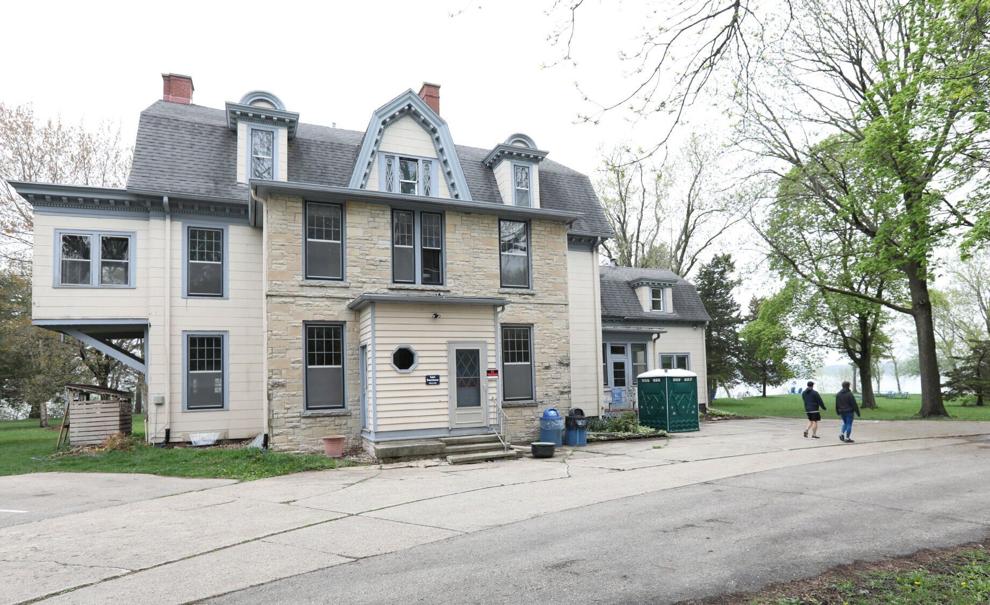 A quiet place
The Friends group has raised $316,000, with $143,000 contributed to the city for the consulting contract and $15,000 pledged this year for mowing and other maintenance. Events such as monthly Biergartens and a fundraiser planned for September are bringing in some money. Once a master plan is adopted, the group plans to launch a more formal capital campaign, Kitslaar said.
The park, which is eventually expected to be named something other than San Damiano, offers a special place for quiet and contemplation within the city, along with the lake views, O'Connor said. It's also a chance to showcase history of the area, including that of the Ho-Chunk, Kitslaar said.
"You don't get an opportunity like that — in a developed area like we're in, totally surrounded by the city of Madison — every day," O'Connor said.
CORRECTION
An earlier version misstated how much of the purchase price of the San Damiano property will be borne by Monona taxpayers. The city is paying off the $8.6 million land purchase with the goal of obtaining half of that through grants and fundraising.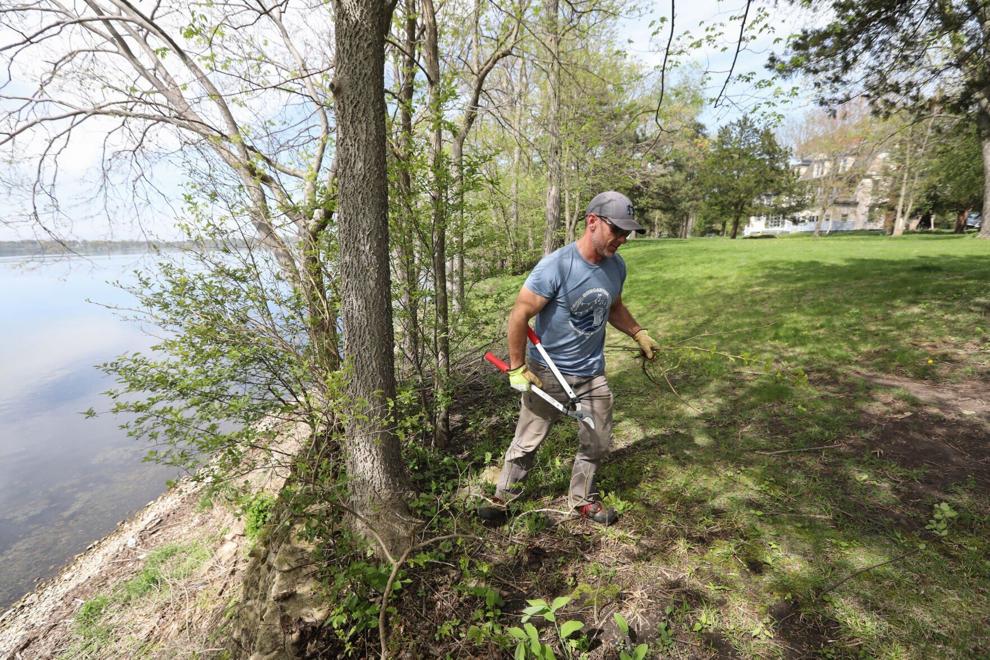 ---
Here are the plans of the 3 finalists looking to redesign the Lake Monona waterfront
Madison has invited three finalists for its Lake Monona Waterfront design challenge to present their vision for the future of the shoreline from Williamson Street to Olin Park. Here are their concepts.