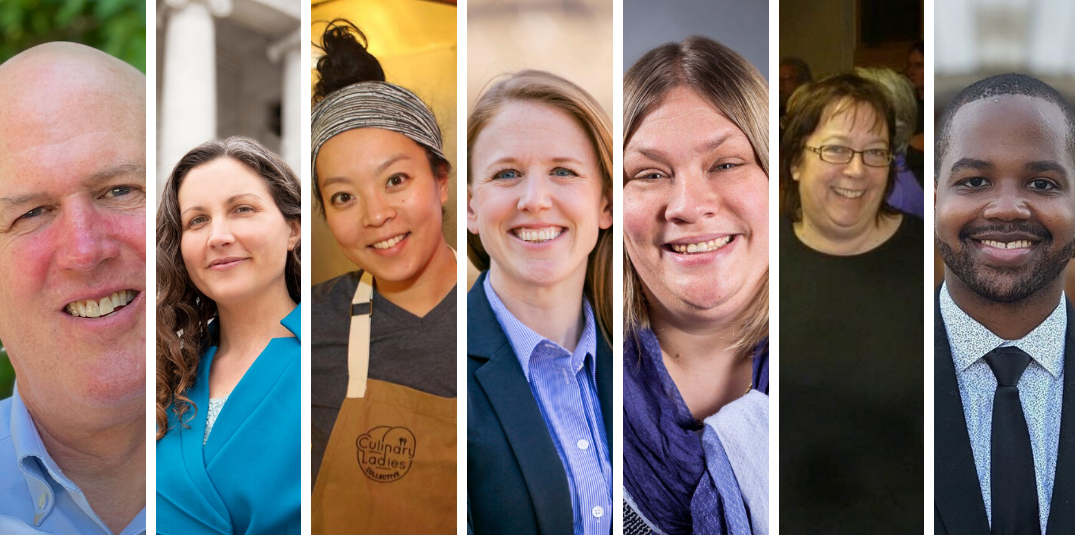 In March, Rep. Chris Taylor, D-Madison, announced she will not seek re-election this fall, creating a legislative opening in the solidly Democratic 76th Assembly District, which covers Madison's Isthmus and East Side.
The winner of the primary will face GOP candidate and real estate intern Patrick Hull in the November election, but 80% of the district voted for Hillary Clinton in the 2016 election, so the next representative will likely be decided Aug. 11.
Democratic candidates include real estate agent Dewey Bredeson, Madison police officer Tyrone Cratic Williams, Schenk-Atwood-Starkweather-Yahara Neighborhood Association member Heather Driscoll, chef and restaurant owner Francesca Hong, former communications specialist for the Wisconsin Department of Health Services and Office of Children's Mental Health Ali Maresh, Madison City Council Ald. Marsha Rummel and Madison School Board member Nicki Vander Meulen.
Hong, co-owner of Morris Ramen Restaurant and co-founder of the Culinary Ladies Collective and Cook It Forward, an organization that connects local restaurants with people facing food insecurity, said she would bring a working class voice to the Assembly.
"As a working mom with a small business, fighting for workers and the uncertainties brought on by COVID-19 scare me, but with this campaign I'm choosing to transform this fear into leadership because I still have hope," Hong said.
"We need people like me who are feeling the burden and fearing for their lives and livelihood to have a voice in the legislature right now."
As a Black police officer, Cratic Williams said he brings a unique perspective to the topic of criminal justice reform. He said his goal is to redefine the role of law enforcement in Wisconsin, increase transparency and accountability and expand community inclusion in the decision-making process.
"Being the only candidate who is an expert practitioner within the criminal justice and social service systems has allowed me to write some of the most progressive police reform policies in the country," he said.
"This gives me a perspective and skill set that has never been seen in the Capital before. The GOP won't know what to do with me nor can they challenge my personal and professional testimony of the racism and needed reforms within these systems."
Vander Meulen said her background with two terms on the School Board sets her apart among the crowded field of Democrats.
"My background in education means I'm the best candidate to fight for public education at the state level," Vander Meulen said. "I'm also the only attorney running. This has led me to put forward the most comprehensive criminal justice reform positions in this race. I'd also be the first openly autistic person in Wisconsin in the state Legislature, which gives me a vital perspective on disability advocacy and policy."
Maresh said she would strive to seek bipartisan agreements as a lawmaker. Whoever is elected will almost certainly enter the minority party in the GOP-led Assembly.
"I'm also the only candidate that has worked for the State of Wisconsin in a role that directly served top government leaders from both administrations," Maresh said.
Citing his 40 years in commercial real estate, Bredeson also spoke to to his ability to work with GOP lawmakers.
"I can work across the aisle, in fact my whole career has been about reaching compromise with people with the opposite objectives," Bredeson said.
"I have friends and family members who are Republican and I can discuss the issue without getting too heated, which is a skill in short supply now."
Bredeson said voter suppression and redistricting are the two most important issues facing the state, followed by the need for low-income housing.
Some candidates also spoke to the Assembly's key role in responding to the economic hardships of the COVID-19 pandemic.
Rummel, a state Department of Revenue agent who has been on the Madison City Council for 13 years, described herself as a champion for local control who can make smart financial decisions.
"We are faced with gridlock in Wisconsin but we are also in a historic moment where change is possible," Rummel said. "I will try to find areas of common interest — whether it is COVID relief or water protection. But no matter what, I will fight to protect all those who are suffering the biggest economic disaster in generations..."
Driscoll said she would focus on climate change, clean water, racial and gender equity, affordable health care and gun control. She also spoke to the need for responsible budget amendments in light of COVID-19.
"To the extent that major budget cuts become necessary in our state budget, I believe we must avoid any approach that attempts to pit critical needs like public education, health care, protecting our environment, and so many other vital needs against each other," Driscoll said.
Driscoll said efforts should be made to reduce incarceration, stop spending on highway expansions, legalize marijuana and restructure the tax code to balance the budget.
Be the first to know
Get local news delivered to your inbox!