BARABOO — Sierra Nevada Corp. has completed a $20 million facility on the site of the former Badger Army Ammunition plant to test rocket engines built in Madison.
"Rocket science in Wisconsin is actually happening," said Tom Crabb, vice president of SNC's propulsion and environmental systems. "We're bringing rocket science to Wisconsin on a daily basis and making it a business in Wisconsin."
Specifically, engineers at SNC's Wisconsin division — formerly known as Orbitec — are developing four rocket engines, including one that will steer Sierra Nevada's Dream Chaser, an autonomous space shuttle scheduled to begin delivering cargo to the International Space Station in 2021.
Crabb said the Nevada-based company, which has about 250 employees in Wisconsin, will eventually build 20 to 40 large engines, and many more smaller ones, in the state.
SNC will add "several hundred jobs" in the coming years to support growth in the company's work in rockets as well as environmental and temperature control products, including a system that allows astronauts to grow vegetables in space.
The company is also bidding to supply equipment for NASA's planned return to the moon in 2024.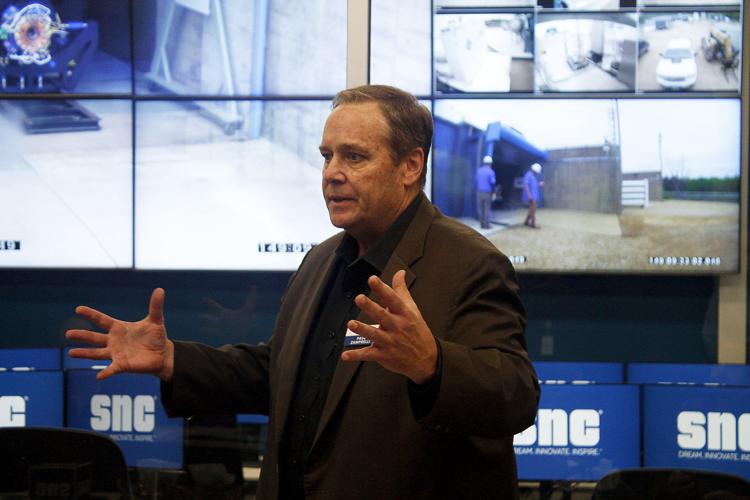 With employees, construction workers and dignitaries watching from a remote control room, SNC engineers fired up a piece of one such engine Wednesday.
Powered by liquid hydrogen and oxygen, the engine can deliver 35,000 pounds of thrust and will be used to propel rockets through the upper atmosphere.
"This is the last engine that actually puts the satellite in space," said Paul Zamprelli, senior manager of business development for SNC's propulsion and environmental systems.
By using a unique swirling propellant flow to naturally cool the engine walls, SNC said its Vortex engines are simpler, lighter, stronger and cheaper than other rockets.
After a short countdown Wednesday, the engine roared to life, shooting a blue flame about 25 feet out of an open garage door looking out over a retention pond. Fire-resistant cameras captured the blast, projected on four large screens in the control center.
Two seconds later, it was done.
That's enough time to understand how the engine is running under a particular set of conditions, said Donald Benner, program manager for the propulsion group.
Each engine component is tested hundreds of times as engineers figure out the ideal pressures and flows of the propellants.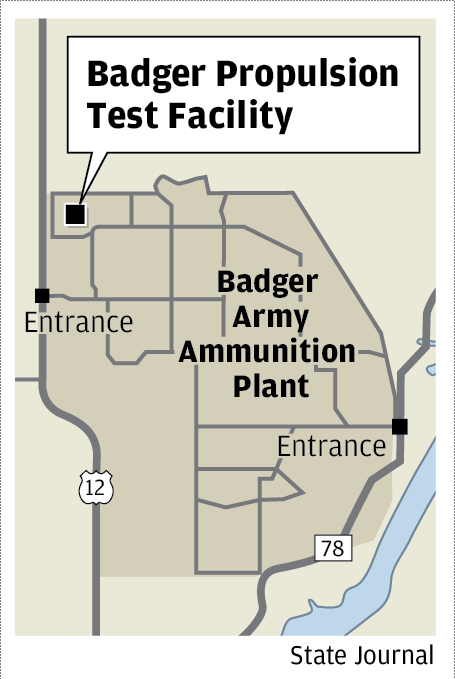 Built on about 170 acres just off Highway 12, the Badger Propulsion Test Facility isn't used to launch rockets, but just to test how they work on the ground and in conditions meant to simulate ultra-high altitudes.
SNC rents the land from the Ho-Chunk Nation, which received about 1,500 acres of ancestral land from the federal government after the ammunition depot was decommissioned.
Prior to being acquired by SNC in 2014, Orbitec tested engines in asbestos-ridden buildings left over from the ammo plant.
"We got by," said Marty Chaverini, the company's director of propulsion systems.
SNC has since razed those World War II-era buildings as part of the lease arrangement with the Ho-Chunk and tests rockets with non-toxic propellants that primarily emit water and carbon dioxide.
The newest of the test cells — expected to begin operating in the coming weeks — can handle up to 150,000 pounds of thrust from an upright engine and is one of only a handful in the country, Zamprelli said.
Testing engines at the Badger Propulsion site is about a tenth the cost of using the next-closest facility, NASA's Glenn Research Center in Cleveland.
"It's a great benefit to have our own facility," he said.