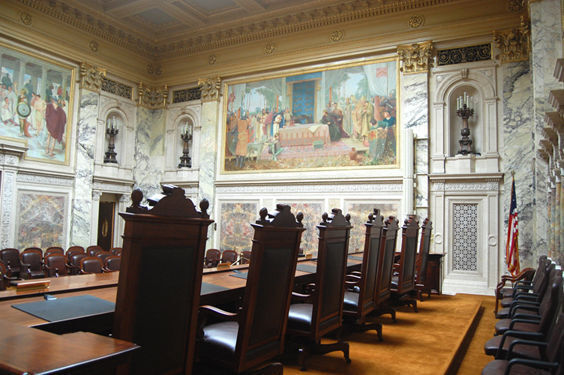 The twice-yearly state bar exam for lawyers who want to practice in Wisconsin is still on next week, despite local orders barring large gatherings due to the COVID-19 pandemic.
The state Board of Bar Examiners says it's doing everything possible to keep test-takers and proctors safe, including a mask requirement, social distancing and limiting the number of occupants of each room where the test is being administered.
But it's also requiring test-takers to sign a liability waiver absolving the board of any legal responsibility should any of those taking the bar exam contract COVID-19.
The Board of Bar Examiners is an 11-member body appointed by the state Supreme Court and is part of the Wisconsin Court System. The board "evaluates the skills, character, and fitness of lawyers and also writes and grades the Wisconsin Bar Examination," according to the state court website.
Graduates of UW-Madison and Marquette University law schools have diploma privilege and aren't required to take the bar exam, but those who graduated from out-of-state law schools must take it in order to practice law in Wisconsin.
Board of Bar Examiners executive director and general counsel Jacquelynn Rothstein said in an email message that the state Supreme Court determined the liability waiver is required to take the bar exam next week. Asked to explain why the court is requiring the waiver, she did not respond.
The waiver reads: "By signing this agreement, you acknowledge the contagious nature of COVID-19 and voluntarily assume the risk that you may be exposed to or infected by COVID-19 by attending July 2020 Wisconsin Bar Examination and that such exposure or infection may result in personal injury, illness, permanent disability, and death."
Signers of the agreement also aver they do not currently have COVID-19 symptoms and have not been exposed to anyone with COVID-19 in the past 14 days.
Often rejected
Such agreements have become more common during the coronavirus pandemic, as businesses such as gyms and hair salons attempt to limit their liability should customers contract the illness through exposure during their visits. Before his June 19 rally in Tulsa, Oklahoma, President Donald Trump's campaign required those getting tickets to the event to agree to assume the risk of contracting COVID-19 by attending the event and absolve the president's campaign of liability.
But the waivers have an "abysmal record" in Wisconsin courts, Madison attorney Erik Monson said. In past state Supreme Court decisions that have dealt with liability waivers like the one required by the Board of Bar Examiners, the court said it has never seen one fashioned in a way that passes legal muster, he said. Monson recently wrote a blog item for the State Bar of Wisconsin which explains that unless very carefully crafted, liability waivers are likely unenforceable.
"In the last forty years, the Wisconsin Supreme Court has not found a single exculpatory contract that did not violate public policy and was therefore enforceable," Monson wrote in the item, published on July 10.
"They're not per se invalid," Monson said in an interview. "But in an opinion 15 years ago, (the court) wrote that in 25 years they hadn't seen one that was (valid)."
More recently, in 2016, the high court found a liability waiver drafted by a hot air ballooning company to be unenforceable.
"They've never met one of those they liked," said Monson.
The high court has said several factors, including being overbroad and attempting to serve many purposes, will render liability waivers unenforceable. The Board of Bar Examiners' waiver, he said, is unenforceable because it's a contract that doesn't give the signer an opportunity to bargain for terms other than those presented.
"It's take it or leave it," he said. "It's sign and sit or don't sign and don't sit."
Precautions taken
The exam will be given Tuesday and Wednesday at the Marriott Madison West, 1313 John Q. Hammons Drive, in Middleton.
Court spokesman Tom Sheehan said 145 people are scheduled to take the exam, spread out in 16 rooms with a maximum of 10 test-takers per room, with at least 6 feet between them.
"Examinees are asked to sign a waiver to acknowledge that taking the bar exam is voluntary, and that even though the BBE has taken all reasonable steps to protect the health of individuals, there is still some risk," Sheehan wrote in a statement.
The Board of Bar Examiners consulted with Public Health Madison & Dane County to ensure that steps to the greatest extent are taken to reduce the potential for the spread of coronavirus, Sheehan wrote.
Sarah Mattes, spokeswoman for the health agency, said the exam is classified as falling under infrastructure in the department's latest order, which in most situations allows only gatherings of 10 or fewer people. The exam is an infrastructure operation, she said, because it involves certification, licensing or credentialing.
Be the first to know
Get local news delivered to your inbox!