The email introduced students and employees to the new saliva-based testing program that, for most of the campus community, will replace the nasal swabs used during the fall semester. (The drool tip was among a list of suggestions for accumulating enough saliva in the mouth to avoid a rejected COVID-19 test.)
But the message was also an acknowledgement of the bumps UW-Madison has experienced in the rollout of the new program launched Jan. 11.
Some students have taken their complaints to social media, airing concerns about long lines, rejected tests and an increased time commitment on their part. The launch of the new program also caused issues in incorporating data into the university's daily COVID-19 dashboard, which hasn't been updated since Jan. 14.
"I think we've gotten a lot of the bugs out of the system but it is new and it is different so we just ask for people's patience and grace," Lori Reesor, vice chancellor for student affairs, said in a Thursday call with reporters.
Last fall, testing was available to the entire campus community but was only required weekly for students living in the dorms. The spring testing program requires all undergraduates living in the Madison area, regardless of whether their class schedules are entirely online, to be tested twice a week. Faculty, staff and graduate students who will be on campus must test once a week.
Students and employees will use a mobile phone app called Safer Badgers to schedule their tests, receive results and access their Badger Badge, which turns green when an individual is in compliance with the testing requirements, allowing them to enter campus buildings.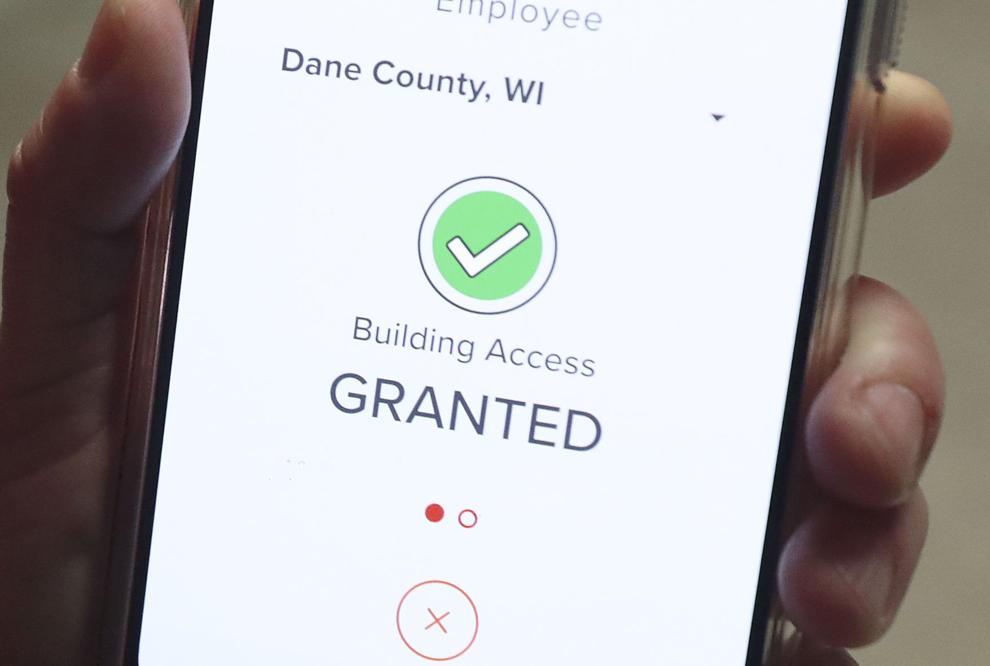 About a third of the campus community, or 22,000 people, have downloaded the Safer Badgers app, chief technology officer Todd Shechter said Thursday.
The number of downloads so far doesn't concern Schechter because not all employees will be coming to campus and therefore don't need to download the app. He also expects more people in the coming days to download Safer Badgers before classes start on Monday.
Trying semester
UW-Madison expects to have a similar number of in-person enrollments this spring as it did last semester, but fewer students living in the dorms, university spokesperson John Lucas said. About 6,400 moved into residence halls in the fall, an 83% occupancy rate. Officials project about 5,200 students moving in this spring, a 66% occupancy rate.
The university struggled to contain dozens of campus outbreaks early on in the fall semester, leading to a two-week lockdown and quarantine of two large dorms.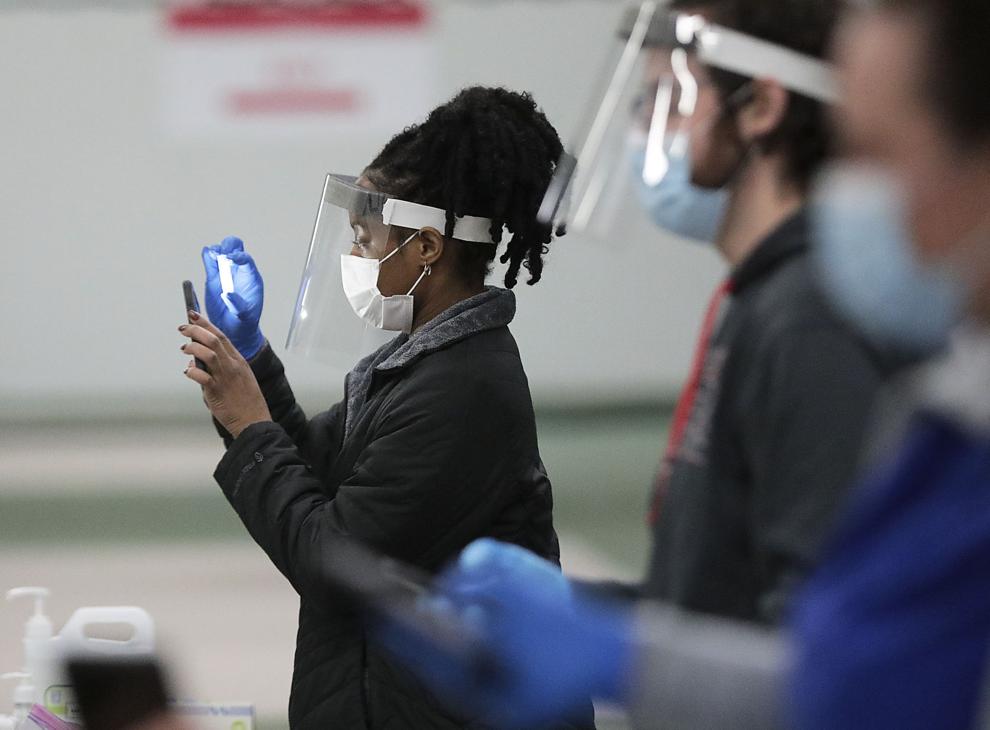 Student participation in the extensive new testing program and new technology will help avoid some of those operational disruptions, officials wrote on the university's website.
It will also help staff more quickly identify infected individuals to prevent COVID-19 from spreading further across campus and into the broader Madison community — a key concern critics have raised about UW-Madison's reopening.
A peer's playbook
UW-Madison is modeling its new testing program after the University of Illinois at Urbana-Champaign. While UW-Madison administered about 150,000 COVID-19 tests last fall, Illinois performed more than a million and is widely considered within the higher education community to provide the "gold standard" in testing.
Like UW-Madison, Illinois also experienced a spike in cases early on in the semester, but the outbreak wasn't as bad and its on-campus positivity rate since Sept. 8 has been less than 1%, according to the university's data dashboard.
UW-Madison is paying Illinois $25 per test, according to the contract. Results should come within 24 hours but ideally within 12.
Illinois chemistry professor Paul Hergenrother, who helped develop their testing protocol, said the first few weeks came with growing pains in setting up a massive operation and educating students on how to provide a good saliva sample by not eating, drinking or smoking the hour before a test.
"It's now seamless here, I can tell you that," he said in an interview. "We rarely get samples rejected."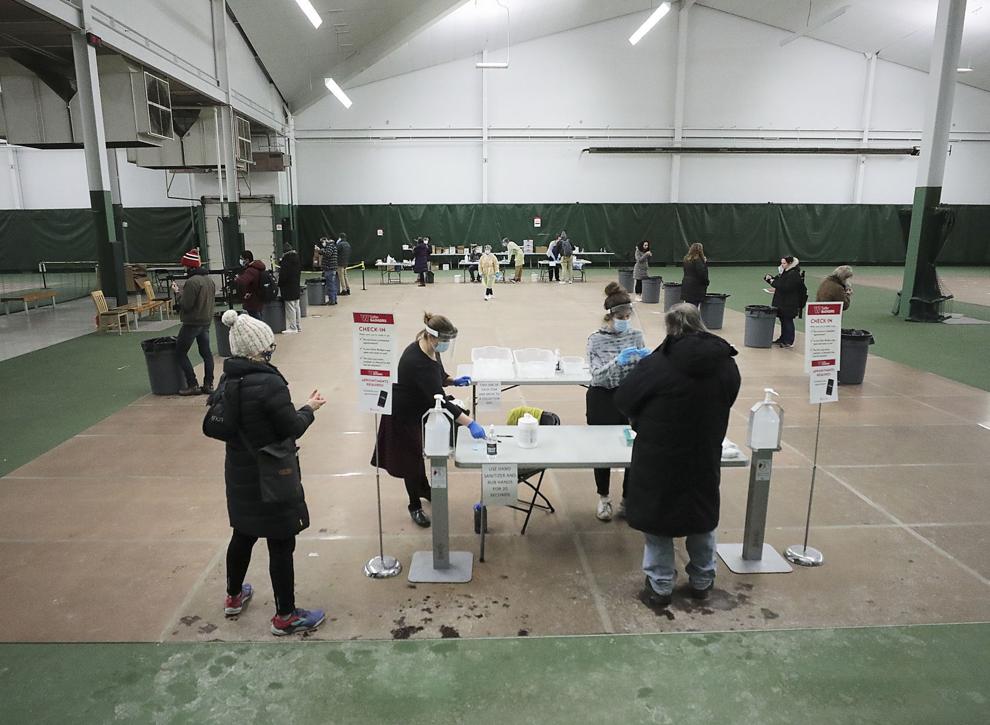 Rejects unknown
UW-Madison officials declined, in response to both written questions and during the news conference, to say how many or what percentage of tests have been rejected, beyond confirming there have been "a number of rejections."
Freshman Darian Carter's sample from earlier this week may have ended up among the rejects. She shuffled out of the Kohl Center, one of 14 testing sites, after a technician told her that Carter's sample seemed cloudy and may be rejected.
Coming back for another test would be a bit of an inconvenience, especially once the semester is underway, Carter said. More concerning to her was standing inside the testing site, unmasked, for about five minutes as she accumulated enough saliva for her sample while others around her did the same.
"It makes me a bit uncomfortable," she said, adding that the nasal swab testing took far less time.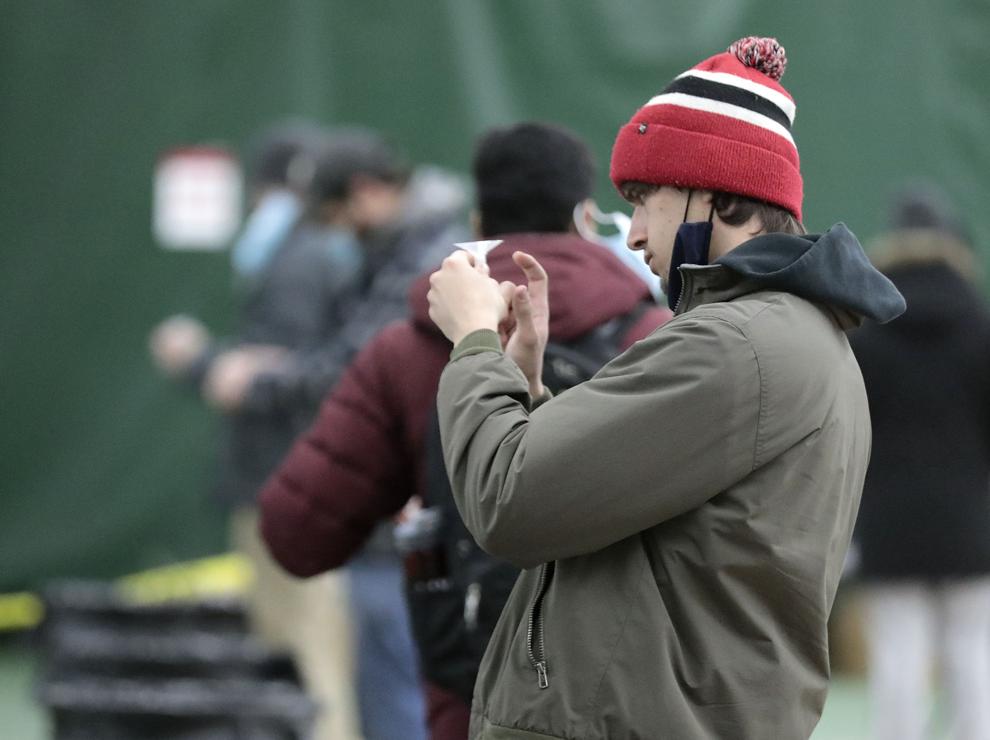 The learning curve isn't unusual with a new testing method, UW-Madison spokeswoman Meredith McGlone said. Each test site was evaluated for safety by several university offices and, with practice, saliva collection should take three minutes or less.
When performed correctly, sample submission involves drooling into a funnel fitted over a collection tube, so there shouldn't be any "spitting, forceful throat clearing or other expulsive actions." She encouraged individuals to wear masks while "pooling saliva" before drooling into the funnel.
As much as possible, staff are asking individuals to redo their tests immediately if they recognize the sample may be rejected, McGlone said.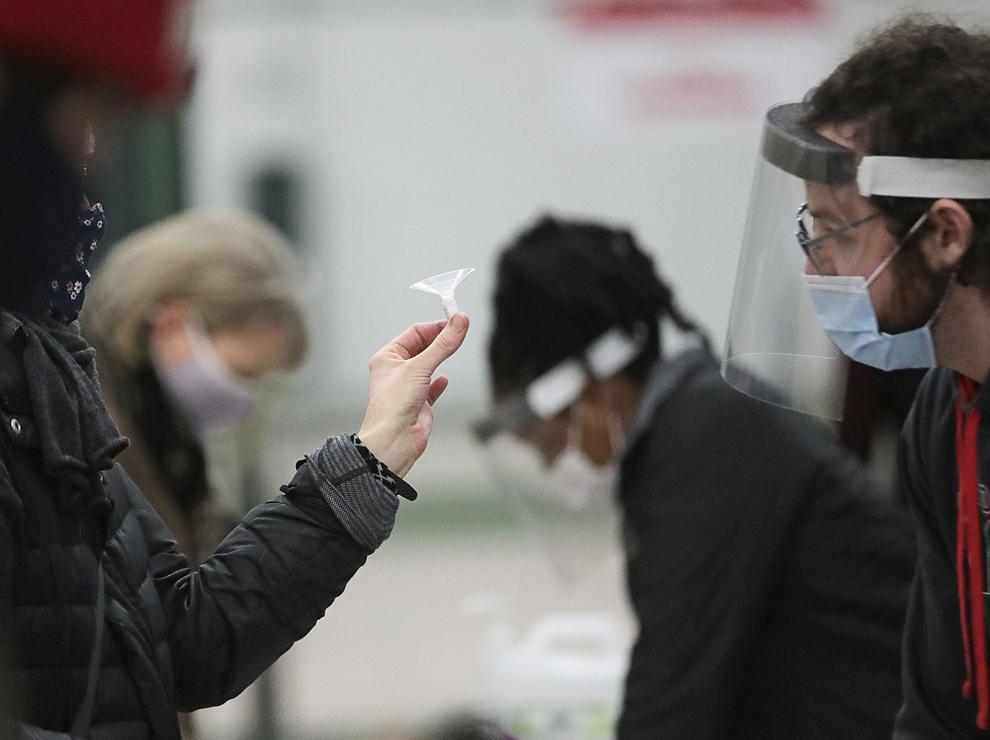 Scale of justice
Some students have wondered what, if any, repercussions they will face for skipping testing.
In the beginning, warnings will be issued, UW-Madison officials explained in an email to students this week. If the behavior goes uncorrected, additional restrictions will follow, such as restrictions on campus Wi-Fi, transcript access and the ability to add or drop a class. If there is a pattern of missing tests, the student disciplinary process will begin. Sanctions can include probation and even suspension.
Senior Mason Job, a chemistry major with a fully online schedule this spring, said the extended testing requirements "seem like a bit much" for students without in-person classes.
"But I also don't want to complain too much because the university is trying to prevent people from getting sick," he said.
---
Fave 5: Higher education reporter Kelly Meyerhofer shares her top picks of 2020
The first story I wrote this year was about a two-legged dog. 2020 only got more weird from there.
In early March, I sat in a room with about a hundred others listening to UW-Madison Chancellor Rebecca Blank brief professors on how the coronavirus might affect campus operations. During the Faculty Senate meeting, she encouraged instructors to consider what classes or meetings could be delivered online.
"We have no idea quite what may be coming, if anything," she said on March 2.
Oh, how quickly did the world change. 
It's been a privilege to bear witness to all of the seismic changes 2020 brought to college campuses, most of which I reported from my kitchen table (OK, and sometimes my couch). I'm grateful to the State Journal's subscribers who help support my job as one of the few higher education reporters in Wisconsin. The five stories listed below were some of my favorites, but you can find the 172 other stories I've written so far this year here.