Wisconsin on Tuesday became the only state to insist on holding its April primary as planned, forcing many residents to risk spreading the COVID-19 coronavirus while exercising their right to vote — especially in Milwaukee where lines at polling places stretched several city blocks and wait times were upward of two hours.
The election, which a federal judge called "ill advised," was held despite warnings from public health officials that this could be the worst week of the ongoing pandemic that as of Tuesday had killed 92 and sickened at least 2,578 in the state and killed more than 12,800 nationwide.
It also came over the objections of Democratic Gov. Tony Evers who sought unsuccessfully to delay the in-person voting only to see his executive order overturned by the state Supreme Court after Republican leaders in the Legislature accused him of exceeding his authority.
In addition to the primary for president, the election included a Supreme Court contest and thousands of local races and referendums. Unlike any other election, however, the outcome of the polling won't be revealed for nearly a week to allow time for processing the massive numbers of absentee ballots that voters were encouraged to cast in the weeks leading up to the vote.
With hundreds of poll workers refusing to risk getting sick, the Wisconsin National Guard mobilized 2,409 members across the state to help with the balloting. Guard members were deployed to every county except Florence, with the highest demand in Dane and Milwaukee counties, at 249 and 264 volunteers, respectively.
"It may actually be the first time in our nation's history where guard members have been used in this capacity, so while that is unprecedented, serving our state during times of emergency is not," Capt. Joe Trovato said Tuesday.
Most voting locations in Wisconsin, including those in and around Madison, saw few lines and smooth operations — although the scene was jarring, with plexiglass barriers separating poll workers from voters and most people wearing makeshift face masks.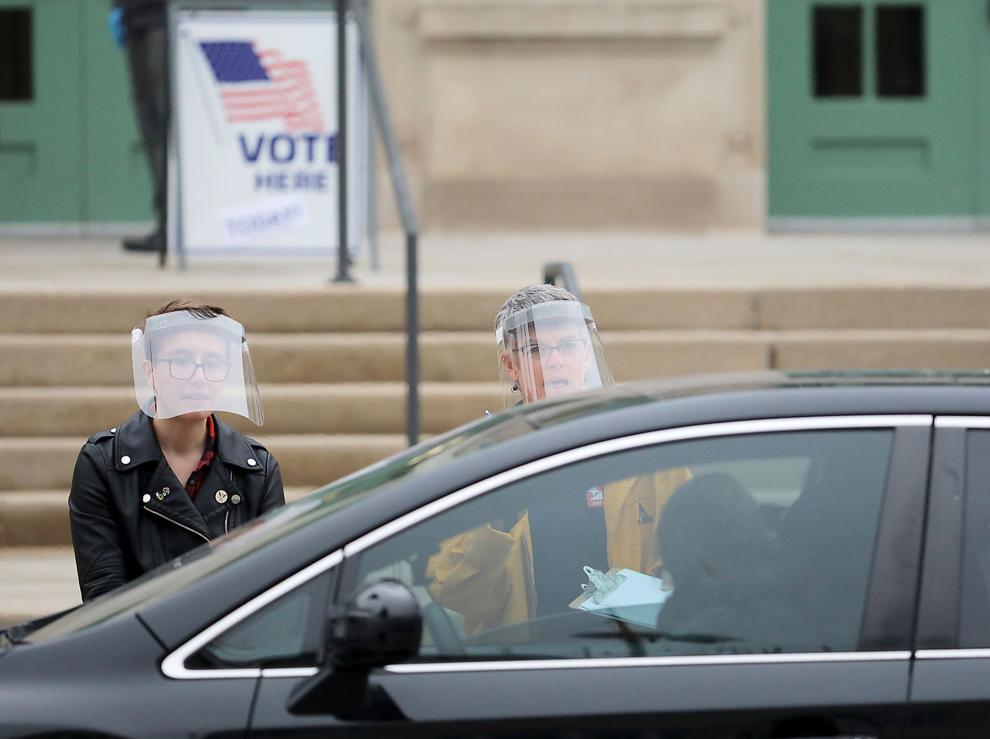 But some locations experienced significant delays, chaos and conditions that made it impossible for some voters to cast a ballot.
As Wisconsin's largest city, with a voting-age population of 435,937, Milwaukee normally has about 180 polling locations. Tuesday it had just five.
Voter Shannon Ochoa, from Milwaukee, said she waited more than two hours to vote at a Milwaukee high school. The line, which contained voters spaced the recommended 6 feet apart, snaked around several city blocks.
Since the pandemic was declared, municipal clerks have been overwhelmed with requests for absentee ballots. More than 1.2 million had been requested as of Monday, with some 990,129 returned as of 8 p.m. Monday, according to the Wisconsin Elections Commission.
Voters throughout the state have also reported more than weeklong delays in getting their absentee ballots mailed to them, and some were reporting Monday that they never arrived. Ballots had to be postmarked by 8 p.m. Tuesday or they wouldn't be counted.
Kaitlin Erickson, 23, said she requested an absentee ballot on March 22. After it failed to come in the mail, she requested it again on March 27 and a third time on Thursday. It never came.
A Milwaukee resident who has voted in every election since she turned 18, Erickson said she didn't want to risk contracting COVID-19 so she stayed home Tuesday.
"People who go out in person to polling places today very well could be putting their lives, their family's lives, just regular stranger's lives in jeopardy during this time where we have no clue where COVID-19 is going," Erickson said.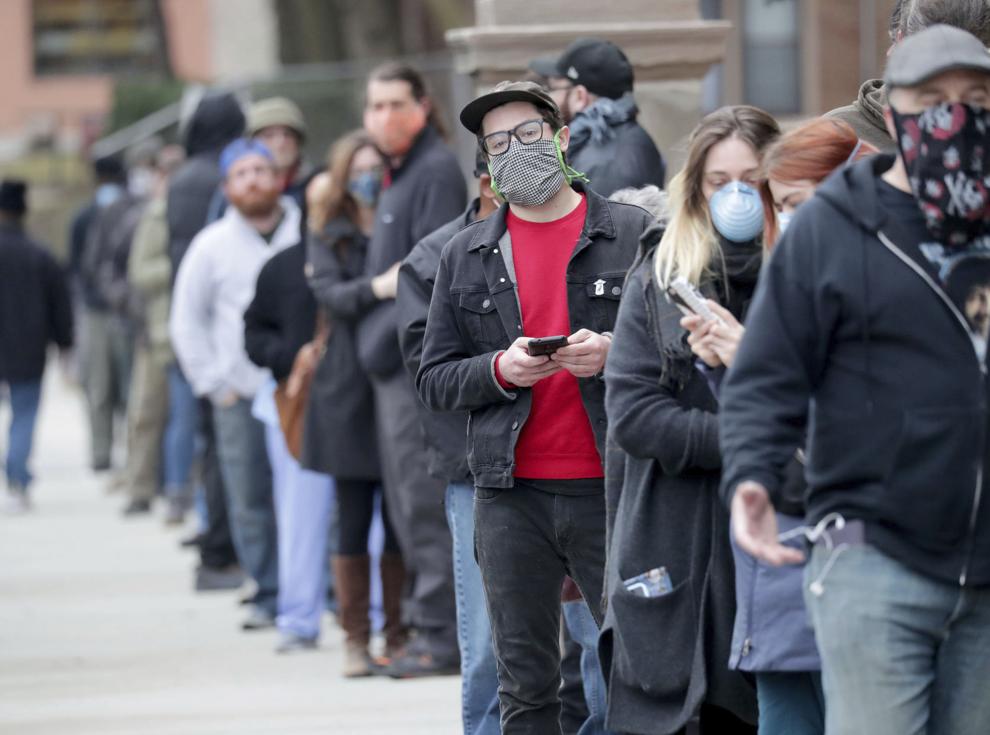 To give clerks time to process the huge number of absentee ballots, the outcome of Tuesday's election won't be announced until at least 4 p.m. Monday.
An unknown number of those absentee ballots won't be counted. For about a day last week, voters were told they didn't need to have a witness sign their ballot envelope, but the Elections Commission, following a federal appeals court's ruling on Friday night, has now said those ballots will be rejected.
Madison Deputy clerk Jim Verbick said Madison alone has at least 30 to 40 absentee ballots without witness signatures, and he expects more are on the way.
"They were abiding by the rules at the time they sent the ballot in, and now they're going to be punished for it," Verbick said.
'Pretty smooth' in Madison
With 66 of its normally 92 polling sites open and more than 86,000 absentee ballots issued, Madison was better positioned than some cities to hold an in-person election.
Some younger residents filled in at the polls after hundreds of regular, mostly older, poll workers backed out this year for fear of contracting the virus.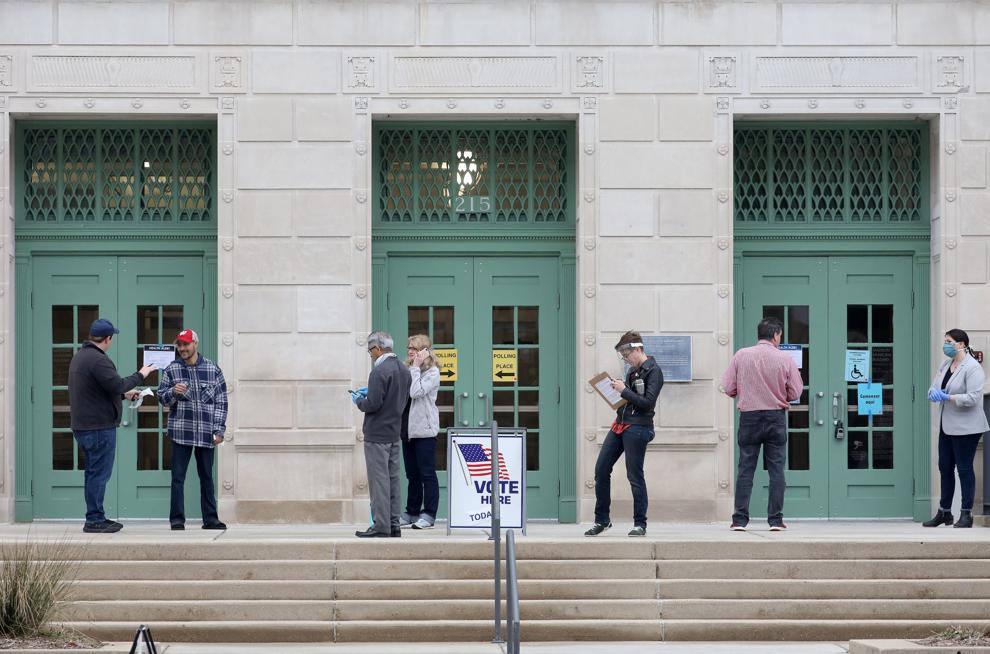 Scott Hanna, 30, was one of several laid-off bartenders contacted by Madison municipal clerk Maribeth Witzel-Behl to step up. For one day, at least, he had a paycheck again, earning $13.62 an hour, the city's minimum "living wage."
Looking more like an emergency room doctor behind a clear plastic face shield and a mask, Hanna found himself helping voters cast their ballots from their vehicles at East High School.
"With all the safety precautions that they're going through, I'd say it's been going pretty smooth," he said.
At the Gates of Heaven Synagogue polling site Downtown, hand sanitizer was readily available and voting booths were cleaned after each use.
Robin Alfano, 58, and her husband, Joe, 50, both wore red bandannas to cover their mouth and nose as they voted at Madison Fire Station 11 on the Far East Side.
"I feel like I'm in a bad Western movie right now," Robin said.
In a statement Tuesday night, after polls were closed, Madison Mayor Satya Rhodes-Conway ripped state Republicans for "a shameful display of rank partisanship" in pushing for the election to be held despite the COVID-19 pandemic.
"Holding this election today was a travesty," she said.
Shifting gears
Across Dane County, polling spots shifted to larger spaces to allow for social distancing, used plexiglass barriers and offered curbside voting.
In Middleton, which had to consolidate four polling places into one at Kromrey Middle School, the lines were virtually nonexistent. That was likely in part due to the unprecedented number of absentee ballots sent to voters in the weeks leading up to the election, part of a state campaign to get voters to cast their ballots from the safety of their homes.
In the 2016 spring election, about 8,500 people voted in the city. But for this year's election, more than 8,000 absentee ballots had been returned to the city clerk's office by Monday night, according to Mike Davis, the city's administrator.
"It's a bit surreal," said Davis, who spent the morning directing those who had voted to an exit door. "It's not where we should be at this point. Ideally we could have had an election that was done completely by absentee ballot, but we're doing as we've been told by the state Legislature."
In the town of Oregon, voting was shifted from the Town Hall to the adjacent, larger garage with a tent in case it rained. In Stoughton, the city moved all polling to the spacious Stoughton Wellness & Athletic Center, city clerk Holly Licht said.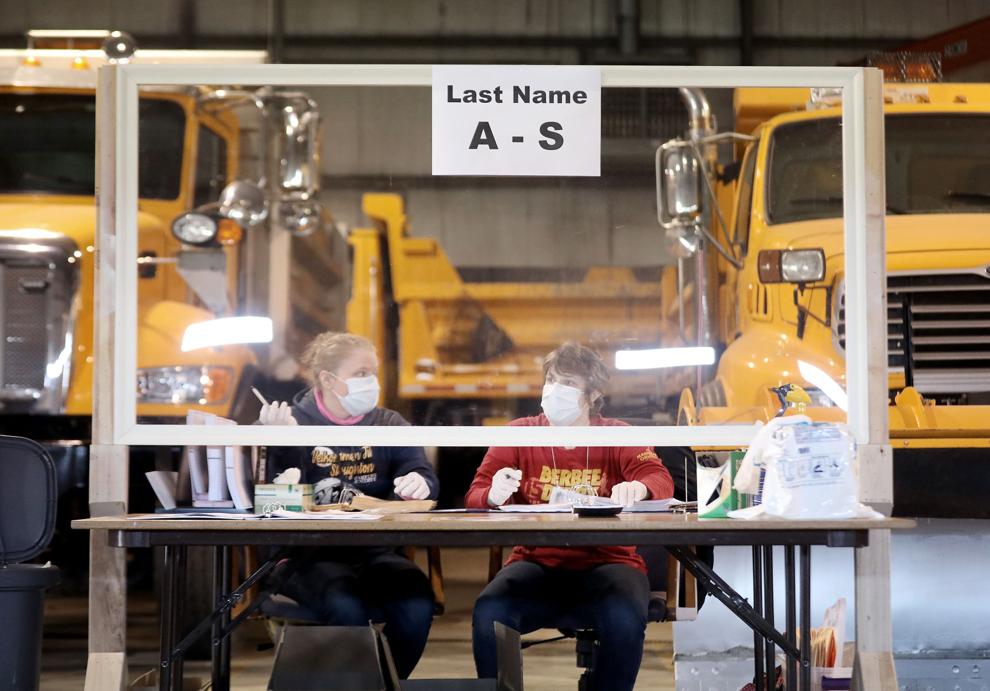 Carlene Bechen sat in a folding chair outside the Oregon Village Hall to help people with curbside voting. She wore a mask, gloves and a blue plastic bag over her clothing and called the decision to proceed with the election "a travesty. It's risking people's health," she said. "My husband's not happy I'm here."
In Prairie du Chien, City Clerk and Treasurer Tina Fuller said the city held a drive-through election. Voters remained in their cars and cracked open their windows to pass a clipboard back and forth.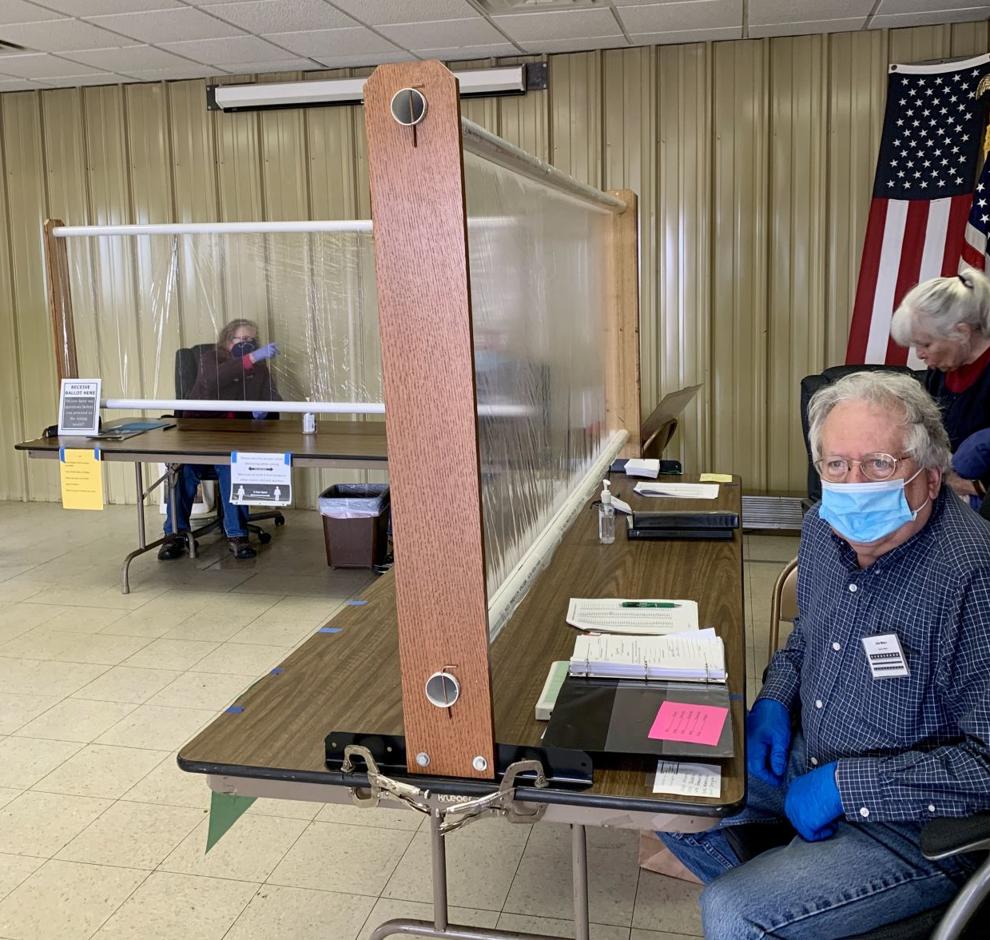 Although the village of Cambridge also had a relatively smooth election, Deputy Clerk Barb Goeckner said the uncertainty during the runup to the election along with the increased workload and safety concerns made this year's vote "emotionally exhausting" for poll workers.
"It's all been very confusing — it's on again, off again, up, down, all of it. It's been a roller-coaster ride," Goeckner said. "The hard part for clerks is we're all ready to go forward and do what we have to do … but it's not right that we're putting lives at risk for the vote."
Outside of a Stoughton voting site, a young man greeted arrivals with a large cardboard sign that read: "GOP put you in harm's way."
'Ashamed' of Wisconsin
Assembly Speaker Robin Vos, R-Rochester, and Senate Majority Leader Scott Fitzgerald, R-Juneau, rejected calls over the weekend and on Monday to delay the election or hold an all-mail election, and four conservative-backed members of the state Supreme Court overturned Evers' order delaying it. A fifth conservative-backed justice, Dan Kelly, is on the ballot competing against Dane County Judge Jill Karofsky, and did not vote in the case.
Christopher Sullivan, a voter from the western Wisconsin village of Holmen, said he was "ashamed to be from Wisconsin today."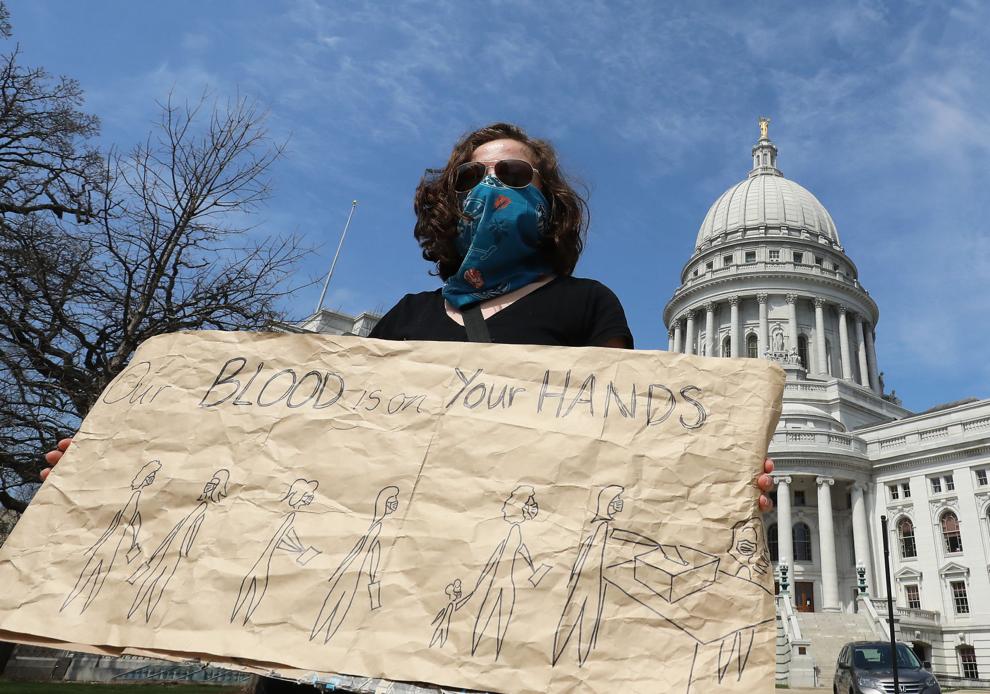 Sullivan was wearing protective gloves, a mask and gown while volunteering at a polling place in Burlington. He said the wait time there was about 30 minutes.
Online state voter records show Fitzgerald and the conservative justices who voted to carry on with in-person voting Monday had already voted absentee and did not need to vote in person on Tuesday.
Sitting inside of her Milwaukee apartment unable to vote, Erickson said she was angry that the election was not postponed. She said it never should have been a partisan issue.
"It kind of just shows me that the Wisconsin GOP doesn't really care about the lives of the people in Wisconsin," she said.
Contributing were Wisconsin State Journal reporters Chris Rickert, Barry Adams, Emily Hamer, Mitchell Schmidt, Elizabeth Beyer and Dean Mosiman. The Associated Press also contributed to this report.



Photos: Wisconsinites vote in spring primary Tuesday despite COVID-19 danger