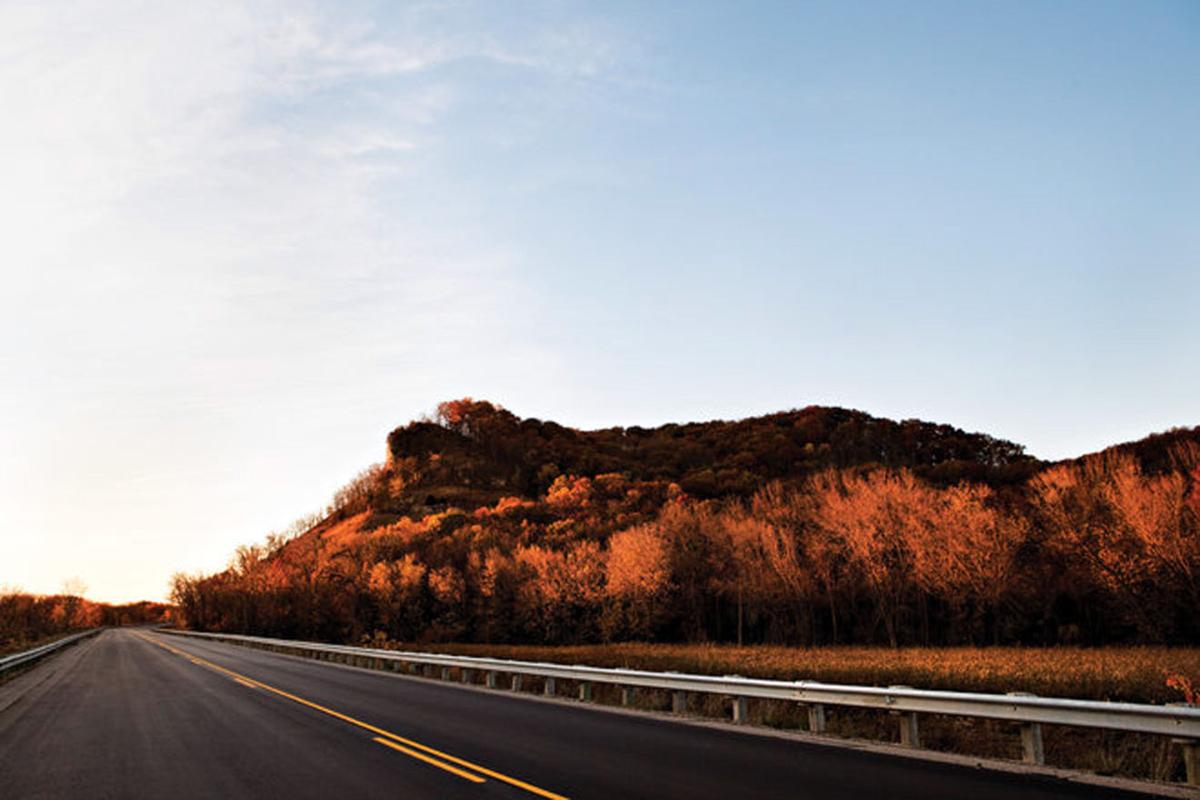 For 250 miles, Wisconsin's stretch of the Great River Road winds along the Mississippi River, passing through 33 towns. With more than 60 places to stay along the way – from historic B&Bs to rustic campgrounds – why not head west for the weekend?
Running along Wisconsin's sparsely populated western border, the Great River Road, which celebrated its 75th anniversary in 2013, boasts scenery and wildlife (including the state's largest concentration of bald eagles) not found in other parts of the state. Here are three La Crosse-based, lower Great River Road trips that will appeal to the history buff, the nature lover and the foodie in all of us.
The Franciscan Sisters of Perpetual Adoration arrived in La Crosse in 1871 and quickly founded Viterbo College and St. Francis Hospital. They also built the St. Rose of Viterbo Convent, whose centerpiece is the striking Mary of the Angels Chapel.
Completed in 1906, the richly decorated space is framed by graceful Romanesque arches and features an Italian marble altar, onyx Corinthian columns, Bavarian art-glass windows, and mosaics made of mother-of-pearl and Venetian glass. Tours include a visit to the Perpetual Adoration Chapel where two sisters have been praying continuously since 1878. Tours of both chapels are available year-round.
About 15 miles south of La Crosse, Old Tool Shed Antiques in Genoa is as much a museum as it is a store. Housed in a building dating back to 1867, the small space is crammed from floor to ceiling with a mind-bending variety of vintage tools: hammers, planes, fish scales, old kitchen gadgets, ice hooks, meat grinders, plus much more.
Continue your trip an hour south at historic Villa Louis in Prairie du Chien. In the 1880s, the wealthy Hercules Louis Dousman family bred trotting horses on the estate and hosted contests to show them off. That custom was revived in 1980 as the Carriage Classic, still held on the Villa Louis grounds every September. More than 100 carriages from around the country compete in several categories, including the popular Picnic Class, in which drivers are judged on their period dress, the appearance of their carriages, their handling ability and – no lie – a picnic presentation. It's all quite civilized.
Built in the mid-1800s (and extensively remodeled later that century), Villa Louis is decorated with authentic Victorian furnishings, most belonging to the Dousman family, making it one of the most properly appointed Victorian mansions in the country. It is open for tours through October 31.
In nearby Lancaster (19 miles from Cassville via State Highway 81), visit the cemetery to see Dewey's gravesite, plus keep an eye out for a statue of him in front of the town's impressive copper-topped county courthouse.
Where to stay: Built in 1949, the two-bedroom Bluff View House in La Crosse is a unique place, one of the nation's only 1,600 remaining Lustron all-metal pre-fab houses.
In Cassville, Upper Miss Lodging offers suites that blend the contemporary and the historic in a 19th-century structure.
At 1,180 feet above sea level, La Crosse's Grandad Bluff has spectacular views. Explore bluffside trails on foot, or drive to the top via Bliss Road.
When the area was closed in 2011 for a $1.7-million facelift, many bluff lovers headed next door to Hixon Forest, which has 13 miles of trails that crisscross the 800-acre preserve. Several trails scale the hillsides to lookouts with views every bit as good as from Grandad's. The five-mile River to Bluff Trail runs from Hixon Forest to Riverside Park on the Mississippi without crossing a single city street.
To truly explore the natural beauty of the Great River Road and its namesake, get off the pavement and onto the water. La Crosse Queen Cruises offers a variety of dining/cruising options on a replica 19th-century paddlewheel riverboat, while Mississippi Explorer Cruises runs narrated tours that focus on the river's ecosystem and wildlife. Explorer tours depart from La Crosse and Prairie du Chien May through October and last 1.5 to 2 hours.
A half-hour jaunt from Stoddard, Rush Creek State Natural Area sits quietly off the beaten path, but it's too good to keep secret. Located just north of Ferryville, Rush Creek has nearly 2,500 acres of bluff-land with possibly the best views of the Mississippi River anywhere.
Begin your hike from the small parking lot just east of Highway 35 on Rush Creek Road. The hiking is moderately difficult. In summer, you may be hiking through thick brush before reaching an old service road that winds its way to the top, where you will be rewarded with unobstructed views of the river as it makes a sharp bend to the west. Give yourself at least two hours for the round-trip hike, plus time to appreciate the views.
Where to stay: Here's something you don't see often in these parts: A cabin on stilts. Located next to the backwaters of the Mississippi River, the two-bedroom Ambro House in Prairie du Chien is a fully modern vacation home, just a bit "loftier" than most.
There are lots of rustic spots in the area to choose from, including camping at Wyalusing State Park.
What Great River Road restaurants lack in luxury, they make up for in down-home heartiness and great atmosphere.
In La Crosse, start your day at Fayze's for breakfast. On weekends, they are ridiculously busy, thanks to the combination of their extensive breakfast menu, good prices and delicious Bloody Marys.
Kate's on State is one of the best restaurants in La Crosse, but the dining room is small and fills up quickly. Luckily, Kate Gerrard also operates Kate's Pizza Amore, where you can get gourmet pizzas, as well as many of the same classic and Californian-Italian entrées served up at her other restaurant.
After dinner, check out the American Breweriana Association National Brewery Museum, located inside the restored brewery.
Where to stay: When wining and dining, a B&B just makes sense. The Four Gables Bed & Breakfast in La Crosse has two guest rooms in a turn-of-the-century Queen Anne mansion.
In Prairie du Chien, the Neumann House Bed & Breakfast has three guest rooms and a full breakfast on weekends. Rooms at both places have private baths.