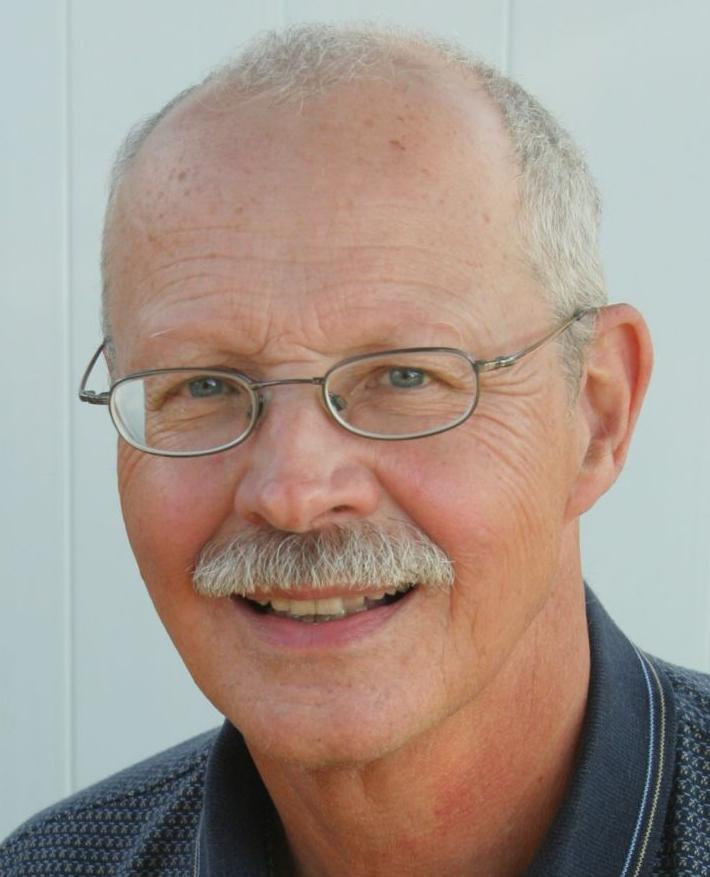 I had just started working second shift, so the TV morning news became my new norm. On 9/11 when the early broadcast cut to video of the first plane boring into the trade center, I was like many people, dumbfounded.
Did a pilot or traffic controller make a grievous error? Moments later the second plane erased all questions. My incredulity changed to fear of the unknown.
If the government couldn't prevent this, could it protect us going forward? During this time of uncertainty, the Psalms were a source of comfort. "God is our refuge and strength," (Psalm 46.)
We prayed for the New Yorkers, and asked ourselves why it takes a tragedy to generate solidarity with people you haven't met even though we're all Americans? While our hearts grieved for the families stricken in the attack, more questions surfaced about our own family.
Our eldest son, Josh, was already in the military and our second son, a senior, would soon enlist. Watching the evening news that night, Joel, our third child and a sophomore at West Salem High, was furious over the images. He decided that after graduation, he too would enlist.
As the war dragged on, Josh became a flight engineer on a KC 135. Joel, now an A-10 crew chief, eventually deployed to Bagram Air Base in Afghanistan. The two boys hadn't seen each other for quite some time.
One blustery night, Josh's plane rolled into Bagram with a load of supplies. From the cockpit, Josh phoned his brother, "C'mon out, we've only got a few minutes." The boys narrowly made their reunion when the plane's security guard blanched at the rifle slung across Joel's shoulder.
We learned from 9/11 that in times of uncertainty God is the only sure thing.
Two decades later: Remembering and reflecting on Sept. 11, 2001
09-12-01-1.jpg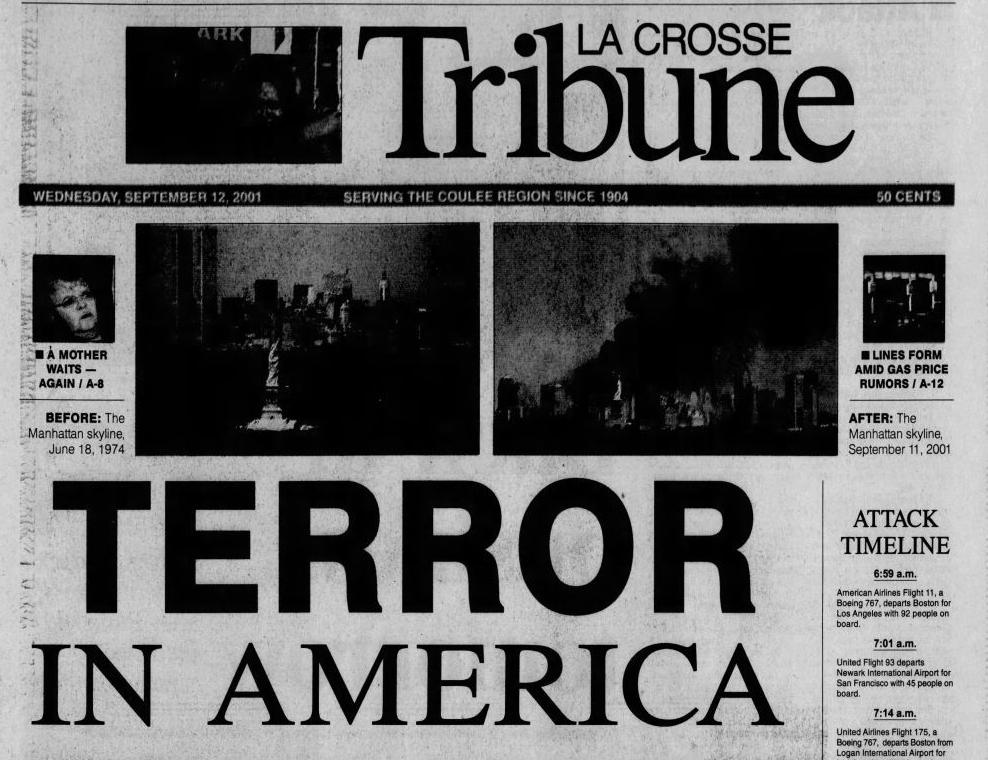 09-12-01-2.jpg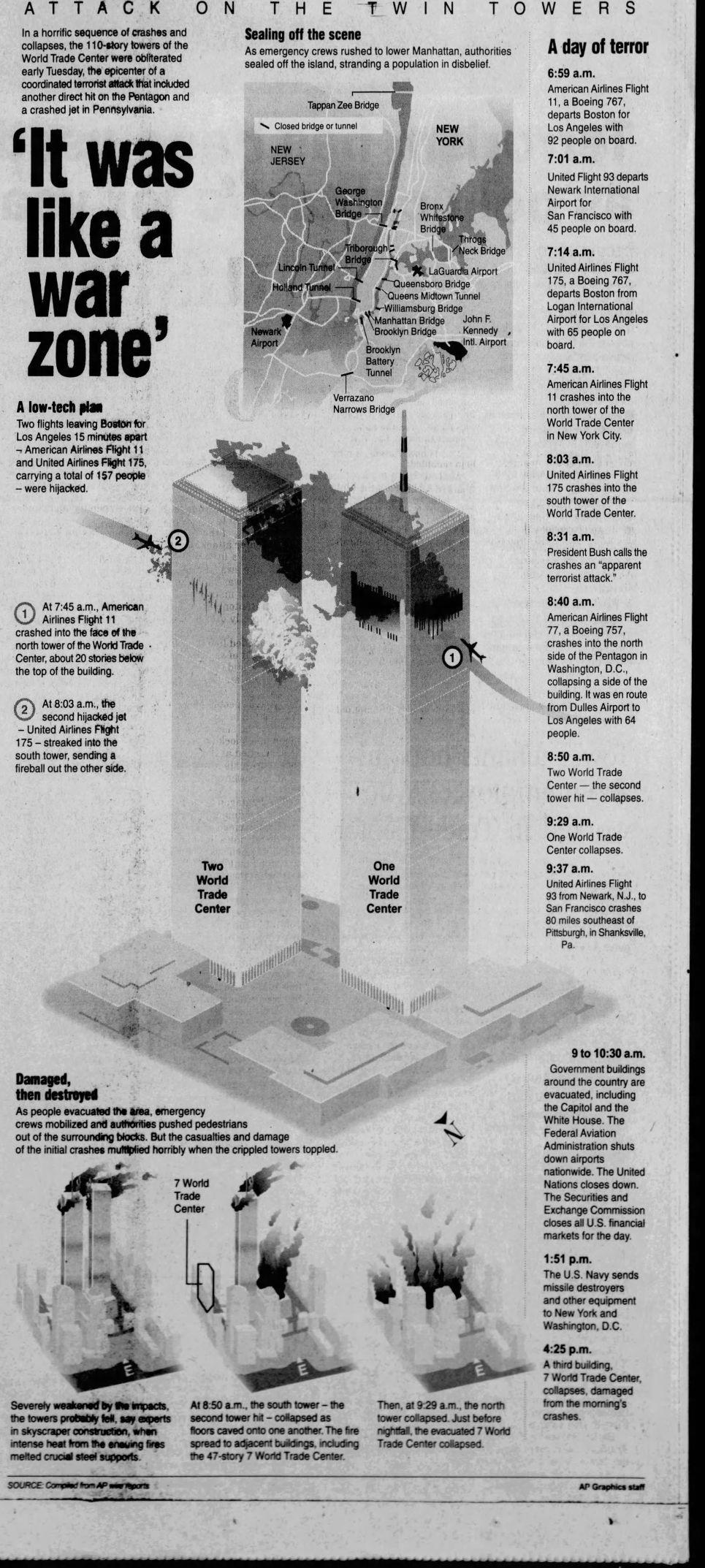 09-12-01-3.jpg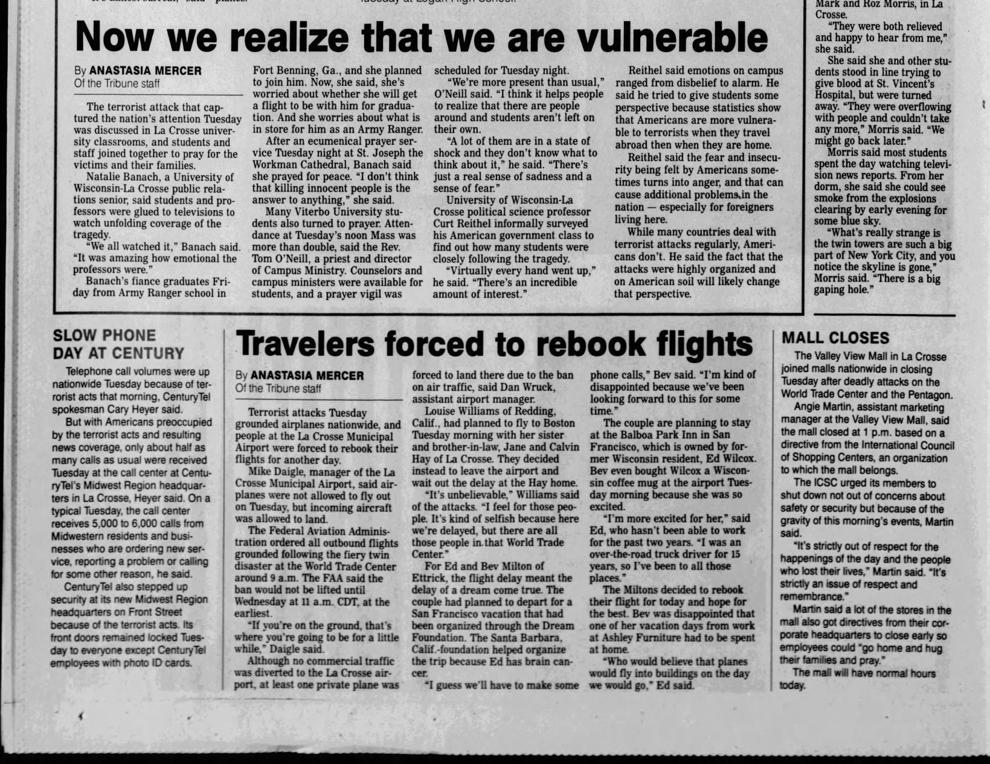 09-12-01-3v2.jpg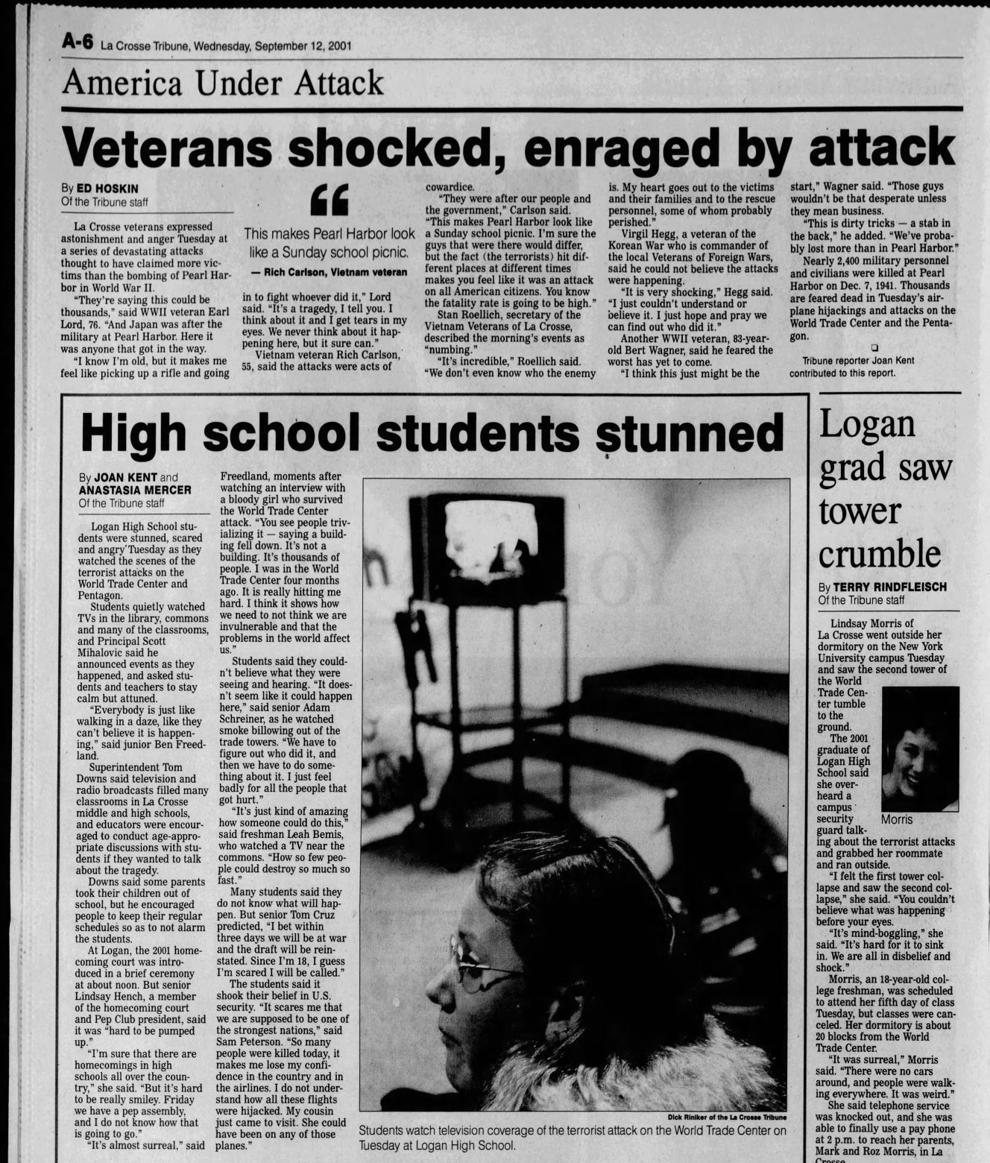 09-12-01-4.jpg

09-12-01-5.jpg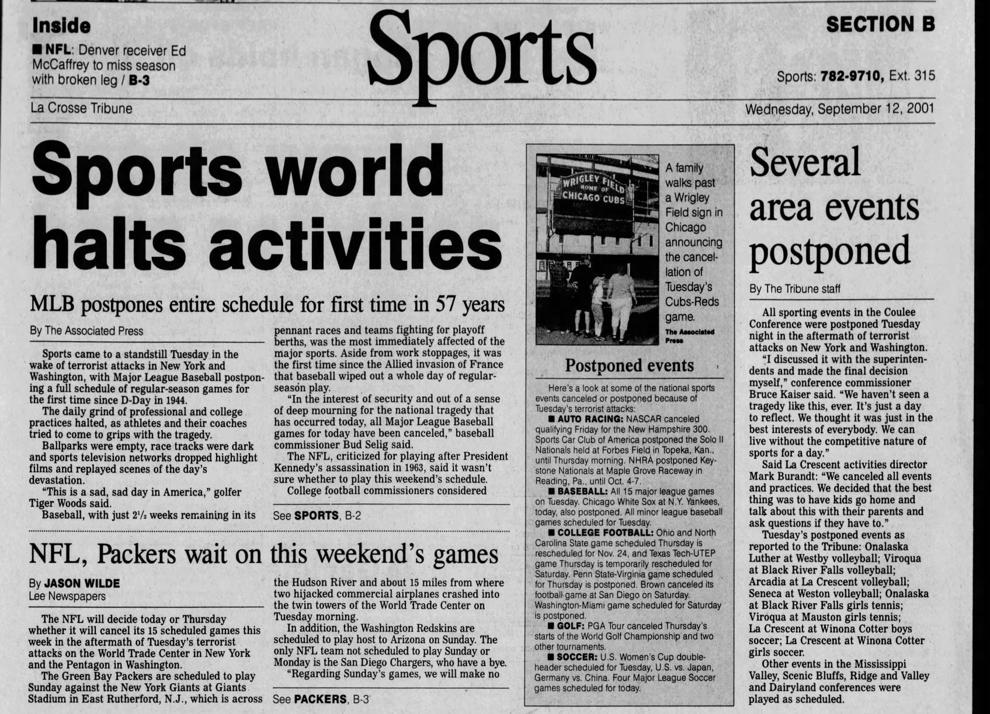 09-13-01-3v2.jpg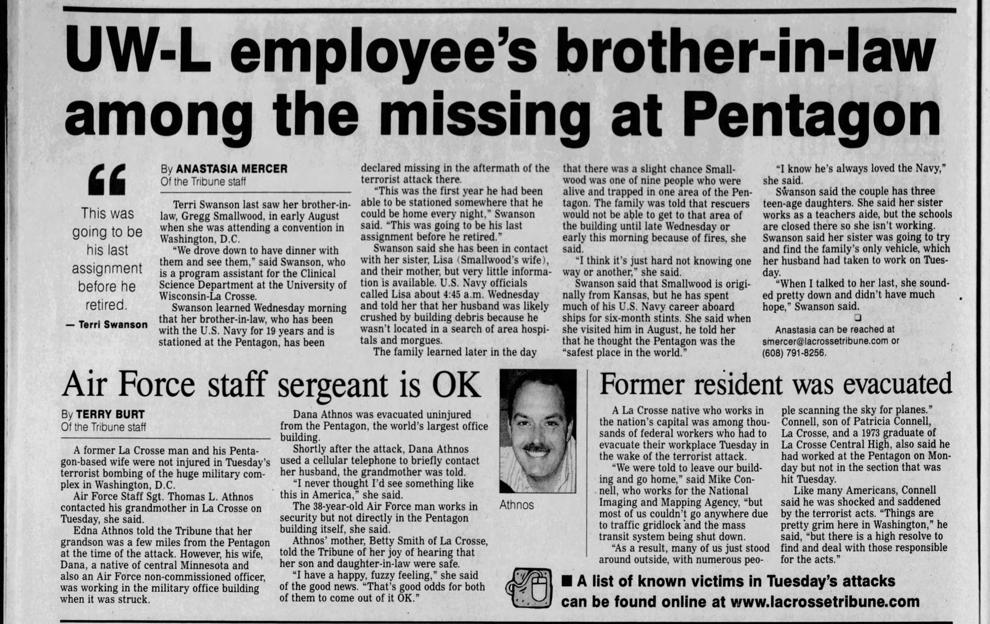 09-13-01-3.jpg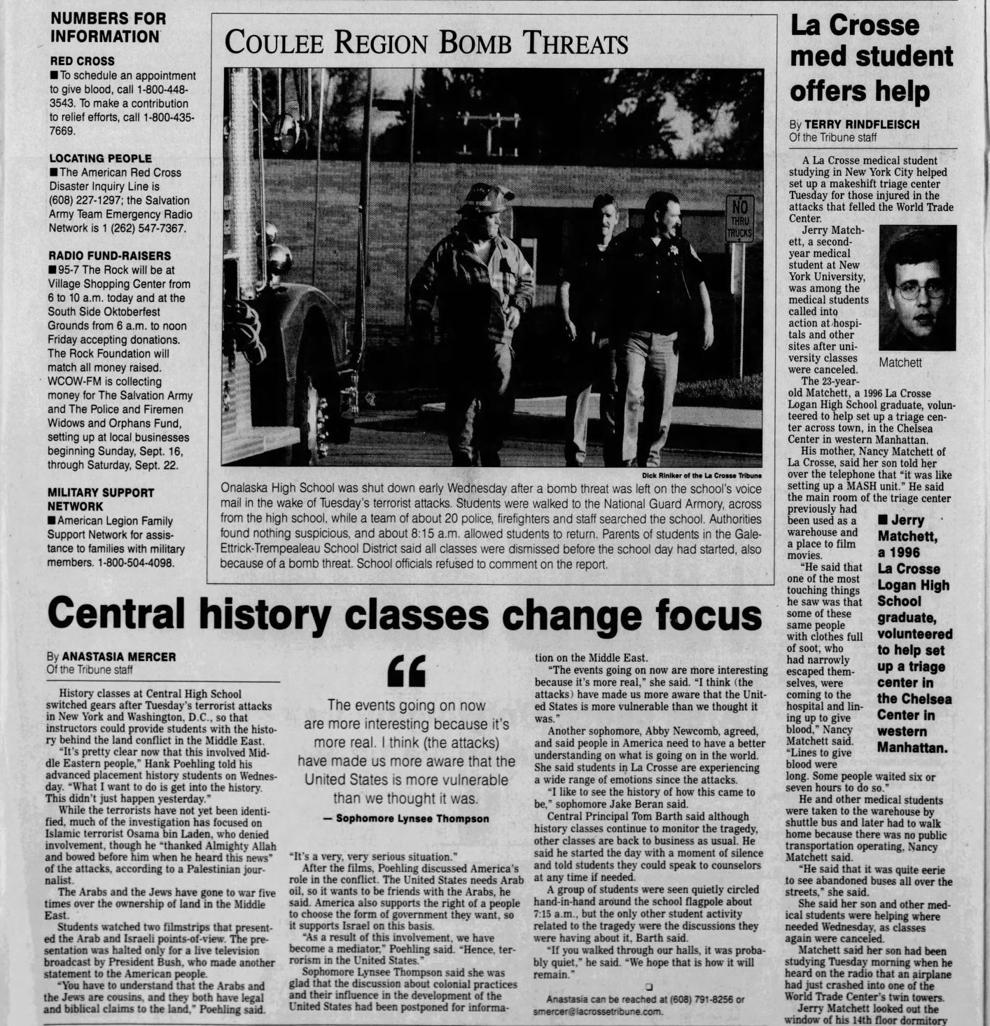 09-13-01-2v2.jpg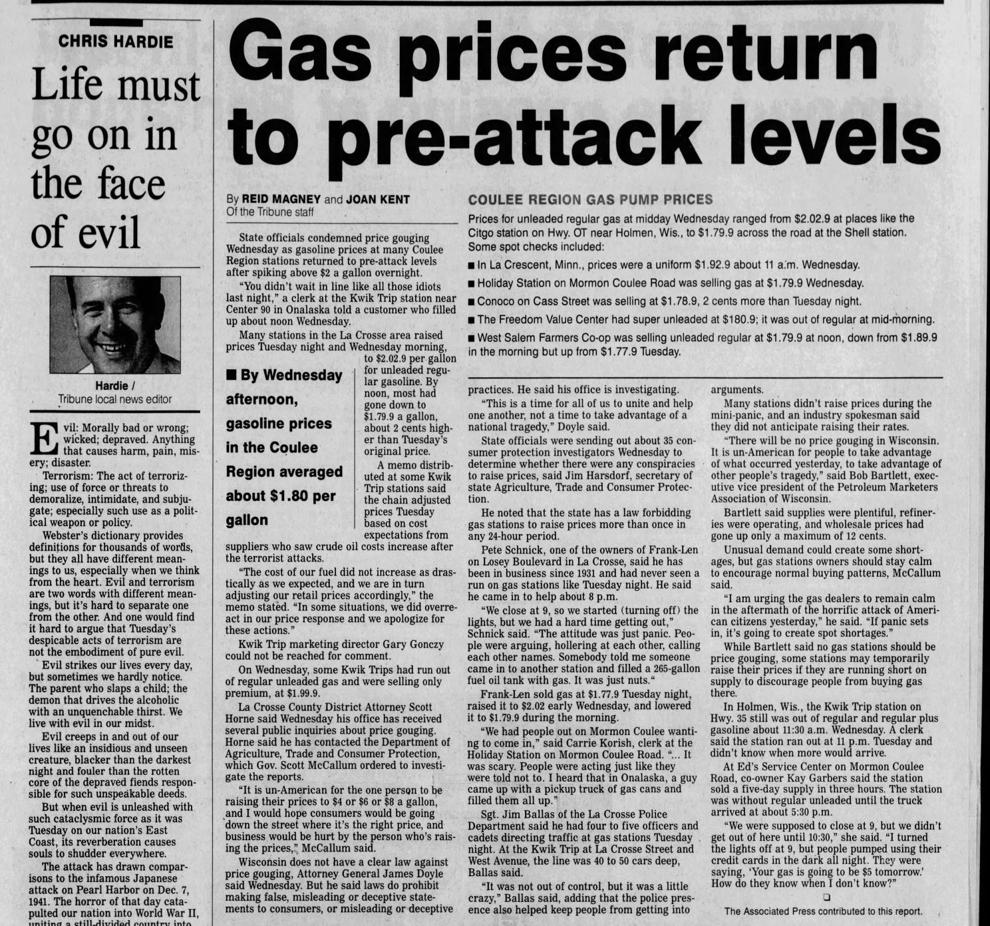 09-13-01-2.jpg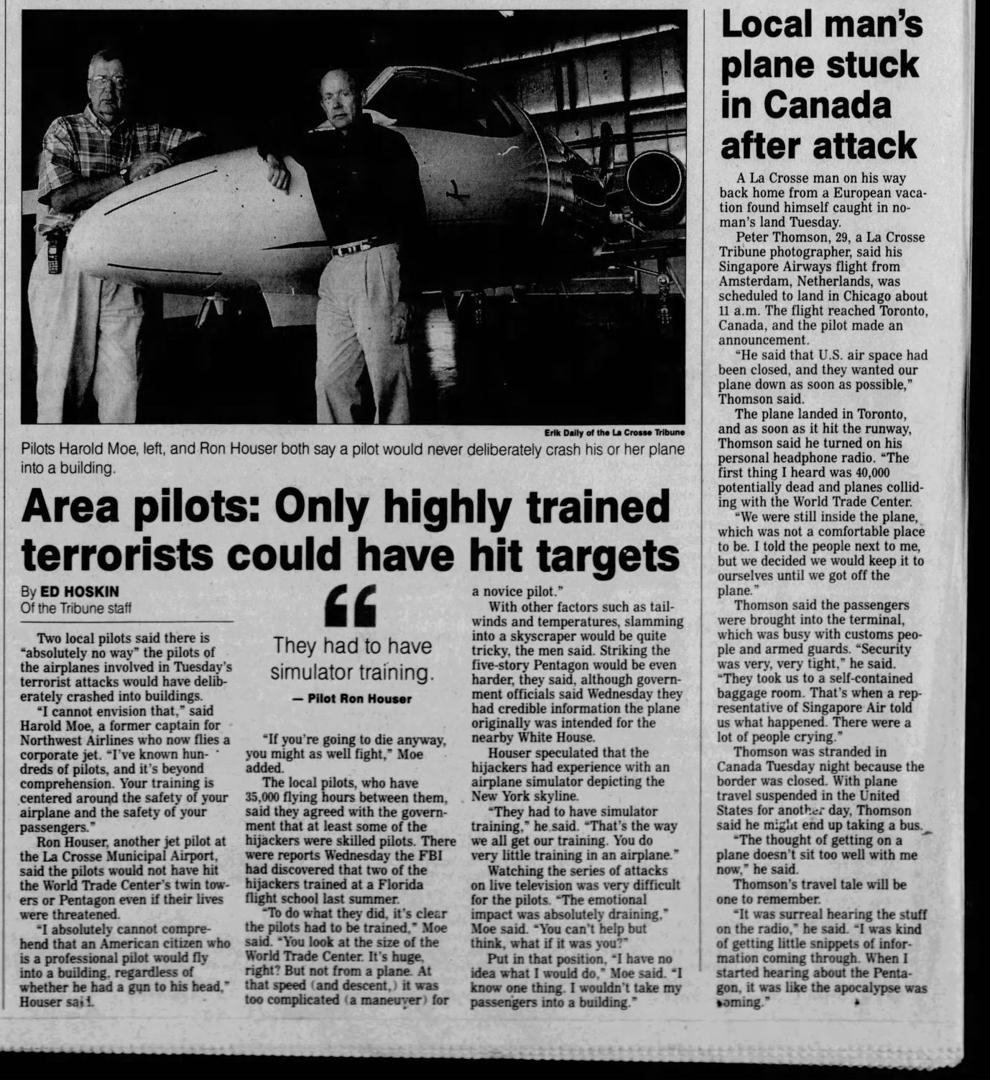 09-13-01-1v2.jpg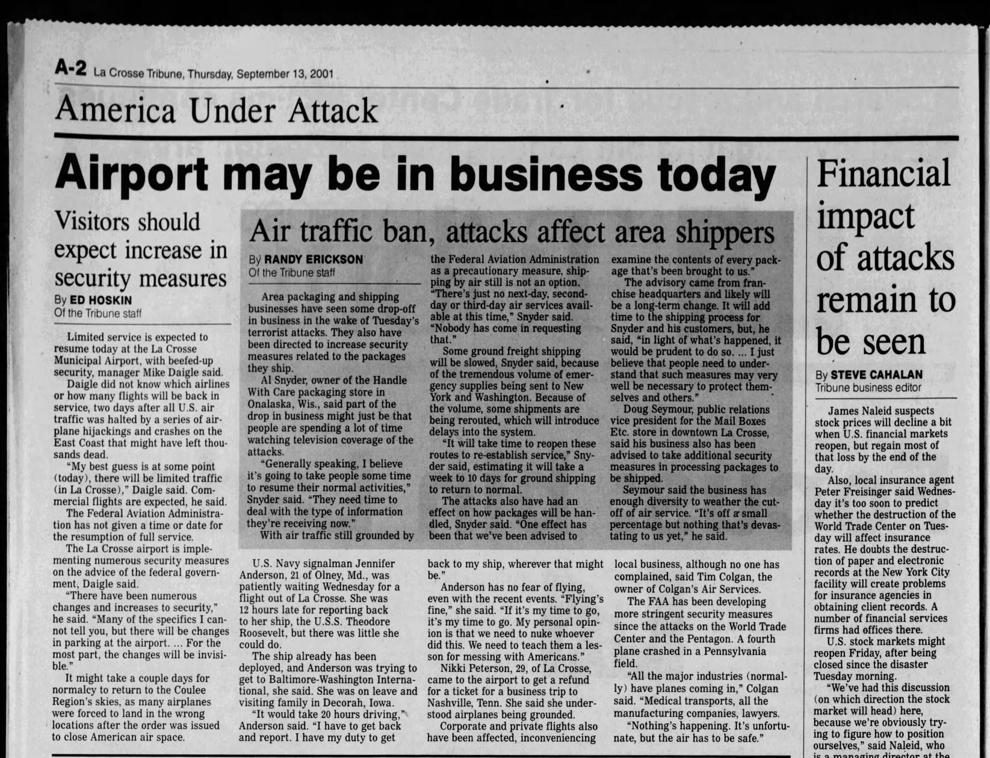 09-13-01-1.jpg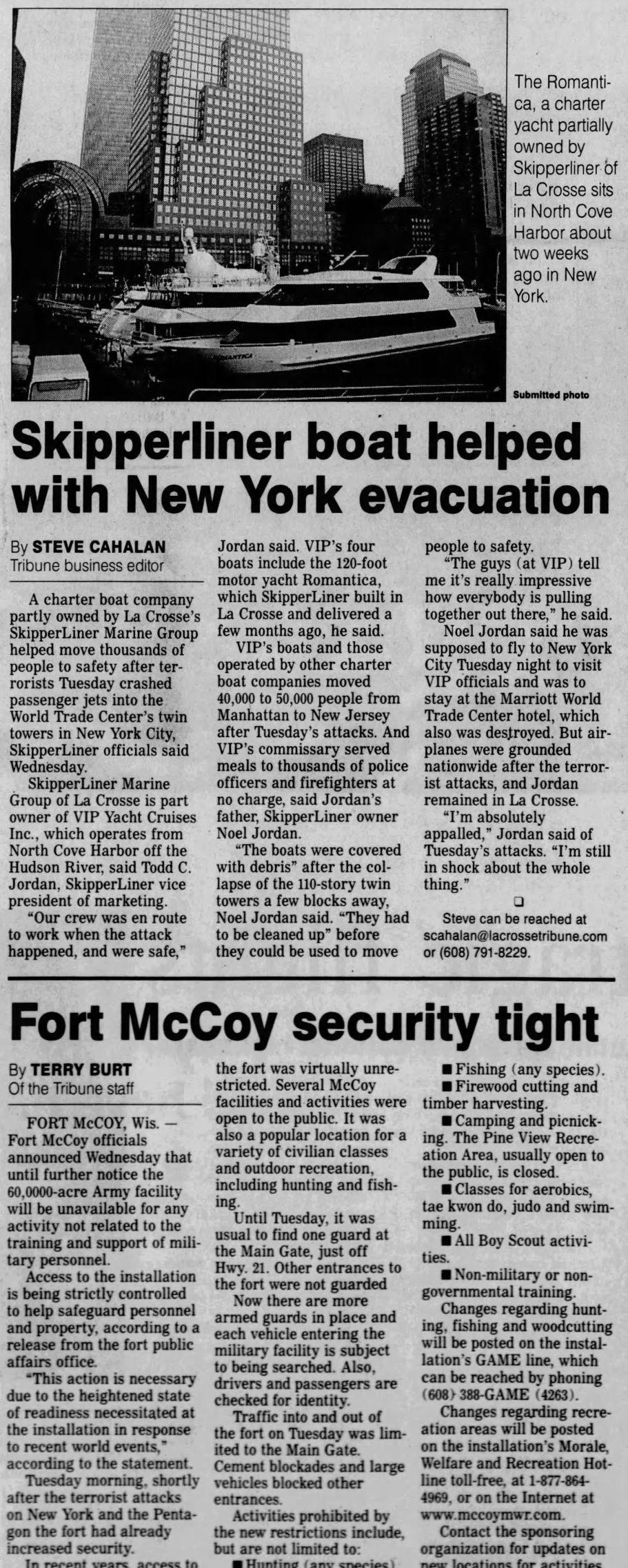 09-14-01-2.jpg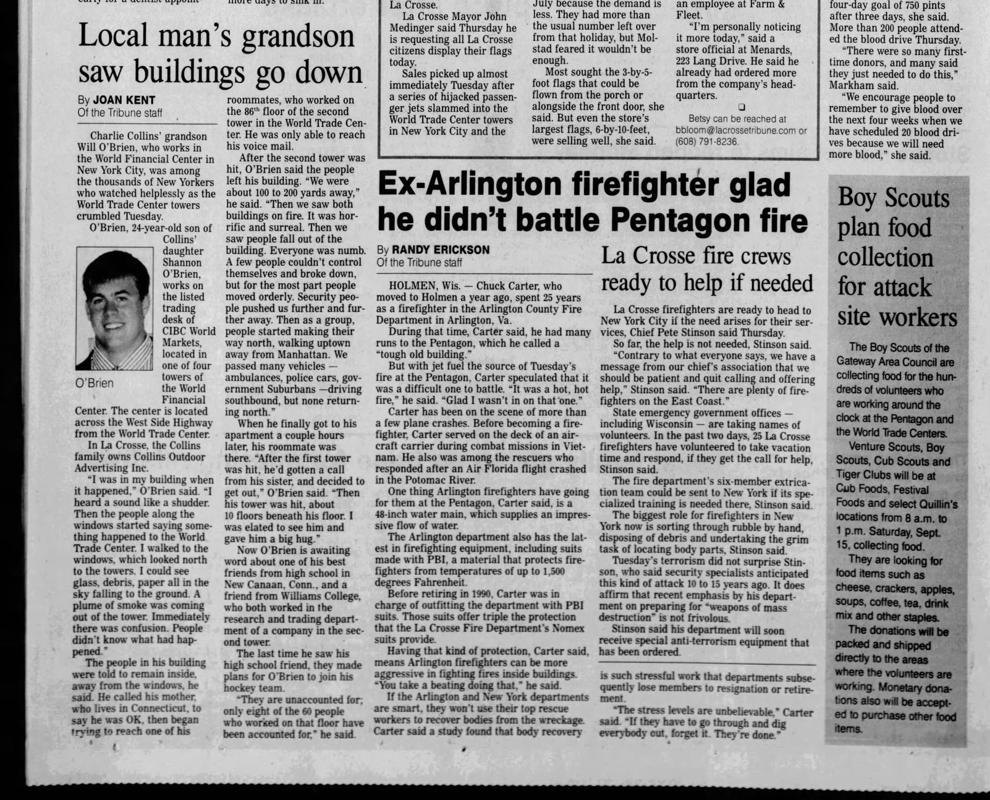 09-14-01-1v2.jpg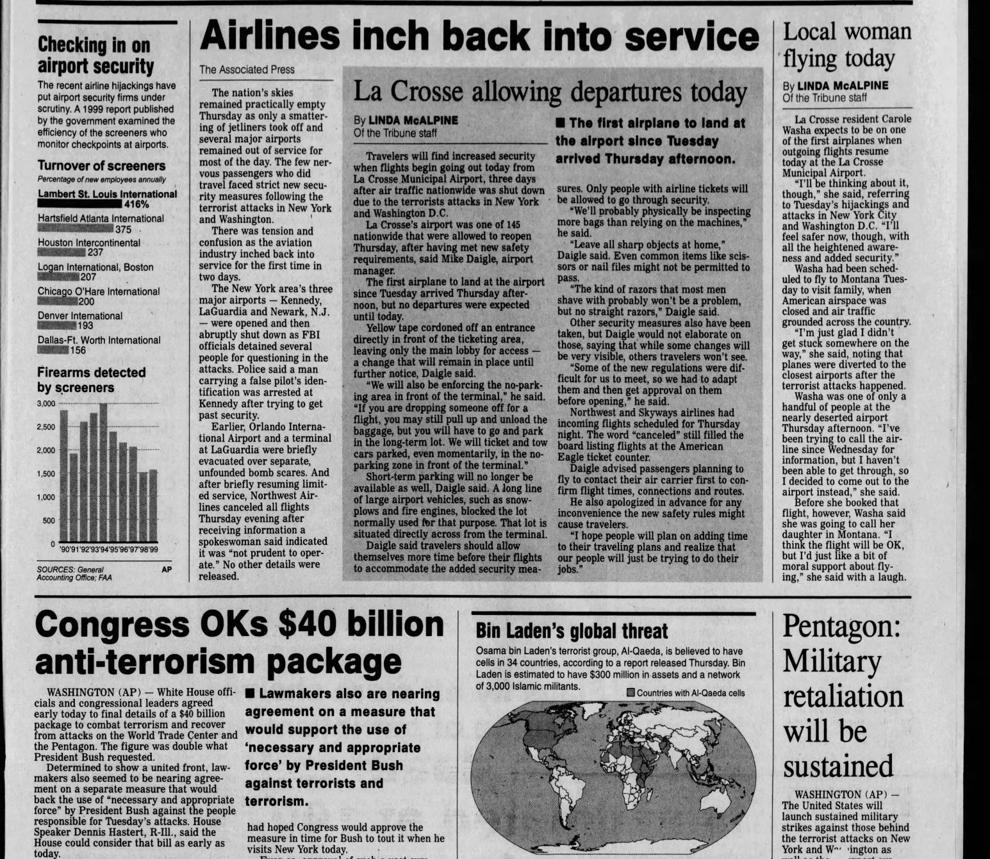 09-14-01-1.jpg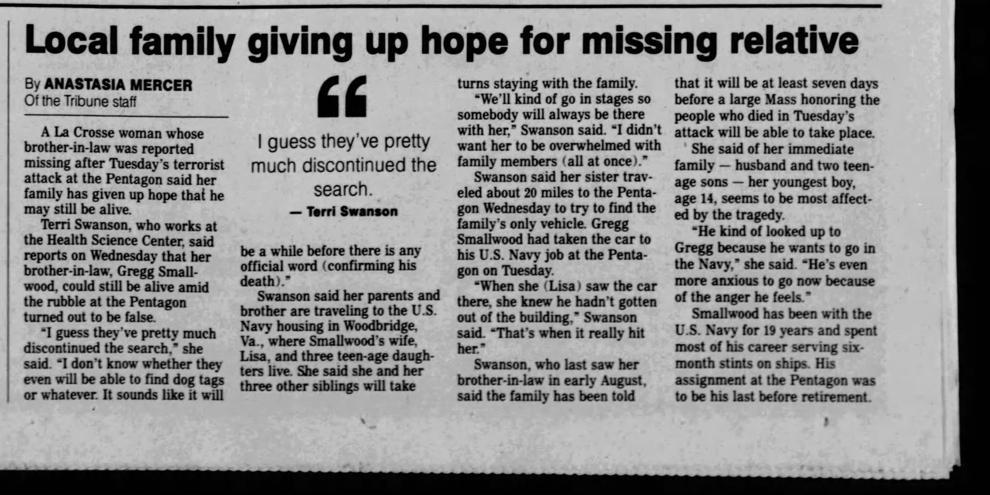 09-14-01-4.jpg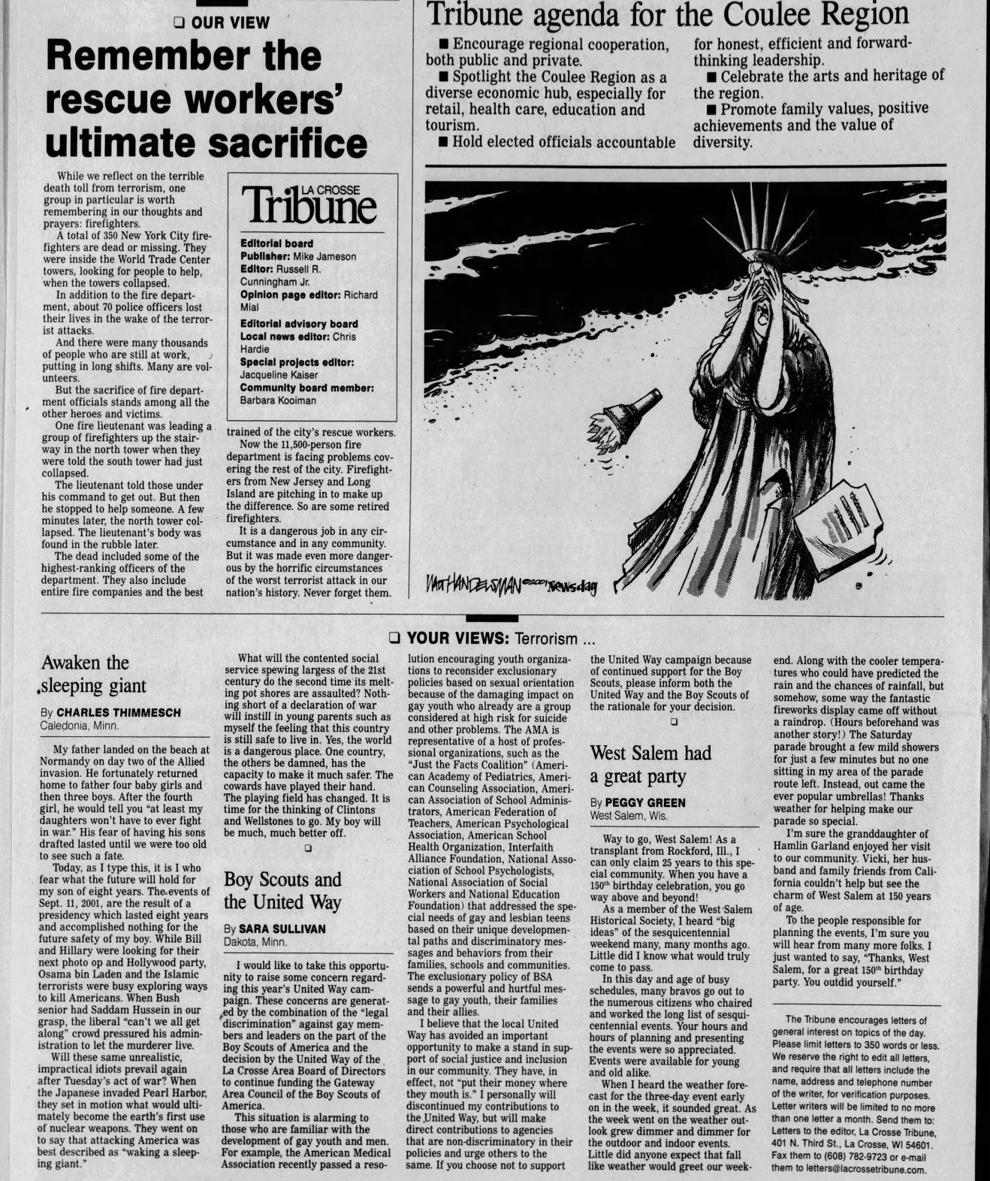 09-14-01-3.jpg

09-14-01-2v2.jpg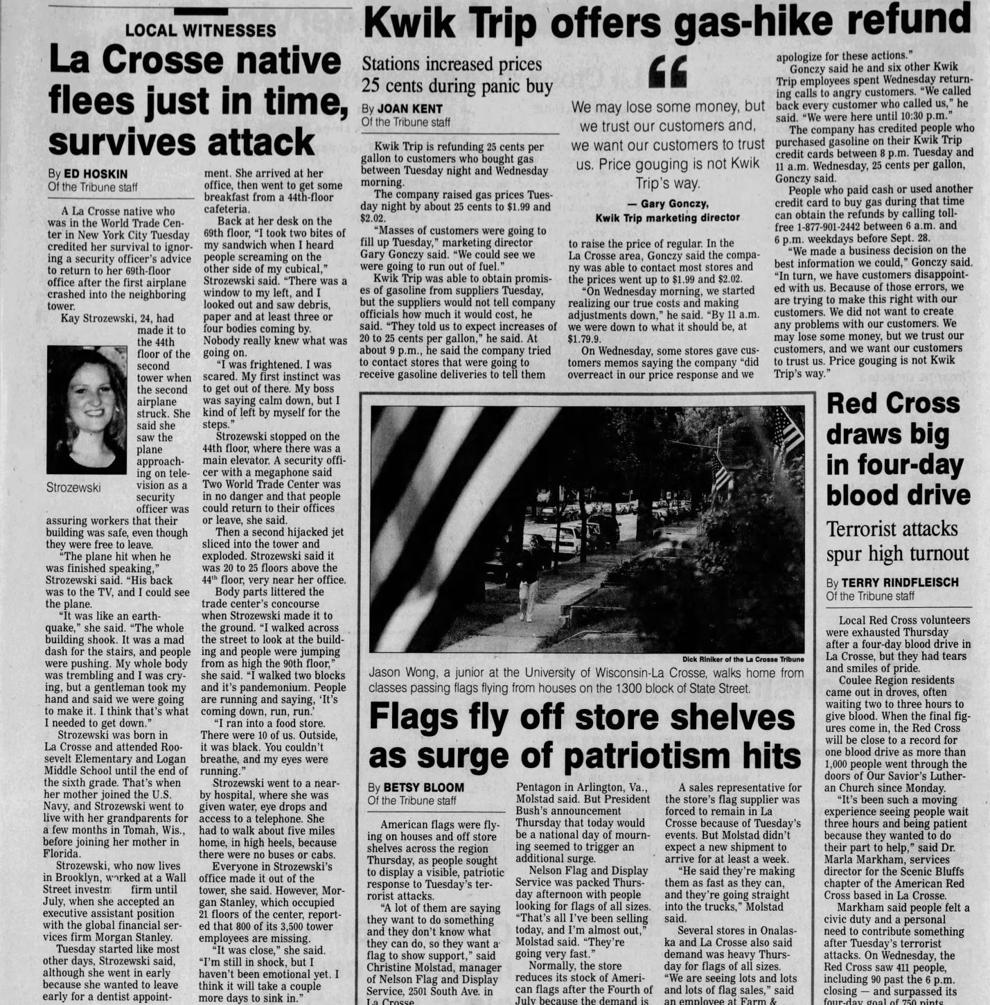 Chippewa_Herald_Telegram_Wed__Sep_12__2001_ (1).jpg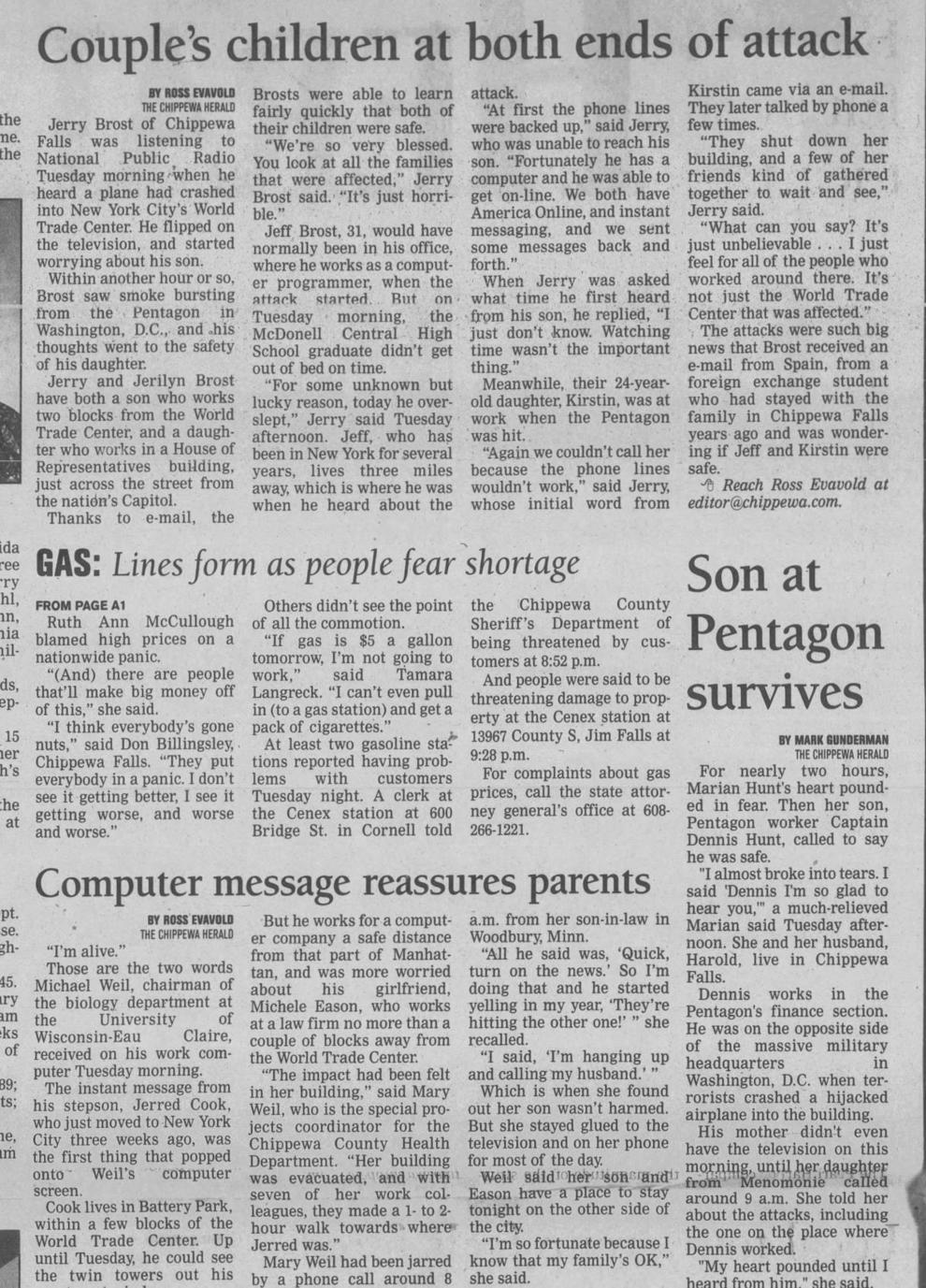 Chippewa_Herald_Telegram_Wed__Sep_12__2001_ (2).jpg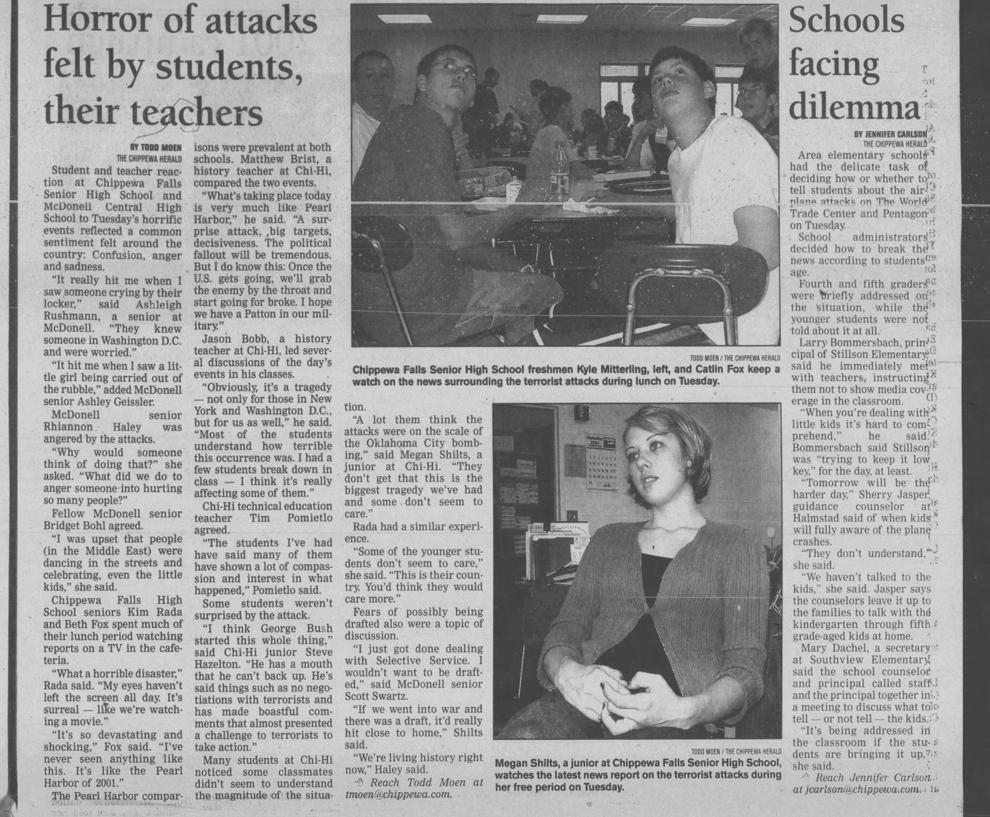 Chippewa_Herald_Telegram_Wed__Sep_12__2001_ (3).jpg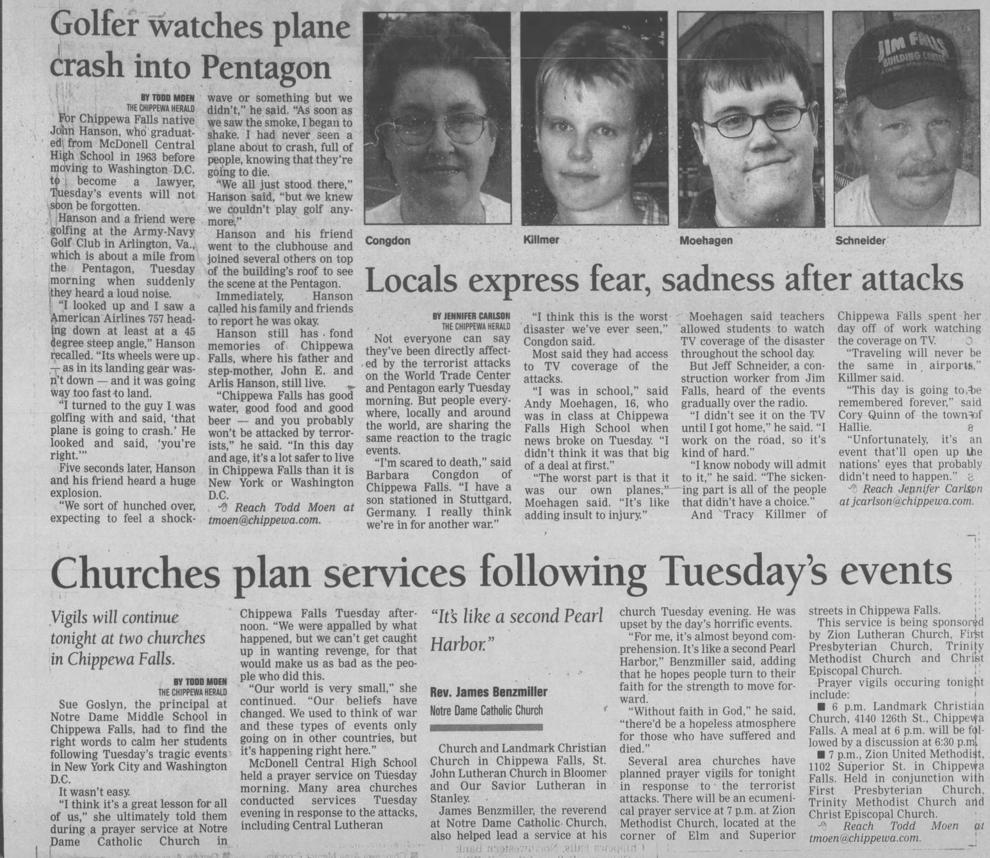 Chippewa_Herald_Telegram_Wed__Sep_12__2001_.jpg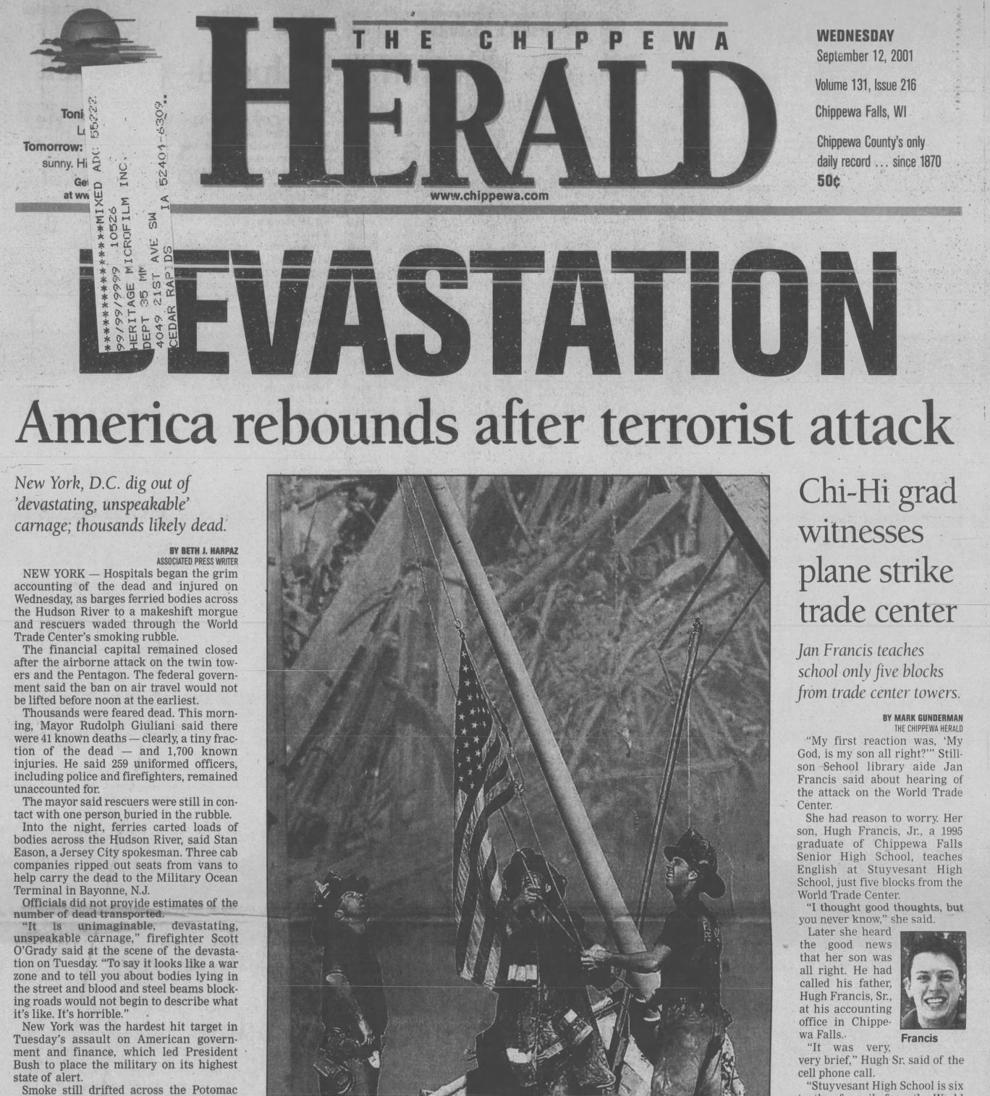 Chippewa_Herald_Telegram_Mon__Sep_17__2001_.jpg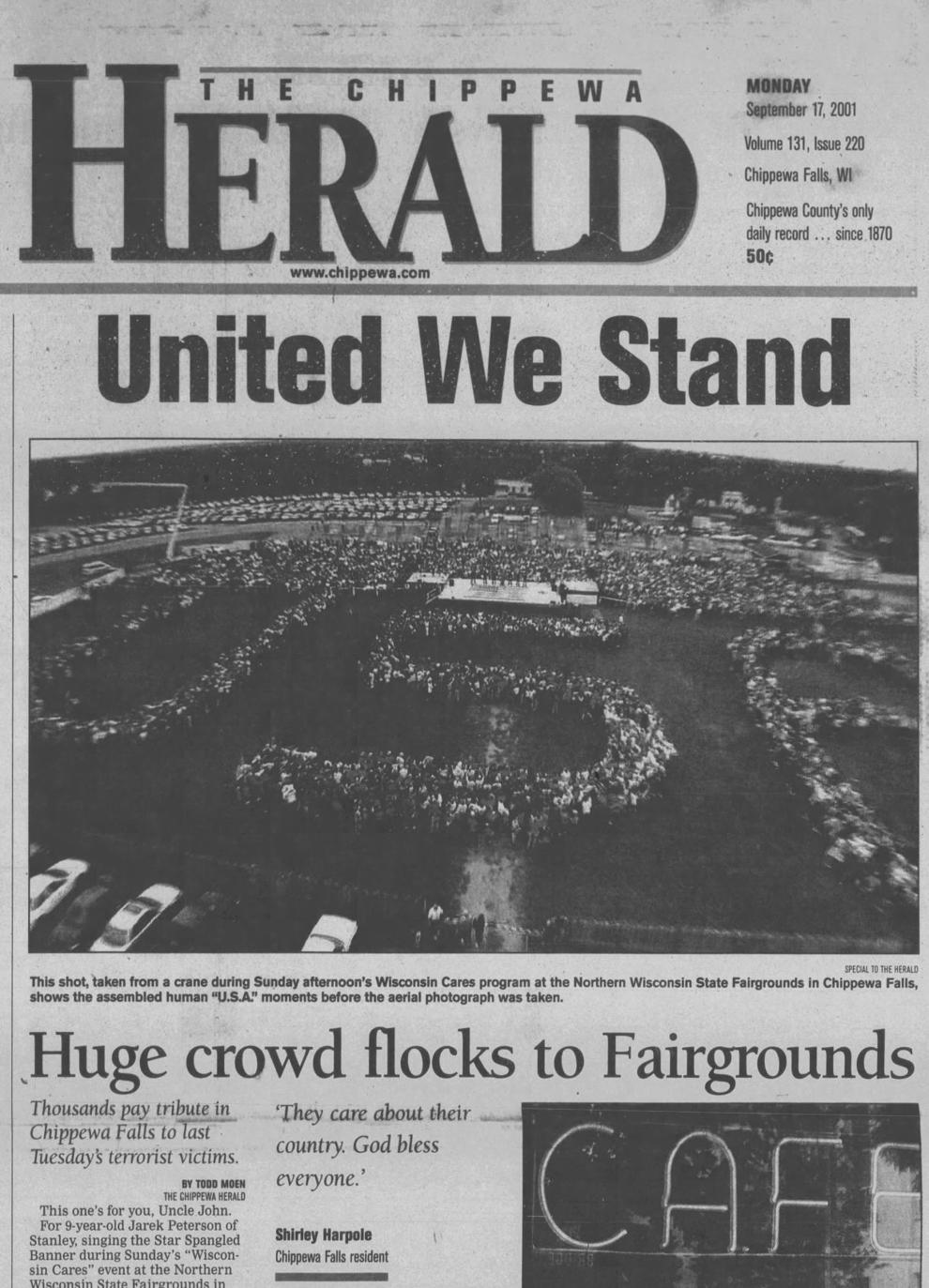 The_Winona_Daily_News_Wed__Sep_12__2001_.jpg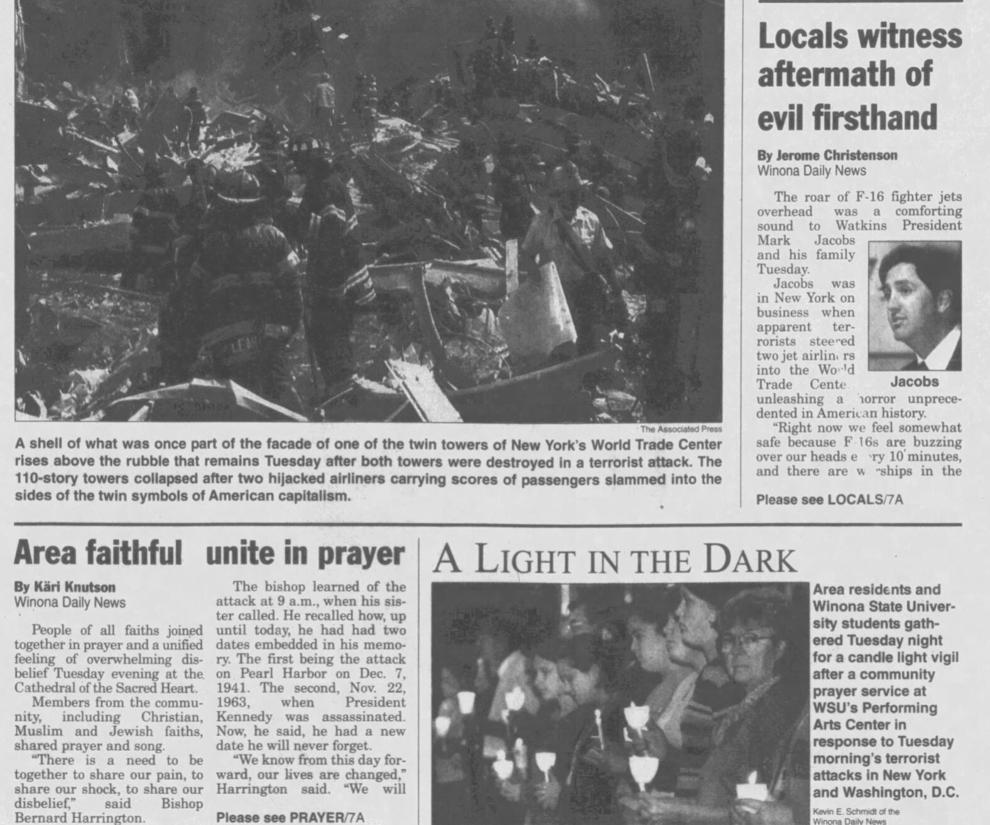 The_Winona_Daily_News_Thu__Sep_13__2001_.jpg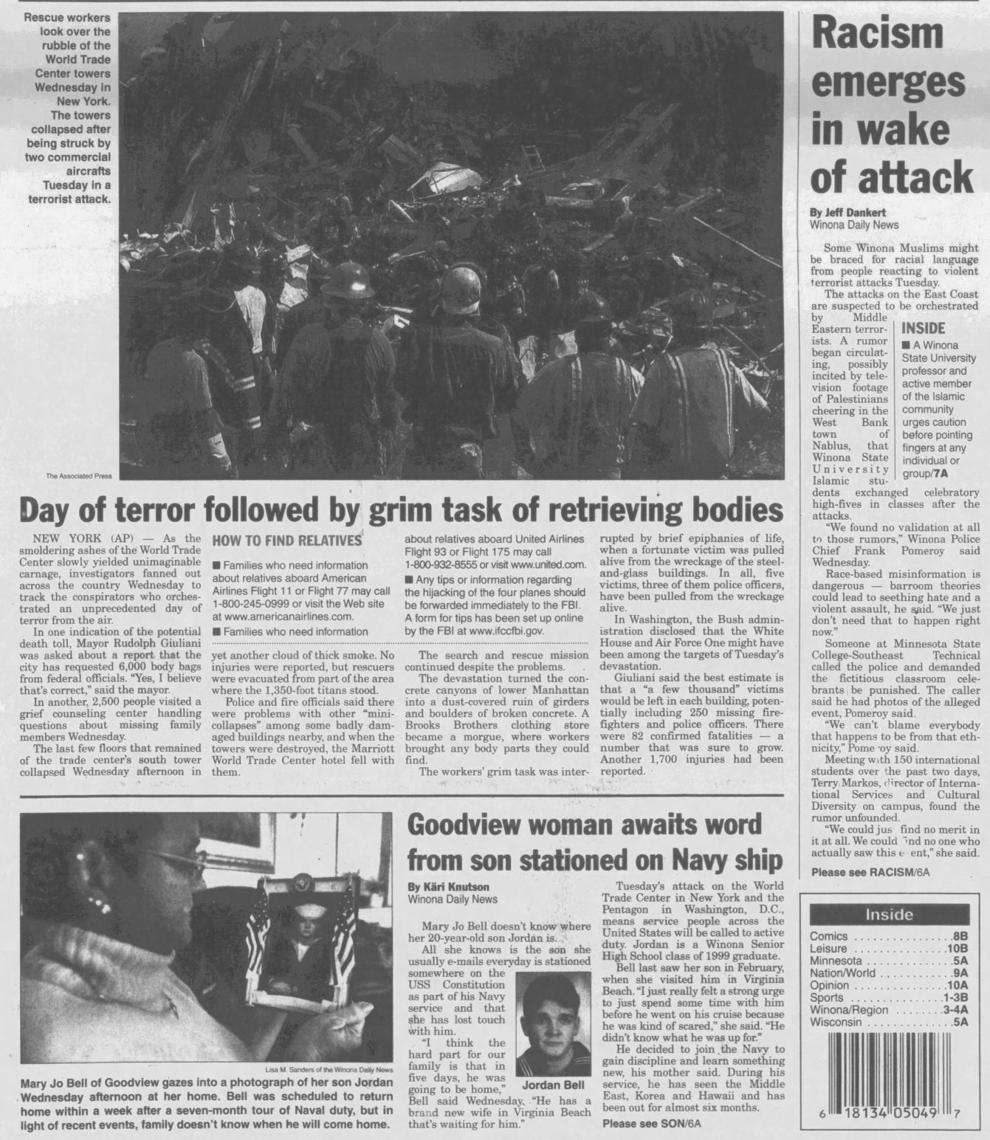 The_Winona_Daily_News_Fri__Sep_14__2001_.jpg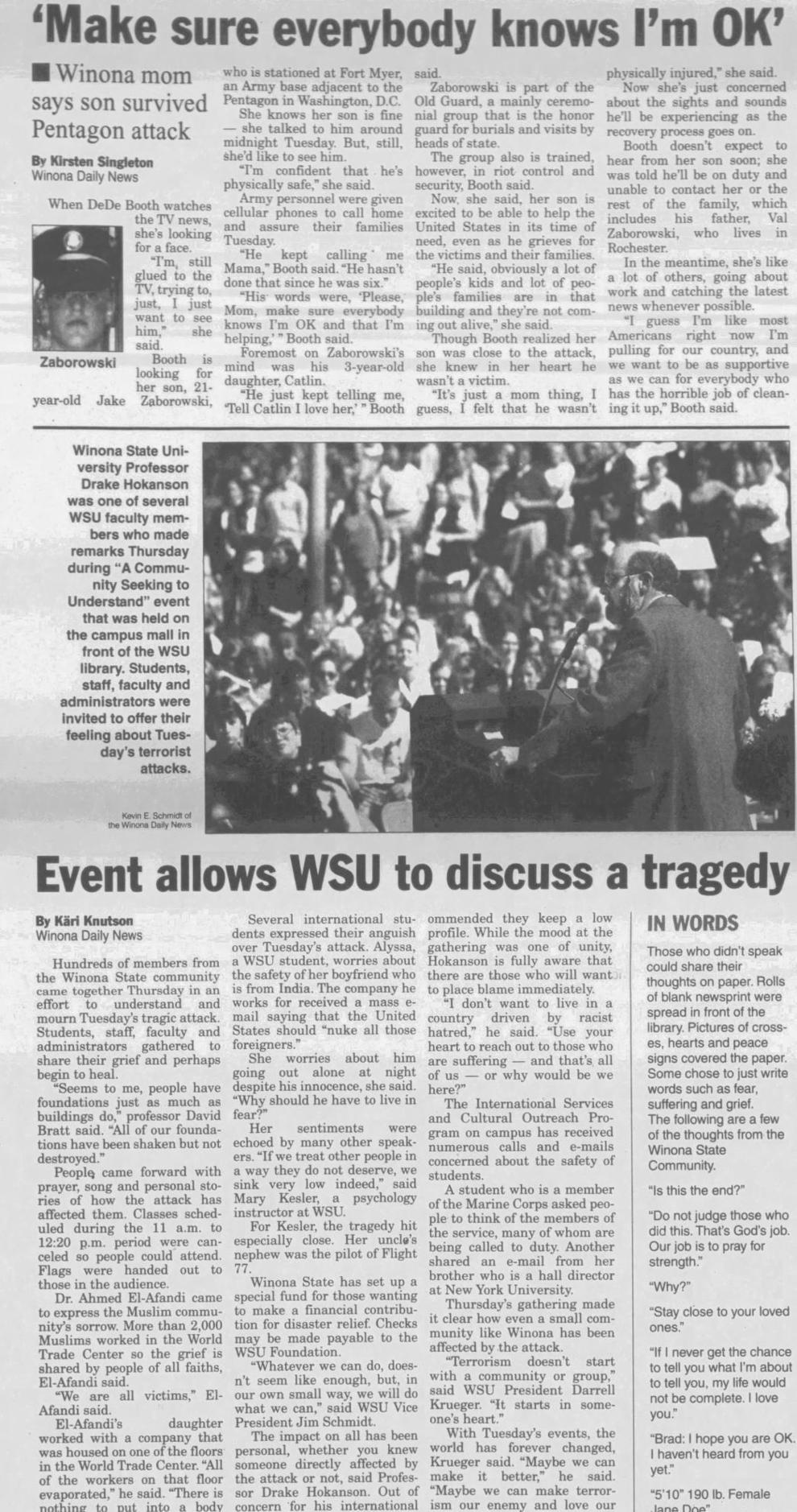 Remembering and reflecting on Sept. 11, 2001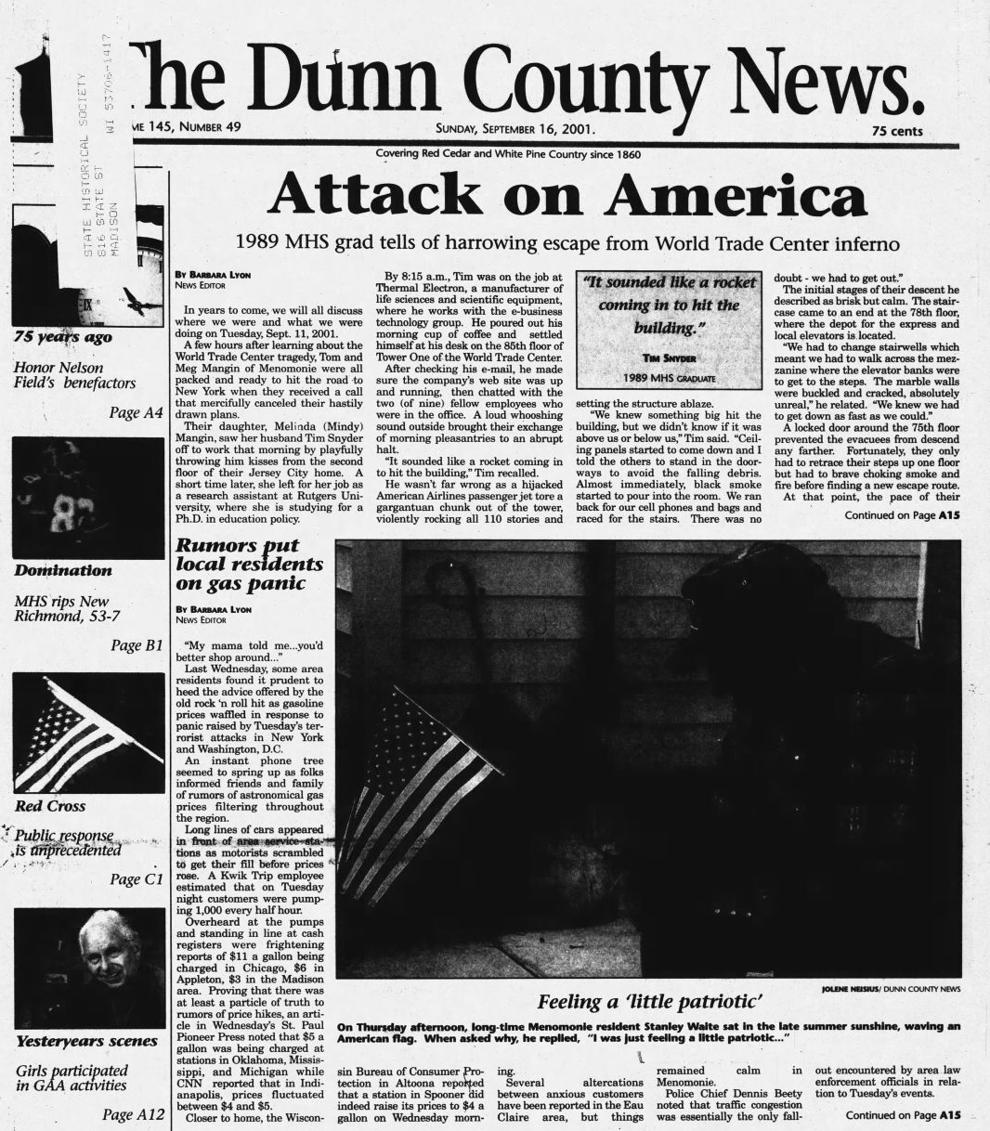 Remembering and reflecting on Sept. 11, 2001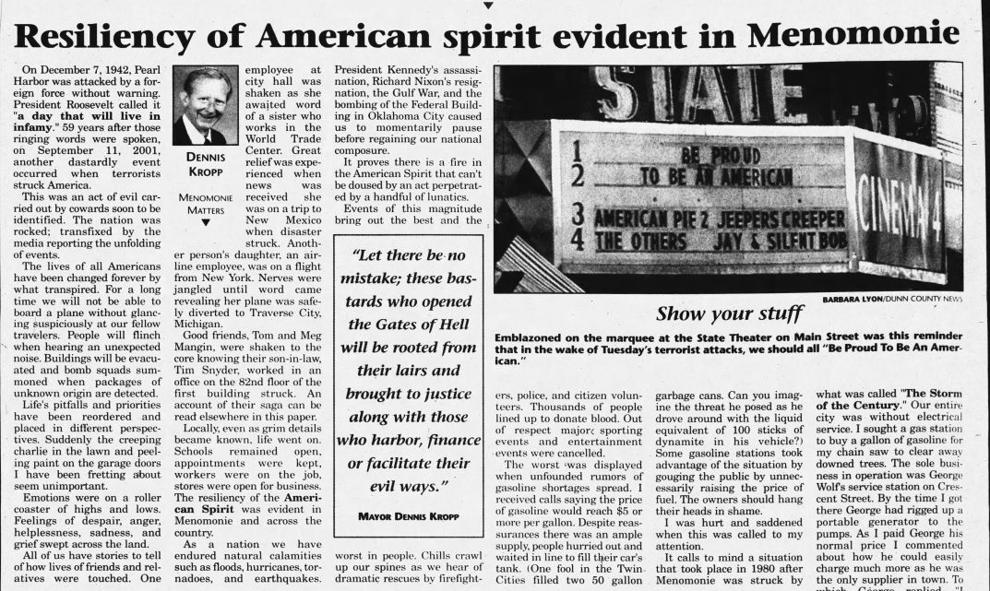 Wisconsin_State_Journal_Wed__Sep_12__2001_1.jpg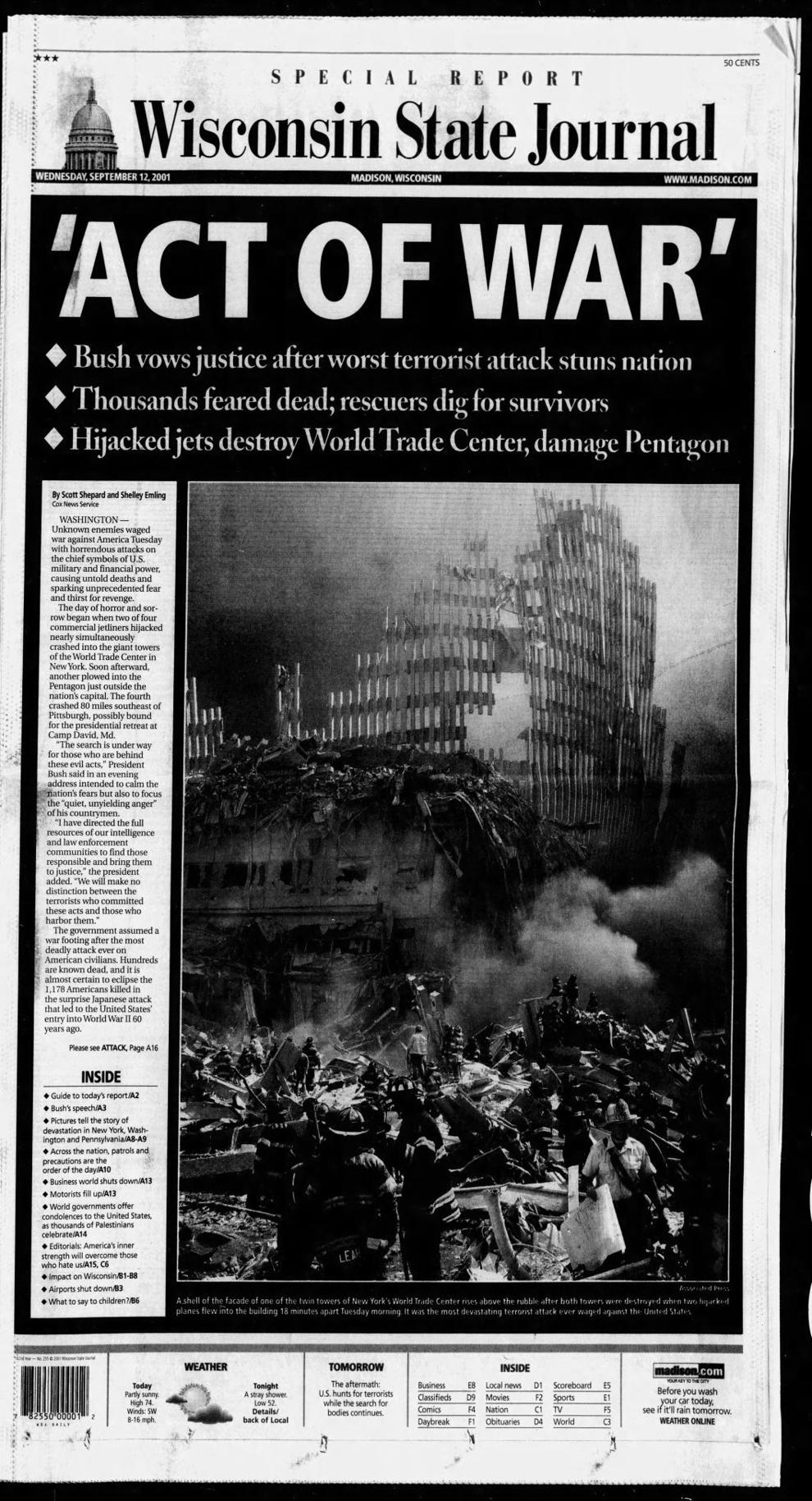 Wisconsin_State_Journal_Wed__Sep_12__2001_.jpg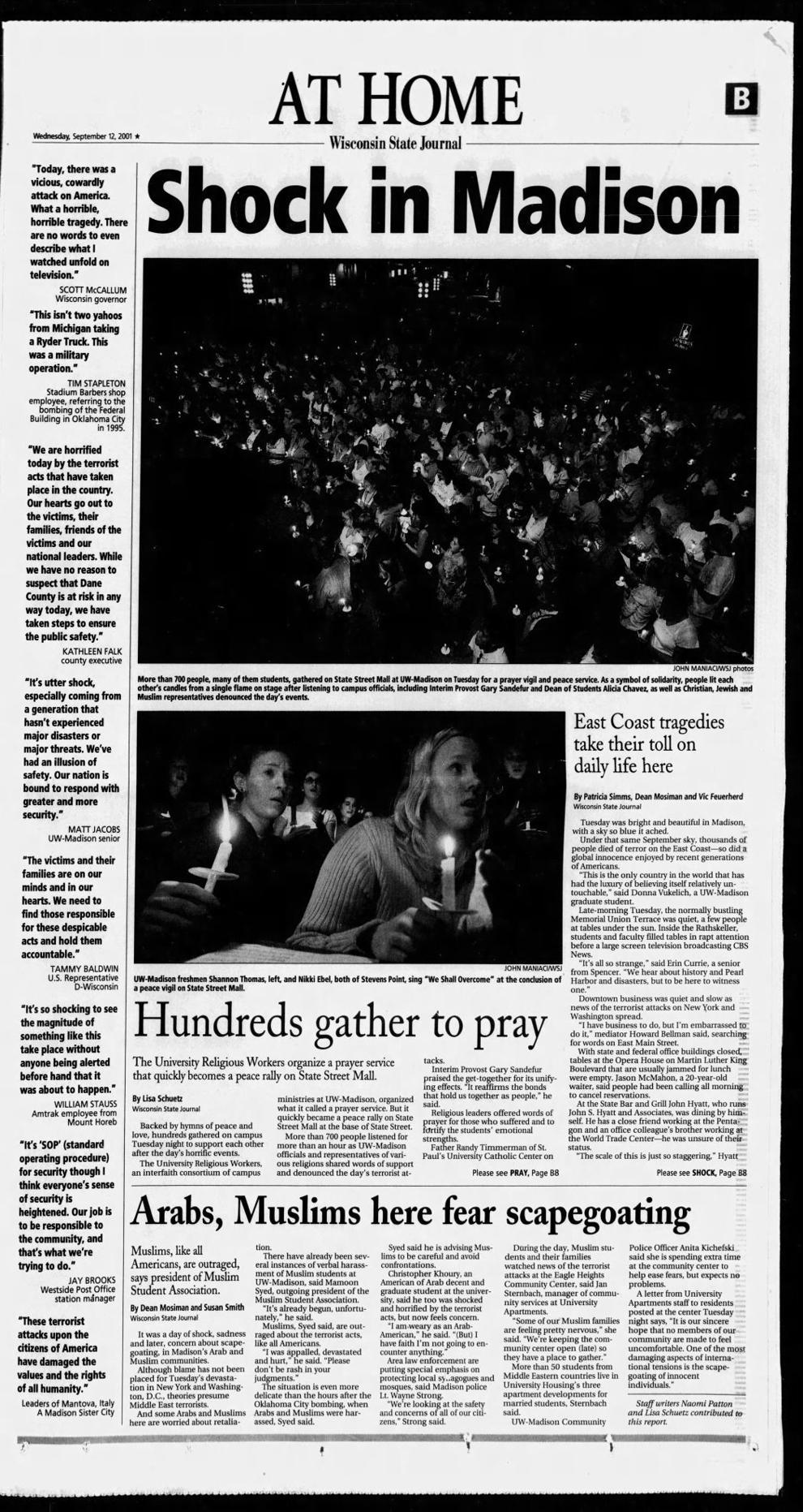 Wisconsin_State_Journal_Wed__Sep_12__2001_ 3.jpg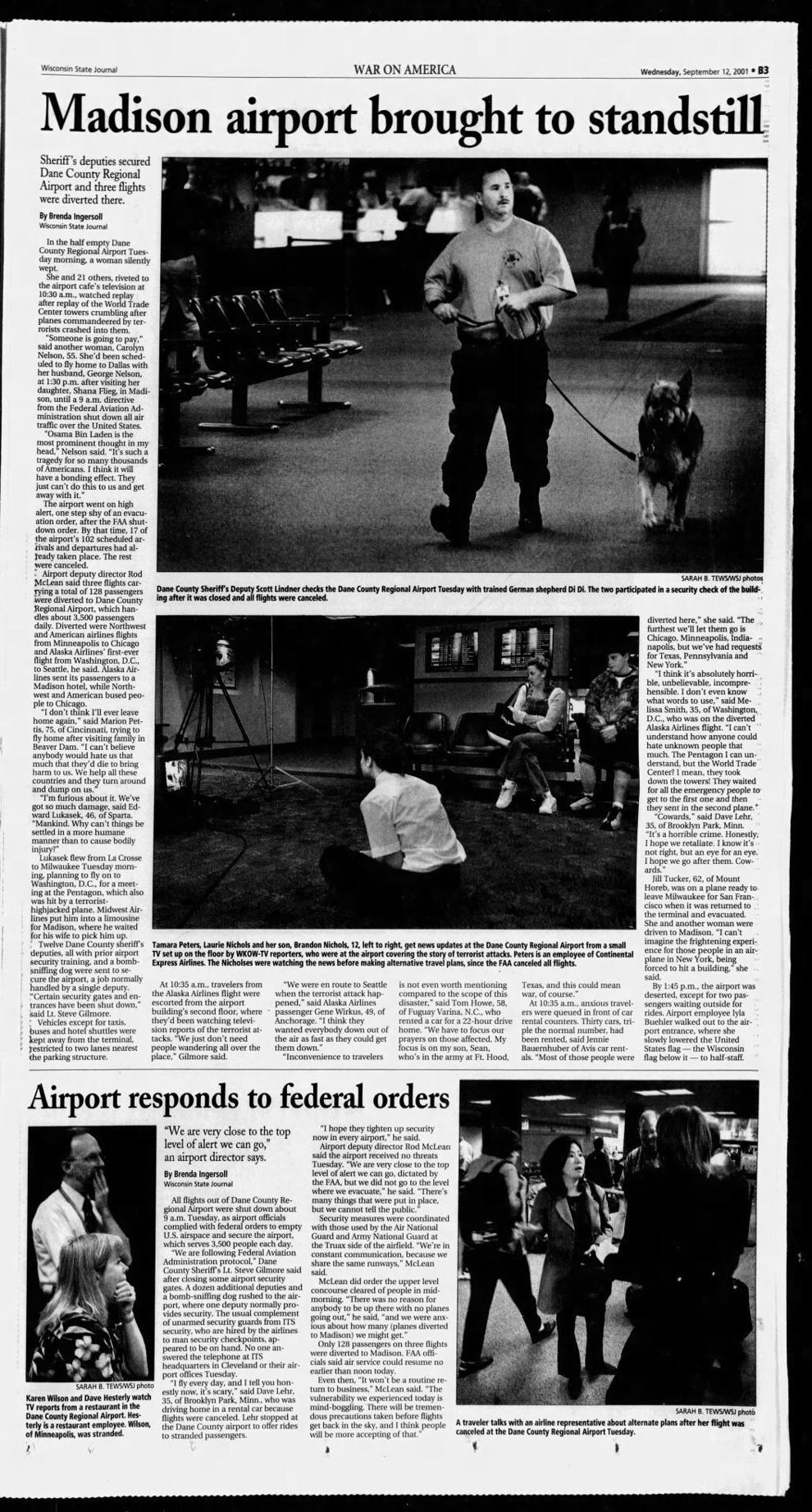 Wisconsin_State_Journal_Wed__Sep_12__2001_ 4.jpg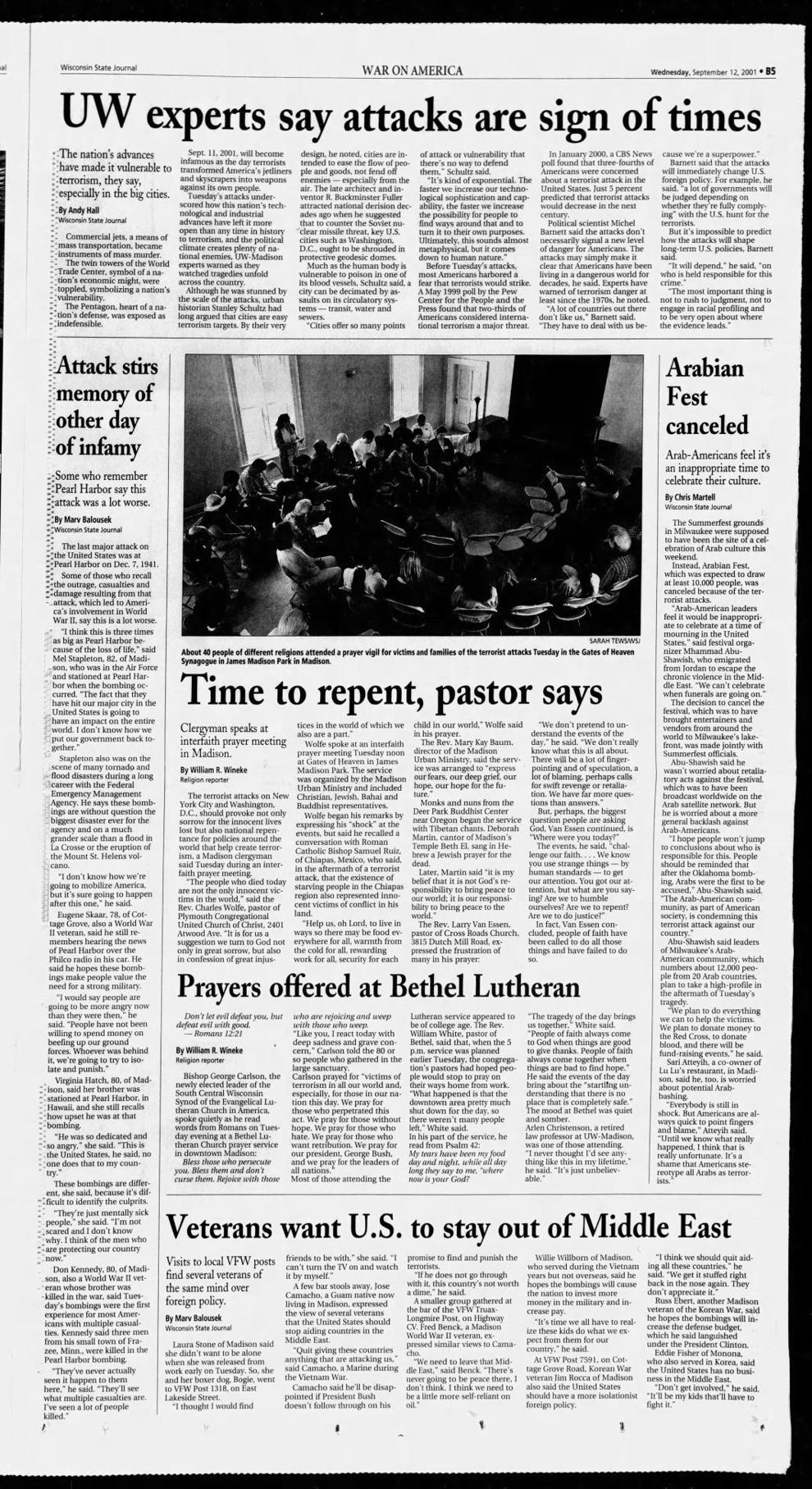 Wisconsin_State_Journal_Wed__Sep_12__2001_2.jpg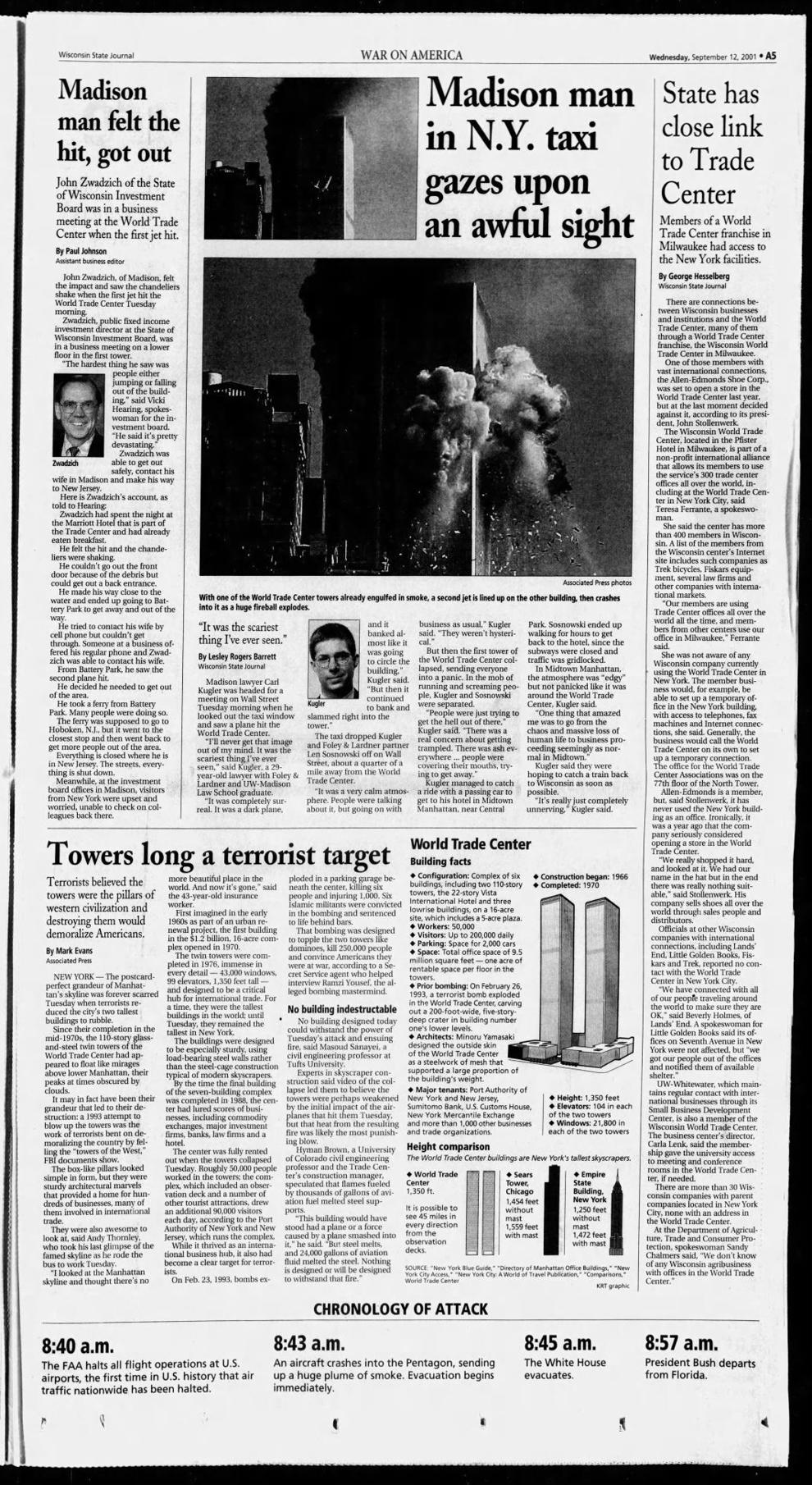 The_Daily_Tribune_Wed__Sep_12__2001_3.jpg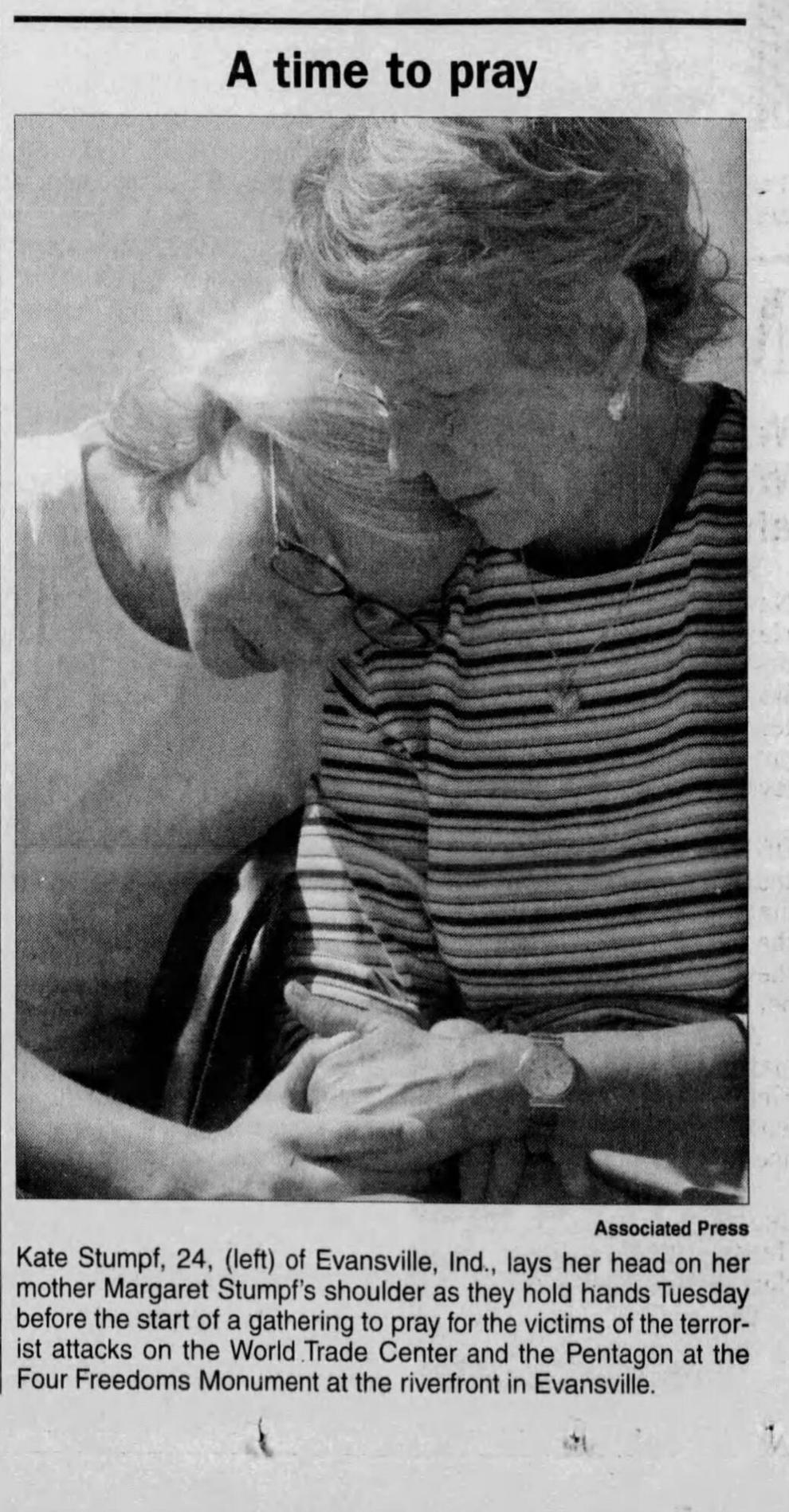 The_Daily_Tribune_Wed__Sep_12__2001_2.jpg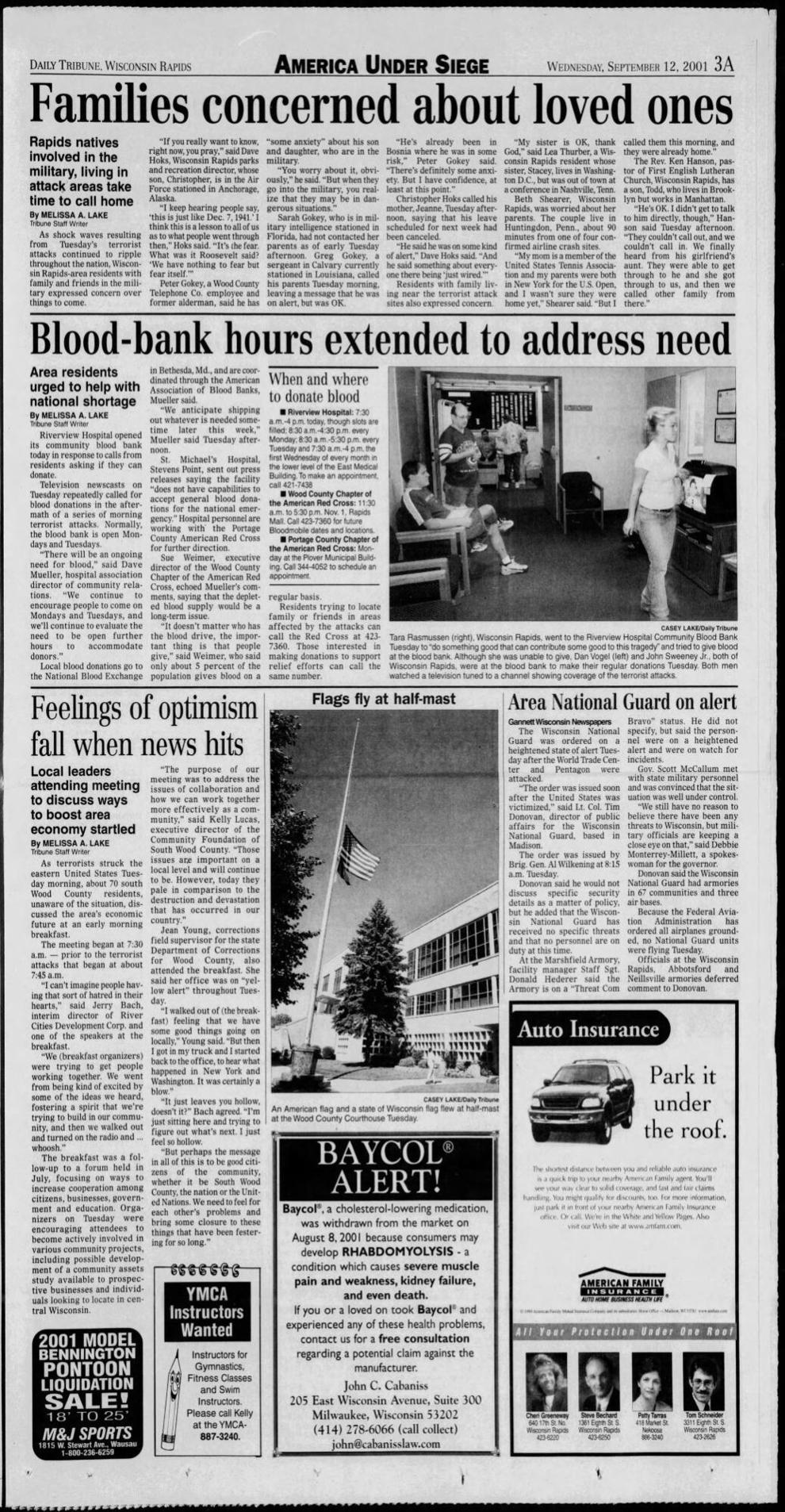 The_Daily_Tribune_Wed__Sep_12__2001_1.jpg