It started with a knock at the door of the La Crosse Tribune conference room.
Jackie Kaiser, our terrific features editor, wanted our management team to know that a plane had struck a tower of the World Trade Center.
We really didn't know much more. Was it an accident involving a small plane? We had no reason to suspect what was to come.
Then, a second knock – a second plane, the second tower, a clear act of terror.
The world had changed and we quickly scrambled to produce an Extra! edition of the Tribune and the Winona Daily News for the afternoon of Sept. 11.
Yes, we had websites – and we used them. (In fact, the Extra! edition points readers to our website for continuous updates.)
But the printed product was still the way most people got their news. Collecting a big edition was the best way to preserve memories – good or evil.
In the newsroom, we dispatched reporters to find out what was happening in La Crosse and Winona.
Dick Riniker captured the photo of grounded travelers watching TV in the bar of the La Crosse Regional Airport.
We reported on local law enforcement preparing for a crisis and local clergy planning prayer services.
As the stories and photos poured in, we called in our Page 1 editor hours before his shift was scheduled.
We also had to call in a press crew and recruit hawkers – including some of our staff members – to sell the Extra! editions on street corners downtown.
As deadline for the Extra! approached, I ran out of my office and right into a crowd of staff members from other departments who stood staring at the newsroom TV.
I wanted to yell at them to get the hell out of my way and get back to work.
But they were simply doing what everyone around the world was doing. There were no customers to call on, no phones to answer. From schools to workplaces to homes, everyone was watching the horror unfold on their much smaller TV screens.
Unless you were covering the catastrophe, everything else stopped.
When the presses were rolling and the hawkers were hitting the streets, I finally sat for a few minutes to take a breath and begin planning coverage for the Sept. 12 edition.
For the first time, I glanced at the TV and saw the horrific sight of a jetliner slamming a skyscraper.
I will never forget it – and I've avoided watching it ever since.
The press plates from that Extra! edition sit in my basement, and the headlines say it all:
"Series of attacks spreads fear across nation"
"La Crosse County prepares for crisis"
"Winonans shocked as news of attack unfolds"
"Airline travelers grounded as precaution after attacks"
It was excellent journalism on a horrible day.
As the horror grew and the planning continued for the next edition, I desperately wanted to talk to my wife and son.
The news meant a family dinner was out of the question, and it was difficult to get through on the phone. Once I knew they were safe at home, I took comfort on a day there was precious little.
Months later, a New York photographer presented a seminar for the Wisconsin Newspaper Association.
In addition to sharing photos and war stories of covering 9/11, he discussed how he and his colleagues had received counseling to help deal with the horrific trauma of that day.
It hit home. As a reporter who has seen his share of bodies at car wrecks, fires and homicides, I became much more sensitive and active about providing support to our reporters who cover traumatic news.
Today, I think of the traumatic challenges that journalists – that all of us – have endured during COVID-19.
Sadly, that story continues to develop.
As for the anniversary of Sept. 11, 2001, it was clearly a day when a generation lost its innocence.
But I don't have to watch that awful act of terror in the sky.
Two decades later: Remembering and reflecting on Sept. 11, 2001
09-12-01-1.jpg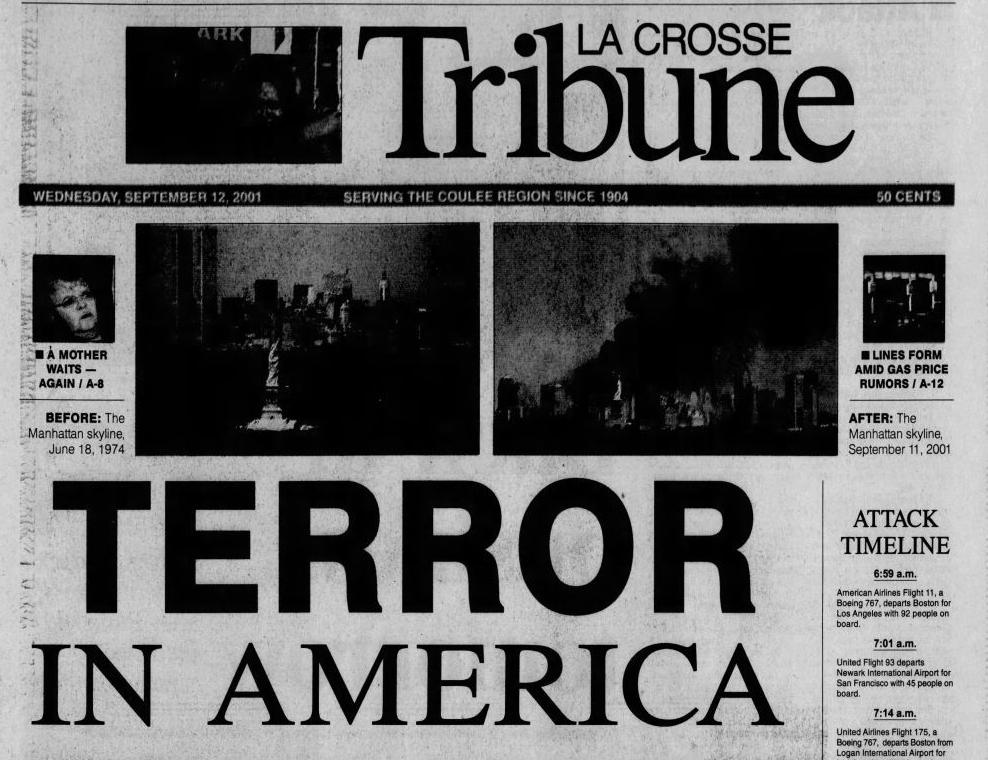 09-12-01-2.jpg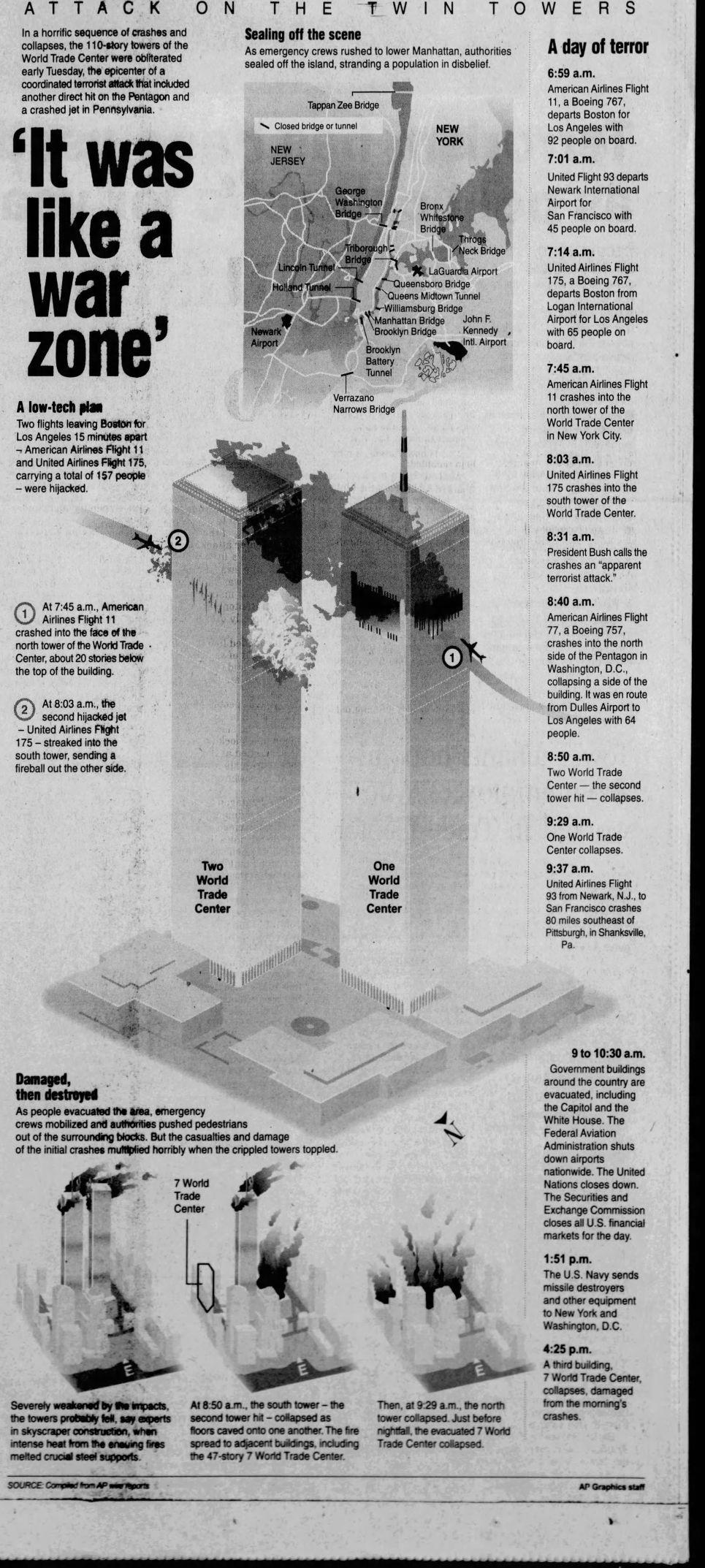 09-12-01-3.jpg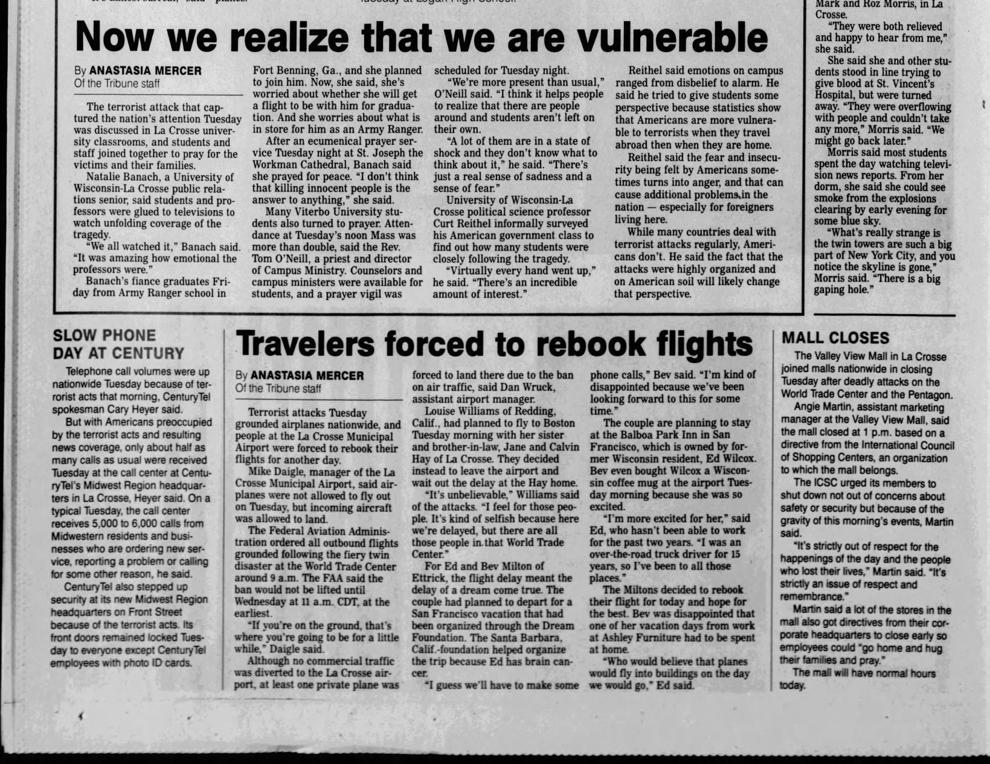 09-12-01-3v2.jpg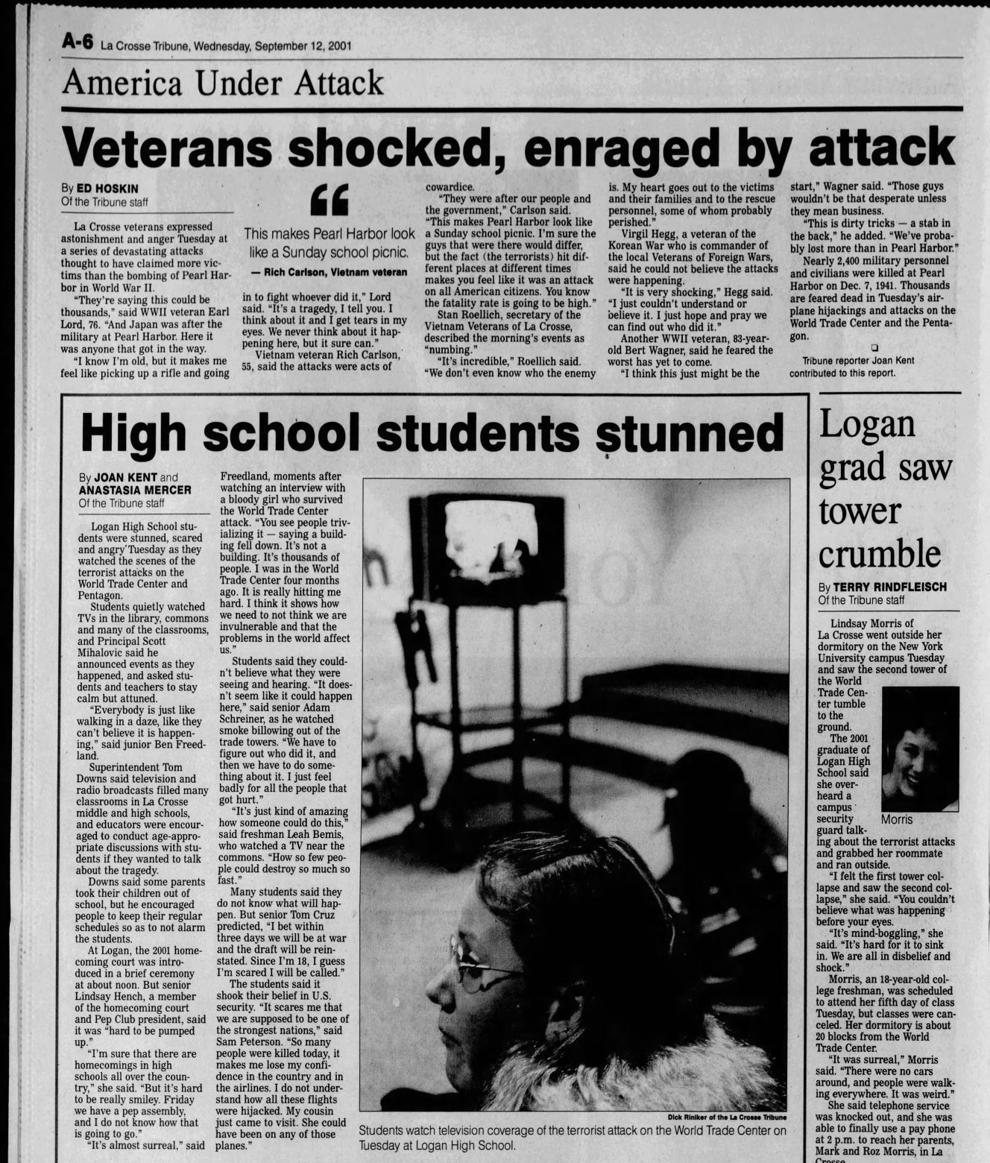 09-12-01-4.jpg

09-12-01-5.jpg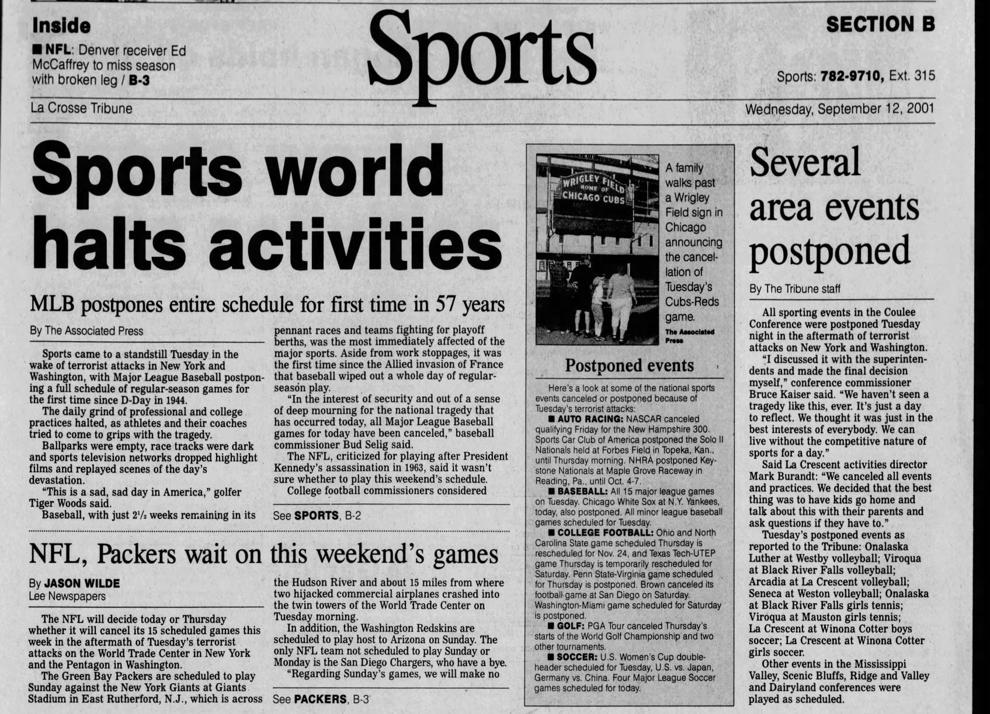 09-13-01-3v2.jpg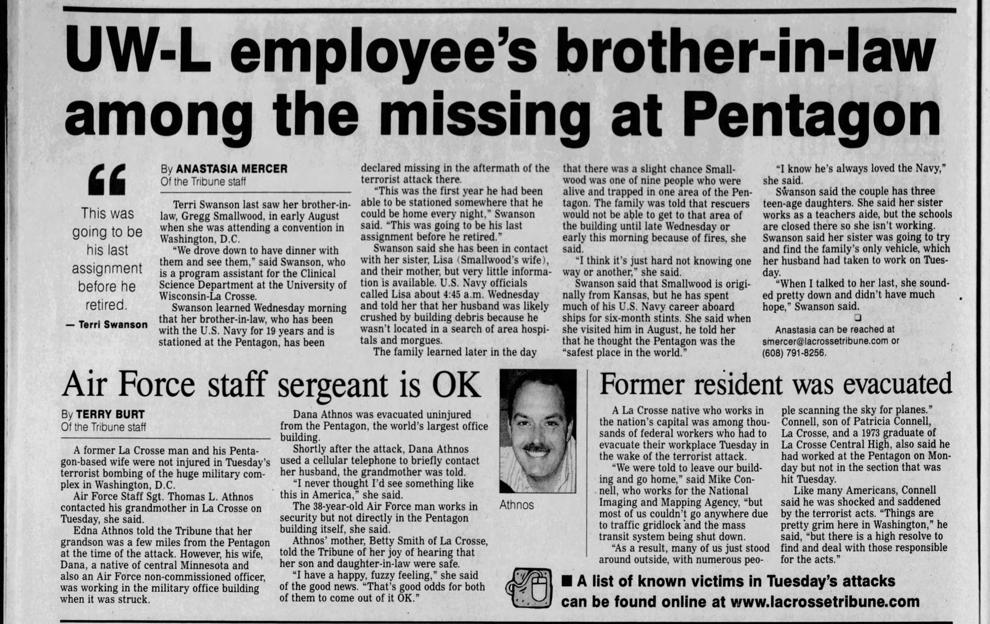 09-13-01-3.jpg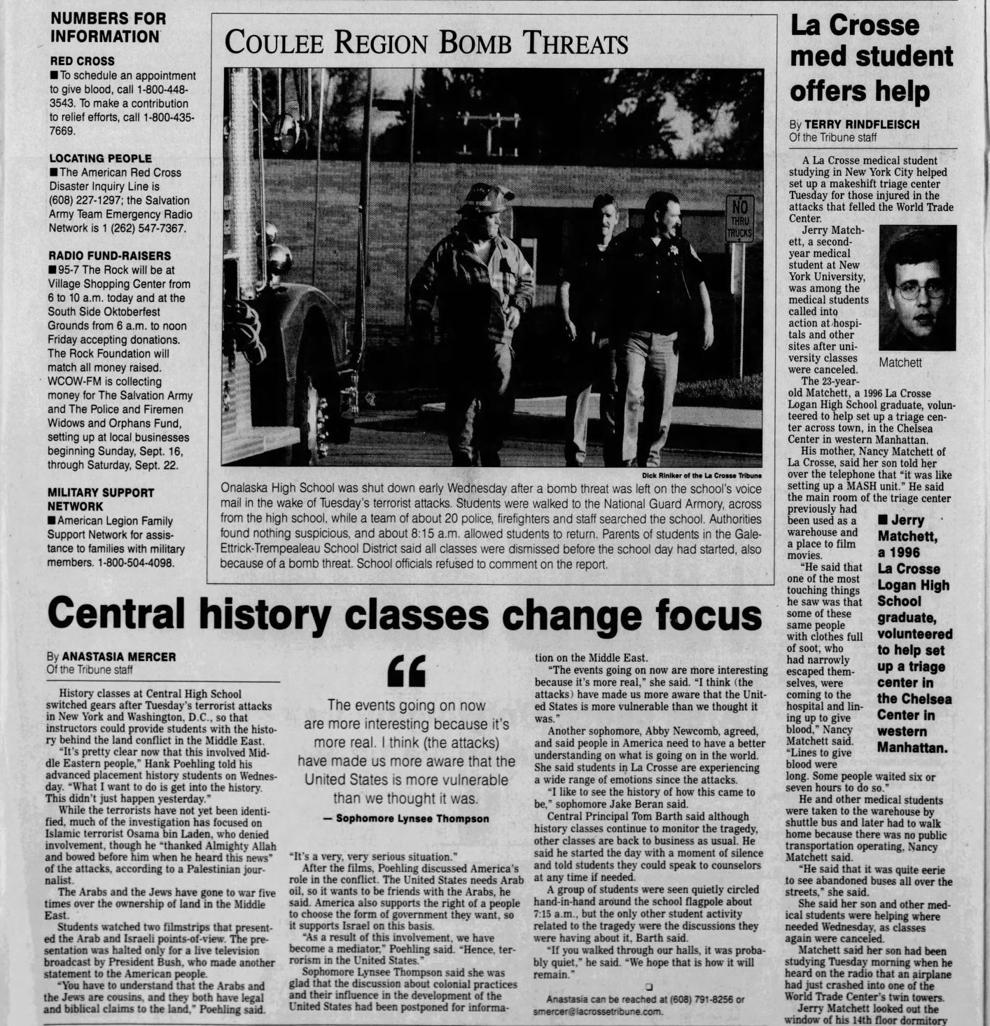 09-13-01-2v2.jpg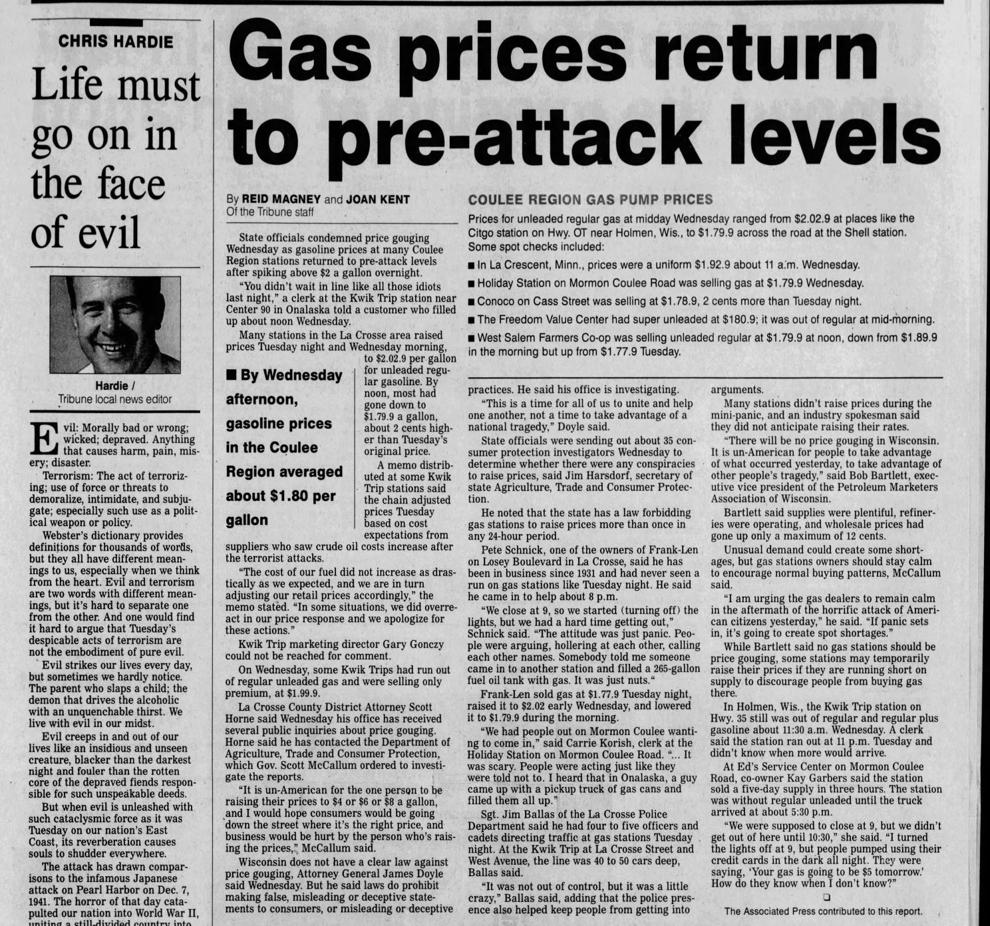 09-13-01-2.jpg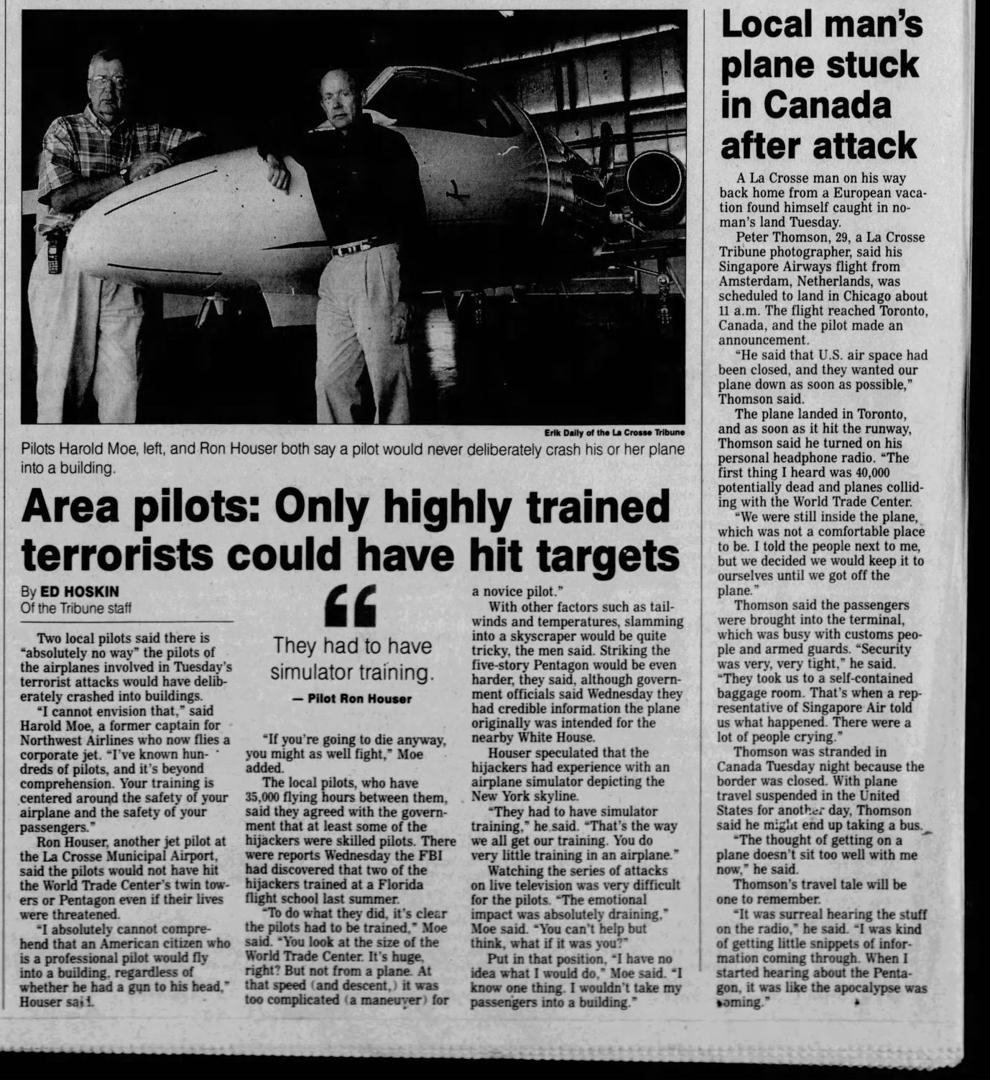 09-13-01-1v2.jpg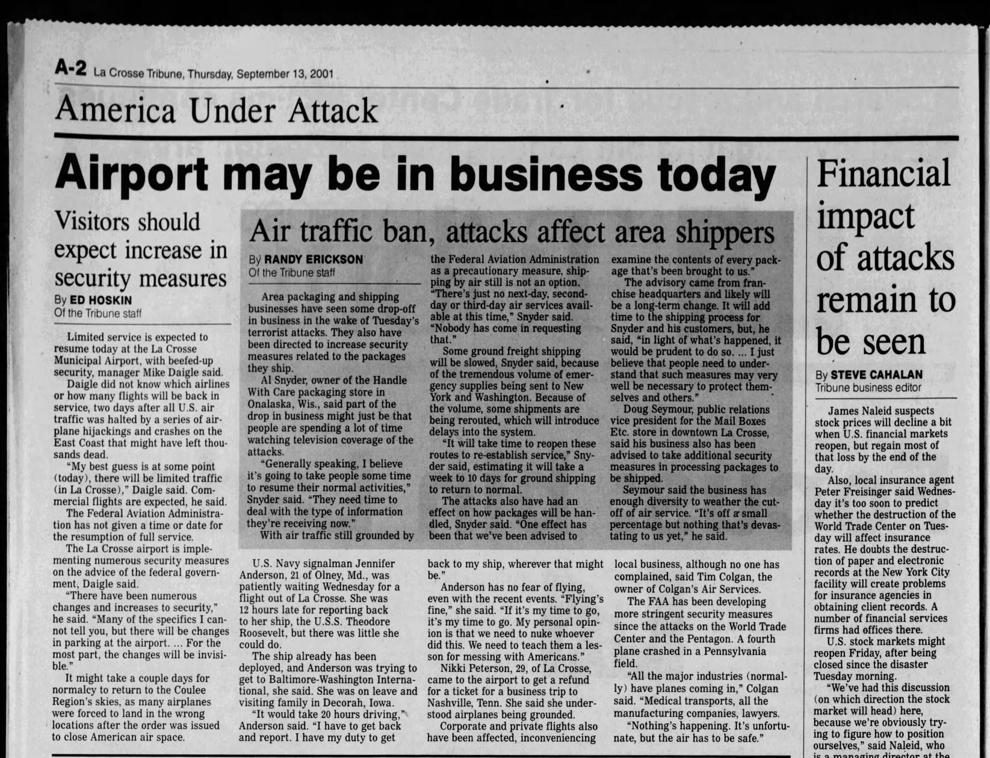 09-13-01-1.jpg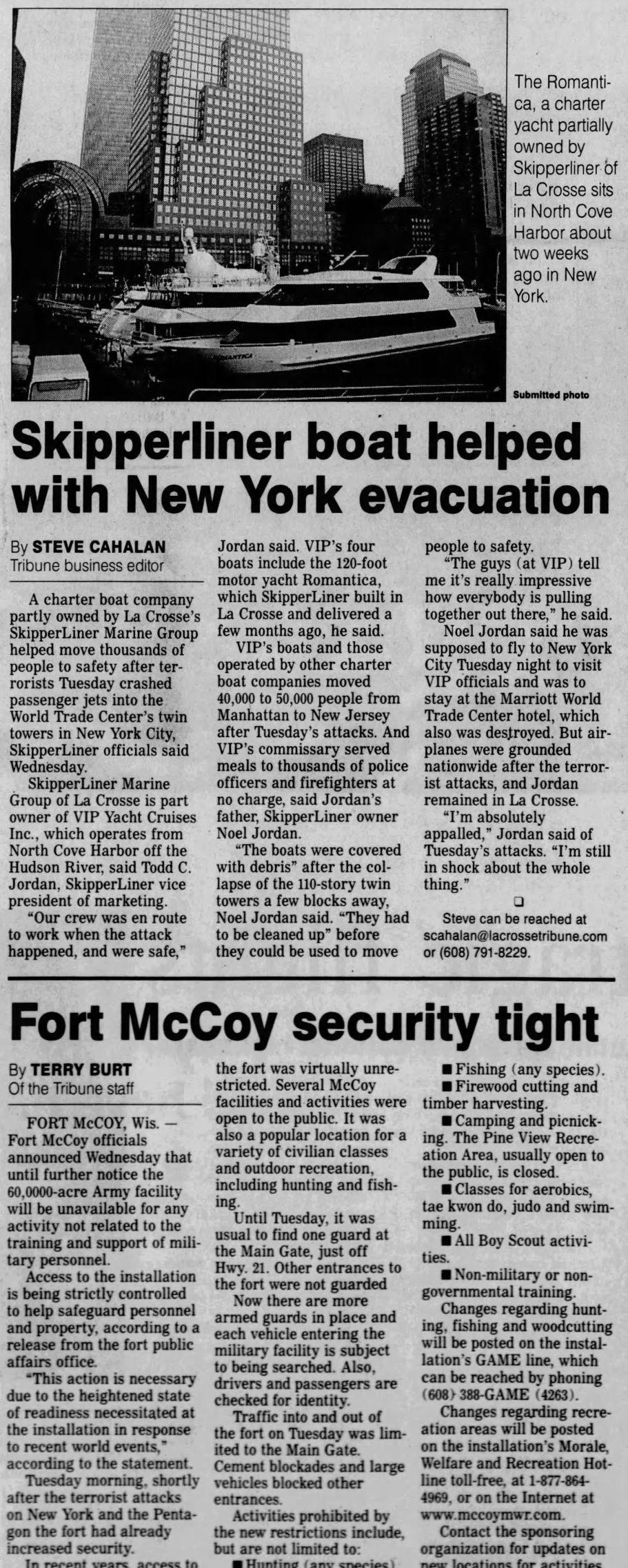 09-14-01-2.jpg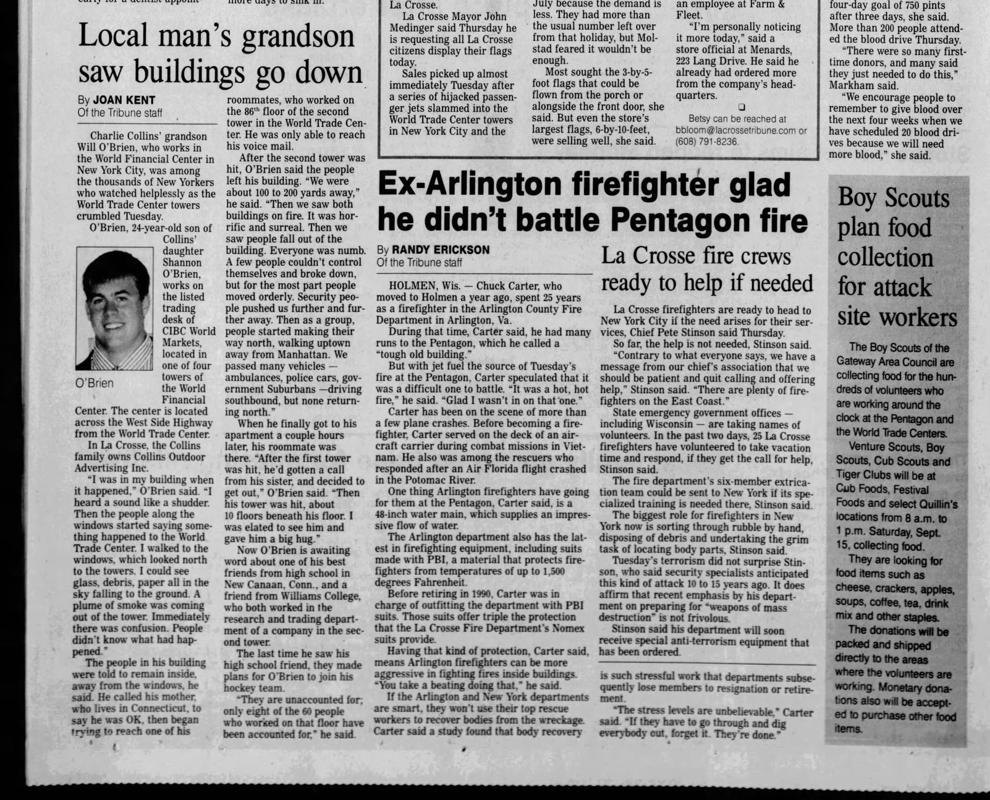 09-14-01-1v2.jpg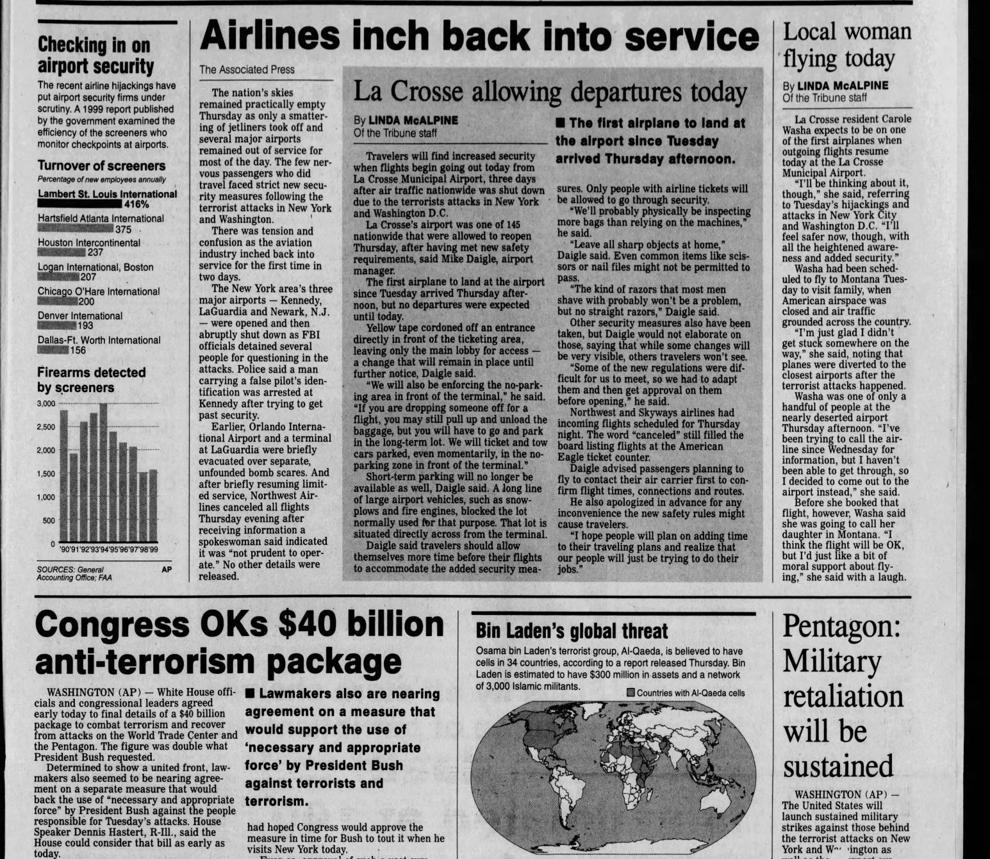 09-14-01-1.jpg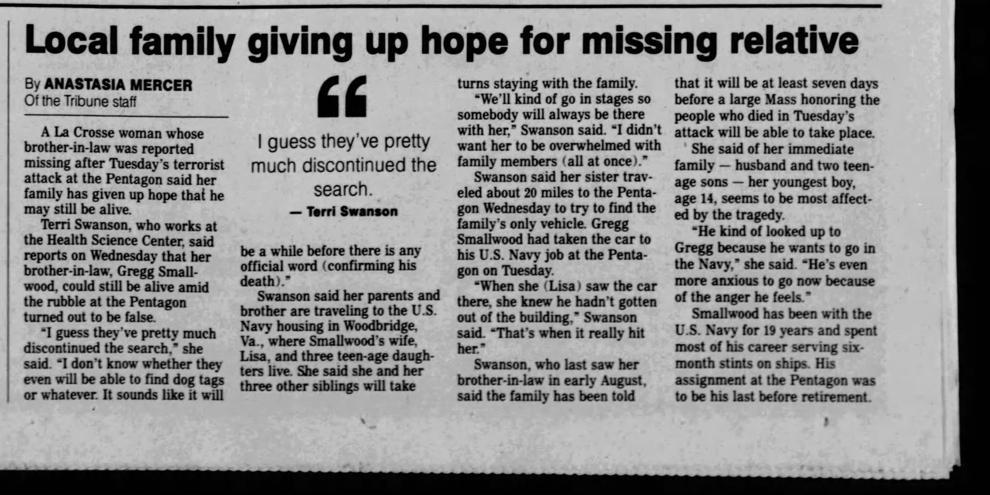 09-14-01-4.jpg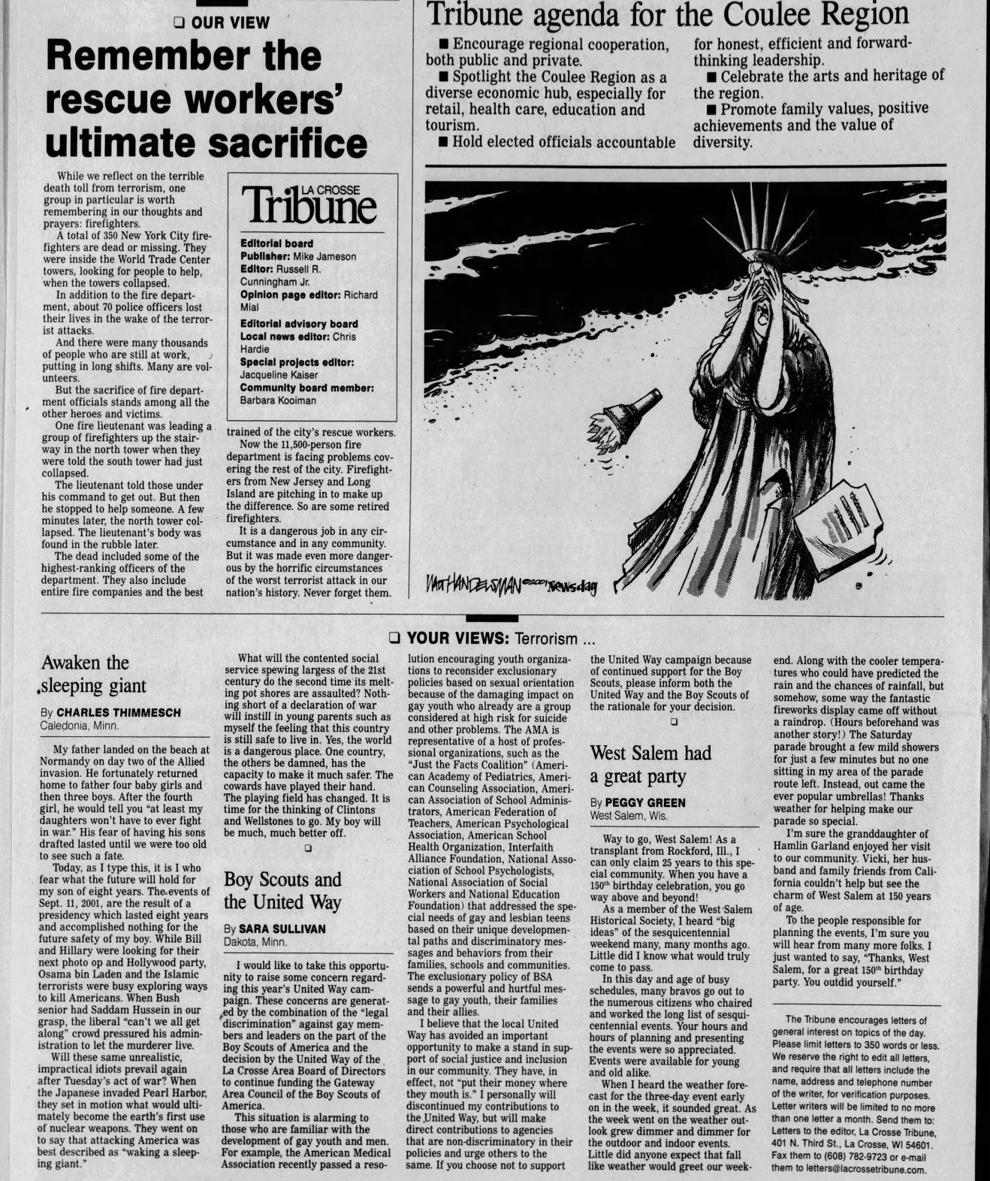 09-14-01-3.jpg

09-14-01-2v2.jpg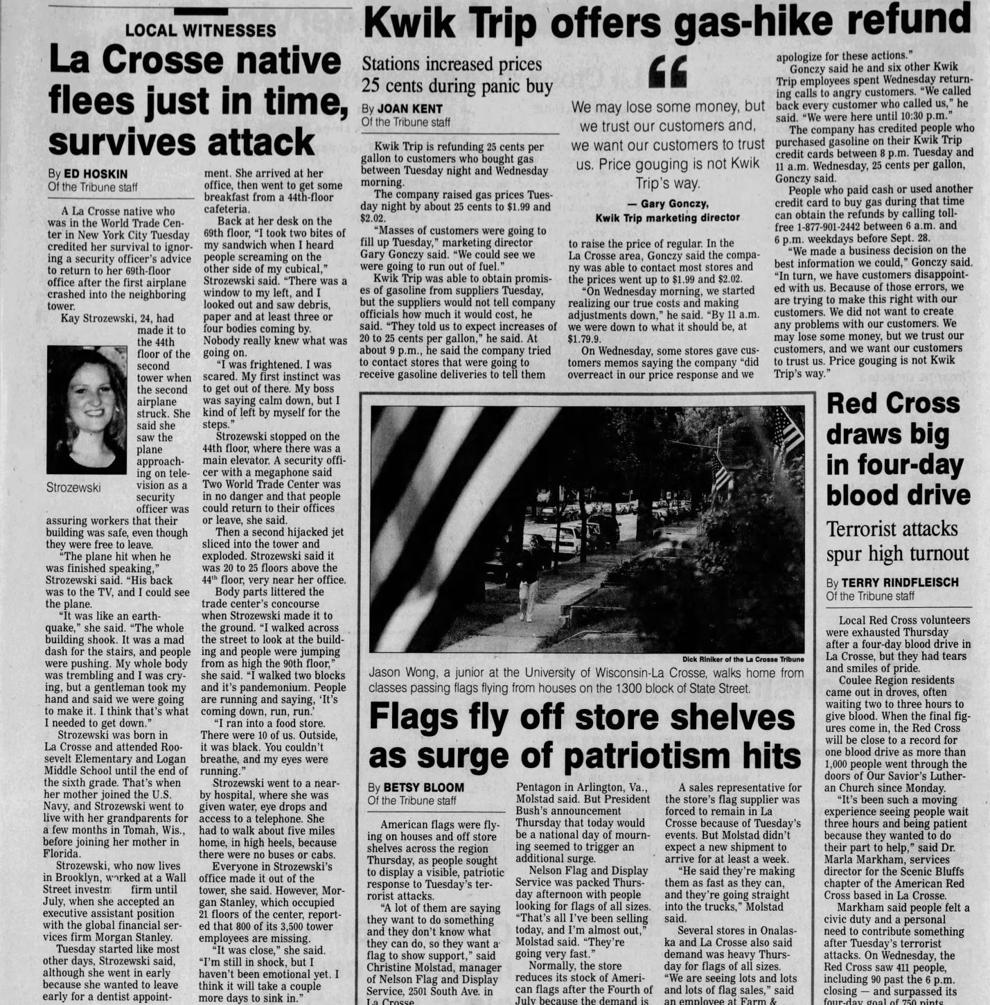 Chippewa_Herald_Telegram_Wed__Sep_12__2001_ (1).jpg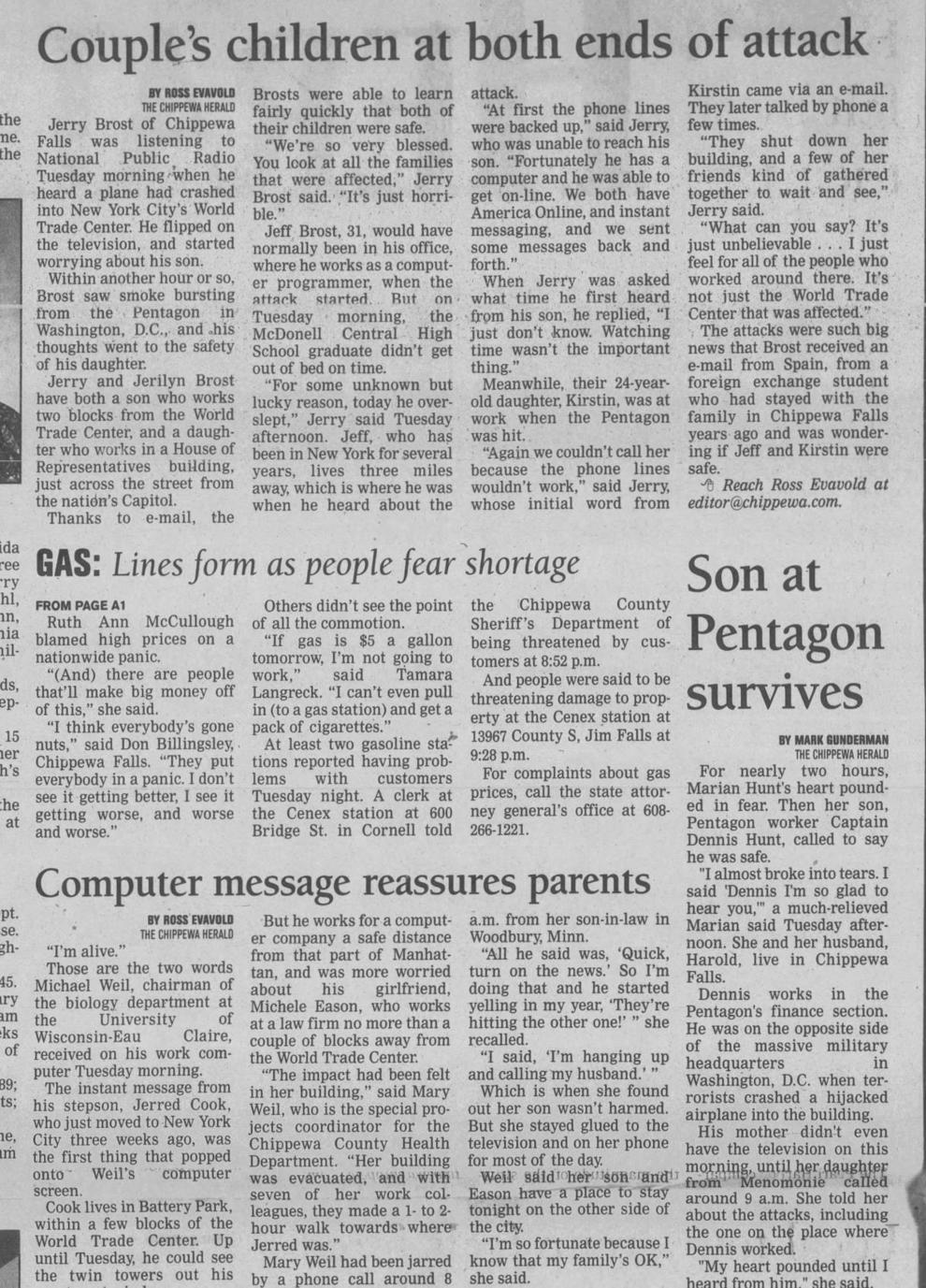 Chippewa_Herald_Telegram_Wed__Sep_12__2001_ (2).jpg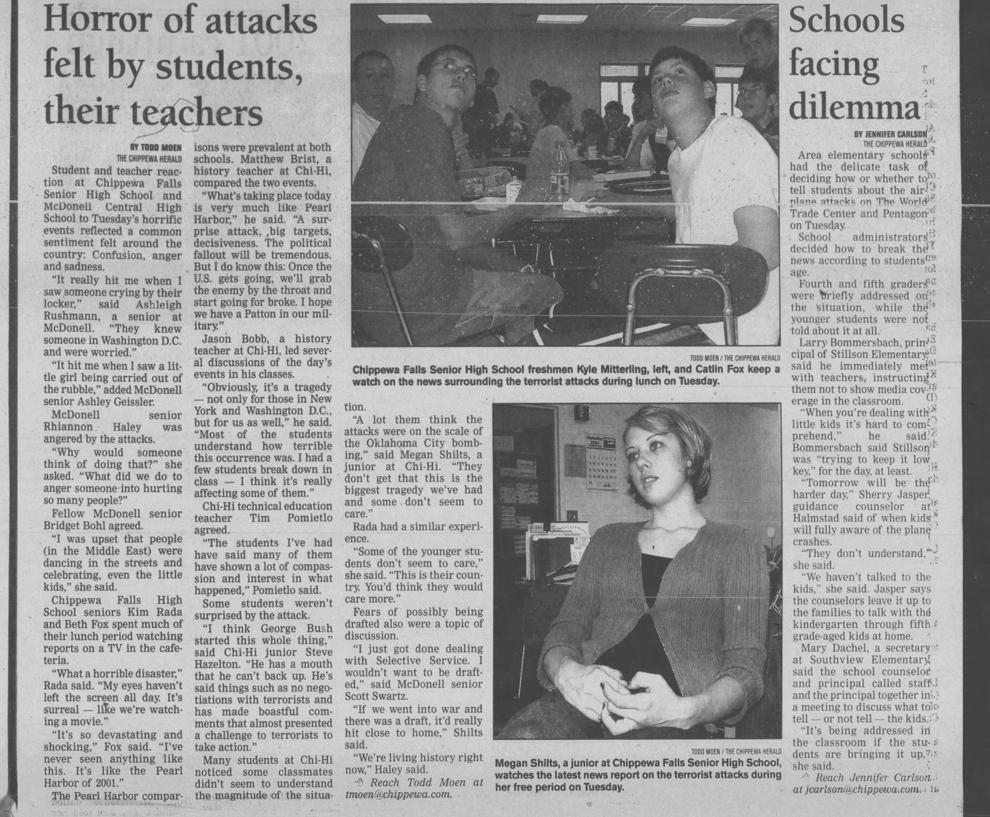 Chippewa_Herald_Telegram_Wed__Sep_12__2001_ (3).jpg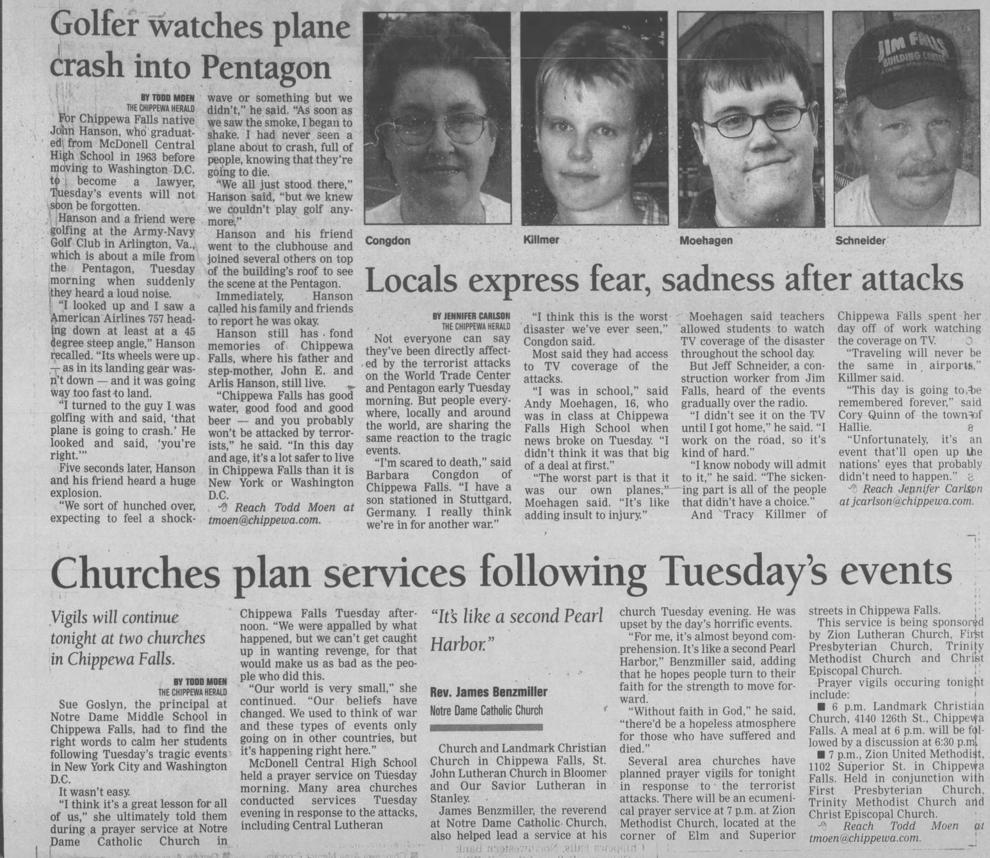 Chippewa_Herald_Telegram_Wed__Sep_12__2001_.jpg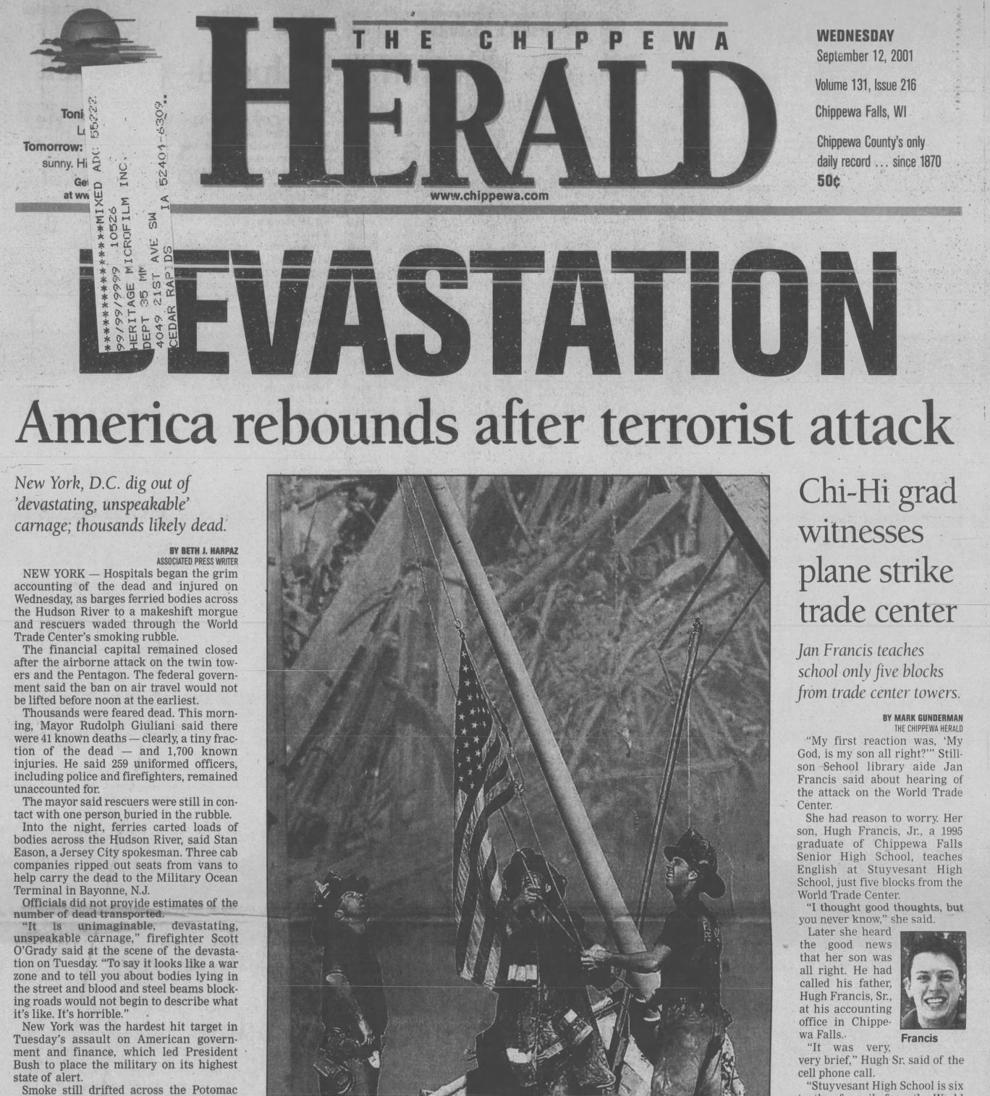 Chippewa_Herald_Telegram_Mon__Sep_17__2001_.jpg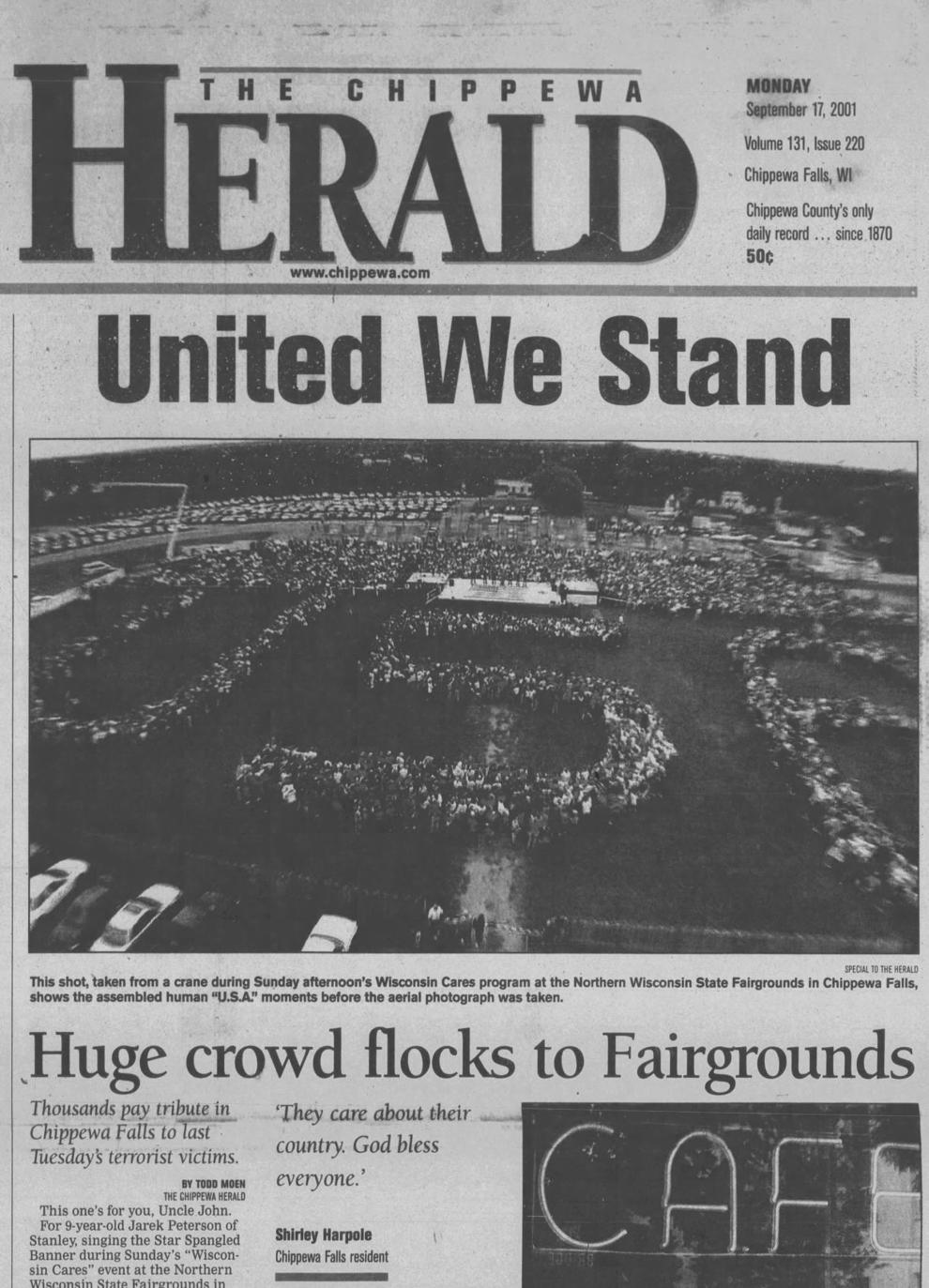 The_Winona_Daily_News_Wed__Sep_12__2001_.jpg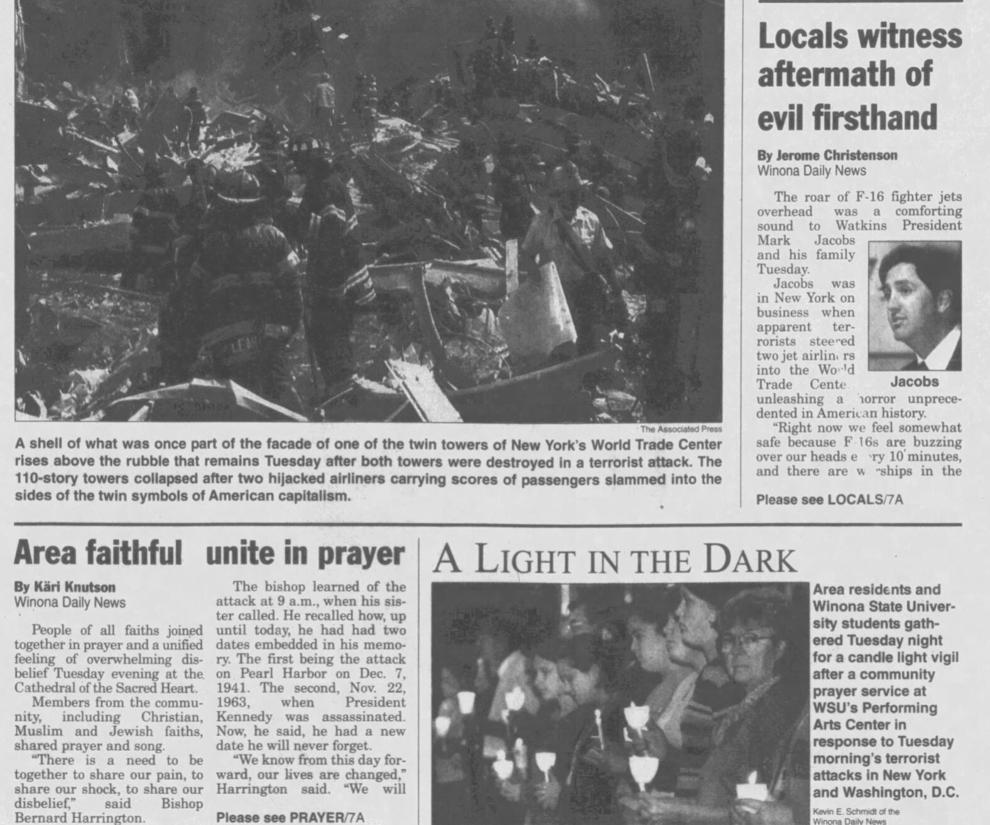 The_Winona_Daily_News_Thu__Sep_13__2001_.jpg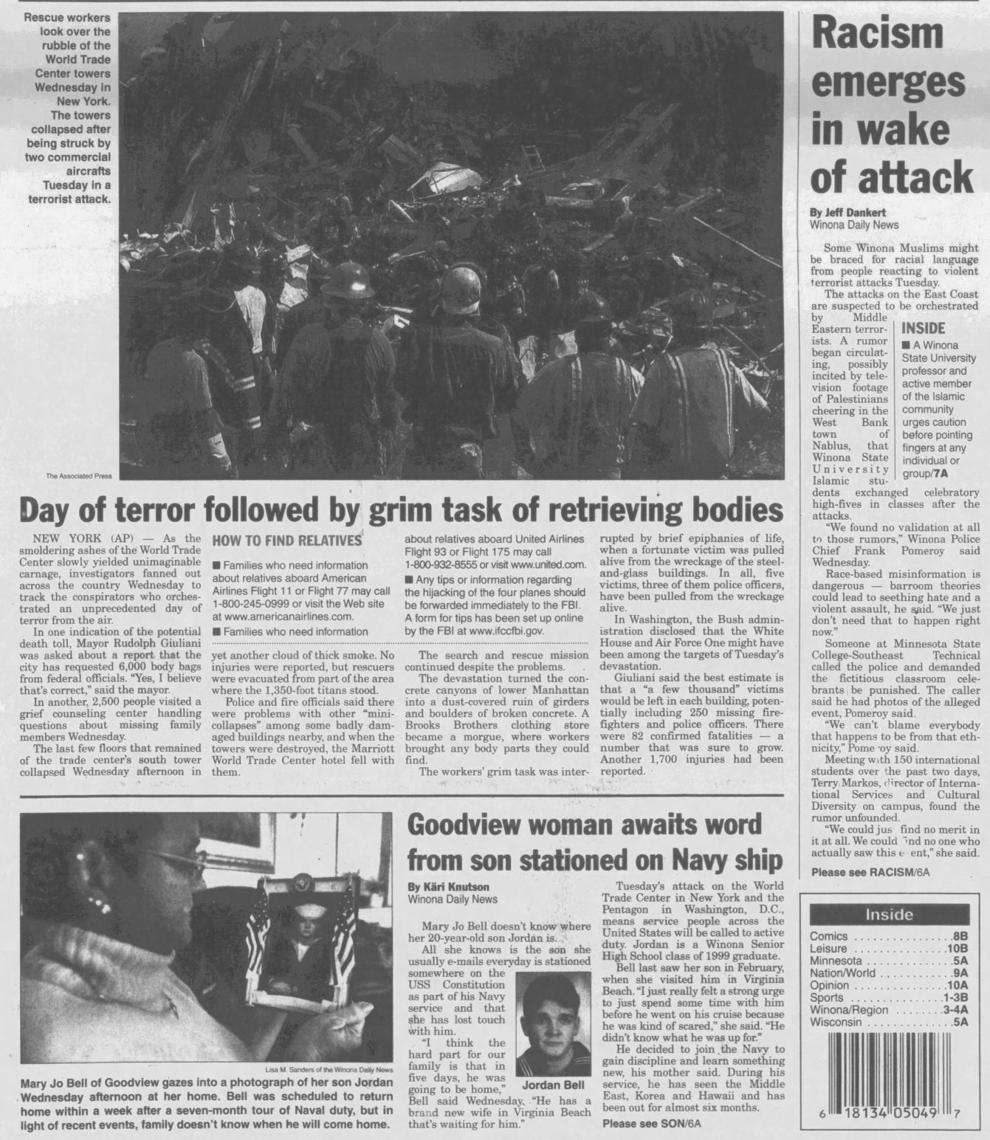 The_Winona_Daily_News_Fri__Sep_14__2001_.jpg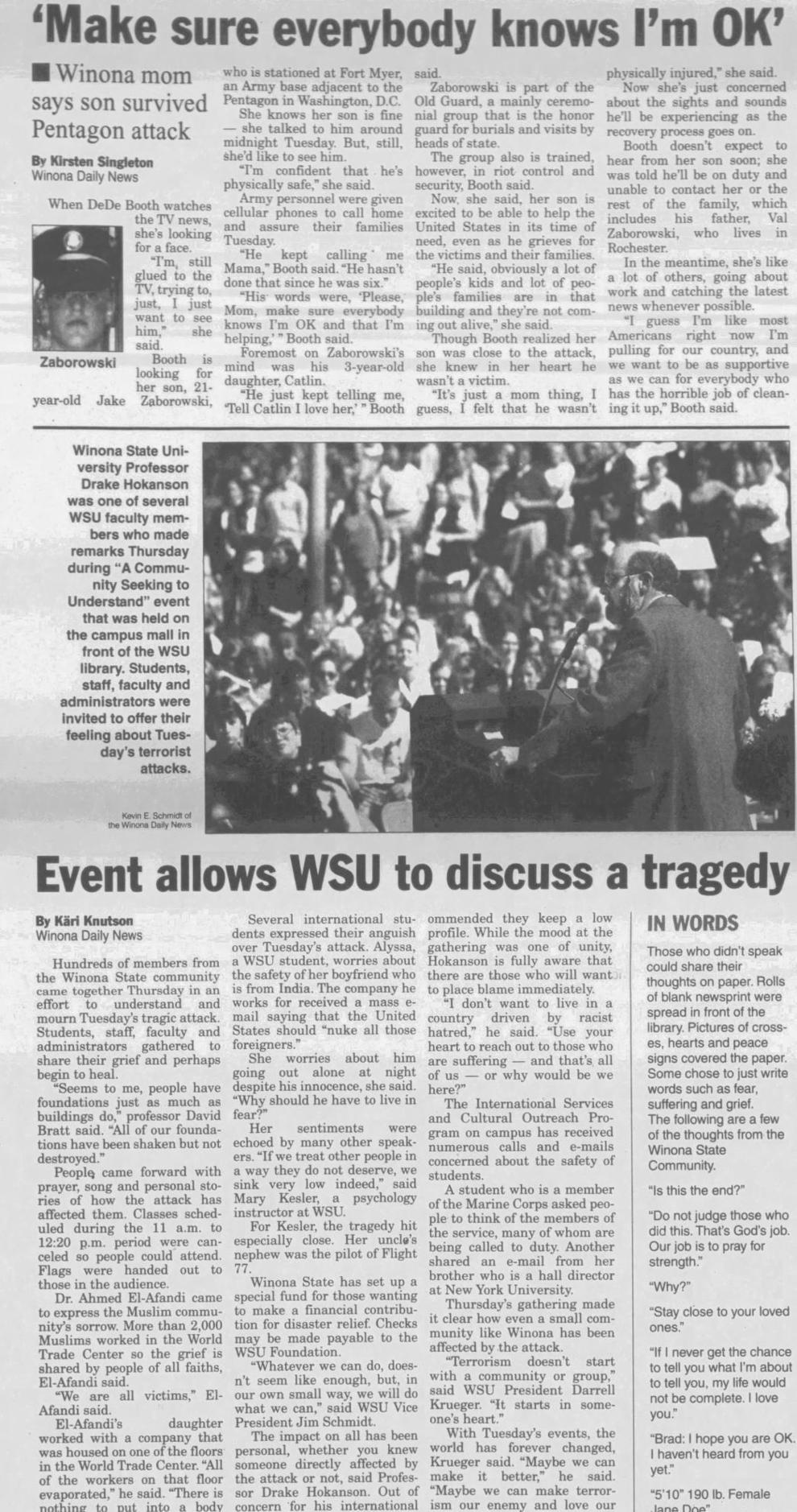 Remembering and reflecting on Sept. 11, 2001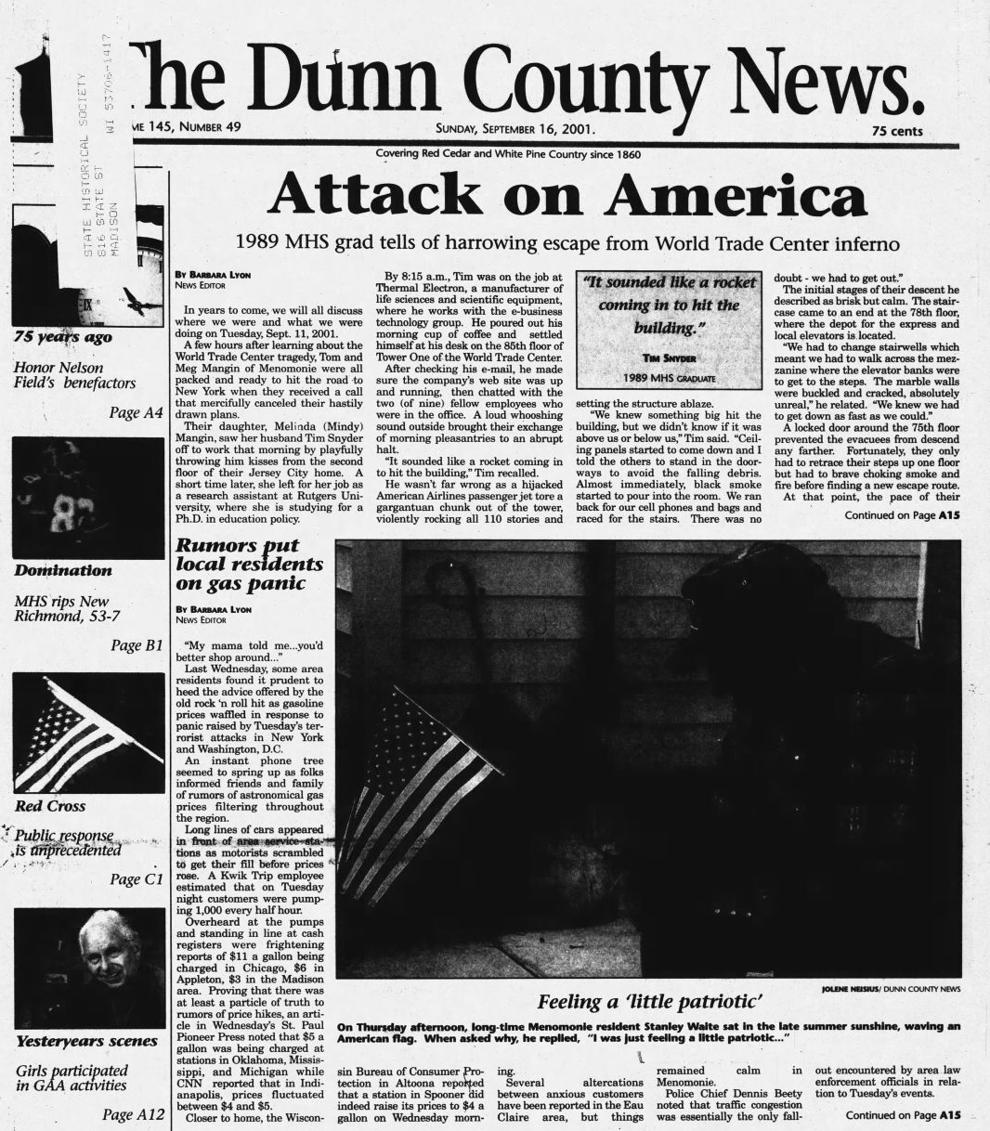 Remembering and reflecting on Sept. 11, 2001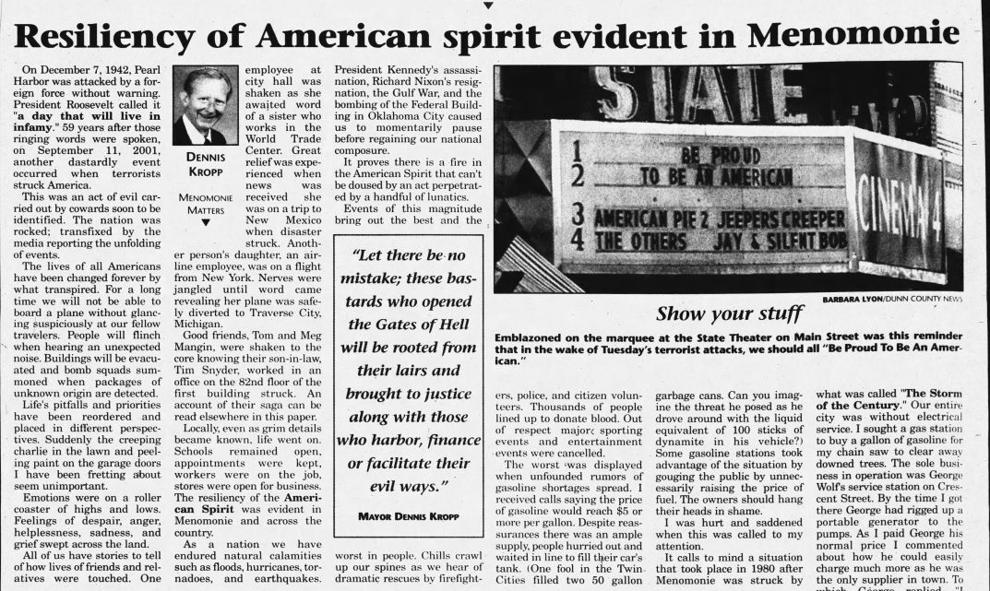 The_Daily_Tribune_Wed__Sep_12__2001_1.jpg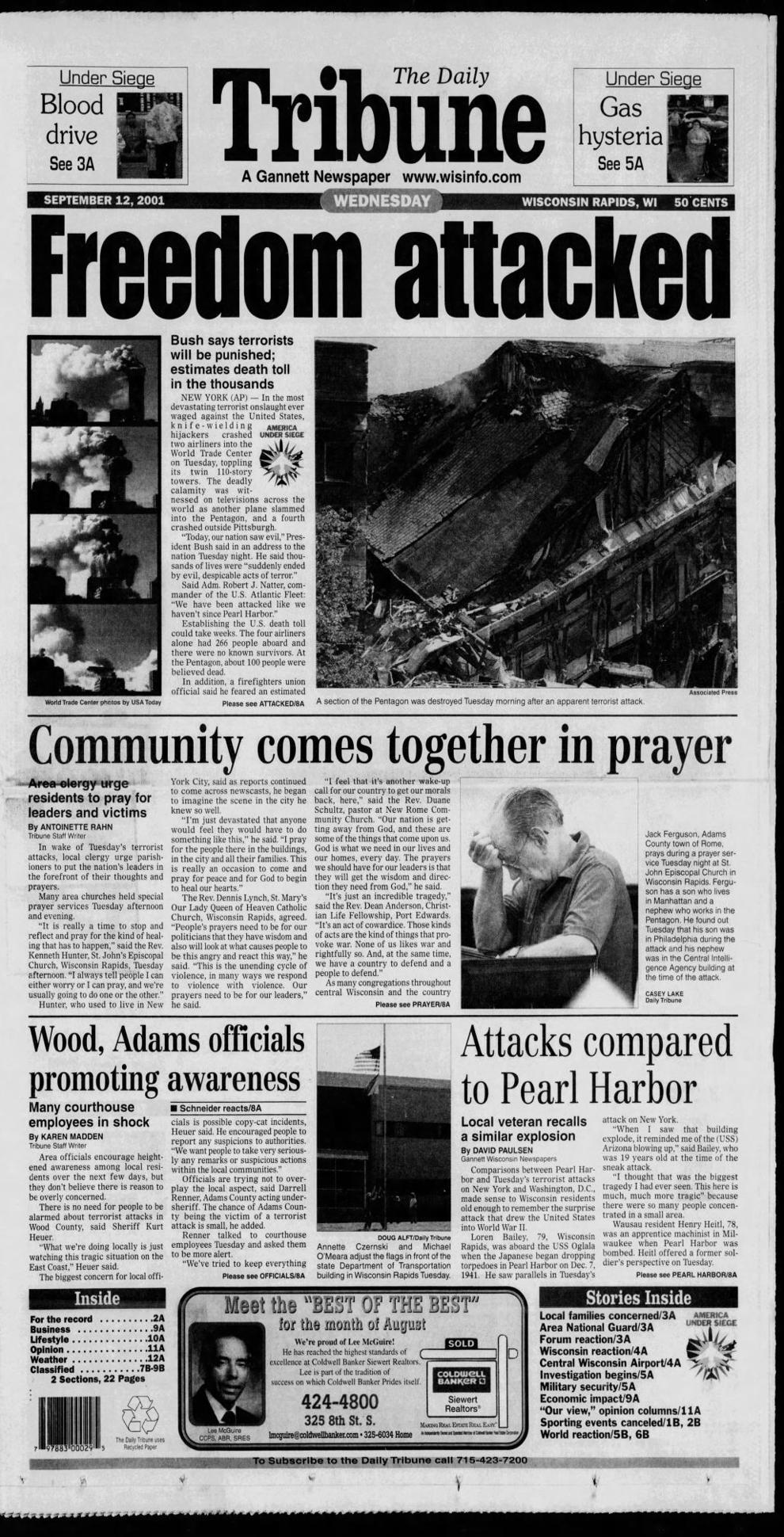 The_Daily_Tribune_Wed__Sep_12__2001_3.jpg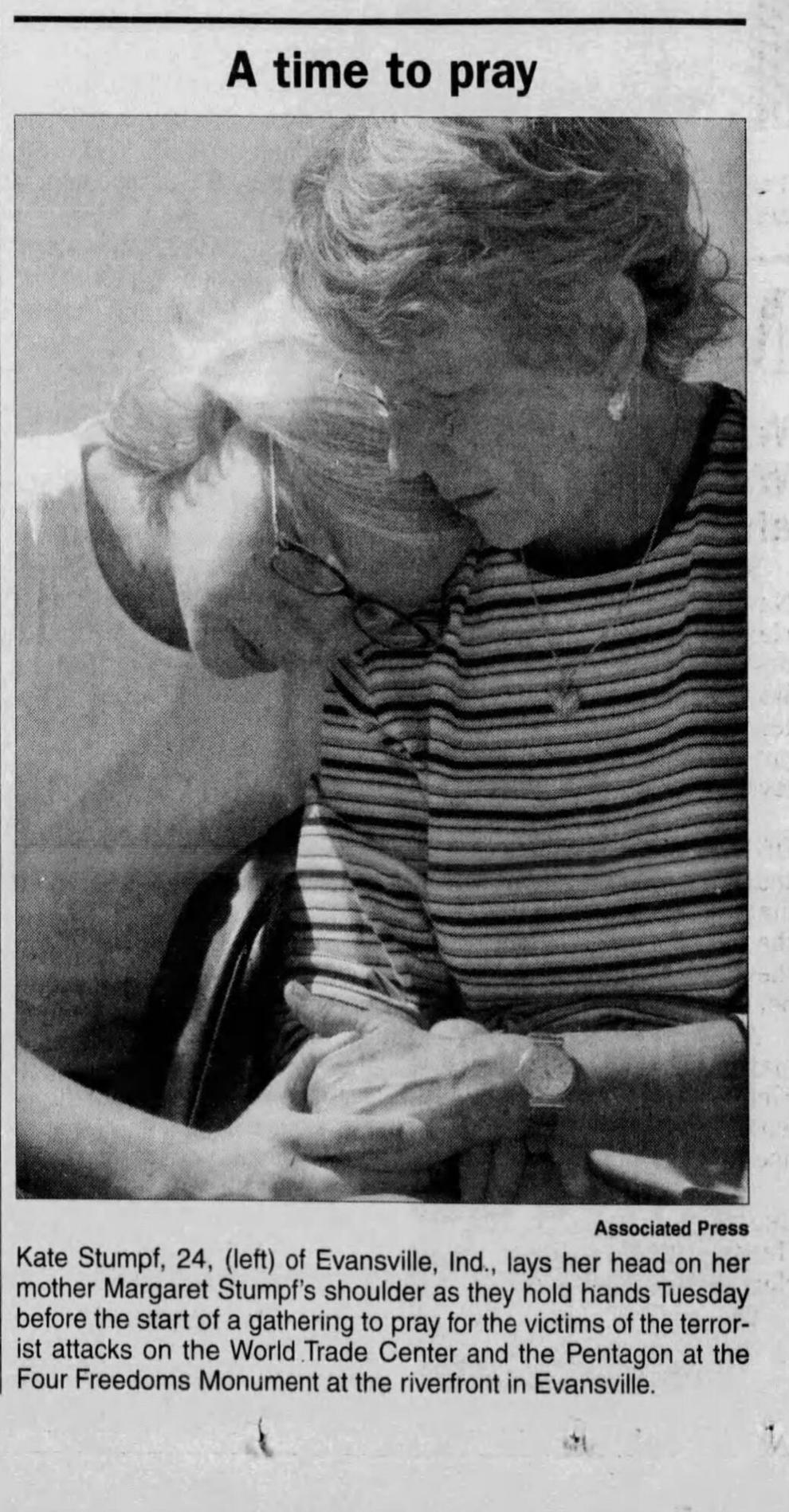 The_Daily_Tribune_Wed__Sep_12__2001_2.jpg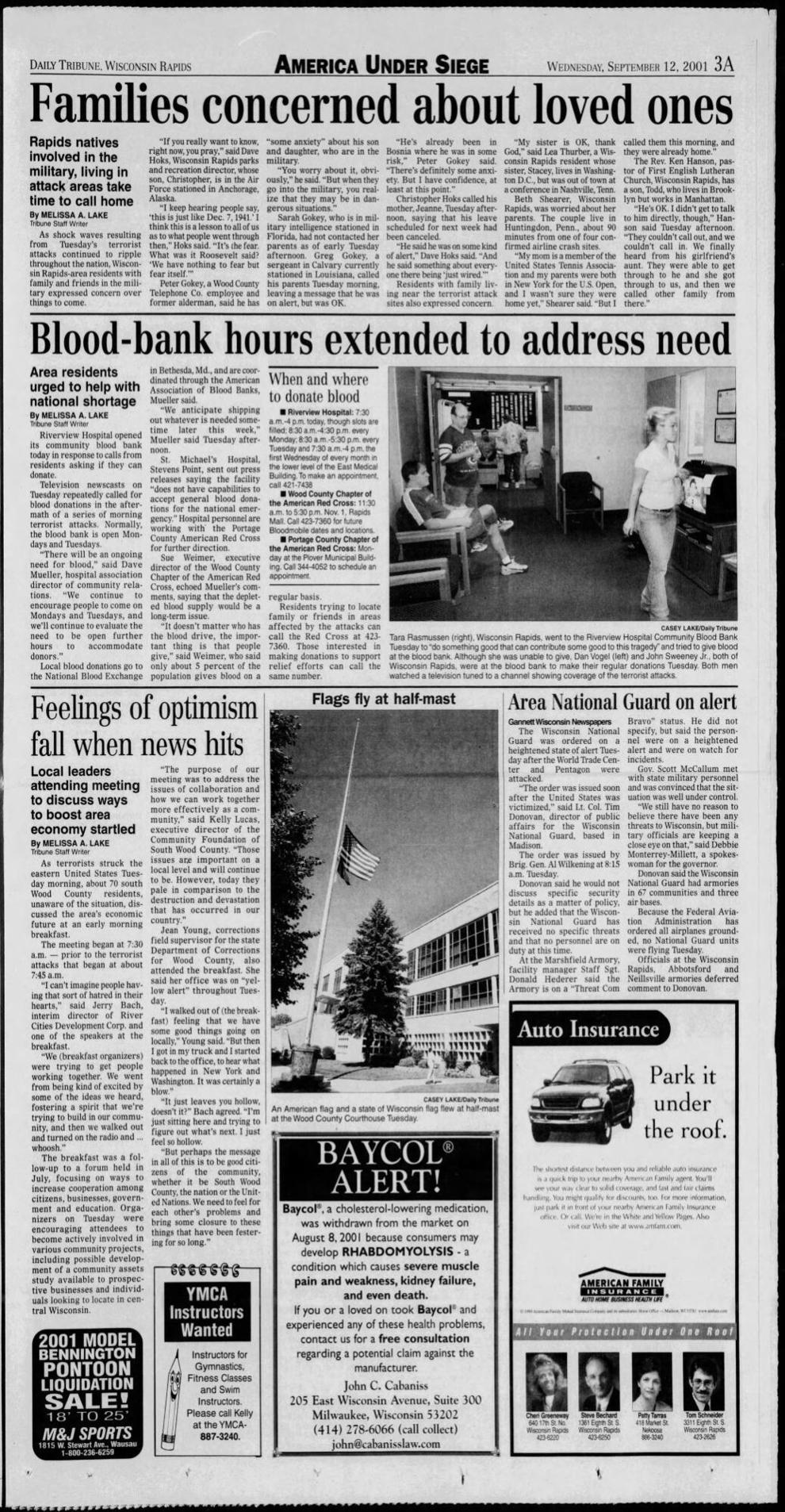 Wisconsin_State_Journal_Wed__Sep_12__2001_1.jpg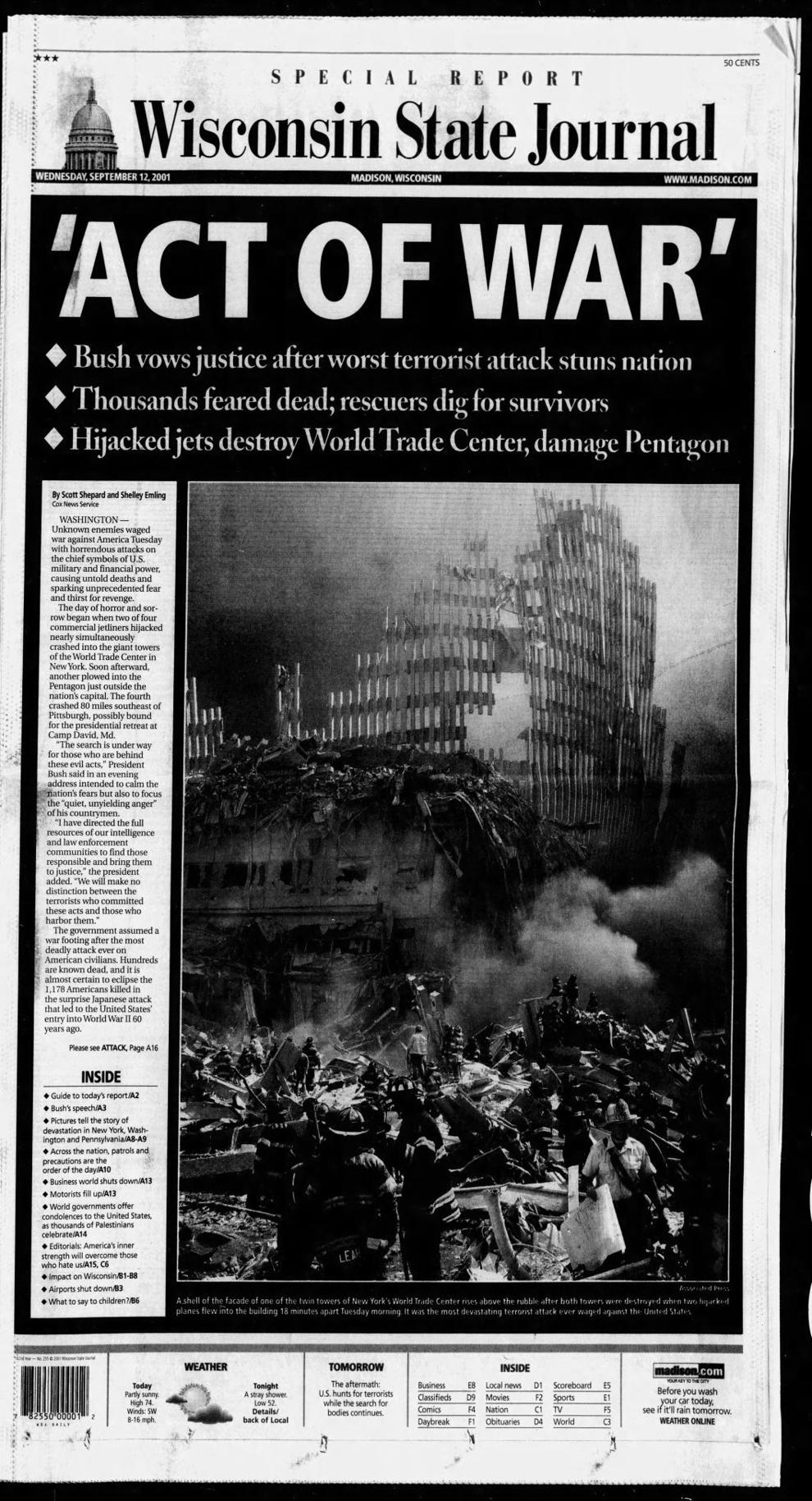 Wisconsin_State_Journal_Wed__Sep_12__2001_.jpg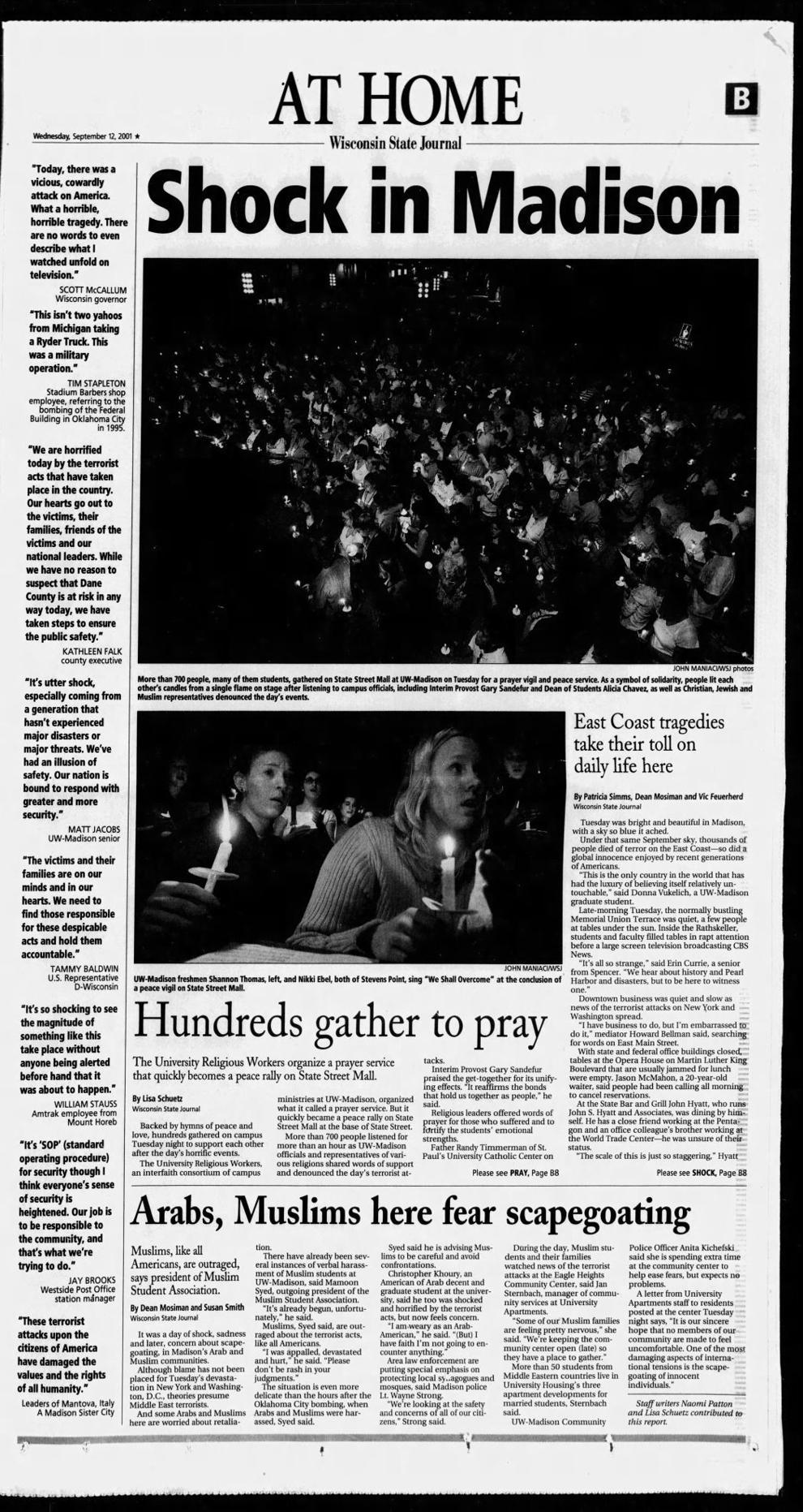 Wisconsin_State_Journal_Wed__Sep_12__2001_ 3.jpg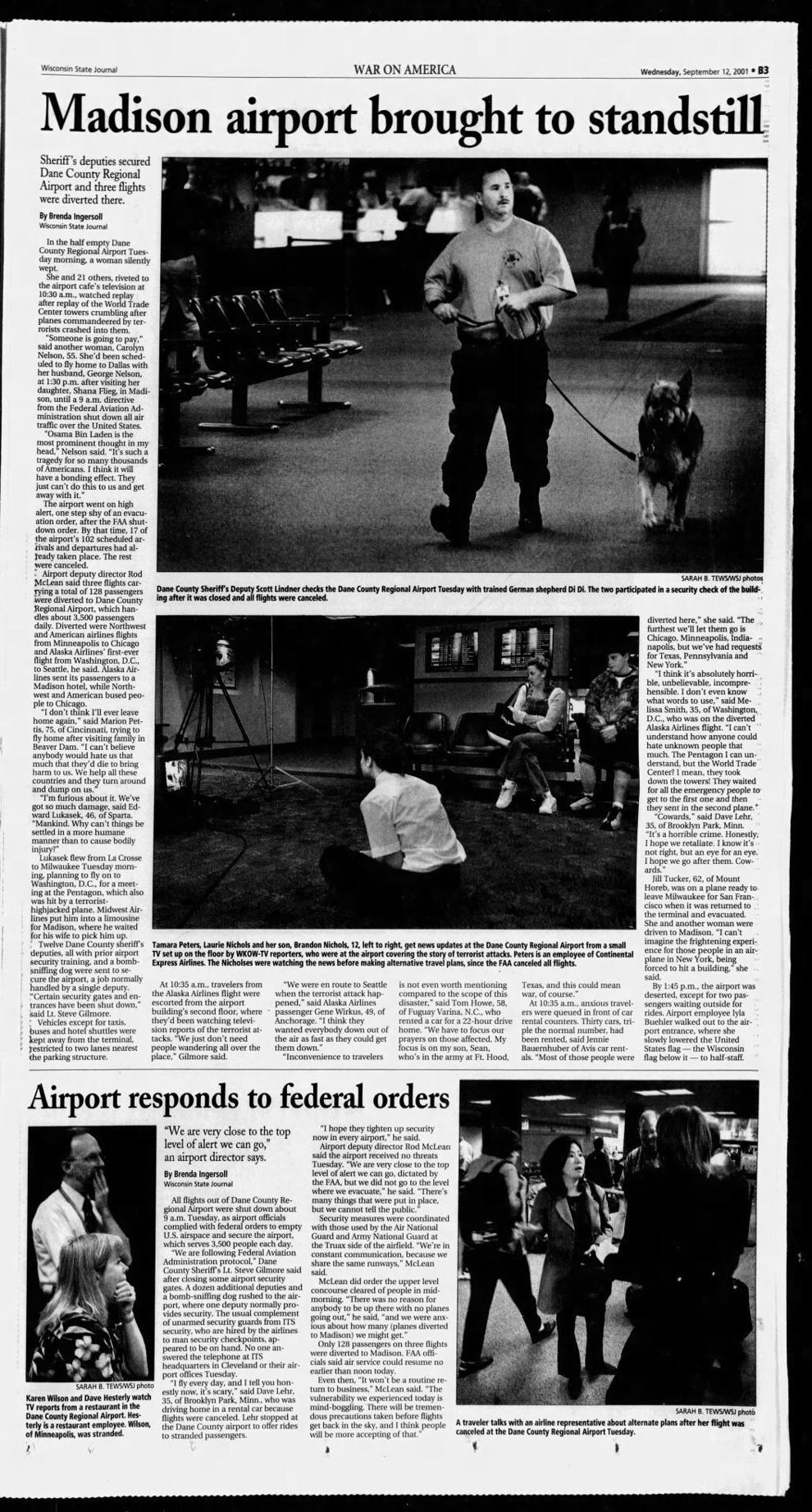 Wisconsin_State_Journal_Wed__Sep_12__2001_ 4.jpg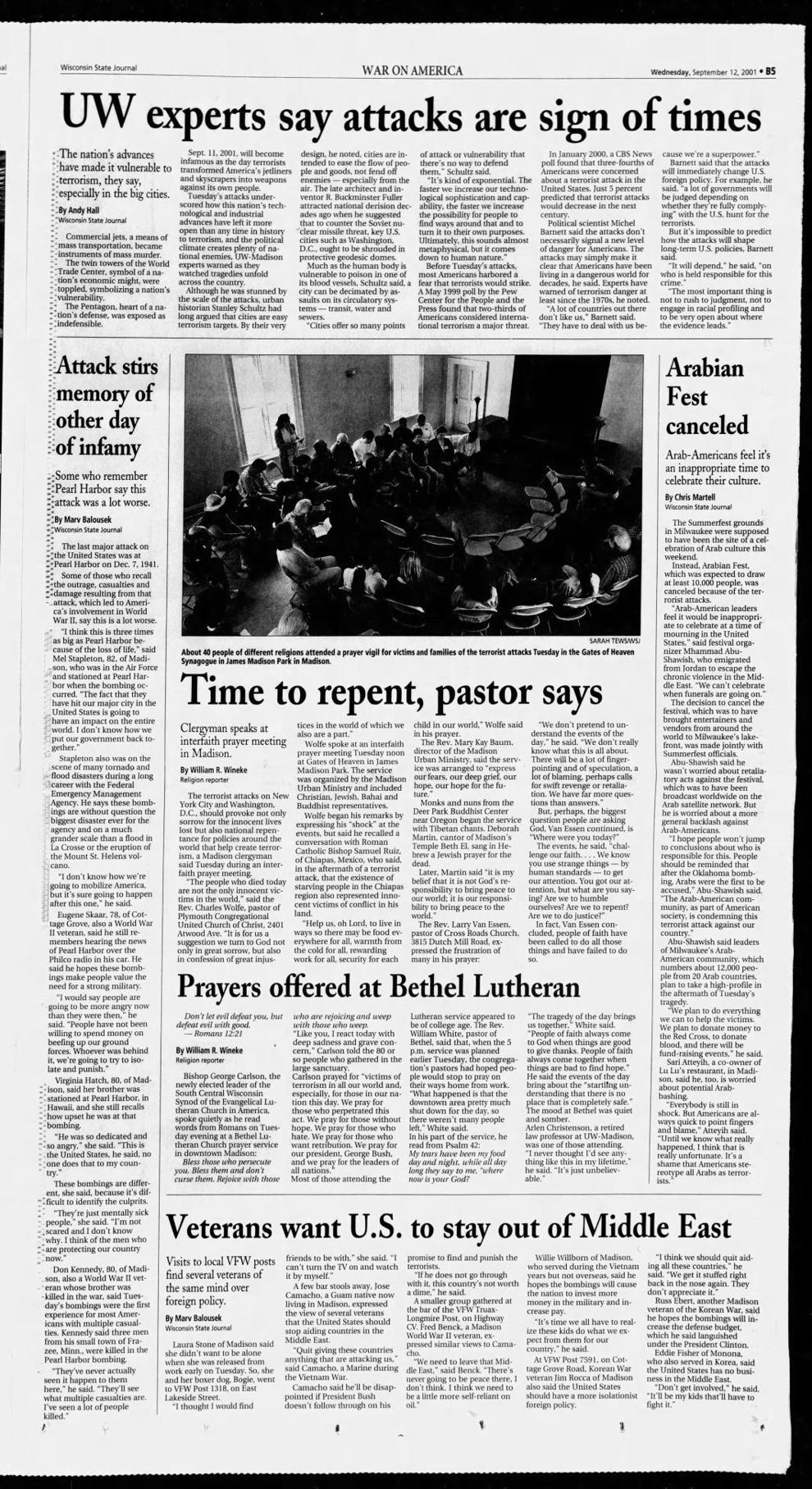 Wisconsin_State_Journal_Wed__Sep_12__2001_2.jpg