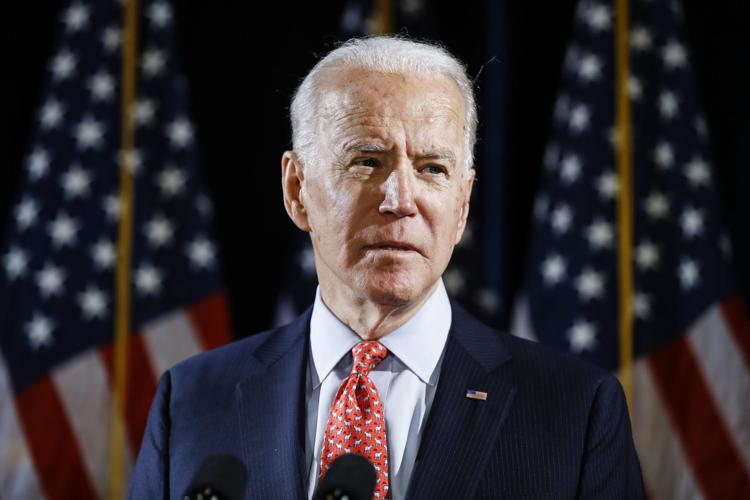 Joe Biden is too far ahead in delegates for Bernie Sanders to catch him in the race for the Democratic nomination for president.
More significant, Biden is a much better choice to defeat the reckless and self-absorbed President Donald Trump in November.
Voters who haven't already sent in absentee ballots favoring Biden in Wisconsin's Democratic primary should do so now. And for the minority of voters who didn't request an absentee ballot because of the coronavirus by Friday's extended deadline, we recommend Biden if you cast a ballot Tuesday at the polls. (Madison planned to offer curbside voting for those with underlying health conditions or COVID-19 symptoms, and everyone else should stay 6 feet apart.)
Sanders would increase the chance of Trump being defeated this fall by dropping out now. We thought his goal was beating Trump above all else. If that's true, he shouldn't distract any longer from the clear choice voters will face in seven months.
Biden wasn't the State Journal editorial board's first choice among the many candidates for president. But Biden is the only Democrat still in the race (assuming you count Sanders as a Democrat) with a strong record of getting things done in Washington.
Biden ranks as the 47th most bipartisan member of the U.S. Senate among the 250 who served at least 10 months between 1993-2018, according to an elaborate and nonpartisan analysis by the Lugar Center and Georgetown University's McCourt School of Public Policy. Sanders, in sharp contrast, ranks nearly dead last: 247th out of 250 senators.
Sanders calls himself a "democratic socialist," which won't play well with most voters. He stubbornly pushes for a progressive, ideological wish list to the detriment of real progress that most Americans can benefit from and accept.
Biden has proven a much more effective leader. Rather than working on the fringe of the Senate, as Sanders does, Biden tries to get things done, often in the sensible center of American politics.
Trump's presidency has been a failure. Biden shows much more promise to lead the nation with dignity, thoughtfulness and compromise. Biden will do a much better job of pulling the nation together during these difficult times, and conveying American values around the globe to promote democracy and human rights.
Wisconsin should deliver another decisive victory Tuesday for Biden in the Democratic presidential primary. Then Sanders should finally put the interests of America above his personal ambition by dropping out and helping to defeat Trump.
Catch the latest in Opinion
Get opinion pieces, letters and editorials sent directly to your inbox weekly!