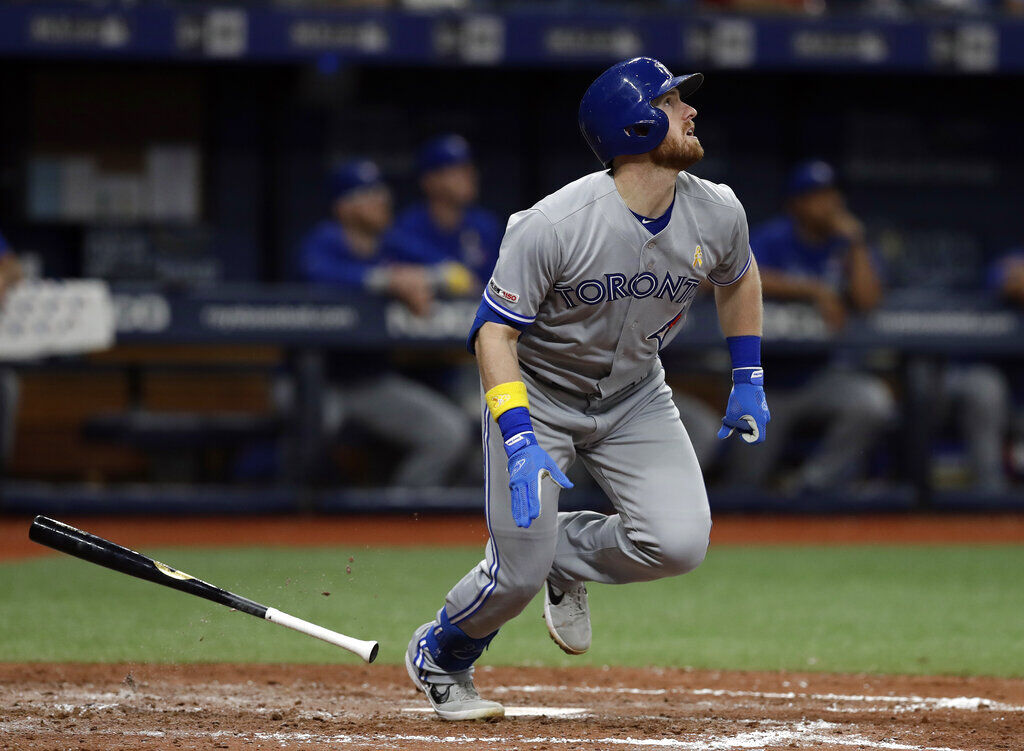 MILWAUKEE — The Milwaukee Brewers made a flurry of roster moves Monday afternoon ahead of their most important and challenging series of the season.
Right-handed reliever Ray Black was reinstated from the 45-day injured list and added to the active roster, Justin Topa, another right-handed reliever, was recalled from the Brewers' alternate training site in Appleton to serve as the 29th man for Monday's doubleheader and the team also claimed outfielder Billy McKinney off waivers from the Toronto Blue Jays and assigned him to Appleton.
Additionally, the Brewers cleared roster spots for those players by optioning right-hander J.P. Feyereisen to Appleton while designating infielder Ronny Rodriguez and right-hander Trey Supak for assignment.
The decision to DFA Supak is the most surprising of those moves. Acquired along with Keon Broxton in the Dec. 2015 trade that sent Jason Rogers to the Pirates, Supak went 11-4 with a 2.20 ERA in 20 starts for Class AA Biloxi last season and though he struggled after a promotion to Class AAA, was invited to big-league spring training for a second straight season.
He was making a positive impression in three Cactus League appearances before baseball was shut down because of the coronavirus pandemic and was part of the 60-man player pool when work resumed in July.
Supak earned his first big-league call-up on Aug. 31 but was returned to Appleton the next day without making an appearance. 
Parting ways with a pitcher still only 24 was not an easy call for president of baseball operations David Stearns, who pointed to the loss of a year of development without minor league baseball as part of the decision.
"As we looked ahead to next year, and we looked at a guy who at that point would be on his final option and really be at a stage in his career that in order to remain on the 40-man as a pitcher with just one option remaining, really at a point where he was going to have to regularly contribute at the Major League level," Stearns said. "So, we made the decision that now is the right time to take him off the roster. Trey has worked exceptionally hard. He is still young. We understand that. But at this point, we thought it was the right decision."
McKinney, 26, fits the mold of left-handed-hitting, athletic outfielders who can play multiple positions that Stearns and his staff tend to covet.
A first-round pick of the A's (No. 24 overall) in the 2013 MLB Draft, he was dealt along with Addison Russell and Dan Straily to the Cubs, who two years later included him in the package of players used to obtain Aroldis Chapman from the Yankees.
McKinney made his big-league debut for New York in 2018, playing two games before being traded to the Blue Jays and batted .252 for the season with six home runs and 13 RBIs in 38 games.
Last season, McKinney slashed .215/.274/.422 with 12 home runs, 28 RBIs and a .696 OPS in 84 games for the Blue Jays, who designated him for assignment earlier this week after appearing in only two games.
Stearns said McKinney's minor league production (61 home runs, .783 OPS) made him an attractive addition.
"He hasn't had a really consistent opportunity at the major-league level but there are skills there that we think can potentially translate to the major-league level," Stearns said.
With minor league options remaining, adding McKinney gives the Brewers flexibility in future seasons, but Stearns isn't ruling out the possibility he sees big-league action at some point over the last two weeks of the 2020 campaign.
"He'll go to the alternate site first," Stearns said. "We'll see if there's a need for him over the next couple of weeks."
Black has yet to pitch for Milwaukee this season. The hard-throwing reliever was placed on the injured list late in Summer Camp with a strained right rotator cuff. He'd made a number of appearances over the last week in Appleton and performed well enough there to earn a return to Milwaukee.
"I think Ray's recovery has gone about as well as we could have expected over the last three weeks," Stearns said. "He has faced hitters (in live action), has thrown the ball well. His velocity has come back. So, we thought it was time to get him back to the major-league level. We do have limited information but he's feeling good and is throwing the ball well."
Anderson ready to return
Brett Anderson will return to the starting rotation Tuesday for game three of the five-game series with St. Louis.
The left-hander was a late scratch from his last scheduled start Saturday because of tightness in his hip. Anderson said the issue developed because he slept awkwardly the night before and wasn't expecting it to be a factor over the final two weeks of the regular season.
"With however many games we've got here in a short period, I didn't want to go out there and not be able to get through a certain amount of innings and that kind of hamstrings us going forward for the next important games going forward," Anderson said. "I thought it was best to kind of shut it down for that day and take care of it."
Since Saturday, Anderson has done all his normal between-starts work.
"I came in and felt better yesterday and I'm feeling better today," Anderson said. "I'm good to go."
On deck
Cardinals right-hander Jack Flaherty (3-1, 3.08 ERA) has never won a game at Miller Park, where he's 0-2 with a 5.68 ERA in five career starts. Against the Brewers overall, Flaherty is 2-4 with a 4.56 ERA including a 1-3 record a 6.48 ERA in five meetings last season. In 11 career starts against the Brewers, Flaherty has recorded double-digit strikeouts three times but also has given up 11 home runs to Milwaukee batters in those contests.
Get the latest baseball news delivered to you!
Sign up to receive professional baseball news in your inbox every week.