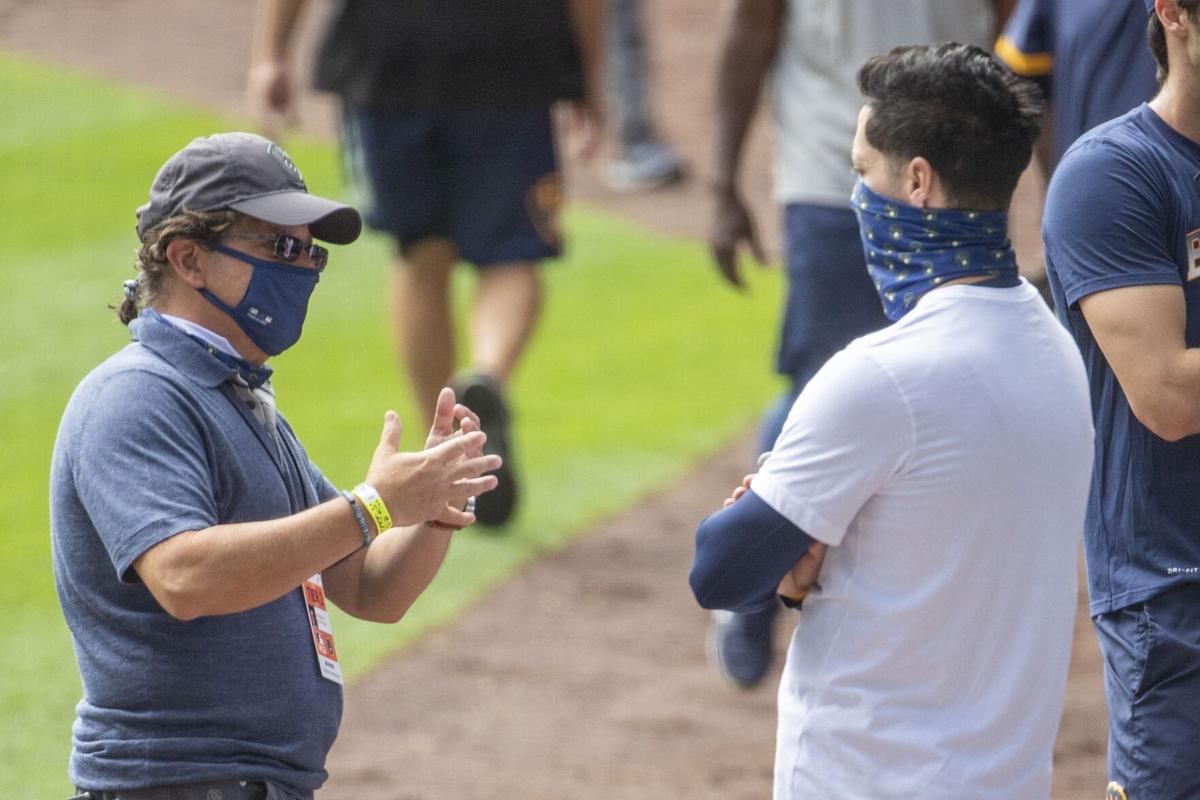 MILWAUKEE — For all his success in the world of finance, being calm, cool and collected hasn't always been Mark Attanasio's strong suit when it comes to watching the Milwaukee Brewers.
The chairman and principal owner is well-known for his, for lack of a better term, intensity when it comes to his team's performance. In fact, he openly admits that he can be a bit too intense, hanging on every pitch.
So after waiting four months for the Brewers to finally begin their 2020 season and another week for the team to play its first home game, which he planned to watch in person, having to wait another day after two members of the St. Louis Cardinals tested positive for COVID-19 was frustrating, but understandable.
"I think it's important to have perspective," Attanasio said Friday afternoon during a previously scheduled video conference with reporters. "As an owner, I have a lot of information coming at me — more than I can share — but I think there have only been 99 positive tests out of 32,000.
"That number's going up and given how contagious COVID-19 is, we'd expect it to go up. But what's important, first and foremost, is keeping everybody safe and healthy."
This was supposed to be a special season for Attanasio and the Brewers; for him, the 16th since purchasing the franchise from the Selig family and for the team, a celebration of a half-century calling Milwaukee home.
Instead, it's a season of uncertainty; one with an equal amount of hope and optimism as well as fear and anxiety. Attanasio knows there is a delicate balance to navigate and understands the optics of trying to play baseball in the midst of a pandemic, not to mention burgeoning economic and societal crises.
But he's also well aware of baseball's role throughout history as an agent of healing and its ability to offer not just an escape from problems, but also to serve as a source of unity during trying times.
"I think we've had a lot of time for reflection here and I think maybe sports now has a more measured spot in our society," Attanasio said. "We may put overarching importance on it at some points but that said, it's a meaningful part of our everyday lives.
"When we have our games we can get detached from some of the challenges we face. If we can continue to provide some enjoyment for our fans, I think that's something we're all committed to doing."
Attanasio came to spring training urging fans disappointed with the team's offseason moves to "trust the process" of David Stearns, the Brewers' general manager who eschewed the type of high-profile acquisitions some had wanted after last year's loss in the National League wild card game and instead compiled a roster built around options, depth and versatility.
And despite all that's changed, both in baseball and the world as a whole, since he spoke to reporters next to a practice field in Phoenix, Attanasio is still confident this team will be better than many might think.
"We like our team this year," Attanasio said. "Our team was absolutely built for 162 games. We're going to play a fraction of that but I think one of the things that is fun about the year, as I try to look at it positively, is trying to look at this puzzle and just embrace what we're doing."
So far, Attanasio likes what he's seen while watching from his Southern California home. He was packing for his trip to Milwaukee when the Brewers mounted their four-run, ninth-inning rally against the Pittsburgh Pirates on Monday night. As the team pulled out a victory in 11 innings, he was able to forget everything else happening in the world and, for a few moments, be a fan.
"Being able to suspend from reality has been therapeutic," Attanasio said. "I hope it's been for our fans, also. I've watched every inning of every game and I can't wait for the next one."
Be the first to know
Get local news delivered to your inbox!