CHICAGO — The Milwaukee Brewers cleared up a logjam at one position and added to their depth at another Tuesday morning, dealing infielder Orlando Arcia to the Atlanta Braves for right-handed pitchers Chad Sobotka and Patrick Weigel.
Arcia, 26, had been the Brewers' starting shortstop since making his big league debut as the team's top prospect in 2016. This season, the Brewers planned to split his time between shortstop and third base, allowing Luis Urias to get action at short.
He appeared in all four of Milwaukee's games this season, starting once at shortstop and twice at third base, while going 1-for-11 at the plate with an RBI and three strikeouts.
"We feel like we have a pretty good set of options on the left side of the infield," Brewers president of baseball operations David Stearns said. "We were asking Orlando to do something that was a little bit unusual and outside of his comfort zone and he took it on full-steam but it was definitely different.
"So when we had an opportunity to add some power arms, who have options, have pitched in the big leagues and have some potential, we felt it was the right thing to do for our season this year in order to just continue to stockpile arms for 162 games."
The arrival of Urias proved to be a wake-up call of sorts for Arcia. He was one of Milwaukee's best offensive performers in 2020, finishing with a .260 average and .734 OPS. In six seasons with the Brewers, Arcia batted .244 with 42 home runs, 180 RBIs and a .658 OPS.
He's also been one of the Brewers' better postseason performers, batting .295/.311/.568 in 13 career playoff appearances with four home runs, six RBIs and an .879 OPS. During the 2018 NLCS, he batted .360 with a pair of home runs and a .985 OPS.
"Although he's relatively young, he's one of the longest-tenured members of our team and with that comes a great degree of respect," Stearns said. "Not just from his teammates and from the fans, but from the organization as a whole for what he's done for this organization."
The move clears a path for Urias, who the Brewers acquired after a disappointing showing by Arcia in 2019, to become the everyday shortstop with Travis Shaw moving into the starting role at third base.
It also clears $2 million in salary from the Brewers' payroll this season and eliminates the potential of going through arbitration or non-tendering Arcia this coming offseason.
"There are enough options there that we felt comfortable making a move like this but the primary one is Luis," Stearns said. "We do believe in him as a player. I think we've begun to see flashes of that and we're looking forward to seeing him more."
Sobotka, 27, has a 5.36 ERA in 50 appearances over three season for the Braves.
Weigel, 26, allowed two runs in 2/3 of an inning in his lone MLB appearance but he's 23-13 with a 3.15 ERA in 86 minor league appearances, including 74 starts. Atlanta selected him in the seventh round of the 2015 MLB Draft out of Houston, where he was 4-3 with a 5.23 ERA in 43 appearance.
Both have been assigned to the Alternate Training Site in Appleton.
"These are two guys with big, power arms — very big people in general — and we think they'll be able to help us through the course of the season," Stearns said. "The flexibility to add to the number of pitchers who have the ability to spend time at Triple-A as well as the big leagues is important."
To replace Arcia on the active roster, the Brewers activated right-hander Brad Boxberger from the taxi squad. The Brewers had been carrying an extra position player during the first few games of this season but adding Boxberger gives manager Craig Counsell a balanced roster of 13 pitchers and 13 position players.
Right-hander Justin Topa was transferred from the 10-day to the 60-day injured list to open a spot for Boxberger on the 40-man roster.
---
Brewers by position: Pitching depth key as teams adjust to full schedule
Brewers by position: Pitching depth will be key as teams readjust with return of 162-game schedule
PROJECTED STARTERS
RHP Corbin Burnes (above) 
Not only do the Brewers start camp with the makings of a full rotation, they also have the benefit of continuity as all five projected starters were in the rotation for most of last season. Burnes (4-1, 2.11 ERA, 12 appearances, 9 starts) and Woodruff (3-5, 3.05, 13 starts) will most likely fill the top two spots, giving Milwaukee a formidable 1-2 punch.
The team is hoping Houser (1-6, 5.30, 12/11) can take another step forward in his development, specifically by avoiding the blow-up inning that plagued him in many of his starts last season, and that with a more consistent schedule both during spring training and the regular season, Lindblom (2-4, 5.16, 12/10) will be able to fully adjust to the big leagues after his dominant run through the Korean Baseball Organization while Anderson (4-4, 4.21) — whose signing has not yet been made official — can continue to eat innings while keeping the ball on the ground.
IN THE 'PEN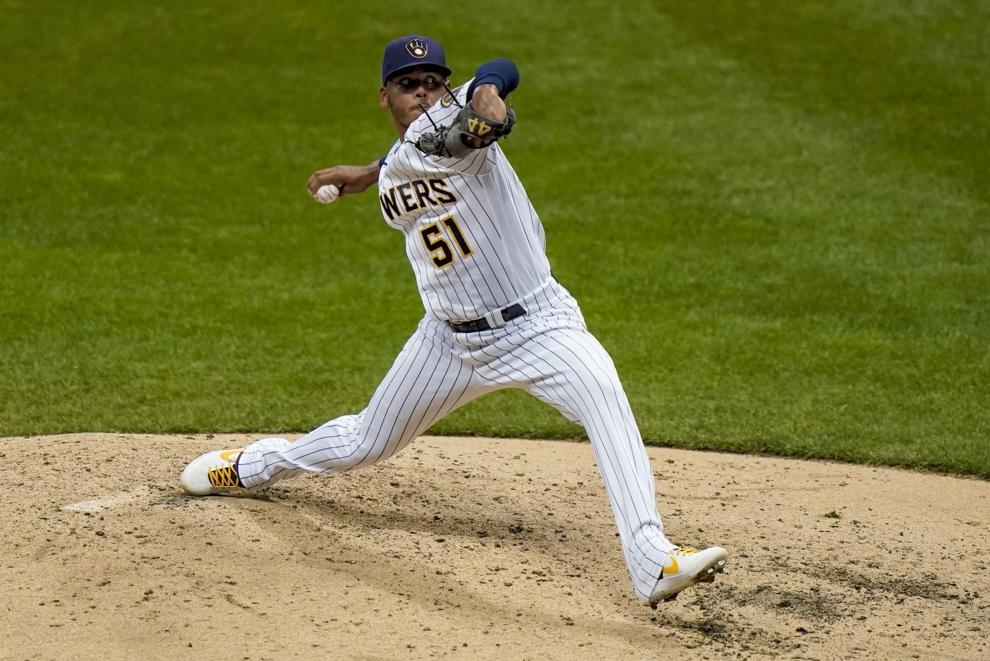 RHP Freddy Peralta (above)
Peralta (3-1, 3.99 ERA) made one start for Milwaukee in 2020 and will be prepared for a starting role during spring training but is likely to start the season working out of the bullpen, where his ability to cover multiple innings will provide flexibility especially early in the season as Counsell manages his starters' workload. Lauer (0-2, 13.09) did not fare well in limited action last year (four appearances, two starts), but he's expected to benefit from the return to a more normal structure as well as being fully healthy. Suter (2-0. 3.13) was an unsung hero for the Brewers' staff last year, posting a 1.38 ERA over 13 innings in four spot starts to go along with a 4.34 mark in 12 relief appearances, eight of which covered multiple innings. He'll fill a similar 'swingman' role in 2021.
ON THE FARM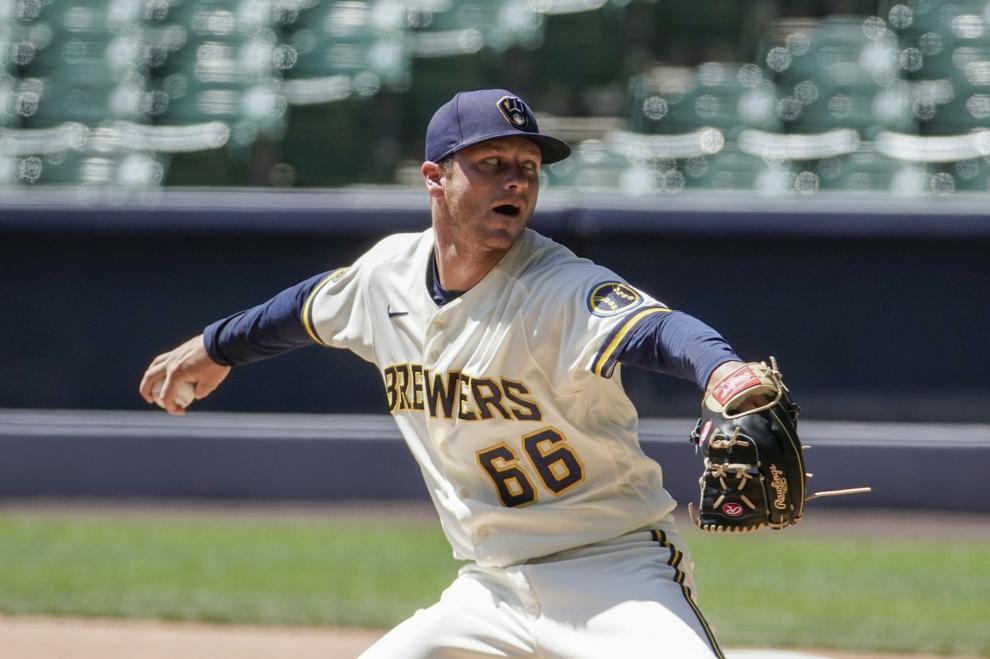 The Brewers added Small, their first-round pick in the 2019 MLB Draft, to their 60-man player pool last season after he posted a 2.50 ERA in five appearances for Class A Wisconsin in his first taste of professional action. ... Brown was named the organization's minor league pitcher of the year after going 9-1 with a 2.44 ERA for Class AA Biloxi in 2018 but struggled the next season at Class AAA, where he posted a 5.79 ERA and 1.73 WHIP. He showed flashes of improvement during spring training and the Brewers added him to their player pool when the season restarted to keep him from missing an entire year of development. If he can get back on track this season, he could be in line for his first call-up at some point in 2021. ... A fourth-round pick in the 2018 MLB Draft, Ashby has a 3.53 ERA in 37 minor league appearances (33 starts). He, too, spent last season at the team's alternate training site.
BY THE NUMBERS
BREWERS' 2020 STARTING PITCHING STATS 
ERA — 4.18 7th/National League
Individually, Brandon Woodruff (above) finished among the NL leaders in just about every major statistical category last season. His 3.05 ERA was ninth among qualifiers while he was fifth with a 0.991 WHIP and 5.05 strikeout/walk ratio and seventh in total strikeouts (91) and strikeouts/nine innings (11.12).
Corbin Burnes finished ninth in the NL with 88 strikeouts.