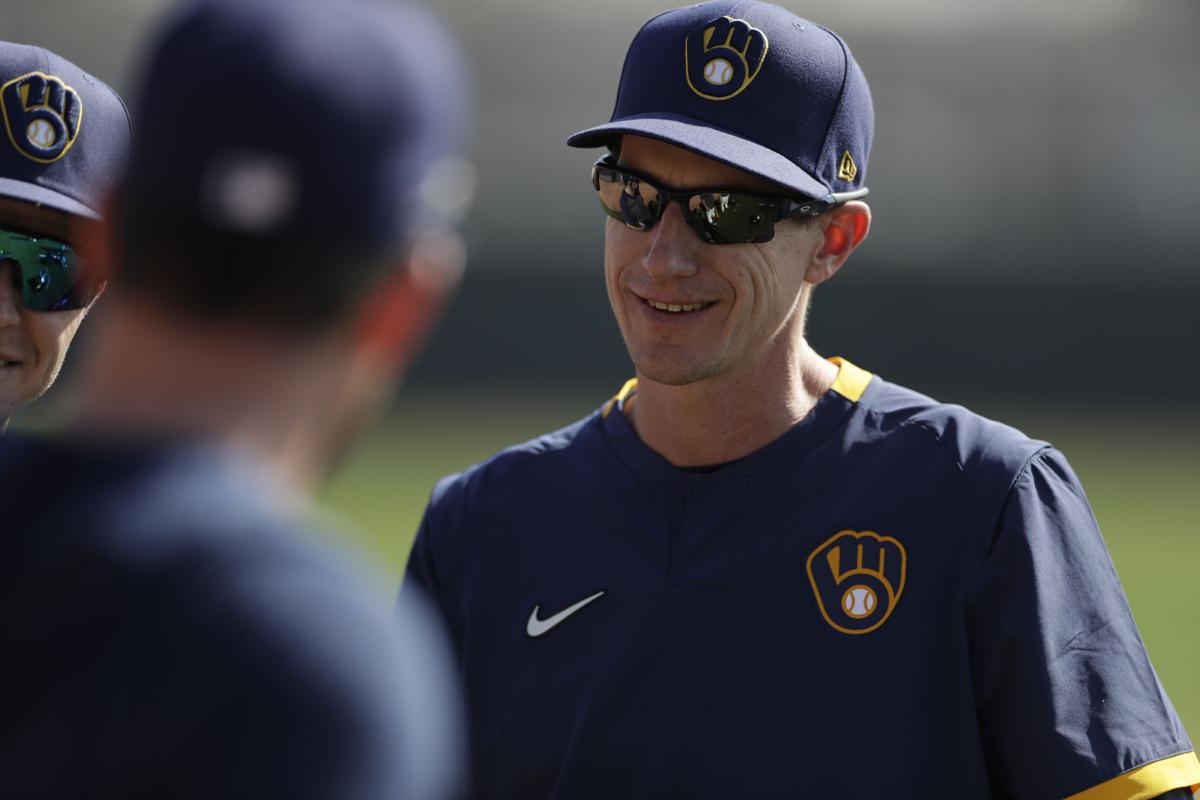 MILWAUKEE — Walking into Miller Park on Friday morning, Craig Counsell was hit with a full gamut of emotions.
There was relief that after three long months of uncertainty, baseball was finally returning; anticipation over the prospect of reuniting with his players for the first time since March; excitement for all that might be possible over the course of the upcoming 60-game season.
And after all that, a realization that there was still a lot of work to do and not a lot of time to get it done.
"I thought I had that ready, and it's not even close to being ready," Counsell said during a video conference with reporters Friday afternoon.
Spring Training 2.0 begins Wednesday when players will report to Miller Park for intake testing. After undergoing their usual pre-camp physical exams, the Brewers will hold their first full-squad workout on July 4.
And with the regular-season opener — location and opponent to be announced — slated for July 23 or 24, that leaves little time to get an awful lot accomplished.
"I'd say we've got the bones of it assembled," Counsell said. "We've got a good start on it; the first workout will be a week from tomorrow so we've got some time still and we'll keep plugging away at it. We'll be ready to go when we're ready to have players."
The good news, Counsell said, is that many of the Brewers' pitchers have been throwing in some form or another throughout the hiatus and should be ready to start throwing live batting practice. But that itself will be a challenge logistically due to the physical constraints of Miller Park compared to the size of the team's usual spring training complex in Phoenix.
But much like the shortened season and new rules require teams and players to think outside the box, how to maximize the available space is just another challenge Counsell believes his team is ready to overcome.
For starters, the Brewers will utilize a number of different spaces around the stadium including the concourses for some aspects of camp. As far as working on actual drills and skills, the players will be broken up into groups that will work out on separate schedules.
"Generally pitchers and position players are on a little bit different schedule so we'll have half our pitchers there and half our position players there and have them go about a day, then we'll do the same thing in kind of an afternoon session," Counsell said. "Early in camp we're just going to run two different groups and kind of run the same day twice."
President of baseball operations David Stearns said earlier Friday that he expects to have a full allotment of 45 players in major league camp, with the remaining 15 members of Milwaukee's 60-man player pool heading to the team's alternate training facility at Fox Cities Stadium in Appleton, home of the Brewers' Class A affiliate.
That group will eventually grow as Stearns trims the roster to the 30-player limit for Opening Day and is also expected to include a number of the organization's younger prospects, who might otherwise stand to lose an entire year of development if minor league seasons are cancelled.
"We will have some number of younger prospects who realistically don't have a chance of performing in the major leagues this year as part of our larger pool," Stearns said. "We're still going through and working through what we want that pool to look like. At this point, the only thing we need to decide are the players who we want to in major league camp."
Stearns said he hasn't heard from any players planning to opt out of the season due to concerns over exposure to the virus and while there have been a small number of individuals in the organization who have tested positive, those cases have been asymptomatic.
Still, keeping everybody involved in the operation healthy and safe will be the primary focus.
"We also still recognize just how contagious this virus is," Stearns said. "We're going to do our best to educate our players as best as possible on how they can remain healthy and how we can put ourselves in the best position to succeed in this environment and how we can keep everyone safe."
Part of that effort includes playing games in empty stadiums as fans will not be permitted inside the park, at least for the time being. That adds another challenge for players, who feed off the adrenaline created by boisterous crowds, and also hurts the business side of the operation.
Despite playing in one of the game's smallest markets, the Brewers ranked eighth last season in total attendance (2,923,333) and average attendance (36,090). Losing the revenue stream generated by ticket sales, parking and concessions is part of the reason the organization furloughed a number of its employees recently.
"The loss of that revenue is obviously severe and impactful," said Rick Schlesinger, the Brewers' president of business operations. "So 2020 is going to be an extremely difficult financial picture for our organization."
Schlesinger said that those holding tickets to games for the original 2020 schedule will be contacted over the next 72 hours with information on refunds, credits or other options, adding that he is looking forward to welcoming fans back when conditions allow.
"If we can make it happen, I would absolutely love it," Schlesinger said.
Throughout the shutdown, Counsell has stressed that while the game would look different upon its return, the changes were just something everyone would have to be OK with. Now that the game is back and will be decidedly different, even if only for one year, Counsell isn't just OK with things; he views the situation as an exciting opportunity.
"It will be really fun," Counsell said. "It does feel like there's more unknown this year, and right now that's exciting. It feels like it's going to make it a really maybe crazy trip, but a fun trip."
Be the first to know
Get local news delivered to your inbox!